Do you have free time on hand but you don't know what to do with yourself? With people working from home and slowing the pace down a bit, it seems like boredom has struck a bit more than it used to.
Make the most of your spare time by creating something great. Make handmade arts and crafts, something that you can be proud of and maybe even store up to give as holiday gifts!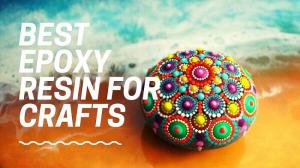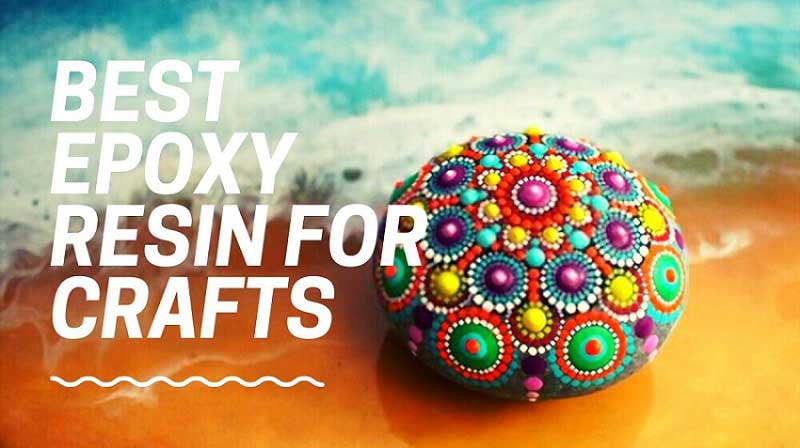 One of the simplest crafts you can start is by making use of epoxy resin. All you need are a few molds, a plastic cup, a stirrer, and some epoxy resin to get you going.
There are many brands of resin out there but how would you know which one is right for you? To help you choose the best epoxy resin for crafts, we have put this buyer's guide together to help you make a more informed decision. Keep reading to learn more…
Our Favorites of 2021 Compared
IMAGE
PRODUCT
DETAILS
 

Best Overall

Best Overall

Size:

16oz

Curing Time:

8 Hours

Work Time:

40 minutes

Coverage:

3.2 sq feet

Check Price

Best Mid Range

Best Mid Range

Size:

34oz

Curing Time:

24 Hours

Work Time:

35-40 minutes

Coverage:

3.2 sq feet

Check Price

Premium Choice

Premium Choice

Size:

1 Gallon

Curing Time:

24 Hours

Work Time:

45 minutes

Coverage:

Approx 32 sq feet

Check Price

Budget Friendly

Budget Friendly

Size:

7 oz

Curing Time:

1-2 minutes in UV Light

Heat-resistance:

Up to 248℉

Uses:

No Mixing(Ready to use)

Check Price

Best For Professional

Best For Professional

Size:

2 Gallon

Curing Time:

48 Hours

Work Time:

60 minutes

Heat-resistance:

75˚F

Check Price
What Is Epoxy Resin?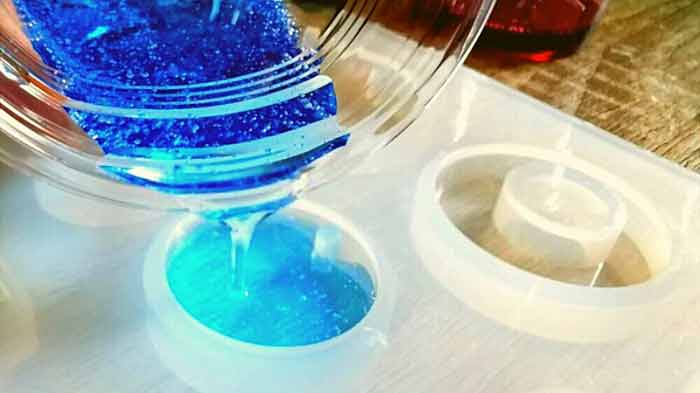 Resin is a liquid material and epoxy resins come with a hardener so that when it is mixed, the liquid resin turns into a hard compound. It is a common material used in the construction and building industry as it has strong adhesive properties.
In addition, it is also used widely in arts, jewelry, and other crafts projects. You can use epoxy resin with a wide variety of materials like wood, metal, china, fabric, and glass.
It forms a lasting and strong binding and is, therefore, durable. The resin also protects against heat and chemicals and is used as a protective layer or coating on many surfaces.
Best Epoxy Resin For Crafts: Our Top Picks
1. Puduo Epoxy Resin Kit for Crafts – Best Overall
This product has all it takes to fast-track your project and give you the best results that are way beyond your expectations!
The epoxy resin and the hardener each comes in 8-ounce bottles and promises coverage of 3.2 square feet with a thickness of 1/16th inches. You can use this product both for coating and casting purposes.
The application is easy with a 1:1 mixing ratio. You have an ample 40 minutes of work time, enough to complete a project without hurrying to the end. For your convenience, the package includes 4 graduated cups for perfect measuring, a pair of protective rubber gloves, and stirrers for mixing well.
What makes this product special is that it has no odor, no fumes, and prevents the fading effects of ultraviolet rays. On top, you can apply with comfort as its thick-pour feature is self-leveling and thereby fills in imperfections perfectly.
Moreover, the self-degassing formula disperses bubbles to ensure you get a smooth finish. The non-toxic property of the epoxy resin makes it safe for making fashionable wearables.
Being the best epoxy resin for crafts, it is suitable with all types of pigments including glow in the dark type.With a crystal clear finish, you will not find it turning yellowish after it has cured. Moreover, the hard finish is resistant to scratches.
A notable feature of the product is that you need to wait for only 8 hours for the curing and thus, you can complete more projects efficiently within the same time.
Recommended for use in a well-ventilated area and to be kept out of reach of pets and children, this product is available in a 16-ounce pack size, a total of 32 ounces for the two bottles.
Highlighted Features:
8-ounce leak-proof bottles of resin and hardener.
3.2 square feet coverage with 1/16th-inch thickness.
1:1 mixing ratio and 40 minutes of work time.
Curing time only 8 hours for more project completion.
Crystal clear finish and protects against UV rays.
An odorless and non-toxic formula for making wearables.
Thick-pour and self-leveling with the self-degassing property.
2. Craft Resin Starter Epoxy Resin Kit
A whole new world of gift items and decor items, arts and crafts are waiting for you to be discovered with this 1000-milliliter epoxy resin kit!
The low-viscosity epoxy resin is just right for all types of casting and coating projects. It leaves a durable and crystal clear finish so that the real beauty of your project shines through and the resin only enhances the beauty.
Besides the 500-milliliter epoxy resin and hardener, the kit includes protective gloves and mixing stirrers that can be reused. The ease of application is remarkable as all you need to do is take equal parts of the resin and the hardener and mix for 3 minutes.
You can have a smooth pour into or on your project and let it cure for 24 hours. You will be surprised at the high-gloss and hard finish that resists scratches and marks.
Moreover, the self-leveling feature of the product ensures you have neither a dipped-in liquid nor a dome-shaped pour to spoil the shape and finish of your crafts. Plus, the bubble-free formula also makes the application tension-free.
During use, you are safe and protected not only by the gloves but also by the fact that this epoxy resin is non-toxic, odorless, and does not emit any harmful compounds that can damage your health. Besides, it is non-flammable and doesn't pose any kind of hazard.
Resistant to UV rays that can turn the project yellow, the product is also resistant to heat. This assures you of a long-lasting project that will continue to give you joy for years to come.
Highlighted Features:
1000-milliliter pack of 500-milliliter each of resin and hardener.
24 hours curing time.
Easy to apply by mixing equal parts for 3 minutes.
Bubble-free, odorless, non-toxic, non-flammable for complete safety.
High-gloss and hard finish that is durable and scratch-resistant.
3. Limino UV Resin Starter Kit – Budget Friendly
Don't want to go through the measuring and mixing steps when making resin arts and crafts? You don't have to if you have this product in your kit!
Made in Japan, this UV resin is of high quality and comes in a 200-gram or 7-ounce ready-to-use formula so that you can get to work immediately.
You can use it for a wide range of projects such as coating and casting, jewelry making, resin painting, and decorating crafts.
Add interesting colors and patterns by mixing glitter, dyes, and mica pigments so that each craft you make has your signature in it.
The application of this product is easy as there's no mixing required. The bottle with the spout makes it super simple to squeeze out the right amount without any wastage.
Curing time is really short – 1 to 2 minutes if you use the UV torch, 10 – 15 minutes if you put your project out in the direct sun on a sunny day, and 30 to 60 minutes in direct sun exposure on a cloudy day.
Although there is an odor before curing, there is none at all after complete curing has occurred. The product is non-toxic and poses no harm to your health.
It cures hard to produce a glossy finish that's hard, durable, anti-yellowing, and anti-scratch. The self-degassing property prevents bubble formation while the product levels itself to ensure an immaculate finish.
Appropriate for both beginners and seasoned resin artists, the UV resin can withstand temperatures of up to 248 degrees Fahrenheit. Beyond this range, the project will start to become soft and yellow.
Highlighted Features:
A ready-to-use format in a 7-ounce bottle for quick application.
Suitable for small projects only.
Bottle with spout for easy application without wastage.
Curing time only 1 – 2 minutes when using a UV torch.
Non-toxic and BPA-free to protect your health.
No odor after curing completely.
Anti-UV formula to prevent yellowing.
Self-degassing and self-leveling for smooth application and finish.
Withstands temperatures of up to 248 degrees Fahrenheit.
4. Naked Fusion Epoxy Resin For Crafts – Premium Choice
If you are an artist at heart and love creating unique works of arts and crafts, then this product has been made for you!
The kit includes two containers of epoxy resin and hardener, each weighing 64 ounces. That translates to a 1-gallon kit, enough to keep you occupied with multiple projects.
Use this for coating, casting, and making jewelry as it has been engineered with your specific needs in mind. Besides, you can also make river tables, resin art, high-gloss finish on surfaces, coasters, tumblers, and everything under the sun!
Being 100% non-toxic, BPA-free, and food-safe, this is the best epoxy resin for wood. It's great for giving a new twist to your kitchen items as you can turn chopping boards, countertops, platters, and others into works of art that reflect your taste.
With zero volatile organic compounds or VOCs released while you work with this product, you are safe from any harmful emissions and need not wear any respirator. On top, there is no odor.
Mixing in a 1:1 ratio, its easy application makes it a product close to the heart of artists. The self-leveling formula is meant to free you from the worry of having an uneven finish. All you will see at the end of the curing time is crystal clear, high-gloss, and hard finish that's durable and scratch-resistant.
Create exquisite effects by mixing the epoxy resin with alcohol inks and mica pastes and pigments. The resulting colors and patterns are guaranteed to be vibrant and glossy.
The 45 minutes of working time gives you a lot of breathing space as there's no need to rush through your project. The UV-resistant property makes sure your project doesn't lose its sheen and beauty and doesn't become faded.
Highlighted Features:
1-gallon kit containing 64-ounce each of resin and hardener.
100% non-toxic, BPA-free, and food-safe for use in the kitchen.
Zero odor and VOCs released.
45 minutes of working time for convenience.
Easy application with a 1:1 ratio mix.
Cures hard with a glossy, diamond, and durable finish.
5. Teexpert Epoxy Resin and Hardener Kit
Do you want to keep part of your graduation bouquet with you forever? You can with the help of this epoxy resin!
It enables you to retain keepsakes and other valuable but small and perishable items intact. Besides, you can make river tables, coasters, resin art, jewelry, and all types of casting and coating with this product.
As step-by-step instructions are enclosed with the kit, both starters and pros can use this easily. To apply, simply mix in a 1:1 ratio and make sure you stir the mixture for 3 to 4 minutes. The stirring will make sure no bubbles are formed and you have a more leveled effect after pouring.
You should pour the mixture in the molds as soon as you are done stirring. The 40-minute working time allows you enough time to work on your project as you don't need to rush through.
You can add glitter and colors to make your crafts more attractive. There is a low odor and you are advised to wear gloves and a mask while working with this resin although it's non-flammable and doesn't release VOCs.
The first curing time is 24 hours and you have to allow 3 to 7 days for complete curing. Of course, the total curing time will depend on the size of the project and the temperature.
The crystal clear cure is hard and makes sure it is resistant to scratches and lasts for a long time. Moreover, the anti-UV property will keep your crafts from yellowing for up to 6 months after curing.
Both plastic and silicone molds are suitable to be used with this product. It's also compatible with a wide range of materials including steel, metal, wood besides being perfect for coating bar tops and kitchen countertops.
Highlighted Features:
Easy application with a 1:1 mixing ratio.
Stirring time of 3 to 4 minutes to self-level and discourage bubbles.
40-minute working time to allow you to focus.
Low odor, no VOCs, and non-flammable.
Curing time 3 to 7 days for final curing.
UV-resistant to keep crafts from yellowing for up to 6 months.
6. QBcarrier Epoxy-Resin-Kit
Add a new dimension to your hobby by using this clear resin for all types of casting and coating projects.
Amazing resin art on wooden boards, wearables, and décor items are some of the things you can create with this product.
With the great ease of application, getting a project off the drawing board is easy. Just mix the resin with the hardener in a 1:1 ratio and mix well before you pour in the mold or on a clean surface. To add more interest to your project, mix in dyes and glitter to make your crafts more eye-catching.
Each bottle contains 8 ounces of resin and hardener. With a 40-minute working time, you have enough time on your hands to focus on the job without the need for hurrying to finish your project.
The product is safe as it doesn't release any VOCs and claims to have only a low odor. For added safety, it is non-flammable. You don't need to worry about having warped shapes in the mold or on a surface as the epoxy resin is self-leveling and fills in any cracks or dips to ensure an even finish.
As it takes only 8 hours to cure, you can complete multiple projects within a short time and have these ready to be given as gifts or sold. The cure is hard and gives a glass-like and lustrous finish. Coupled with glow in the dark pigments, the results can be stunning!
You can also turn your kitchen counter, bar counter, and tabletops as works of art as this epoxy resin is totally safe.
Highlighted Features:
8 ounces each of hardener and UV resin.
Comfortable 40-minute working time for flexibility.
1:1 ratio mix for ease of application.
Low odor, non-flammable, and free from harmful fumes.
8 hours of curing time with a glossy and hard finish.
7. Skogfe Epoxy Resin Coating Kit
Toying with the idea of starting your business from home but don't know where to start? Why not try making resin art and crafts like jewelry, coasters, tables, and other items and try your luck!
With 8-ounce each of the resin and hardener, the 16-ounce kit enables you to apply this on a wide range of projects,for example, coating surfaces like coasters and chopping board, making river tables, jewelry, resin art, and more.
The simple 1:1 mixing ratio makes the preparation and application a breeze. The fourty minutes of working time is sufficient for you to add your personal touches without the need to rush through.
Equipped with self-degassing and self-leveling properties that are so essential, you are guaranteed of a high-gloss, bubble-free, even, and crystal clear finish that will leave you amazed.
To add a different dimension, add glitter, pigments, and glow in the dark colors to make your projects fun and cheerful. As the product cures hard, you are assured of a durable project.
Plus, the anti-staining and anti-yellowing properties will keep the clear sheen on your crafts for a longer time.
The low odor makes it tolerable to work with this product. On top, it gives off no fumes and since it's non-flammable, it's 100% safe to use.
The extra-thick bottle caps prevent spills if you are carrying the kit around. Also, the small holes at the mouth of the bottle enable you to control the amount you are pouring.
The kit comes with 2 pairs of rubber gloves so that the resin doesn't stick to your hands. There are four mixing stirrers to ensure proper mixing. As the accurate measurement is a key part of using this product, you will find 4 graduated plastic cups included.
Highlighted Features:
16-ounce kit with 8-ounce each of resin and hardener.
1:1 mixing ration and 40 minutes of working time for convenience.
Self-degassing and self-leveling for a smooth, glass-like finish.
100% safety with zero fumes, low odor, and non-flammable traits.
Anti-staining and anti-yellowing agents for retaining clarity.
8. MAS Art Pro Epoxy Resin & Hardener
Now this is no ordinary epoxy resin but one designed after research from professional artists, woodworkers, and other hobbyists.
Thus, this professional-grade resin has a few features that set it apart from other brands. The 2-gallon kit contains 1 gallon each of the resin and hardener.
Suitable for a wide range of art and crafts including resin painting, river tables, jewelry, and decor and gift items, it cures hard and with a glass-like finish.
The formula contains anti-UV properties so that your precious crafts don't yellow over time. The clear and luminous finish lends a polished and plush look to your handiwork.
This is the best epoxy resin for art, apart from wood and jewelry applications. With a working time of 60 minutes, artists get ample time to concentrate on their projects and take their time making unique patterns.
The mixing ratio of 1:1 makes it simple to apply. With the self-leveling formula, you can be sure of an even finish with a high-gloss sheen. Moreover, as it cures hard, it makes your project durable and scratch-resistant.
To make your work easier, there are application instructions that come with the kit. The low-viscosity resin is easy to pour and for customizing your work, you can add acrylic paints, alcohol ink, and pigment powders to create multi-colored designs.
Owing to the low viscosity, you get more time to work, and hence, curing takes a bit of time. The product is also suitable for incidental food contact so that you can use it in kitchen items like countertops and coasters.
Highlighted Features:
Professionalal-grade resin for artists and hobbyists.
2-gallon kit with one gallon each of hardener and resin.
Low-viscosity for one-hour working time and more flexibility.
Hard cure for a high-gloss and durable finish.
UV-resistant to keep the projects from turning yellow.
9. Unicone Art Epoxy Resin Kit
Whatever art and crafts project you can visualize, this epoxy resin will enable you to bring it alive!
Coating, casting, varnishing, painting, and molding – anything you can dream, you can do with this 1-gallon set of clear casting liquid and hardener, each contained in a half-gallon container!
Made with the requirements of artists in mind, this product has been tested by artists before being marketed. Each project will wear a high-gloss finish with the luster that will make your project stand out and come to life.
With an easy application that requires a simple mixing ratio of 1:1, you can't go wrong with this product. Remember to stir the mixture for at least 3 minutes to ensure there are no bubbles when you pour it on a surface or in a mold.
Add in mica pure pigments or glitter to create unique pieces of craft that you can sell or give as gifts. Allow 24 to 72 hours for the resin to cure completely at room temperature. With a generous 30 minutes of working time, you have the leeway to apply your creativity at your pace.
The self-leveling property of this epoxy resin ensures it sits perfectly on surfaces and if required, fills in imperfections like cracks and dips. All to make sure the results are outstandingly smooth and shiny.
What's more, it's a safe product as it's BPA-free, releases zero VOCs, certified non-toxic, and gives out no odor. Hence, you can breathe easily while you work without the worry of harming your health in any way.
Highlighted Features:
1-gallon set with half gallon each of resin and hardener.
Lustrous, hard finish for durability and beauty.
Easy application with a 1:1 mixing ratio and 3 minutes of stirring time.
30 minutes of working time and 24 to 72 hours of curing time.
BPA-free, certified non-toxic, no fumes, no odor.
10. DEEP Pour Epoxy Resin Kit
Have been admiring that river table at your friend's ever since you laid your eyes on it? You can make your very own with this deep pour epoxy resin!
With this liquid glass 2-inch deep pour product, you can create wonderful works of art!  Besides river tables, pour your creativity out with this product in molds or transform your kitchen countertop to a starry night's theme!
It's a 1.5-gallon kit that gives you superior results, thanks to the premium quality ingredients used in it coupled. You can even go for a 4-inch or even higher deep pour with ease.
You will get a harder cure to get a more durable project plus no warping as it is resistant to the effects of heat. Besides the stable result provides you with a firm surface that won't dent.
Owing to the thinner viscosity of this epoxy resin, you get clearer and deeper finishes because it has its own mechanism of dispersing bubbles to give you an almost-perfect finish. You can use it with all sizes of projects, even jewelry items that require this product in only a 4-milliliter pour.
However, even for very small projects, you should make a mix of at least one pint as otherwise proper measurements become difficult and the end-result suffers as curing time goes awry.
This product will turn yellow as all other epoxy resins do but the difference is that due to the top-quality UV-resistant ingredients, your project will yellow less and over a longer time duration than other brands.
Compatible with alcohol inks, liquid pigments, dyes, and mica powder pigments, test the limit of your imagination and creativity with this resin! However, you're advised not to mix oil-based and acrylic paints as this could have a negative effect and spoil your project.
Highlighted Features:
Deep-pour between 2 to 4 inches for amazing results.
1.5-gallon kit for all sizes and types of arts and crafts.
Superior UV-resistant ingredients to slow down yellowing.
Heat-resistant and hard cure with no warping.
Lower viscosity makes pouring easy and removes bubbles.
What To Look For Before Buying Epoxy Resin For Crafts?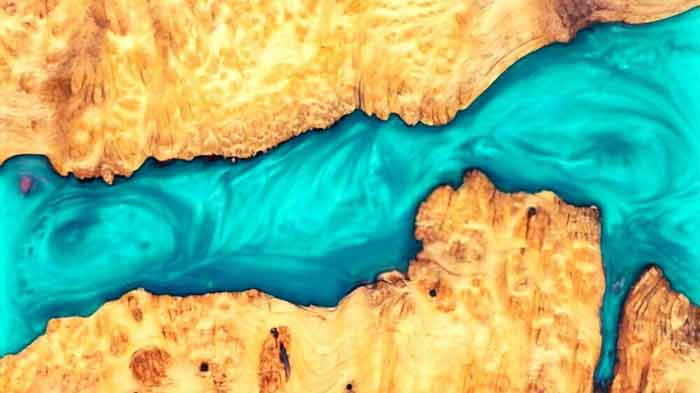 Depending on the kind of end result you want your project to have, you need to know the following factors before buying epoxy resin for crafts.
Clarity
You need to buy a clear resin if you want your project to have a clear look. However, do keep in mind that not all clear epoxy resins have a clear look when they dry. Depending on the brand, some may have a yellow tint.
Coverage
More or less, all the brands provide the same coverage and that determines how much value for money you are getting. So, if some brand promises to give you more than 25 square feet, by all means, go for it unless it doesn't meet other criteria.
Curing Time
The time it takes for the epoxy resin to cure is an important consideration as that will determine the finish time of your project. Some projects may be time-bound, especially commercial ones where the clients expect you to deliver the finished project within a definite time frame.
Remember that there are three types of curing time. The first refers to the time it takes for the epoxy resin to harden enough to be touched.
The second one refers to the waiting time before applying another coat. And, the final curing time is the time it takes before you can use the product.
Ease Of Application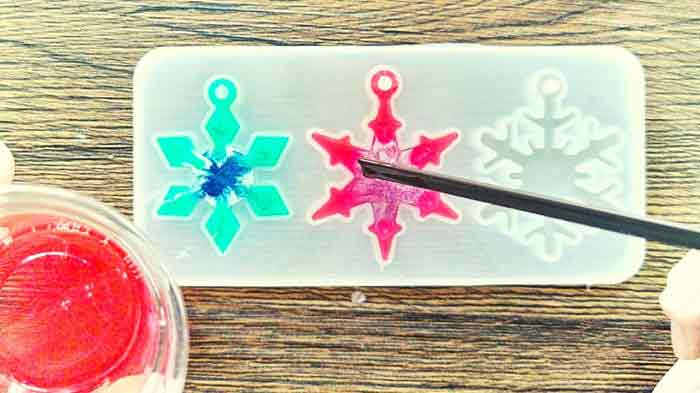 It's difficult to apply epoxy resin that does not harden easily. The two most common occurrences at the time of curing are the formation of bubbles and blushing.
Blushing is a waxy finish that tends to show itself after much of the curing is done already. One way to prevent this is by using a humidifier or by working in a completely dry area.
To get the best epoxy resin for crafts, check if the brand provides any protection against blushing. Self-leveling epoxy resin is easy to apply as it will fill in any imperfections on the surface like cracks and dips.
Always choose an epoxy resin with a slower curing time if you need cracks to be filled in. It's not possible to have both a self-leveling and a fast curing formula in the same epoxy resin.
Bubbles can form outside or within the cracks of a surface and will mar the final finish of your project. If you notice bubbles forming on the exterior, shift to a dry place where the humidity will not encourage these bubbles to form.
If the bubbles are forming from within the surface material, then use a hot gun to disperse these. Before buying epoxy resin, check the curing time as a shorter one will more likely pose a difficulty when you try to get rid of the bubbles.
Protection
Check if the epoxy resin you want to invest in protects against water and the damaging UV rays from the sun. It's most commonly used on wooden surfaces like tables, bar counters, etc.
As food and drinks are served on these surfaces, the epoxy resin should give protection against spills and watermarks from placing coasters.
Exposure to the sun will subject any material to the harmful ultraviolet rays that can fade the color of the surface. So, before you buy epoxy resin, check if it protects against the effect of these UV rays.
Viscosity
For art projects on wooden boards or for jewelry projects, the viscosity or density of the epoxy resin is very important. It should not be very thin as that would allow the different colors to mix and give rise to new color tints.
A thicker density of epoxy resin will prevent that. Therefore, the best epoxy resin for jewelry would be the one with a high or medium viscosity to ensure proper color separation.
These also cure really hard, protecting the piece from scratches and having marks on it.
How To Use Epoxy Resin For Crafts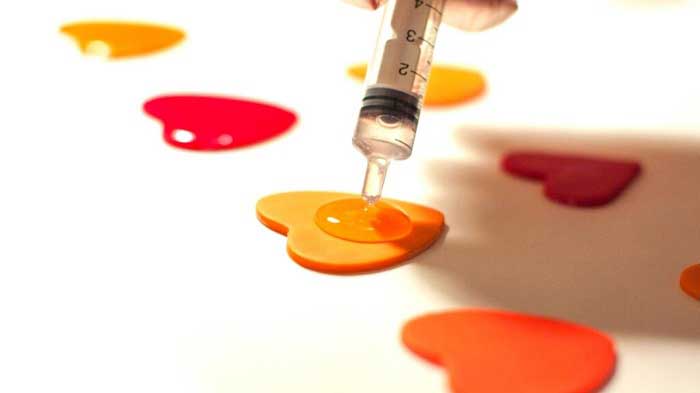 You will need a few things when making crafts using epoxy resin.
Silicone Molds Of Various Shapes
Epoxy Resin That Comes In Two Parts
Popsicle Sticks For Stirring
A Syringe For Exact Measurements
Disposable Plastic Cups To Mix The Resin
Rubber Gloves To Protect Your Hands
Optional Colors And/Or Glitter To Put Into The Resin.
1. Prepping
Wash the silicone mold of dirt and dust and keep them on tissue paper or any absorbent paper to dry. Choose a well-ventilated area and place protective paper or plastic on your workbench.
2. Mixing
Read the label instructions carefully so that you know the exact measurements for mixing. Otherwise, it would be too thin to set properly.
Put on your rubber gloves and measure out with a syringe and put it into the disposable plastic cup. Using the popsicle stick, mix the resin in the cup. If you want to use any color, carefully add it by dropping it in according to instructions.
You can choose acrylic or poster paints or even India ink. Mix it well. If you want to use glitter, then take a good amount as it tends to settle down at the bottom.
3. Molding And Layering
Put the mixed resin into the molds with the help of the popsicle stick. Then wait for it to set. If you want to put anything in, wait for about 4 hours till it's set halfway.
Then you can place a charm in it if you want to and add a second layer, which is optional. Keep adding layers until you have the desired thickness.
4. Cleaning Up
Take the leftover resin and pour it down the sink. Make sure to keep out of reach of pets and children. Throw away the disposable cup in the right bin. To clean the syringe, soak it overnight in a water and soap solution.
5. Demolding
To get your craft out of the mold, don't use anything sharp as it might scratch your project. Simply use the gentle pressure of your thumb and fingers in the middle of the back part of the mold to get the craft out.
Safety Tips For Using Epoxy Resin For Crafts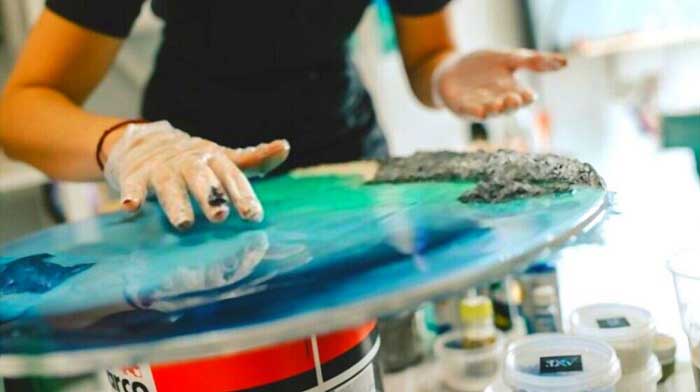 Wear an apron when working with epoxy resin to prevent spills from hardening and ruining your clothes.
Place a plastic cover or paper on the workbench before you start working as epoxy resin may spill and harden on the surface.
As the epoxy resin can be corrosive on the skin, always wear a pair of rubber gloves and full sleeves to protect your hands.
Epoxy resin has a somewhat strong chemical smell so using a mask when applying it is recommended. Plus, some brands do give off fumes so a mask is advised.
Smoking, eating, and drinking near the workspace is not advised. Synthetic resin is flammable so smoking is a big no-no.
Dispose of the cup where you mixed the resin carefully so that pets and children cannot get to it. Same goes for excess epoxy resin left over after the project.
Frequently Asked Questions (FAQ)
1.What Are The Benefits Of Epoxy Resin?
Answer: There are a few benefits of epoxy resin, especially so for beginners. The main benefit is that epoxy resin is very easy to use. Even under humid conditions, epoxy resin gives you the desired results.
Moreover, it retains its properties for 20 to 40 minutes while you work with it so that you don't need to rush through a project. Also, it has the longest shelf life and hence, gives you more value for money.
2. What Are The Downsides Of Epoxy Resin?
Answer: The main downside of epoxy resin is that it is soft after it is cured. Even with a finger, you can get a dent on the casting that has used epoxy resin. On the other hand, if you use polyurethane and polyester resins, you will see that these cure very hard and has a glass-like finish.
With a polishing wheel and some compounds, you can get a gloss on polyester and polyurethane resin but epoxy resin will not be able to withstand the heat from the wheel and will, therefore, have a muddy and cloudy finish.
Also, you cannot leave epoxy resin treated objects outdoors for long as they will eventually turn yellow.
3. Which Types Of Color Are Suitable For Mixing With Epoxy Resin?
Answer: You can use a few color types with epoxy resin provided they have a high concentration of pigments. Examples of suitable colors include powder forms of color pigments, alcohol ink, India ink, spray paints, and liquid acrylic paints.
4. Does Epoxy Resin Make A Good Binding On Wood?
Answer: Yes, epoxy resin does have a great binding with wood. It creates a permanent bonding as long as you ensure that the wood has been prepped properly by sanding down and cleaning it properly as any dirt will prevent the resin from bonding well.
Also, make sure that you use a single brand for the entire project to avoid unpleasant surprises.
5. What's The Difference Between Casting Resin And Epoxy Resin?
Answer: Although both epoxy and cast resins are used in art and crafts projects, there are differences between them.
Casting resins have a low viscosity and are quite thin before they are hardened while epoxy resins have a higher density.
Due to the thin consistency, you can take a longer time to work with casting resin, which is not the case when it comes to epoxy resins. For the same reason, casting resins have a longer curing time as the low viscosity takes several hours to harden.
During the casting process, you can apply the casting resin in thicker layer heights, which epoxy resins don't allow. With epoxy resin, you can get a limited thickness per application.
Lastly, the mixing ratios differ in these two types of resins. While different mixing ratios are applicable in the case of casting resins, epoxy resins call for mixing with simple ratios like 1:2 or 1:3.
Final Word
You can make many types of arts and crafts with epoxy resin. Your creativity will be triggered positively and you will find that your imagination will be boundless once you start tinkering with these projects.
You can create your line of jewelry or keepsakes. As epoxy resin is a flexible product, you can make art on wooden boards, create river tables, coasters, jewelry, and decor items.
However, not all products are same and you need only the best epoxy resin for crafts to get a satisfactory result.
You don't need a huge investment to get your hobby or small business going as the application is quite simple. However, you'll need some protective wear and an airy room to work in.
With the epoxy resins that have been listed in this post, we hope you will make a good start and never look back!
Related Buyer's Guide:
Which glue gun performs the best for crafts?
A close look at our favorite wood crafts paint
Love to make jewelry? Which Lapidary saw is the best? Find out here!
A look at the best cabbing machine on the market
Choose the perfect waist beads string for your perfect style
Which iron is the best for perler beads – Check our top picks!