As DIY ing and crafting has become more popular, so has resin.
Resin is great because it is incredibly versatile and can be used to produce lots of different things, from casting things to making jewelry, there are loads of things that you can use resin for.
But, for a lot of projects, you might decide that the clear color of resin isn't appropriate. In which case, you might find yourself wanting to color it. But how do you do this?
Coloring resin is actually surprisingly easy, and this is one of the reasons why resin is so popular. But, if you haven't colored resin before, then the idea of doing this can be rather intimidating.
With that in mind, in this guide we're taking a look at how to color resin, so that you can make it the perfect color for your project. So, with no further ado, let's get started.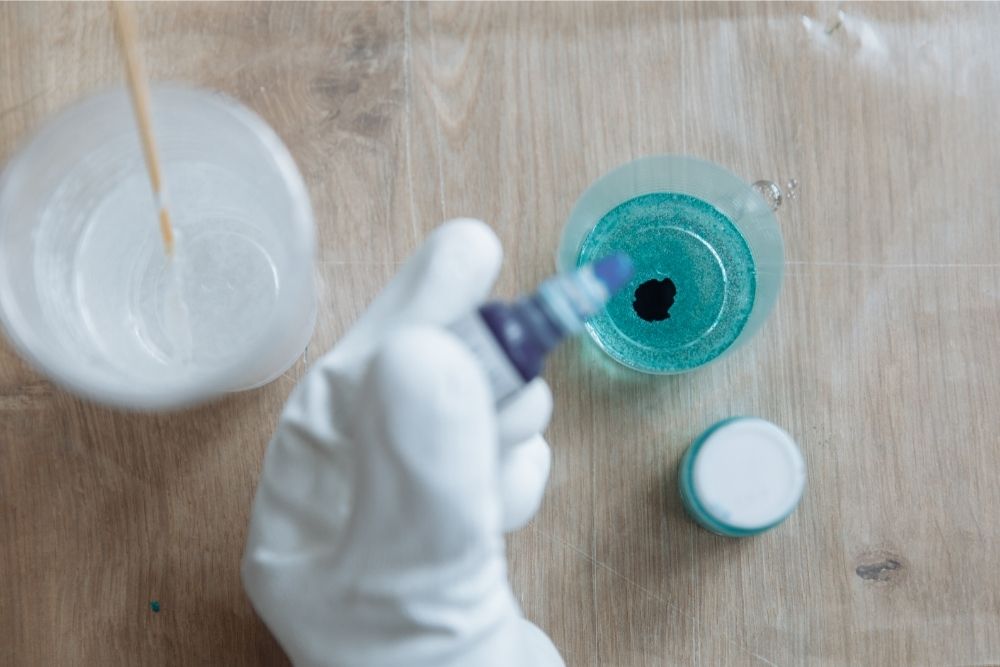 What is Resin?
But first, let's take a look at exactly what resin is. Resin, or epoxy as it is also sometimes known, is a synthetic material that is made of polymers.
There is a lot of science behind the making of resin, but all that you really need to know is that it is essentially a type of plastic. As resin is synthetically made, it has a hugely versatile range of uses.
It is used in construction work, and also used as an adhesive to bond things together. Most commonly it is used as a coating, but as crafting has become more and more popular, this is another common way in which resin is used. 
Since resin was first used in a crafting capacity, it has become increasingly popular. Now, there is a whole section of the crafting world dedicated to resin art.
Resin has become so popular for crafting because it allows you to make high quality products, that look just like glass, at home without expensive technology and materials.
Due to this, resin is now used to make phone cases, bookmarks, jewelry, key rings, and lots more. But why would you want to color it?
Why would you want to Color Resin?
If you aren't familiar with resin, then you might be confused as to why you would want to color it. It is perfectly okay to use resin in its natural synthetic form. However, resin is clear, so it can be a little boring for home crafting activities.
If you want to make jewelry or key rings with your resin, then you probably want something a little more exciting than transparent material, and this is why you might decide to color it. 
In a lot of crafting cases, it will be fine to use the resin in its transparent form as it will be used to encase something inside. For example, glitter or dried flowers.
But, if you want to make something solely using resin, then it is probably best to color it. You may also choose to color your resin if you have a specific project in mind, and want to use resin to achieve the finished result.
So, if you do want to color your resin, where do you begin? Let's take a look. 
How to Color Resin
Now, let's take a look at how to color resin. Before we go any further, it is important that you know that there are a lot of different things that you can use to color your resin. From acrylic paints to alcohol based colors.
From glitters and powders to kitchen spices. The list is seemingly endless. But, we always find that the best way to color your resin is to use a transparent color resin pigment.
There are lots of different companies that produce these, and it is the best way to achieve the color that you desire. 
Most companies that produce and sell resin will also produce these pigments. To achieve the best results when coloring your resin, you should always use a pigment that was produced by the same manufacturer as the resin.
This is because these pigments were designed for this resin, so you can be confident that coloring your resin with this pigment will not impact the curing process.
Additionally, colors specifically designed for that resin should never alter in terms of color. So, you should always get the color that you wanted. 
Once you have decided on your color, it is time to get coloring. The most important thing to bear in mind is that time is of the essence.
Resin cures incredibly quickly, so it is incredibly important that you have all the necessary materials at hand ready to get going.
You should also remember to protect the area that you are working in with sheets or plastic, as epoxy resin can cause damage easily. Finally, remember to protect yourself.
To work with resin, you should wear goggles and gloves, as well as a breathing mask. Then you are ready to get started. 
Take your resin and mix it thoroughly, then add your hardener to the mixture, and continue to mix. To do this, follow the instructions outlined by the manufacturer of your resin.
When your resin has mixed, it is then time to add your pigment dye. Add a small amount to begin with, then follow the measurements outlined by the manufacturer.
If you are unhappy with the color, add a little extra. But, the amount of pigment that you add should never exceed 5% of the complete mixture, as this could impact the resin. 
Once the color has mixed into your resin, you can then immediately use the resin to do whatever you want to do. Whether it be to make earrings or a bookmark, your colored resin is then ready to use. 
Summary
In short, as you can see, coloring resin isn't actually as difficult as you might expect. As long as you buy good quality materials, then you can easily color your resin without impacting its ability to do its job.
So, if you want to color your resin, follow these steps to find out how to do it right.