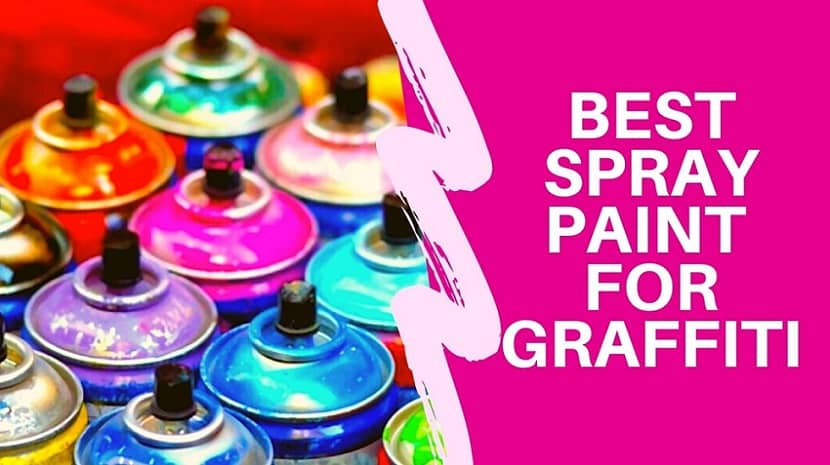 Graffiti spray painting is no less creative than painting on canvas or art papers. In fact, this art is more complicated and requires great skills. The quality of the graffiti highly depends on what types of paints are used.
If you understand this fact well and came here for the best spray paint for graffiti, you are in the right place. Not all the paints have similar formulation, neither do they stick equally on different surfaces.
Acknowledging these factors, it might seem overwhelming to you. But, I have gathered some products that you can rely on regarding the quality of your wall arts.
Comparison of Our Favorite Products
IMAGE
PRODUCT
DETAILS

Editor's Choice

Editor's Choice

Quantity:

12 set of 400ml. spray cans

Touch Dry:

10 minutes

Temperature:

50°F-75°F

Coverage:

Very High

Check Price

Best Value

Best Value

Quantity:

12 oz.

Touch Dry:

10 minutes

Temperature:

55°F-75°F

Coverage:

25 sq. ft.

Check Price

Semi Gloss

Semi Gloss

Quantity:

12 oz.

Touch Dry:

20 minutes

Temperature:

55°F-75°F

Coverage:

12 sq. ft.

Check Price

Titanium White

Titanium White

Quantity:

400 ml

Touch Dry:

20 minutes

Temperature:

41°F-104°F

Coverage:

21 sq. ft.

Check Price

Realistic Marble Effect

Realistic Marble Effect

Quantity:

400 ml

Touch Dry:

5-30 minutes

Temperature:

50°F-77°F

Coverage:

Very Good

Check Price
Types of Spray Paint for Graffiti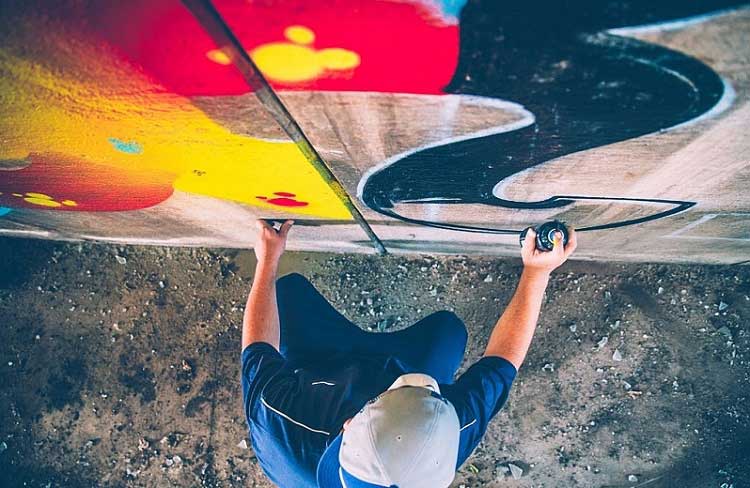 Even though there are many types of spray paints, most famous spray paint brands formulate 3 types of paints for graffiti arts.
Oil or Solvent-Based Spray Paints
Professionals, as well as enthusiasts, prefer using oil-based spray paints for its vivid and great looking colors. Even though you cannot use these paints for indoor purposes, for outdoors, these spray paints are one of the most popular ones.
You will be able to spray paint art on a wide variety of surfaces, including metal, concrete, wood, etc.
Enamel-Based Spray Paints
As far as spray painting metal surfaces is concerned, nothing beats enamel-based spray paints. Great for furniture as well, these paints provide a hard finish to the surface that also protects it from damage.
Water-Based Spray Paints
This is the most widely used spray paint type for graffiti arts. Wall arts of water-based paints look stunning and last much longer.
Popular spray paint brands formulate paints that can also protect the surface from elements, weather, UV, and other damages. Due to its fast-drying properties, recoating doesn't take too long to wait.
Also, these paints contain low to zero odor; thus, it's an ideal environmental-friendly option for graffiti paints.
Best Spray Paint for Graffiti: Our Top Picks
Searching for good quality spray paint is time-consuming. I have done the research for you and come up with these top suggestions to make sure your investment doesn't go in vain.
1. Montana Black Spray Paint For Graffiti Art – Editor's Choice
Among graffiti artists, Montana is a well-reputable name for its high-quality paints and great looking colors. This set includes 12 400ml spray paint cans, which will be more than enough for those who regularly show off their street art expertise.
If money is not an issue for you to get the best spray paint for art, there's absolutely no reason to look elsewhere.
The cans deliver high covering matte finish paints that look amazing on surfaces of various materials. As the paint takes a short time to dry, you don't have to wait for too long to re-apply or overlap with some other colors.
With its high-pressure nitro-combination formula, you can achieve great graffiti artworks. The spray provides you great control and handling to add perfection to your unique creations. Its high-pressure valve system makes spraying very convenient and fast. You will gain a great overall user experience with these cans.
As the aerosol cans are non-scented ones, there are no health issues related to it. So, if you are an environmentalist, this can be the right choice for you. The paints are weather and winter-proof, so you got no reason to worry whether the artworks will fade away as the season changes.
You can rest assured about its high-quality pigments and ingredients that will make your graffiti art look absolutely stunning. No matter whether the surface is large or small, the convenient spray caps will allow you to apply the paint accurately and efficiently.
Highlighted Features:
A set of 12 Montana black cans of 400ml each
Great looking colors
Top-quality and weather-proof paints
High-pressure nitro-combination
Fast drying time
2. Krylon COLORmaxx Spray Paint
This spray paint is one of those paints that sticks to various types of surfaces with great durability and adhesion properties. You can give your artworks as well as painting projects a dope looking matte finish using this spray can. Visitors will surely praise your expertise as well as the paint.
Apart from its vivid color, the paint provides premium coverage, which is way more than conventional paints. You can use the spray paint both indoor and outdoor without worrying about weather conditions and rust whatsoever. Also, the paint will not fade away like cheaper ones; rather, the color will last for longer.
The spray can features a big easy to push button that allows you to spray comfortably regardless of the directions. It does the paint job much quicker and more efficiently. Compared to cheap graffiti spray paints, this one dries much faster. After 10 minutes of applying it, the surface becomes dry and safe to touch.
Colormaxx paint looks pretty sensational on metal, wood, plastic, and glass materials. So, whether you have something to give a new appearance, be it indoor or outdoor, this spray paint is all you need. Apart from these surfaces, it also looks great on ceramic, paper, fabric, paper mache, and other similar materials.
With this spray can, you will be able to cover up to 25 square feet area with great efficiency. For the best results, be sure to apply it when the temperature is between 55-75°F.
Highlighted Features:
12-ounce of spray paint
Great coverage up to 25 sq. ft.
For both indoor and outdoor use
Very adhesive on a wide variety of surfaces
Fast-drying paint
Premium matte finish
3. Rust-Oleum American Accents Spray Paint
Glossiness is something that doesn't go with graffiti artworks. Using a semi-gloss paint like this one can enhance your unique creations as well as user experience. Apart from graffiti, you can also use this spray paint for other indoor and outdoor painting purposes.
Be it metal, plastic, wood, ceramic, wicker, plaster, and other surfaces, you will find Rust-Oleum spray to provide great adhesion properties. The surfaces will get long-lasting, durable protection from this product.
Unlike cheaper paint cans, applying this one is fairly convenient and easy. You can comfortably spray from any angle. With its wide and comfortable to press finger pad, you can apply the paint without having any finger fatigue issue whatsoever.
Applying on hard to reach areas is also much easier when you have this aerosol spray can on your hand.
Each can efficiently covers up 12 sq. ft. areas. Applying it doesn't take much time. It only takes 20 minutes to become dry-to-touch regardless of what surface you are to apply the paint. Applying only 2 coats will be more than enough to provide you with the desired shininess.
As far as the color is concerned, you are assured of getting vivid and beautiful looking colors from the spray. The surface will be durable and feel much smoother than before.
Highlighted Features:
Semi-gloss, durable, and long-lasting spray paint
Ideal for spraying on versatile surfaces
Comfortable and convenient spraying without fatigue issue
Dries in 20 minutes
Great coverage
4. Liquitex Professional Spray Paint
Graffiti arts include vibrant and beautiful paint works. But if you particularly need the white paint color, it must be of high-quality. Otherwise, it will not grab much attraction from people.
To provide you with great quality white spray paint, this one from Liquitex offers you titanium white spray to enhance your wall arts.
This spray paint delivers cool looking matte finish with excellent color brilliance. As it's lightfast, the color will not fade out due to sunlight or any other weather issues. Unlike conventional aerosol paint, this one has low-odor, which is comfortable for chemically sensitive individuals.
To bring the most out of this paint, you can mix the spray with Liquitex acrylic paint colors as well as mediums. It can produce stunning color effects that look brilliant on walls and whatever surface you apply on.
As the paint is water-based, you can conveniently and effortlessly clean up dirt and other stuff using only water. However, water will not affect the paint whatsoever. The paint is weather-proof and permanent once it dries. So, you can use it for both interior and exterior purposes.
Apart from walls, you can also use the paint on canvas, wood, masonry, glass, other surfaces. Its artist-grade pigments will surely add elegance to your artworks and buy you some warm compliments.
Highlighted Features:
Water-based weather-proof spray paint
Low in odor, no effects on skin or eye
12oz can covers 21 sq. ft.
Fast-drying paint and easily cleanable
Mixable with Liquitex Professional Acrylic Paints
5. Montana Cans Marble Color Spray Paint
This one is different from typical spray paints due to its exceptional paint effects. If you are to give walls or other paintable surfaces marble color coats, Montana comes with this product for you.
With this 400ml spray paint can, you can create realistic marble effects on surfaces that are made of paper, cardboard, wood, glass, canvas, metal, ceramic, stone, and many more paintable surfaces. Sporadic strands of the finest colored paint create the marble effects that look excellent from all aspects.
The paint gives surfaces a premium matte finish. You can choose from different marble color shades such as white, black, blue, red, silver, pastel green, and gold. All you need is to shake the can for a couple of minutes and apply from further away onto the surfaces. After 24 hours, you can apply another coating.
Due to its solvent-based acrylic properties, the paint leaves its elegant sign wherever you apply it. You can effortlessly breathe new life to older materials using this paint.
If you are up to wall calligraphy, this paint can add great effects to your creations. It will provide excellent dynamic results even on backgrounds that have great contrast. You can spray the paint both vertically and horizontally as per your convenience. Each stroke will deliver unique and stunning artwork.
The paint is also compatible with a wide variety of Montana paints and markers to add great compliment to your unique creations.
Highlighted Features:
Marble color effects
Applicable to various types of surfaces
Solvent-based acrylic paint
Matte finish
Medium can pressure
6. Montana MTN Water Based Spray Paint
This spray pack from Montana includes 16 graffiti spray cans to complement your wall arts. You will have most colors that are needed to add perfection to your graffiti designs.
These spray paints are water-based; thus, there will be no harsh odor. In fact, the paints are odorless, which is ideal to use considering the environmental fact. If you are a chemical sensitive person, your skin and eyes will not burn or irritate while using the paints.
Its great adhesive properties and durability allow you to use it for both indoor and outdoor painting purposes. As the paints are from Montana, you are assured about the finest quality color pigment that will enhance your creative arts, and also provide you great user experience.
The high-pressure aerosol spray can makes it a breeze to spray on surfaces made of various materials. You will have precise control while applying these paints on surfaces. As the cans are of smaller size, it's much easier and convenient to spray compared to larger cans.
Great graffiti designs are highly achievable regardless of the angle that you apply the paint from. The drying time is relatively fast; thus, you don't have to wait for too long to recoat.
Even though these are smaller cans, the coverage is still pretty decent. For most small designing and printing projects, you will find these paints more than enough.
Highlighted Features:
Includes 16 finest quality spray paints
Great control while spraying
Water-based fast-drying spray
Odorless
For both indoor and outdoor use
7. Montana Gold Premium Spray Paint
If you are a professional who doesn't make any compromise when it comes to the quality of spray paint, this set of 12 spray paints from Montana is for you. Its great coverage, along with the excellent painting quality, will surely enhance your wall arts skills and experience.
No matter what your painting projects require from you, you will find these 12 paints to be more than enough to handle most tasks. The wide color range will allow you to unleash all your artistic potentiality. So, let all the creativity come to create great-looking graffiti.
Although I have reviewed some high-pressure paint cans earlier, these are low-pressure cans. Having a low-pressure aerosol paint allows you to do more intricate works without much struggle.
For designs that require precision and delicacy, you can rely on these spray paints regarding graffiti; every detail work with great perfection.
Compared to average spray paints, these provide much better and efficient coverage. Also, the paint is fast drying; thus, you don't have to wait much longer to recoat.
Whether you decide to paint canvas, furniture, murals, or create graffiti, urban, street, or other artistic stuff, Montana Gold will not disappoint you for sure. Apart from that, you can paint on wood, metal, glass, concrete, and other paintable surfaces as well.
Highlighted Features:
A set of 12 spray paints of great quality
Low-pressure paint for more accurate results
Efficient coverage
Fast-drying and premium quality paints
Ideal for versatile painting and designs
Applicable on various surfaces
8. Pintyplus Aqua Mini Spray Paint
Here, we have another low-pressure water-based spray paint. This one from Pinty Plus includes 8 spray cans of various colors to add perfection to your painting projects.
Since it's a water-based formula, there will be no chemical odor whatsoever, which makes it an environment-friendly option to pick. So, this can be the best spray paint for graffiti for both indoor and outdoor use.
Whether you are about to paint on paper, canvas, wood, plastic, glass, fabrics, or other paintable surfaces, you will find the paint to provide great looking long-lasting colors. Also, the paint sticks well to irregular and complex surfaces without much struggling.
As it's a low-pressure spray can, there will be quite less overspray and wastage. You will be able to paint on a wide variety of surfaces more precisely and accurately, where maintaining delicacy is a must.
Each spray can contains 150ml of paint. With its decent coverage, finishing a small painting task will be covered with great efficiency.
The colors that this set includes are very attractive and are able to add elegance to your artworks. You can mix and match these colors to bring the most out of your creativity.
Unlike cheaper graffiti cans, paints don't bleed while applying. So, achieving great artworks is much easier and hassle-less when you have these cans.
Highlighted Features:
Water-based odorless spray paint
Includes 8 colorful paints
Applicable on surfaces of various materials
Low pressure and more accurate application
Decent coverage
Safe for indoor use
9. Ironlak Spray Paint For Graffiti Street Art
This spray paint set is the best graffiti spray paint of Ironlak. Its impressive high-pressure valve, decent coverage, color pigment quality, and ease of application make quite an appeal to the graffiti artists.
These 12 paints include the most commonly used colors that you cannot complete any graffiti art without. Regardless of your skill, you will find the colors to be enough for adding perfection to your artworks.
Apart from graffiti paints, you can use for other purposes as well. Various surfaces such as canvas, concrete, plastic, wood, cardboard, glass, metal, etc. are ideal materials to apply this paint on. No matter on what surface and for what purpose you use the cans, you will get great looking and long-lasting vivid colors.
Unlike most previously reviewed paints, Ironlak provides an attractively glossy finish to the applied surfaces. The coating has the great adhesive ability, and resistance to various elements to make your creation long-lasting and durable. Furthermore, your artworks will not fade out due to UV light whatsoever.
The cans spray the paint at a high-pressure, which is something that professionals and skilled artists can handle well. Equipped with a widow maker spray nozzle, these spray cans deliver a medium-wide spray radius, which allows you to fill large areas with great convenience. You can create sharp and bold outlines effortlessly.
Highlighted Features:
12 most popular spray paints
High-quality vivid colors
Fast-drying with great coverage
Provides an attractive glossy finish
Boasts high-pressure spray with a medium-wide spray radius
Durable UV and element-resistant coating
10. Molotow Belton Premium Spray Paint
Urban and graffiti arts require well-pigmented spray paint to look gorgeous. So, when the purpose is to buy the best spray paint for graffiti, this highly pigmented spray paint from Molotow premium can be a good consideration.
You can achieve perfection and add great elegance to your paint arts using this high-quality paint. Its quick-drying formula shortens your waiting time when the surfaces require multiple coats. So, within a short time, you can cover large areas conveniently.
No matter if you need to spray on wood, canvas, concrete, and other paintable surfaces, this paint will bring great results. The formula is weather and UV-resistant; thus, there will be no fading out.
You can be assured of its durability and longevity as well. Not all the artworks go well with a matte and glossy finish. This is where this spray paint strikes.
If you need to get the sweet spot between matte and glossy finish, this paint can provide you with a great looking high gloss finish regardless of the surfaces you apply it on. The permanent color selection will surely attract visitors.
This one comes in a grapefruit light color.You can purchase cans of other colors without spending much. Each can come with 400ml of spray paint. The overall coverage is quite decent and will save you both time and money.
Highlighted Features:
Great quality pigmented spray paint
Quick-drying and weather-resistant formula
Resists UV effects quite well
Applicable on various surfaces
Provides semi-gloss finish
11. Montana MTN 94 Spray Paint
This set of 12 spray cans is considered one of the most popular paint sets of Montana. Although I have previously reviewed one of their great quality paints, these paints got their own way of adding elegance to the wall arts as well as other painting projects.
Using multi-purpose spray paints doesn't seem to provide satisfying results according to professional artists expectations. For this reason, Montana came up with this paint set that is specially formulated to beautify your graffiti, street, and modern arts. You can also use these paints for other surfaces without any issues.
The paint is one of the fastest drying ones on the list. So, you will only have to wait for a very short time to dry the coat before applying another one. Its matte finish effect on the surfaces looks absolutely stunning.
Even if you are an amateur artist, you will notice that your artworks are becoming better than how they used to be.
Among these 12 colors, you will find the right colors for your painting projects in most cases. On both indoor and outdoor surfaces, the paints look excellent after drying. The quality of any artwork will surely attract people and make them wonder about who is behind this great piece of excellence.
As these are low-pressure spray cans, you can handle tasks that require great precision for perfection. Its valve system will get you enough flexibility while spraying the paint.
Highlighted Features:
Especially pigmented 12 high-quality paints for graffiti
Great collection of colors
Applicable on versatile surfaces
Ultra-fast dry time
Low-pressure valve
Contains pleasant vanilla scent
12. Deco Art Americana Acrylic Sealer Spray
Last but not least, this graffiti spray paint from Deco Art is ideal for painting purposes where the protective properties of the paintwork are also of major concern. The can contains 12 ounces of great quality aerosol spray paint to add elegance to various surfaces.
This graffiti spray can is weather-proof; thus, your applied surfaces will be protected throughout the year without any issue. No matter whether you use it on paper, wood, metal, glass, and other paintable surfaces, the paint will provide great results.
Being a low odor spray paint, it will not cause much irritation issues for the one who will apply it. Also, the paint dries quite faster than average graffiti sprays. You don't have to wait much longer to attempt the second coat while using the paint. The coverage is quite decent if you are to compare it with other paints.
One coat of this graffiti spray paint will be more than enough for most cases. However, another coat will provide a much better appearance. The paint is available in both matte and glossy finish. You can conveniently choose one according to your needs.
Apart from graffiti, you can also use this paint on furniture as well.
Highlighted Features:
12-ounce of matte finish spray paint
Enough coverage with one coat
Fast drying properties
Adds a protective layer
Durable and weather-proof paint
What to Look for Before Buying Spray Paint for Graffiti?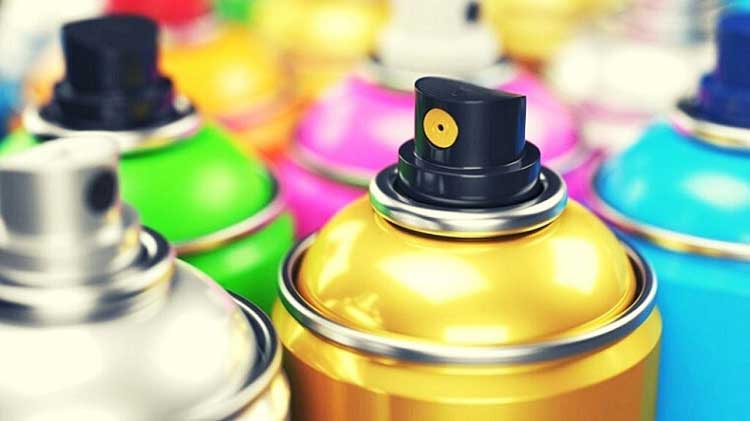 Compared to other DIY projects of painting, graffiti is a bit different. So, the spray paints required for this artwork are different as well. You cannot randomly pick any spray paint and expect it to be great on concrete and other surfaces.
To make your purchase worth, be sure to check for these things before you get the paint.
Paint Quality
The best graffiti spray paint would be highly pigmented so that the paint doesn't fade, look watery, and wash out too soon. The paint shouldn't bleed on the surfaces or leak out of the can while you apply it.
Water-based spray paints can be an ideal choice if you want protection against elements and weather conditions as well.
On the flip side, solvent-based paints don't bleed as much as water-based ones. However, you cannot use these wherever you like due to its harsh chemical properties. As far as the color quality and vibrancy is concerned, solvent spray paints seem to lead the competition quite well.
Coverage
As far as the coverage is concerned, it refers to how much area you can cover with a certain amount of paint. The coverage information should be written on the spray can. If you are a professional and have to paint quite a lot, this is something you shouldn't overlook.
However, when it's about getting a smaller or single can for occasional or home use, efficiency will make sure you can make the best use of the paint.
Colors
This concerns both the professionals as well as enthusiasts.Great and stunning look graffiti arts include a wide variety of colors. If you always prefer color blasting on concrete, canvas, or other paintable surfaces, be sure to purchase a set of paint, which has a variety of color collections.
For single or occasional use, you can stick to one or two colors as per the paint jobs require.
High or Low-Pressure Valve
You will notice that the spray can mentions whether it sprays paint with high or low pressure. A high-pressure graffiti spray paint can provide consistent and more amount of paint on the surfaces.
For graffiti arts, you must have enough skills to handle a high-pressure spray can.
As far as the regular paint jobs are concerned, skill isn't that important. You can quickly cover the surfaces with great convenience.
Low-pressure spray paints are best for precise and delicate applications. You can paint slowly to maintain the precision of the artworks.
Finish
It's up to the preference of the street artists or professionals that what spray paint to use for graffiti finish. Spray paints provide matte, glossy, and semi-glossy finish. Wisely pick one particular finish effect that suits well on the surfaces that you mostly deal with.
Versatility
Even though graffiti spray paints perform well on concrete and canvas surfaces, you can also use them on other surfaces as well. Moreover, these spray paints are applicable to wood, plastic, glass, cardboard, metal, and most common paintable materials.
If you are to use the paint for other purposes as well, make sure it's applicable on various surfaces.
Indoor and Outdoor Use
Water-based spray paints are ideal for use on both indoor and outdoor usage. As water paints come in low odor or odorless state, there is not much hassle to use it indoors.
Solvent-based paints are for outdoor purposes only. The strong chemical odor doesn't go well with indoor environments.
Best Spray Paint Brand for Graffiti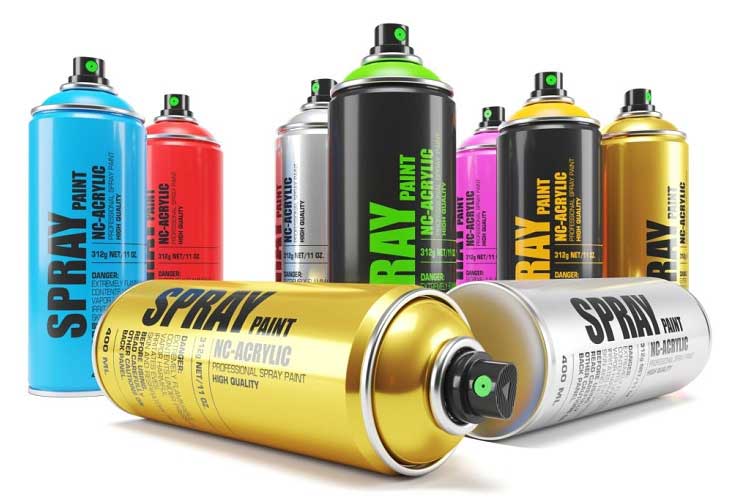 Among the professionals and street artists, some particular brands make the most appeal when it's about picking spray paints for graffiti artworks.
Montana-Cans
Most great looking graffiti wall arts are painted by Montana spray paints. The overall paint quality, pressure, user-friendliness, fast-drying, etc. factors are found in pretty much all Montana cans.
Even though these cans are the most expensive ones, if you consider the quality, you will not be disappointed at all.
Krylon
The quality finish and great coverage make Krylon spray paint ideal for graffiti artworks. Krylon paints are one of the fastest drying paints among competitors.
Also, you can apply it on various surfaces, and get a great looking finish. Many professionals prefer using Krylon spray paints due to the durability factor.
Rust-Oleum
This brand is another well-reputable spray paint for graffiti arts among enthusiasts. The paint quality, coverage, and durability are pretty decent compared to other brands. Great graffiti artworks can be easily achieved using this less expensive paint option.
Molotow
The brand formulates one of the most durable and long-lasting paints in this industry. Molotow premium spray paints are also great when it comes to coverage. Its quick-drying capability enhances the overall user experience, just like the premium paints.
Ironlak
You can rely on the color quality, durability, and attractive glossy effects of Ironlak spray paints. The quality of the paint is so well that it can resist UV-rays as well as outdoor elements.
Also, the durability is quite praiseworthy. From their wide variety of color collections, you can get a single or a set of spray paints for graffiti arts.
How to Graffiti with Spray Paint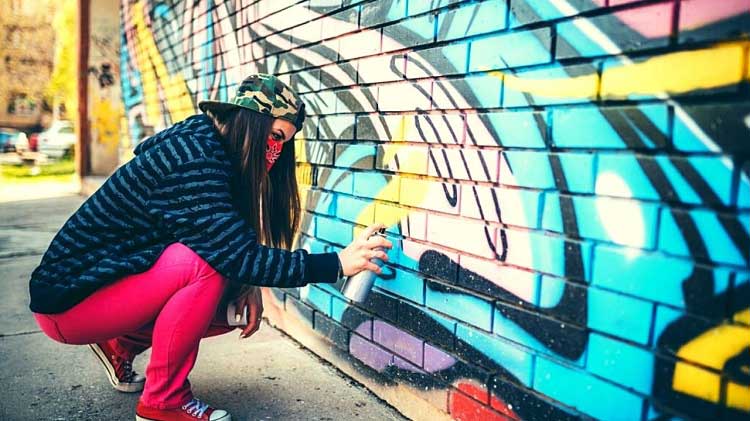 Although graffiti arts look very complicated, if you break down each part of the entire artwork, it would seem a lot easier for you. And if this is the first time you are about to try this, be sure to follow the given instructions –
Step 1: Make Up Your Mind
First, decide what you are going to paint. Will that be writing or any design? You can spraypaint 3D or shadow graffiti as per your ability.
For the newbies, I would suggest practicing it a few times on papers. It actually helps and makes things much easier.
Step 2: Draw the Outline First
Now, head to the surface you want to graffiti. Spray an outline of the design or text first using the main color. Be sure to keep the nozzle away about five inches from the surface to make the outline thick.
Step 3: Fill the Outline
Once you are done, take whatever color you prefer, and fill the outline by a sweeping motion slowly to coat the paint evenly. Don't get too close to the surface, or it will blotch the surface.
If your finger hurts, take a break for a while, and then start spraying again.
Step 4: Re-apply the Paint
When the letter or design is filled with color, it's time to paint the outline again. This time, use black or any darker color. Spray on one letter at a time.
Step 5: Finishing Up
In this step, you need to add shadow or 3D effect to the graffiti. I would suggest using white color to add highlights. You can also add another outline about one inch away.
Your first graffiti art should be done by now. If you want to recoat, be sure to follow the instructions of the spray paint for recoating time.
Spray Paint Tips for Graffiti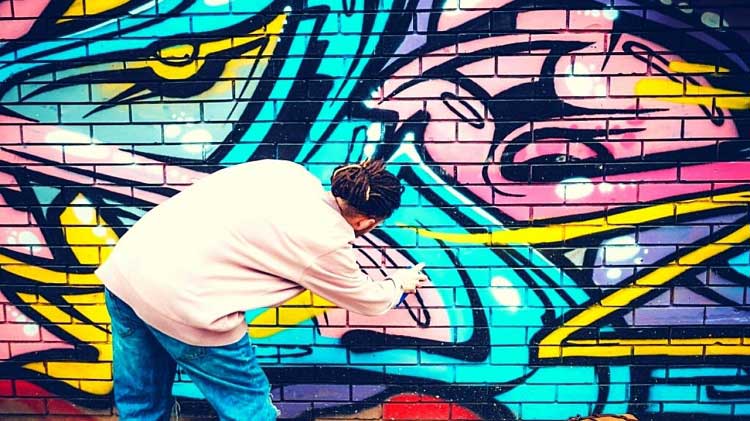 To enhance your graffiti artwork experience, and do it in the most convenient way, be sure to follow these expert tips –
Shake the spray paint can for at least 15 seconds just before you are about to use it. This will make sure the paint comes out of the can properly without any hazards.
Be sure to wear painting gloves before you attempt to spray on the surface. If you prefer using latex gloves, keep at least 3 pairs as these tend to wear and tear frequently.
Before you start painting, spray out a bit of paint in the air or on a testing surface. It will make sure the paint releases without any issues when you paint on the graffiti surface. Also, consider the direction of the wind to prevent the mist from coming back to your face.
Don't forget to purge the valve and cap of the spray can if you are about to spray paint after a while. To do that, hold the spray can upside down and spray through the cap until the paint is ceased and released.
Frequently Asked Questions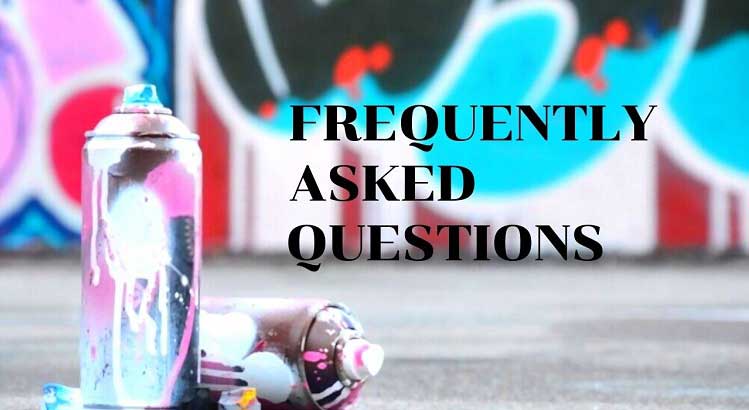 1. What is the best spray paint to use on fabric?
Answer: Most water-based spray paints can be used on fabrics without any issues. I have listed quite a few spray paints that go well with the fabrics as well as other materials.
Krylon Colormaxx is one of those paints that is uniquely formulated for clothes as well as interior designs.
2. How long does spray paint last?
Answer: Most spray paints last about a year without any major damages. If the spray paint is of high-quality and provides protection against UV, weather, and elements, the graffiti artwork can last for even longer.
3. Is Krylon spray paint better than Rustoleum?
Answer: As far as the paint quality is concerned, both Krylon and Rustoleum seem to provide decent results. However, if you address durability, Rustoleum's paint formula is found much more durable than the other one. But, don't expect Rustoleum to dry faster than the Krylon.
4. How long should you shake spray paint?
Answer: Shaking spray paints vigorously for about a couple of minutes seems to provide much better spraying results on surfaces. You can also shake the can periodically while spraying. It will disperse particles that are at the bottom.
Be sure to clean the spray nozzle when you are done spraying by inverting the spray can until the paint doesn't come out.
5. What can you practice graffiti on?
Answer: It's recommended for beginners to practice graffiti before spray painting on the walls. Poster boards, cardboard boxes, canvas, fabrics, wood, etc. are the most common and easy to get objects to practice this art.
6. How do graffiti artists make money?
Answer: Most muralists or graffiti artists do the artworks for little or no money. Experts and smart people use their graffiti skills to get recognition, which later on impacts positively on their brands.
They monetize recognition and affiliation to sell prints, vinyl toys, apparel, and other related supplies and accessories.
Final Words
Graffiti artworks might seem overwhelming to do for the beginners. But, with great quality spray paints, anyone can enhance the skill much quicker.
Hopefully, you will be able to find the best spray paint for graffiti from the list above to bring the most out of your potentiality.
Related Buyer's Guide:
What brushes are good for acrylic paint? Find out here!
What is the best craft paint for wood? Check our top picks!