Art helps us to find ourselves and is a great way to pass the time, whether on our own or with the kiddos. It gives us a sense of fulfillment, and is a great stress reliever.
We get the passion wood crafters have and created this guide to answer questions and help you pick the best paint for your projects.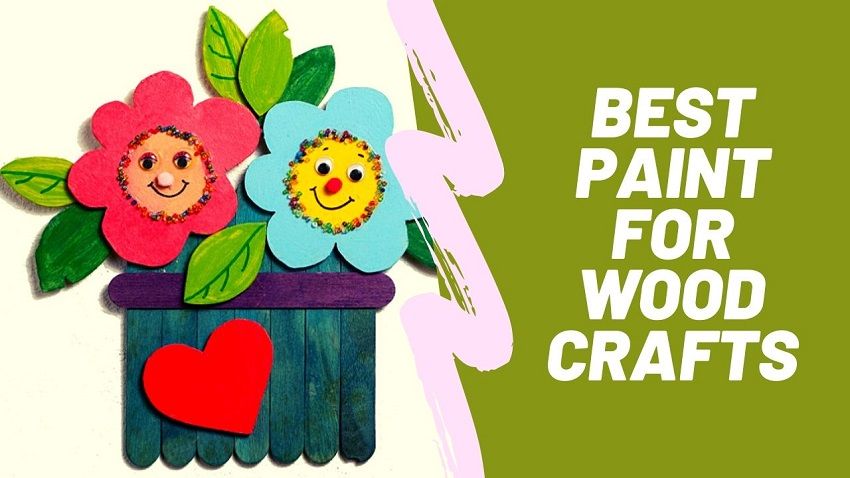 In this guide, we've listed all of the features that create the difference between the best paint for wood crafts and regular paints.
We've also provided a list of what we think are the top products on the market. Keep reading to learn about what you need to look for and much more.
IMAGE
PRODUCT
FEATURES

Editor's Choice

Editor's Choice

✔

18 color bottles

✔

Matte Finish

✔

Fast Drying

✔

Easy to clean

Check Price

Best overall

Best overall

✔

24 vibrant colors

✔

Non-toxic

✔

Easy to blend

✔

Suitable for all ages

Check Price

Best Application

Best Application

✔

36 color varities

✔

Highly pigmented

✔

Quick drying

✔

Works on most surfaces

Check Price

Premimum Choice

Premimum Choice

✔

60 color tubes

✔

Non-toxic and non-fading

✔

Top quality vivid pigments

✔

Worth in investment

Check Price

Best Budget

Best Budget

✔

24 unique colors

✔

Great quality

✔

Easy to use

✔

Perfect for beginners

Check Price
If you need more information before picking a paint, scroll down to get more background on different types of paint, as well as answers to FAQs.
Best Paint For Wood Crafts: Our Top 12 Picks
1. Apple Barrel PROMOABI Acrylic Paint Set
Apple Barrel presents here a product that appears to be quite ordinary. But, with an in-depth look, you'll soon realize why that's not the case.
The product comes with 18 colors, each assorted in 2-ounce bottles.
The color range is impressive as well as methodical. You have White, Pewter Grey, and Black. In terms of the Yellow range, the product provides colors like Yellow Flame, Bright Yellow, and Jack-o-lantern.
Moving on to the range of Reds, you'll have from Fuchsia and Purple Iris to Flag Red. The shades of blue would offer options such as, Parrot Blue, Bimini Blue, Bright Blue, and Too Blue.
In the realm of Green, you'll have access to New Shamrock and Holly Branch, while Nutmeg Brown and Melted Chocolate will cover the space for Brown shades.
The company uses grade-A raw materials, strict quality controlled manufacturing, along with a tried and true formula to provide paints with a high-value pigment standard. The paint, apart from wood, can also be used on various other surfaces such as, Plaster, Styrofoam, Tin, Terra cotta, etc.
The colors have a finish between glossy and matte. The smoothness of gliding is high, which is complimented with a fast-dry feature. They have a high amount of lightfastness, which increases each painting's longevity by a significant margin.
You can use them with a variety of painting tools. For example, the colors perform equally well with foams, sponges, stamps, and brushes. And since they are water-based acrylics, you can easily edit your project by cleaning up unwanted layers and marks using lukewarm water and soap.
This AP-certified, non-toxic colors are safe for the environment, along with being harmless to you and your loved one's health.
Containers are designed using flexible plastics, which makes it easier to squeeze them out for a spontaneous use. Each bottle has ridged exterior cap, making it easier for you to open and close the container, as well as an ergonomic flip cap.
Highlighted Features:
Provides AP-certified, non-toxic colors, which are safe for the environment.
Protects the health of you and your loved ones.
Uses flexible plastic containers for increasing user comfort.
Offers ergonomic flip caps to conserve quality and stop leakage.
Equipped with a high smoothness of gliding and fast-dry feature.
2. Crafts 4 All Acrylic Paint Set For Wood Crafts
Another great painting set that checks all the right boxes to be an effective weapon at your wood crafting arsenal. This product has 24 color options. Each color is contained in a 12-milliliter tube.
Crafts 4 All uses a variation of techniques to procure a truly innovative recipe for creating premium quality pigments. They also use substances imported from Germany as preparation materials.
As a result, you get colors that has a superb clarity, reserved long after the crafting job has been finished. In fact, the colors are able to hold the delicate spatula engravings and brush strokes.
Thus, the manufacturer can provide a detailed texture to each color, while keeping them accessible to swift and simple blending and mixing.
We also loved how easy these paints are to use. You can apply them straight out of the container. They dry fast, allowing you a flawless workflow.
Plus, the quick-dry feature combined with a hassle-free mixing and blending offers you the ability to experiment with shades and layers in a truly limitless manner. 
Being water-based acrylics, this product allows to make uncountable adjustments to your wood crafting, as they can be cleaned quite quickly with just soap and warm liquid.
In terms of versatility, the product is not left behind in excellence. Apart from wood, you can also use them on surfaces like terracotta, chalk board, crafting foam, plastic, decorative cards, etc.
Analyzing a large database of feedbacks, we have found the product to be equally satisfying from veteran artists to students and beginners alike.
Each paint has both ASTM D-4236 (USA standard) and EN71-3 (EU standard) certification. This ensures that they are non-toxic, environment-friendly, and poses no health risks.
Last but not least, you also get 3 paint brushes, ranging from a thin tip to large with the package as well.
Highlighted Features:
Has ASTM D-4236 and EN71-3 (CE) certification.
Provides a lasting texture, able to contain subtle brush strokes and marks.
Uses German raw substances and a modern formula to ensure quality.
Offers 3 different sized brushes and a paint kit with the package.
Designed to let you experiment with shades and layers with infinite choices.
3. Liquitex BASICS Acrylic Paint Set
The feature that made us notice this product is its ability to maintain a balanced viscosity consistently throughout all the colors. Thus, they are flexible and durable at the same time.
Also, the impressionable amount of opacity range adds to the user's spontaneity of use. Equipped with qualities like fast-drying and a smooth texture, it's hard to find a match for this product. More so, when you consider Liquitex's reasonable pricing.
This product presents you with 48 color options. Assorted in a rectangular box, you will get popular colors like Raw Sienna as well as unique blends like Quinacridone Magenta and Cadmium Yellow Deep Hue, contained in 22-milliliter tubes.
These colors mix and blend effortlessly, giving a wide range of optional shades for adding to your wood crafting skill set. They are effective as a first layer option and can be used to create various types of shading (e.g. undertone and tint).
Justifiably holding its position as the best acrylic paint for wood craft, it provides a strong adhesiveness to various wooden surfaces, including both natural and artificial woods.
The colors are produced according to their original pigment color. So, you get to use paints that seem natural and lifelike.
The manufacturers identify and mill pigments through the "basket bead-mill technology", the same process used for their pro-grade products.
The pigments are then added with "molecular reinforced ceramic beads" before getting mixed with the acrylic preparation. The final product is a color that has a high level of clarity and balanced dispersion.
These non-toxic and ACMI certified colors go through rigorous examination to ensure they have a high-quality lightfastness, which ensures paintings made with this product will last for years.
It's a perfect gift for anyone interested to experiment with and learn about color theory, wheel, mixing, and other professional knowledge. It is also synchronous with all the other acrylic products the company produces.
Highlighted Features:
Can be a tool to learn about and experiment with color theory, wheel, mixing.
Offers colors which are natural and lifelike.
Synchronous with all acrylic products made by the manufacturer.
Identifies and mills pigments through the "basket bead-mill technology"./li>
Provides a high level of clarity and a balanced dispersion.
4. ARTEZA Acrylic Paint Set For Wood Craft
This product is great for those who want to practice their craftsmanship on a large surface. This color can be used on surfaces, ranging from (5 x 7)-inches up to (36 x 48)-inches.
It comes in a pouch-style container, providing you 120-milliliters of paint. It has a balanced viscosity. This means you can use it to decorate wooden accessories without any fear of fading or discoloring, as the color will provide strong resistance against deformation.
The opaque paint has an ASTM-III certification in terms of lightfastness, marked by 3 plus signs on the label. Thus, the paint can maintain its chemical structure through long and strong exposure to light. It will also provide a significant amount of protection against photodegradation.
Examined by USA safety standard to be environmentally safe, the non-toxic color is produced from high quality pigments and delivers a truly vibrant performance.
It is also praised by professional artists as a great acrylic paint for wood styling and decoration for its innovative container, large amount, and an ergonomic neck. All these features help you to pour out the paint with ease and precision.
Another highlight of this product is a well-designed screw top. It is patterned with a combination of elevated and snubbed ridges, along with a safety seal at base. This innovative design makes using the paint a breeze while keeping the color away from leakage and oxidation.
The container allows you to use the paint as a single piece or to add to an existing collection. You can also use it as a refill container.  
Highlighted Features:
Offers an ACMI certification as proof of being safe for health.
Uses an innovative packaging system to pour with ease and precision.
Produced with a balanced viscosity to increase durability.
Can be used as a single piece, to add to a collection, or for refilling purposes.
Designed to be used on much larger surfaces than regular tubes would allow.
5. Castle Art Supplies Acrylic Paint Set for Beginners
If we had to describe this product in one word, it would be "balance". In all of its aspects this quality is maintained. As a result, the acrylic set can function effectively for both professional crafters and beginning students.
This product provides 24 colors. Each color is delivered in a flexible metal container with plastic shielding, with a capacity of 12-milliliters. 
The colors are formulated using Castle Art's highly successful formula. They also use an oil-based method that increases the longevity of the colors.
The product offers both clarity and a premium texture. Thus, you get to craft your wooden furniture, models, and sculptures with paints that offer gloss as well as a professional look.
The product lets you practice your art as you see fit. You can go wild with directly squeezing out colors on the surface, or choose to provide a watery feel to the decoration by diluting them using water. The dilution technique also allows you to execute detailed layering styles.
Another reason for which many experts of the field consider this product as the best paint for wood crafts is its superior quick-dry feature. This attribute significantly speeds up your crafting speed, lets you fix mistakes easily during the working process, and allows space for experimenting.
This product's quick-drying feature easily beats the competition by maintaining a sharp clarity at the same time. Thus, you can get your crafting done perfectly without sacrificing speed.
The product also has a reputably balanced viscosity. That means the colors remain spontaneous without sacrificing structural integrity. This lets the paints glide both smoothly and steadily, allowing you to maintain your brushing/stamping/stenciling rhythm.
The manufacturers also seem to take an interest in the "safety packaging" factor. They use a combination of materials and arrangement techniques to ensure you don't receive a faulty product after an excited period of waiting.
Finally, the product holds up to the ASTM D-4236 standard, solidifying its guarantee of quality.
Highlighted Features:
Applies an oil-based method that increases the longevity of the colors.
Provides a balanced viscosity to let the colors flow with structural integrity.
Uses special packaging techniques to ensure perfect delivery.
Safe to your health and provides ASTM D-4236 standard colors.
Features aluminum tubes to avoid container damage despite prolonged use.
6. Rust-Oleum Metallic Spray Paint for Wood Craft
The art of wood crafting can take you on a journey to discover a wide variety of paints. Spray-painting is likely one of those varieties that you may encounter and that's why we've included this product to the list.
In terms of adding an extra shine to your crafted object, few other products will win against the 1915830-6 PK. This product contains six of these beauties, each containing 11-ounces of pressure-pressed liquid.
Acrylics have their place. But, to light up a newly painted wooden statue or restore an ancient family heirloom, a spray-paint is what you'll need. However, that paint must have certain qualities to provide the benefits it promises to deliver, and this product contains all of them.
Let us elaborate.The finish has a high-quality reflectivity as well as a classy gloss to it. It also works as a protective coating, which will guard your craft against rain, humidity, dampening, etc.  Rust-Oleum uses genuine metal shreds to ensure a that you get a truly professional finish.
So, if you want your work or restoration to last through the storms of time, this product certainly is an ideal choice. It also has multi-surface compatibility such as, unglazed ceramic, plaster, masonry, etc.
The paint is wholesome because it has multifunction as both a paint and a finishing coating. So, don't use it on any object that already has a top coating in place, as it'll provide you a blurry finish.
It also has a widespread acclamation for adaptability, since beginners with small domestic projects as well as professional craftsmen both find the paint impressive and effective. 
The product can cover up to 12-square feet of area. You can use it to decorate all types of wooden accessories like candle holders and picture frames.
Highlighted Features:
Can be used for adding gloss to a newly painted wooden statues.
Offers weatherproofing to protect both new and old painted wooden surfaces.
Provides coverage up to 12-square feet of area.
Able to multifunction as both a paint and a finishing coating.
Provides a high-quality of reflectivity to your painted items.
7. MyArtscape Artist Quality Wood-craft Acrylic Paint Set
Simple, elegant, and worth the price.
Sounds intriguing? Then, we've got the perfect paint set for you.
The product contains 12 colors, each contained in a 12-milliliter tube. The colors have an increased degree of pigment load, which increases the clarity and brightness of each brush-stroke. These are thick textured paints that are able to add a sense of depth and richness to your crafted surface. A matte finish also provides you colors that don't seem wacky.
The product has a lightfastness rate of ASTM III/BWS 4 & 5, meaning it can last up-to many years by effectively yielding structure breakdown due to light exposure. It also maintains a persistent texture-thickness throughout the whole palette.
We've found them to be quite spontaneous in terms of usage moderation. You can smoothly blend or lighten them to make edits and create unique shades. The paints have an excellent tinting capability, which means they are intentionally manufactured to allow easy dilution with white colors.
These fast-drying colors are economically beneficial as well. A small dip allows you to brush over a large radius, lessening the amount of paint spent.
MyArtscape provides a full range in terms of opacity. You can check the labels on the tube to choose between Opaque, semi-opaque, and transparent colors. They are sequentially marked by filled, semi-filled, or an empty square. You can find the pigment code and amount of each color on the label as well.
The discoloration and waterproof paints also get an A+ in safety. They are non-toxic and offer both EN71-3 (an EU standardization test done specifically on chemical components) and ASTM-D4236 level environmental safety.
The packaging is built to last and provides an integrated organization system. The containers look amazing. They have an ergonomic screw-top and a folded end to protect against leakage and oxidation.
Highlighted Features:
Offers packaging with an integrated organization system.
A small dip allows you to brush over a large radius, lessening spending of paint.
Allows to choose between Opaque, semi-opaque, and transparent colors.
Provides a lightfastness rate of ASTM III/Blue Woolscale 4 & 5.
Features an increased degree of pigment load to enhance clarity.
8. FolkArt Home Decor Chalk Craft Paint
This product, which uses chalk-painting, will show you a new way to enhance your crafting skills.
As we mentioned previously, wood crafting is done using many forms of paint. This is due to the unique advantages each form offers. And the 34169 is no exception.
This is a single jar of paint, which contains 236-milliliters of liquid. It offers an ultra-matte finish combined with sustained structural power.
A highlight of the product is how much it can minimize surface preparation. You don't need to strip or prime the surface before application, which can powerfully increase your work speed.
In terms of texture, it provides a consistence depth throughout the entire usage period. You can also use it with other paints to create unique and creative shades, due to its excellent mixing capability.
The paint can modulate the style of your craft to a noticeable degree. It is equipped to be easily distressed. So, you can experiment with new wooden furniture to give them an antique and more aged look.
It can be swiftly layered multiple times due to a quick-dry feature. After the job is done, you can sand it as well.
The plastic jar is both durable and flexible. Thus, you can squeeze out paint effortlessly and maintain the container's shape at the same time. It is further secured by a twist-in cap, which creates an airtight environment that prevents quality degradation and accidental leakage.
Users have reported a widely consented satisfaction about using the paint on wooden cabinets, sofa set, table lamp, door, window frame, etc.  It has versatility of surface as well. For example, you can use it on plaster, canvas, terracotta, metal, and ceramic.
The product is for indoor use only. The paint can cover approximately 40-square feet of area. Being water-based, the paint offers simple cleanup and fast repairing. It is ACMI-AP certified, which means it can endure exposure to light for years, enhancing the longevity of your craft.
Highlighted Features:
Offers minimized surface preparation to increase workflow and lessen stress.
Provides coverage for approximately 40-square feet of area.
Has ACMI-AP certification, which ensures a durable paint job.
Produced with a water-based formula for simple cleanup and fast repair.
Designed to be easily distressed for making age-crafting materials simpler.
9. Shuttle Art Acrylic Paint Set
If you are looking for a wholesome acrylic set to broaden your wood crafting toolkit within a reasonable price, this paint set is worth taking a look at.
The product offers 30 color options, carefully contained in 12-millimeter tubes. The colors have a strong depth of texture. They are easy to mix and blend well.
Thus, they allow you to perform one of the most important part of crafting wooden surfaces: creating shades that are unique and have a richness to them.
Often considered as the best paint for wood art,it allows you to craft faster, fix mistakes, and perform edits with ease and smoothness. The paints also provide a good amount of adhesiveness on most wooden surfaces. 
The product provides a versatile palette, offering primary, secondary, and unique combination-colors such as yellow ochre (number 2) and rose (number 15).
Shuttle Art takes the pigmentation quality quite seriously. They use carefully picked, high quality pigments that have a strong load. As a result, you get colors produced from thick pigments that don't seem faded out or dull.
The paints are delivered in a package that is durably built and provides a user-friendly assortment system. This helps you to keep the colors organized. It also allows you to quickly pick the exact paint at the right moment and prevents losing colors.
The double transparent windows on the packaging exterior can help to identify colors without needing you to open the box every time. 
The colors offer protection against discoloration and water-caused damage. They are safe for your health and the environment.
This fact is checked and solidified as the product is certified by both EU EN71 and ASTM D-4236 safety standards to be non-toxic.
You have the freedom to use these paints for experimentation on a number of other surfaces apart from wood as well. For example, clay, nails, rocks, flowerpots, and even eggs.
The package includes 3 different sized brushes, which includes a thin, medium, and large tip size.
Highlighted Features:
Provides protection against discoloration and water-caused damage.
Offers paints which hold up to both EN71 and ASTM D-4236 safety standard.
Features a thin, medium, and large tip brush with the package.
2 transparent windows on the exterior help to identify colors from outside.
Delivers a palette containing primary, secondary, and combination-colors.
10. Magicfly Acrylic Paint Set for Wood Craft Enthusiasts
Magicfly is indeed magical in its capability to provide a product with all the premium features while keeping a price-range that doesn't make an attack on your monthly budget.
This product contains 30 colors, with an assigned amount of 60-millimeters for each tube. The colors have a deep, clarified texture and are spontaneous to mix, and dilute.
The paints move smoothly across all wooden surfaces, allowing a natural yet precise crafting experience.
Their integrated fast-dry technology allows you to layer shades quickly. This helps you to sketch out ideas and finish crafting at a higher speed than the rate provided by regular paints.
Since they are water-based, you can easily create a gouache painting effect by using a wet brush, or add calculated amounts of water to create a water-color style paint job.
The colors are equipped to be functional for both in and outdoor use. They are also compatible for multi-surface painting. So, apart from wooden mediums, you can also apply them on stone, ceramic, modeling, sculpting, etc.
The paints are delivered in a well-built box set. The box has a plastic tray at its base, which helps you to keep the containers smoothly organized.
The color tubes are designed with flip-caps with a center rod to maintain an airtight environment and avoid leakage. It is followed by a reusable seal and a ridged, spiral patterned neck for a foolproof protection. 
The labeling on each tube is stunningly detailed. They show you different variables of the contained liquid such as, opacity level, CIGN (color index generic name), color name, and number.
The colors have a premium grade lightfastness. It is marked by "++", meaning the paints will be quite resistant to fading when exposed to light and can last up to 10/15 years.
Like most of the grade-A acrylic sets, this package also comes with 3 bonus, synthetic Brushes. The length of the brushes ranges from 6.5 to 6.7-inches and according to users, the smallest brush is capable of pulling out extremely detailed strokes.
Highlighted Features:
A premium-grade lightfastness makes the paints durable up to 15 years.
Offers stunningly detailed labeling on each tube.
Equipped with flip-caps with a center rod to keep the tubes airtight.
Provides a box with a plastic tray to keep the containers smoothly organized.
Includes bonus brushes capable of making extremely detailed strokes.
11. GOTIDEAL Wood Artistry Acrylic Paint Set
"Quality over quantity"
That's how we'd describe GOTIDEAL's philosophy in manufacturing the product.
It provides you with 12 color options, each packed securely in a 23-milliliter metal tube. The colors come in a premium looking box. It has 12 well-defined compartments to keep your colors organized.
Unlike a cheap box-set, this product makes it really easy to pull tubes in and out, without toppling the box over.
The pigments are produced from industry-grade raw substances, which are ground to perfection under strict quality control. The manufacture's own formulation added with water-based pigments provide you colors that are designed to be easily diluted and mixed.
The package contains all the necessary colors like, Crimson, Vermilion, Phthalocyanine green, Cerulean blue, Phthalocyanine blue, Black, etc. that you'd need to create potentially limitless style of shades.
The paints have "+++" on the label. That means, they are extremely resistant to fading when exposed to light and can last up to 50 years. So, you won't need to witness, for example, your favorite wooden sculpture discoloring over time.
These quick-dry paints use high-quality tubes, secured by a ridged, extended base screw top. Each tube is decorated with a label that provides you all the necessary information, including: paint name, number, pigment code, level of opacity, etc. 
They provide a collection that is fulfilling in terms of opacity as well. You can find a combination of opaque and translucent colors that provides you complete control over your crafting.
You can detect each color's opacity level by reading whether the small square on the label is filled (meaning opaque) or semi-filled (meaning translucent). 
The colors are EN71-3 (CE), ASTM D-4236, and AP certified. Apart from wood crafting, you can also use them on stretched canvases, blackboard easels, craft foams, etc.
Highlighted Features:
Uses industry-grade raw substances to produce pigments.
Manufactures perfectly ground pigments to produce premium colors.
Offers water-based acrylics that are easy to dilute and mix.
Provides EN71-3 (CE), ASTM D-4236, and AP certified colors.
Features a collection that is fulfilling in terms of opacity as well.
12. Mont Marte Signature Acrylic Color Paint Set
The very name "Mont Marte" screams a certain sense of perfection to all the acrylic lovers. This painting set showed us why that is.
Though known for mostly canvas usage, the colors of this package has performed stunningly well on wooden surfaces as well.
This is a heavy-weight product, both literally and metaphorically. It contains 12 jugs of paint, each jug holding a capacity of 1-liter. The paints have balanced finish, which is only achievable by making them semi-matte. So, they are neither too bright to be wacky not too dim to seem dull.
You'll have a nice variety of options to work with, ranging from Titanium White to Turquoise to Sap Green. The paints provide a large radius coverage with small amounts.
They also have a deep, consistent texture and dries just quick enough to avoid blurring the crafted surface without interrupting your workflow. 
They are produced from grade-A pigments, using the company's highly acclaimed formulation. The jug-sized bottles have a balanced toughness, where you can squeeze them without deforming the external structure.
Each bottle also has a flip cap, equipped with a pumping technology. This provides you both safety of quality for the paints and ease of use.
The colors are non-toxic, which should eliminate any worry on your side about receiving health related issues from using them. Apart from wood, you can also apply them on fabric, leather, MDF, cardboard, etc.
We must say, this range of surface spontaneity is rare among acrylic paints. These colors are also well-designed to be used by crafters of all stages, starting from beginners to professionals.
Highlighted Features:
Can perform stunningly well on wooden surfaces.
Offers a rare range of surface spontaneity.
Provides bottles with flip caps, equipped with a pumping technology.
Features a large radius coverage with small amount of paints.
Perfect to use for large-scale projects.
Types Of Wood Craft Paints
Wood crafting can be done using a variety of paint types.
It really comes down to your preference and need. We mean, how you visualize the project, your desire to experiment, the qualities you expect the paint to have, all these factors will influence this choice.
1. Regular Acrylic Paints
This is the popular and more economic choice. However, it's also the one with quite a few limitations.
Since natural wood is a porous medium (meaning liquid can seep through the surface), regular acrylics tend to perform quite well in this case.
However, if you are looking to paint over an already colored surface, which could either be a new project you wish to modify or a restoration job, they may have difficulty in terms of adhesion.
They also tend to perform poorly on harsh outdoor conditions in the long run.
On the other hand, among all the eligible types, these paints offer you the widest range of options in terms of color and creating unique shades. Since most of them are water-based, they're also quite easy to mix, blend, dilute, tint, as well as undertone a painting with.
2.Multi-Surface Acrylics
Many professionals consider it a great choice of wood crafting. They have a good amount of pigment concentration, sticks well to most wooden surfaces, and offer a high amount of lightfastness that increases the crafted surface's longevity.
On the downside, they may be a bit expensive than regular acrylics.
3. Spray-Paint
Not as popular an option as acrylics. Yet spray-paint can add attributes to your craft that acrylics can't. If you purchase a free-angle and fade resistant spray-paint, it can powerfully increase your workflow.
They provide a texture that is quite different from acrylics, which can make your craft stand out from the crowd. They also require less effort and concentration to use.
However, it's quite hard to accomplish detailed crafting with this type. You'd also need to wear proper gears (protective eyewear, hand gloves, apron, etc.) and require a well ventilated, wide area to apply them.
From our experience, it's good to have them in your collection for the sake of adding variation to your style.  They can also be used as a refill container for top coats and protective finishes.
4. Chalk Paints
These paints have a small but strong market.
They provide strong adhesion for both bare and painted wooden surfaces. You'll need much less surface preparation with these types of paints, as they won't require you to strip or prime before application.
Chalk paints can be used with many tools, such as, painting brushes, rollers, stencils, spatulas, and stamps. These are also available in both liquid and pressed form (as in spray-painting).
They will provide superior distressing abilities than most paints available. As a result, you'll get an ultra-matte finish. These features are a must to restore any antique wooden accessory while retaining its natural texture and color.
Or, if you want to add an aged look to any new wooden accessories, this type is a good choice to go with as well.
5. Outdoor Specialized Paints
These paints are intentionally manufactured with industry-grade weatherproofing qualities. If you think your crafted object will be staying in a harsh outdoorsy atmosphere, these are the types you should look for.
Though most paints for wood crafting have weather-shielding (e.g. resistance to fading, discoloration, photo-degradation, rust, and waterproofing) features, few will provide them at the degree that these paints can.
6. Metal-Flake Paints
As the name suggests, these paints are created with original metal flakes blended with their formulation. They are quite good as a protective finisher for painted wooden surfaces and can add an unmistakable glaze to a dull looking craft job.
7. Pre-Primed, Adhesive-Inducers And Top Coating Paints
These are paints that don't require a primer, can increase adhesiveness of a previous paint job, and equipped with features that won't require you to put a protective finish after the main crafting is done.
These paints can be acrylic, spray-on, chalk, or metal-flaked in nature. They are capable of saving you a lot of time and energy, allowing you to finish projects faster with less effort.
However, logically, they tend to stay at the up-end of the price range.
What To Look For Before Buying Wood Crafts Paint?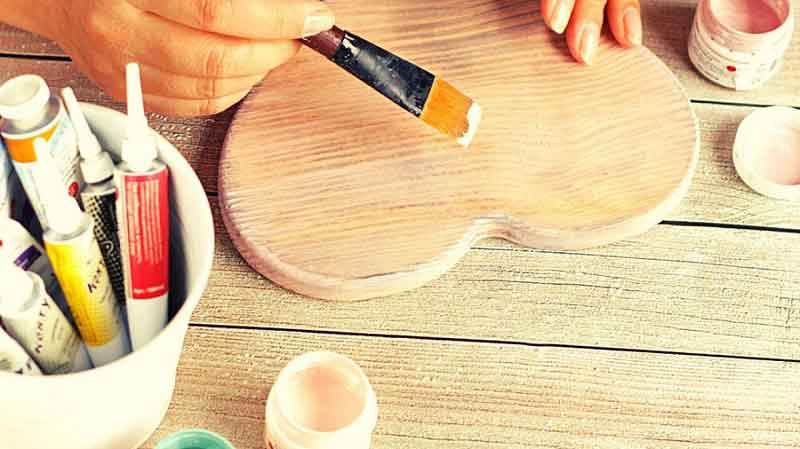 Pigment Quality
This feature falls a little on the technical side. However, the importance of this feature in determining the quality of the paint is undeniable.
You need to look for a paint that is produced from pigments with a few qualities:
Pigment Concentration: Also known as pigment load, this factor dictates the various facets of a paint such as, textural depth, vibrancy, clarity, continuity of thickness, etc. In simple words, get a paint made from high load pigments to ensure quality.
Raw Materials: Pigment quality also depends on the raw materials that were used to produce them. We recommend pigments made from base substances, imported from Europe (e.g. German materials).
Ground Quality: A finely ground pigment is destined to provide a vivid color. Thus, look for pigments manufactured using the latest ground technologies, such as, the "basket bead-mill technology" used by Liquitex.
Depth And Consistency Of Texture
Buy a paint that provides a deep texture, consistently. This will not only improve the richness of your crafts' outlook but also add a professional flavor to it.
Range Of Opacity
It's always a good idea to purchase paints with a wide range of opacity.
You can usually determine this factor by reading the label of the paint tubes. General practice is using a square mark to show a particular paint's opacity. Using this knowledge, you can tell how broad the opacity range of a paint set is. 
We recommend buying a set that provides a combination of opaque, semi-opaque, and transparent paints. This will allow you to produce many unique shades and increase the characteristic styling of your wood crafting.
Lightfastness Rating
Look closely at this factor. This rating determines how resistant a color will be when exposed to light.
That means, paints with a high lightfastness rating will be able to conserve their chemical structure despite prolonged exposure to light. This, in turn, will significantly increase the longevity of your crafted object.
You can look for either an ASTM or BWS rating system on the tube's label. An ASTM-I or BWS-1 rating means the paint can last up to 50 years.
Purchasing paints with this degree of rating will provide foolproof protection against photo-degradation and discoloration.
Absorption Capability
Wood is porous. That means, liquids are able to seep through its surface. Thus, buy a product with a balanced absorption capability to ensure you're getting the best paint for wood crafts in the market.
If you go too high, the paints will disappear from the surface. Go too low and the colors won't be absorbed properly, resulting in many problems including an uneven structure.
However, this factor is more of a concern for crafting bare/natural wooden surfaces. Pre-painted surfaces tend to be less porous.
Safety
Even though we're putting this factor as the fifth point, the phrase "safety first" still stands.
Look for ASTM D-4236 (USA standard), EN 71-3:2019 (Latest European standard), or AP certified paints to ensure they aren't toxic or harmful to your health. If the paints use plastic containers, ensure they are BPA free and approved by the FDA.
You can usually find these information on the package labeling or "product description" section (in case of a web purchase).
Protective Features
We recommend buying paints that are rust-resistant and weatherproof (which includes dirt, sand, and waterproofing).
Also ensure that they are held in a quality container with an effective cap. A proper cap such as, flip-caps with a middle rod will ensure an airtight environment. This will prevent issues like leakage, oxidation, and loss of quality.
Ease of Organization
Sometimes it's important to judge a book by its cover. In this case, that would be the box or package in which the paint set comes in.
Ensure that the box/package has an easy organization system in place. This can be done by buying boxes with plastic trays at the base (e.g. Magicfly, Acrylic Paint Set) or packages with clearly defined compartments to assort the tubes.
Also, ensure that the paints have proper labeling and a strongly structured container design overall.
Available Color Choices
This factor is quite obvious and self-explanatory.
If you are a beginner, we recommend buying sets with a wide range of color options. But, as a seasoned artist, few premium colors may serve you better.
Mixing, Dilution, Tinting, And Undertoning Features
If you are going for acrylics, purchase water-based ones with a high pigment quality. This will make mixing, diluting, tinting, and undertoning crafted surfaces a lot easier.
It will also significantly increase the ease of making potentially infinite and unique shades as well as the quality of the shading process.
Fast-Dry Technology
Ensure that the paints have an integrated fast-dry technology.
Without this feature, you'll face multiple problems such as- slower workflow, not being able to make edits and fix mistakes during the process, blurring the texture of the surface, etc.
How To Seal Acrylic Paint On Wood
Let's make a distinction clear first. Sealing is not the same thing as applying glue or adhesives.
Sealing is used to fill up subtle gaps between layers of paint, making the entire crafted object more waterproof, airtight, and strong in structural strength. Glues are simply used to bond separate parts.
Thus, to ensure a proper adhesion of the applied paint, sealing is a must and can't be substituted by using glues.
The product that is used to create sealing is generally known as a sealant. You need to follow a few simple steps, in the right sequence, to seal acrylic paints on a wooden surface effectively.
1. Stir
Stir the paint well to balance out the thickness.
2. Clean The Surface
Clean the surface with a soft, lightly wet fabric. This will take out dust and debris that can mess up your textural smoothness.
3. Apply The First Layer Of Sealant
Now, apply your first layer of sealant.
After it has dried, you can apply another layer if needed. Let that one dry as well and do a light sanding to keep the texture smooth.
4. Apply The Base Layer Of Paint
 Then apply the first layer of paint, also known as the base paint.
Some experts suggest to use a primer at this point as well to increase adhesiveness and smoothness.
However, since wood is a porous surface, a sealant should provide you enough of those features. So, unless you're working with an extremely light and watery paint you can get on with the process without using any primer.
5. Let it Heal,Do A Second Wipe And Sanding (If Necessary)
Once again, allow the surface to heal properly.
You can also do a second round of wiping and sanding if required (e.g. if you're working outdoors and sands/dusts gather on the surface).
6. Apply The Secondary Layers
Then, apply your secondary layers. Wait between every phase of layering for a full cure and drying as a general rule.
7. Make A Choice
At this point, you can wrap up the process by applying a final protective finish, like a top-coating. However, if you want to thicken your texture more for richness and depth, you'll need to go a bit further.
8. How To Apply tertiary layer and beyond
Apply multiple (we don't recommend more than 2) layers of sealant over the secondary layers. For a matte look you can apply wax sealants and for a shiny one use a polycrylic sealant. Then, apply the tertiary layer of paint.
9. Wrapping Up:
You can keep repeating this process until you achieve your desired look and depth for the texture.
However, make sure to always end the process by layering some type of protective top-coating. You can choose between a variety of coats from ultra-matte to glossy to straight-up glittery depending on your ultimate vision for the project.
Once it's done, let the painted surface fully cure before you start to use it.
Frequently Asked Questions
1. Can I Only Use Acrylics For Wood Crafting?
Answer: No.
There are a variety of other types of paints that you can use. For example, spray-paint, chalk paint, etc.
2. What Is CIGN And Pigment Code?
Answer: CIGN stands for "Color Index Generic Name". A pigment code is a combination of numbers and letters (e.g. PY 3, PO 72, etc.) that can be used to navigate the CIGN chart.
You can use the pigment code along with the CIGN chart to learn in depth about the various features of the pigment.
3. How Do I Read The Labels On A Tube?
Answer: Usually, information about the paint and its pigment is printed on its tube's label in the form of symbols.
The most convenient way to properly understand them is by visiting numerous websites that explain these symbols in depth.
For example, a filled square on the label means it's a completely non-transparent/opaque paint, whether an empty square dictates a fully transparent paint.
4. What Are ASTM-D-4236 and EN-71-3 (CE)?
Answer:ASTM-D-4236 is the U.S.A standard of safety for all materials related to art and painting. EN-71-3 (CE) serves the same function, except it is the European standard.
5. Why Does Lightfastness Rate Matter?
Answer: This factor determines how resistant a paint is to light-exposure in terms of retaining its organic structure. This factor can significantly determine the longevity of the paint.
6. How Do I Protect A Newly Painted Surface?
Answer: Through using a protective finisher, such as a weatherproof top-coating.
7. What Determines The Level Of Efficacy For Different Types Of Paints On Wooden Surfaces?
Answer: Broadly speaking, porosity.
Some types of paint won't work or work less on wooden surfaces as it is a porous surface. On the other hand, certain types will be much more effective for the same reason.
Final Word
Research shows that having too many options can actually become an obstacle instead of an advantage.
As the manufacturers pump in more and more types, sizes, and styles of paint into the market, the path to choose the best paint for wood crafts becomes increasingly harder.
However, we hope, at this point of the guide that the dilemma of yours is eased. And we can assure you that's not a false feeling of security.
We've taken the time to do the research and put before you the crème de la crème. So, go on. Purchase the finest paints to produce eye-soothing crafts!
Learn even more about wood crafts:
>> Which wood burning tool is the best? Find out here!
>> Our favorite whittling woods right now!
>> A close look at epoxy resin top picks
>> Which spray paint is the best for graffiti art? Check here!
>> A roundup of our favorite rock paint pens