Polymer clay is remarkably different from regular air dry clay or soft play-doh. It has a completely different texture.
So much so that if left unused it can start to become quite brittle.
This difference in the clay's texture means that it has to undergo a different process to become hard enough to use as little figures or as items of jewelry.
Rather than being air-dried naturally, polymer clay needs to be placed into an oven once sculpted to harden up.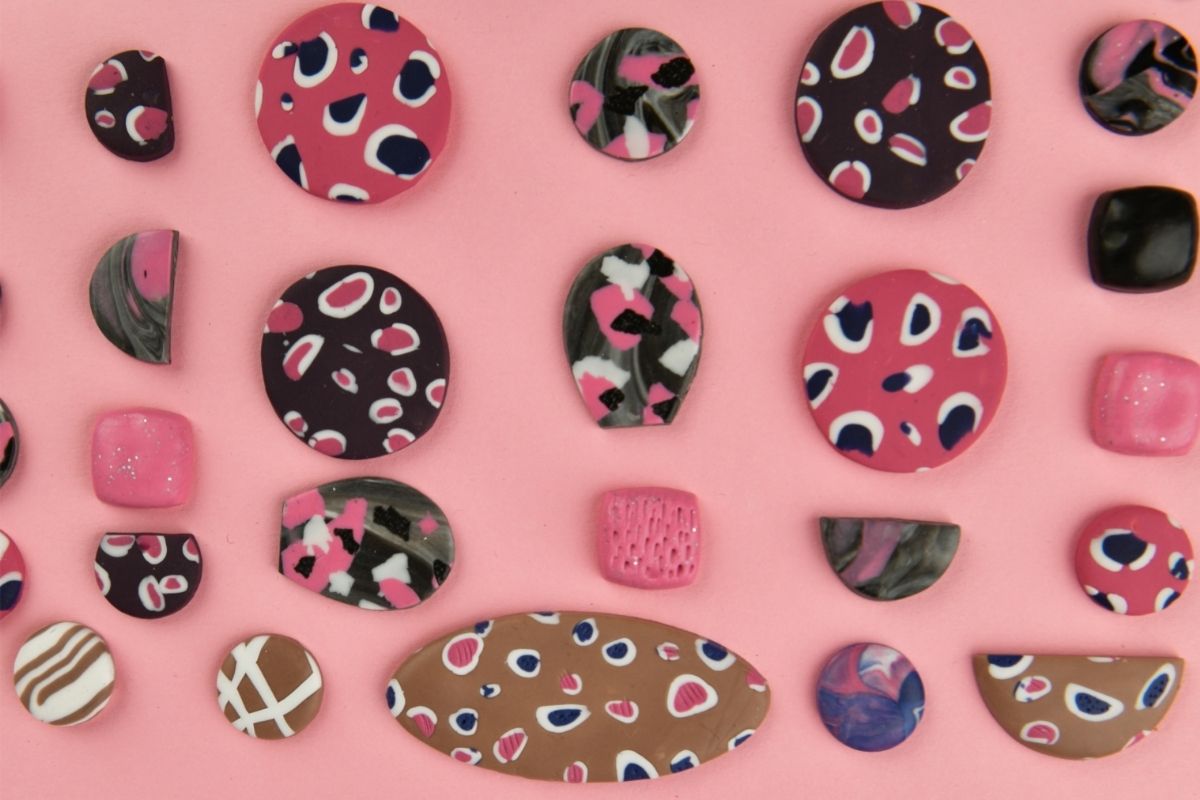 In this article, we're going to explain how to bake some of the most popular polymer clay lines on the market, including those from top brands such as Fimo and Sculpey.
We're also going to be covering the answers to some of your most frequently asked questions on the subject.
Please feel free to scroll ahead to any section that jumps out at you.
Follow The Manufacturer's Instructions
The first thing that we need to say to you is that you should always follow the manufacturer's instructions to bake your polymer clay.
Yes, most lines of polymer clay are baked in pretty much the same way, however, there can be striking differences in how different lines are meant to be baked, both in terms of the temperature required and in terms of how long they should be in the oven for.
If you decide to blend two or more different lines of polymer clay together, we recommend that you first experiment with different temperatures and times in line with the manufacturer's instructions for each of the different pieces of clay.
Whether you buy the clay colors as a large pack or whether you buy them individually, there should always be baking instructions on the packet.
In which case, you should keep hold of the packaging once opened and don't be tempted to just throw it away.
Getting The Perfect Oven Temperature
You must be sure to get the right temperature in your oven.
It can be quite tricky to get the precise temperature in your oven because it requires a relatively low-temperature setting that may not necessarily be labeled on the temperature dial because it is so low, lower than the temperature at which you would cook your food.
So this may take a little experimentation to get right.
You should preheat the oven at the given temperature BEFORE you put the polymer clay inside, so it pays to know how long it takes for your oven to preheat. If in any doubt, it's okay to leave it to pre-heat for a little longer than you normally would.
Sometimes the oven temperature is presented in degrees Fahrenheit, sometimes in degrees Centigrade, and sometimes in Gas Marks.
If this doesn't match the dial on your oven, then you will need to consult a chart, so that you get the best possible temperature setting.
To view a conversion chart of oven temperature settings, please click here.
How To Bake Sculpey Premo Polymer Clay
First, you must preheat your oven to 275 degrees Fahrenheit (i.e., 135 degrees Centigrade)
Place the clay on a suitable tray, such as a Pyrex dish or on a roasting tin with either greaseproof paper or aluminum foil underneath the clay
Then you need to bake the clay for 30 minutes per quarter of an inch of thickness (or 6.35 cm)
How To Bake Fimo Soft Polymer Clay
First, you must preheat your oven to 230 degrees Fahrenheit (i.e., 110 degrees Centigrade)
Place the clay on a suitable tray, such as a Pyrex dish or on a roasting tin with either greaseproof paper or aluminum foil underneath the clay
You can then leave the clay in the oven to bake for a maximum of 30 minutes
Point to note – Fimo does not become fully hardened until it has been left to cool down
How To Bake Fimo Effect Polymer Clay
You can follow the same instructions for Fimo Effect polymer clay as you would for Fimo Soft polymer clay.
After The Polymer Clay Has Baked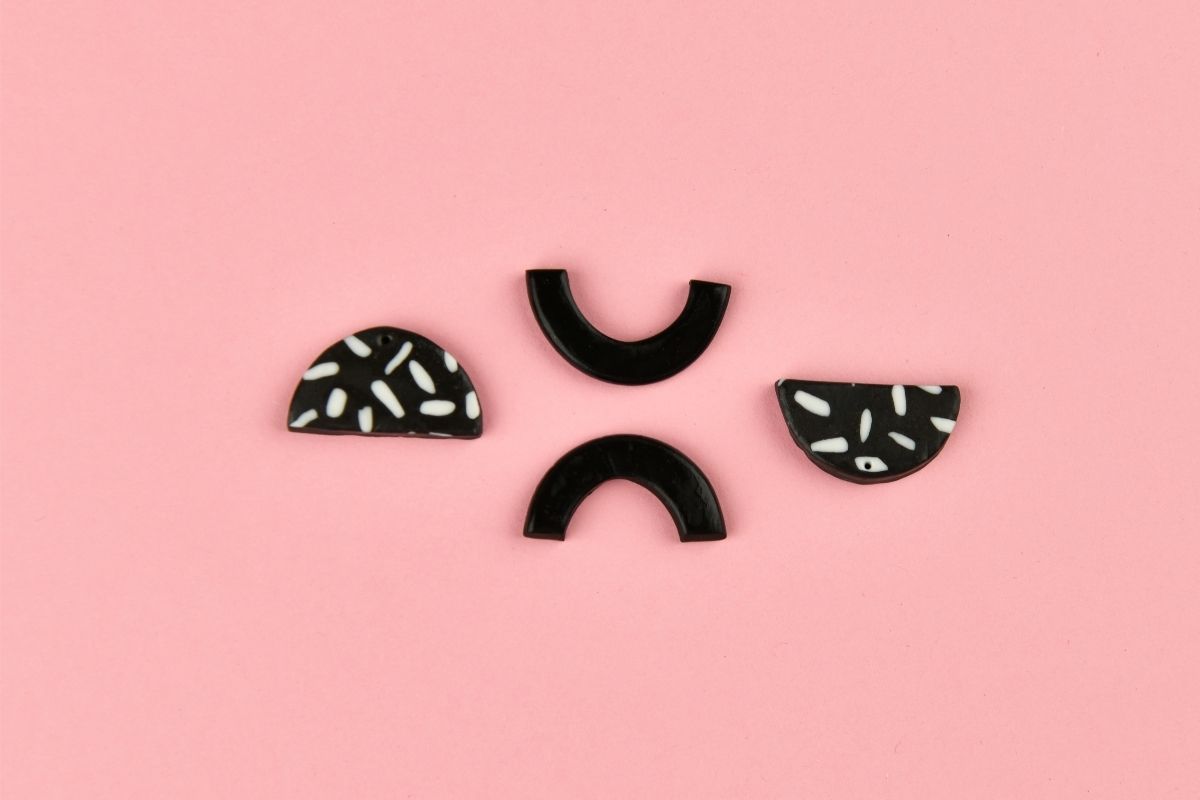 Once the polymer clay has been baked, if it is not too hot to the touch, you may wish to test the texture of the clay by pressing it lightly. If it is not yet hard, then it needs to stay in longer until it does go hard.
But, when done, even if it isn't too hot to the touch, we would recommend that you give the clay time to cool down before you pick it up to sand it down, buff it, paint it, or varnish it.
Not only will this make it more comfortable to do, but it also means a better result for the finished product.
Answers To Your Most Frequently Asked Questions
Can You Bake Polymer Clay In A Microwave?
We're sorry to report that you cannot bake polymer clay in a microwave because it doesn't have the right heating environment for curing the clay. Using it will only burn your projects.
Can You Bake Polymer Clay In An Air Fryer?
Technically, it should be possible to bake your polymer clay in an air fryer. However, we haven't tried it out for ourselves, so please don't take our word for it.
You may have to do a lot of testing with it to get everything just right, and you'd have to thoroughly clean the inside of the air fryer before use.
Can You Over Bake Polymer Clay?
It is possible to over bake polymer clay. But the good news is that you can sometimes fix the issue by either painting over it or adding another layer and re-baking it.
Wrap Up
So, as you can see, baking your polymer clay is pretty straightforward once you know what you need to do.
In fact, it's usually much easier to bake your polymer clay than it is to get the clay-colored and shaped as you want it before it goes in your oven.
The key thing to remember here is to keep the manufacturer's baking instructions and follow them as best you can.
Happy crafting!