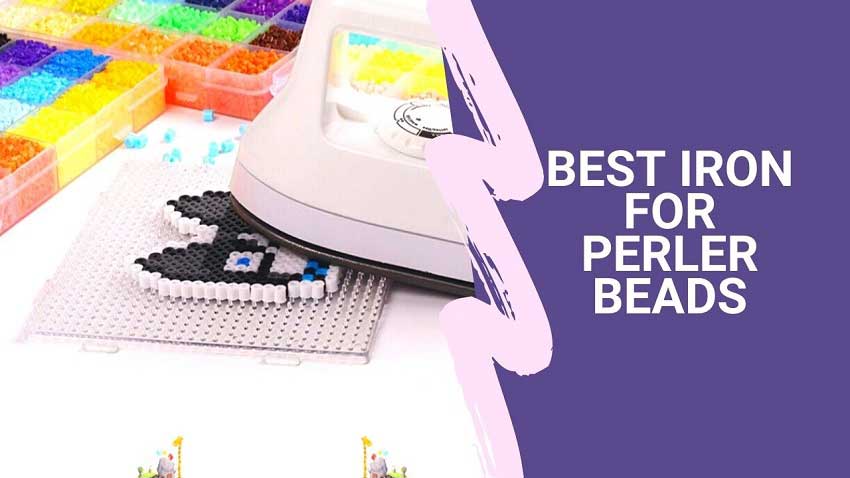 Whether you are helping your children, create a craft for a class project, or just making something out of a hobby- the possibilities of creating with Perler beads are endless. These little colorful beads can be used to create designs and patterns that are out of this world and will surely win everyone's heart.
Perler beads require to be pressed by an iron for the whole design to come to life. Such a delicate task needs to be performed only by the quality irons that can handle sophisticated material well. Here, we'll review some of the best iron for Perler beads. Keep reading to find out more.
What Are Perler Beads?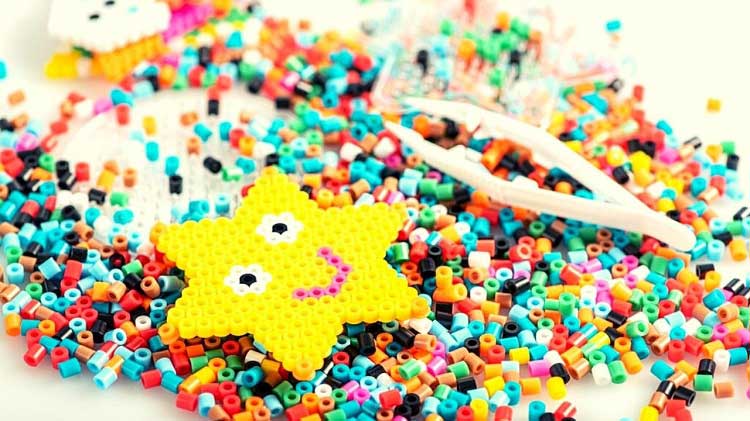 Perler beads are small colorful beads that are generally used in arts and craft projects. What makes these beads unique and different from other regular beads is that they need not be sewn by a thread and instead have to be fused by heat.
Perler beads are generally inexpensive and come in many pieces per pack. They are also easier and quicker to use. These factors have made them quite popular among all types of users.
The patterns you can create are endless, and there is always the internet to take some inspiration from.
Let us take a look at the steps in which we can use Perler beads:
First, you have to lay out the beads in the pattern and design of your choice on a pegboard.
After that, you have to cover the beads with parchment paper. Make sure the whole pattern is covered. Running hot iron over the beads without covering them will lead to a ruined design.
Finally, fuse them by ironing them in a circular motion. Try to make sure that the heat setting on the iron is not too high.
Our Best Iron for Perler Beads Reviews 2022
After learning about what Perler beads are and how they can be used, let us take a look at some of the irons that work well on these beads.
1. Sunbeam Hot 2 Trot Travel Iron – Editor's Choice
The Sunbeam is a user-loved brand, and their Hot-2-Trot compact iron is no different. This highly rated ironworks extremely well with Perler beads and does not even cost too much. The Sunbeam iron can run on two voltages – 240V and 120V.
No matter where you are traveling or what type of power source your accommodation uses, you will surely be able to rely on this iron.
Knowing what temperature you need to use and then using that right temperature is important when you are ironing something. That is why this iron has variable temperature control.
When you are working with Perler beads, setting the iron to a medium temperature is recommended as a high setting may ruin the work.
Thanks to Sunbeam, you can set whichever temperature you want! Stay alert and get informed when you are using this iron to bring your Perler bead designs to life.
An indicator light turns on whenever the iron is hot. This keeps you alert and aware and helps avoid any possible minor injuries.
We know that you enjoy doing your artwork, so it is vital that the iron does not cause you any discomfort. Sunbeam iron has a soft touch dial to give you extra comfort and make your ironing smoother.
And the Hot-2-Trot iron is extremely lightweight. Thanks to its dual voltage nature, small size, and low weight, it is also extremely portable. With a lightweight iron, fusing Perler beads will become much easier and quicker.
Highlighted Features:
Indicator light ensures added safety
Easy to operate as it is not heavy
Soleplate is nonstick and efficient
Extremely good at eliminating wrinkles if you also want to iron clothes
2. Ivation Small Mini Iron
From the Ivation Store comes an iron that combines sophisticated design with customer-friendly features. Take a look at its noteworthy features below.
Do not underestimate the power and the performance of this mini iron. It not only costs less than most of its competitor brands but also performs significantly better. Its sleek soleplate delivers smooth and consistent heating all over.
Waste no time on your craft endeavors. This mini iron heats up very rapidly and can do so in just 15 seconds. Good ironing performance does not have to be slow anymore. It has 3 different heat settings. For melting Perler beads, we recommend you use the medium setting.
This little iron is a great travel companion and will surely fit into your luggage easily. Thanks to its lightweight nature, carrying it on your trips will not be a hassle at all. The Ivation mini iron has the most sophisticated and functional handle you will ever see on an iron.
And this cleverly designed handle goes very well with this small and very lightweight iron. The cord on this iron is also extremely long. This will reduce your hassle when you are using it to iron something. After you are done, you can wrap the cord around the handle.
As this is a steam iron, you may want to use it with water. It has a design that prevents water from dripping or spilling that may as well cause accidents or the very least, be a nuisance.
Highlighted Features:
Gets heated and ready in just 15 seconds
Convenient design and smart handle
Comes with a measuring cup
Easy to operate as it is very lightweight
3. Conair Handheld Steam Iron
This steam iron by Conair is compact, can run on dual voltage, and, needless to say, works exceptionally well on Perler beads. People who use it at home or take it on trips love it, and we hope you too will love it when you are crafting with your beads.
No matter where you are traveling, stay assured with this steam iron that can run on dual voltages. This feature is especially useful for international travelers.
Staying safe while you are using a hot iron is very important. That is why this Conair steam iron has anti-slip rubber feet that do not fall or slip easily. Both cloth ironing and Perler bead crafting can be done easily and safely.
Gently glide this iron over your Perler beads for fusing them together and creating your design. Thanks to the smooth soleplate, perfectly melting and fusing the beads together without harming the design is especially easy. You can freely use and operate this iron as it has a very long cord.
An indicator light lets you know whenever the iron is on and heated. This feature helps you stay alert and even helps to avoid possible injuries.
Highlighted Features:
Smooth soleplate helps Perler beads fuse easily
Rubber feet prevent slipping or falling and ensure added safety
Can run on dual voltage
The long cord allows easy use
4. Sharper Image Steam Iron with Dual Voltage
Take a look at another of our favorite iron that boasts a unique design, is marvelously portable, and works perfectly well on crafting projects every time.
The lightweight nature of the Sharper Image iron makes it extremely travel-friendly. Its compact and small design also makes it perfect for craft projects. Smaller irons can reach corners and attend to the little areas that may not benefit from big irons. That is why this mini iron is so perfect for working with Perler beads.
Waste no time watching it get heated up. This clever iron can get hot in just one minute, which will save you quite a lot of time. Choose from 3 different heat settings depending on what you need. Irons with heat settings are always more suited for working with Perler beads.
This dual voltage iron will never keep you guessing and wondering if your iron will work somewhere else where the power outlets have a different voltage.
Although you will not need to use water in your iron when working with Perler beads, you will definitely like the addition of a measuring cup. Whenever you use your iron to steam clothes or linens, you will find that the measuring cups come in handy. 
One push button that is lockable in its place can activate the steam function on this iron. The temperature control dial, on the other hand, lets you control the temperature however you want.
Highlighted Features:
Has three different heat settings
Gets heated and ready in just 1 minute
Lockable push-button activates the steam
One control dial for handling temperature quickly
5. CLOVER Mini Iron
No iron can beat the Clover MCI mini iron when it comes to unique design, convenience, and functionality. Its small head and handheld design make us want to call it the best iron for Perler beads. And its mini head is the reason we love it to be used with Perler beads.
Its little pointy head can perfectly work on any moderately sized patterns and designs without any difficulty at all.
The unique design of this mini iron may have you thinking about the ways to store it or hold it in between usages. Well, worry not because this iron comes with a metal holder. When you are using it on and off, simply place it in the holder, and you will not have to worry about it anymore.
Because of its unique design and lightweight nature, controlling the iron is extremely easy. Weighing just 90 grams, this is perhaps the lightest iron ever. That is why we love it so much to be used in crafting or knitting projects. And needless to say, it works wonders for Perler beads. 
Controlling the temperature on the Clover mini iron is extremely easy and quick. Whenever you need it, just simply use the switches on its side to adjust the temperature. Its long electrical cord allows you to use the iron at your convenience.
Highlighted Features:
Comes with a metal holder in which you can place the iron
Smooth soleplate works in a gliding motion
Weighs only 90 grams and is thus compact
Extremely suitable for knitting and crafting projects
Very low cost and very useful features
6. SMAGREHO Mini Travel Steam Iron
Let us take another look at an iron that is lightweight, has a modern handle, and is perfect for home as well as crafting use. For Perler beads, it is generally recommended to use the dry iron feature.
On the other hand, we know that if you love the iron, you will want to use it for other features also. That is why this iron comes with both dry and steam settings. Use whichever one you need whenever you need it. Ironing has never been more efficient!
Wherever you may go, we hope you will take your iron with you to be used whenever you want to. As this Smagreho iron has dual voltage settings, it will work with ease in most countries around the world.
Stay alert and get notified whenever the iron is heated. Without an indicator light, it is difficult to understand if the iron is hot just by looking at it, which may often lead to accidents or injuries. That is why you can stay worry-free with this iron.
This mini iron can get hot and ready to be used in just 15 seconds. Moreover, it has 3 different heat settings so that you can use the one you need. The Smagreho comes packed with everything you may need to utilize the iron's functionality. With every purchase, you will get:
A measuring cup for measuring water
A travel bag for carrying and storing
A protective mesh bag
A manual
Highlighted Features:
Size and design make it a good travel companion
Comes with a travel bag and protective mesh cover
Anti-slip handle allows safe usage and prevents accidents
Has 3 different heat settings for easy control
7. Darice Mini Crafting Iron
Darice takes pride in this iron of theirs for being ideal for crafting and sewing projects. And after seeing so many positive customer reviews they have, we honestly cannot disagree.
This iron can be ready to use very quickly as it can heat up rapidly. It only has one temperature setting, so you need not guess about which heat option to use. This iron is great for crafting use, which means the single temperature setting will not harm your Perler beads at all.
The careful design pointed head, and temperature settings make it perfect for craft use. Its lightweight nature also helps fuse the Perler beads together smoothly without damaging the design or spreading uneven heat.
Unlike most other iron manufacturers, Darice specializes in making craft supplies and tools. When it comes to arts and crafts work, Darice knows better which type of iron will work perfectly for crafting needs.
Its lightweight nature and 4-inch height make it easily portable. It will fit in almost any suitcase, bag, tote, or luggage. Wherever your crafting needs may take you, you can take this iron with you without facing any hassle. If you need to just press your clothes while you are on a trip, this iron can be used for that too!
Highlighted Features:
Made by an expert manufacturer specializing in craft supplies
Only one temperature eliminates second-guessing
Fits in luggage and suitcases easily
Does not damage Perler bead designs or patterns
8. Cohotek Mini Steam Iron
The Cohotek mini steam iron is one of the most versatile irons you will ever see. It can steam and iron as well as can be used for crafting perfectly.
This iron that is perfect for both crafting and regular ironing serves a versatile purpose. It can be used both as a flat iron for ironing and as a steamer to steam hanging clothes.
This iron has a soleplate made of stainless steel and can get heated up in just 60 seconds. It means very little time of your will be wasted waiting for it to get hot. And it has 3 holes that distribute steam evenly and will make sure that your Perler beads get consistent heating.
Moreover, the Cohotek mini iron is lightweight enough to be carried wherever you need it. Weighing only 22.06 oz, it also is very easy to operate. And as we have mentioned before, lightweight irons work best for fusing Perler beads together.
Also, this iron has three different heat settings so that you can choose the one that suits your needs best. No matter the type of fabric you want to press or the craft you want to complete, you will hopefully not be disappointed.
Highlighted Features:
Allows steaming and ironing for hanging and flat clothes
Gets heated in just 60 seconds
Three adjustable heat settings allow easy control
Three holes for even steam distribution
Soleplate that is nonstick and gets heated quickly
What to Consider Before Buying Iron for Perler Beads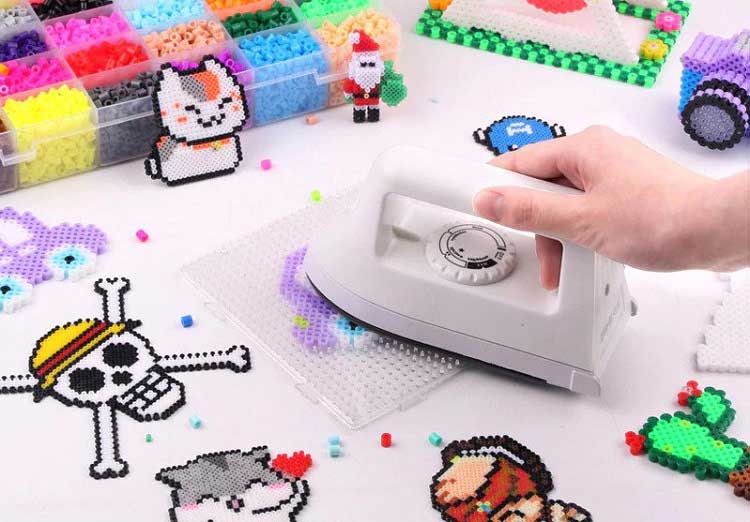 Regular irons can serve the purpose of Perler beads and other crafting needs pretty well. That being said, you definitely need to watch out for some specific factors that need to be considered. Let us take a look at some matters that must be considered.
Weight of the Iron
You will see and hear from many sources that the weight of the iron is not too important and that bigger irons can also be used to fuse Perler beads perfectly. And they are partially right.
That being said, we always recommend getting a smaller and lightweight one for your crafting and Perler bead needs. Bigger irons tend to put more pressure, which means your beads have a chance of not melting properly or evenly.
Lighter irons are easy to control, operate and are more likely to melt your beads perfectly. And if you are new at this, a smaller and lightweight iron is exactly what you need to start with.
Temperature Control
It is generally recommended not to iron your Perler beads at a high heat setting. That is likely to make the beads melt faster than normal and cause a final design that is distorted.
This is why we suggest that you buy an iron that has several heat settings. That way, you will be able to adjust the setting based on your needs. If you do want to purchase an iron that has one setting only, make sure that the setting is appropriate for working on Perler beads.
Say No to Steamers
By all means, purchase a steamer and an iron in one. That way, you can use the iron for multiple purposes. But refrain from purchasing steamer irons to melt Perler beads. They tend to knock beads out of their places and often end up ruining the whole design.
Indicator Lights
This is more of a safety suggestion. Try to purchase an iron that has an indicator light to alert you and everyone else whenever the iron is hot. Without an iron, it is difficult to tell if the iron is hot, which may lead to someone touching it and accidents occurring.
Comfortable Handle
Last but not least, make sure the iron you purchase has a comfortable handle. Be it for ironing purposes or crafting purposes, you will be handling the iron for quite some time. If the handle is not comfortable and sturdy, you will face difficulty and discomfort while using it.
Frequently Asked Questions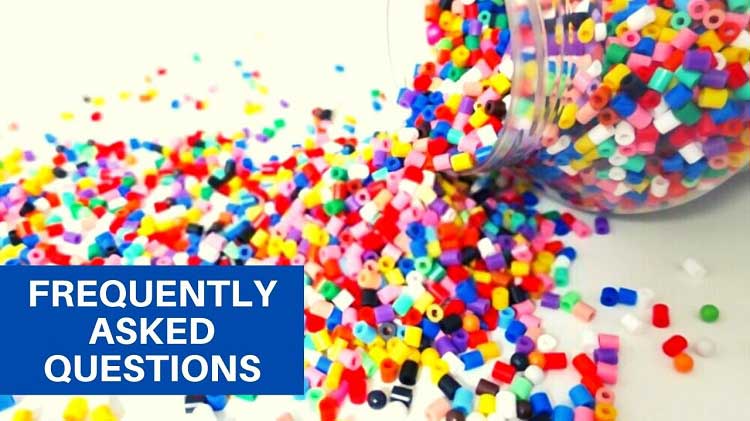 Here we have the most commonly asked queries regarding the best irons for Perler beads:
1. Can I directly iron Perler beads without using parchment paper?
Answer: We recommend not doing so as that might ruin the design and the beads.
2. How can I clean my iron plate?
Answer: You can use a mixture of baking soda and water. Wet a cloth in this mixture and gently wipe the metal plate of the iron. Be very careful to ensure that absolutely nothing gets inside the steam holes if it is a steam iron.
3. While using the steamer function and filling the iron with water, do I have to empty the water container after each use?
Answer: Yes, you must do so. Otherwise, mold growth may take place.
4. Will I still need a power adapter with a dual voltage iron when I am using them internationally?
Answer: It depends on which country you are going to. In some of the countries, you can use one of the two dual voltage options, while in others, you cannot.
5. Do the metal plates on irons have a nonstick coating?
Answer: Almost all of them do. If not, your parchment paper may stick to them when you are using the beads. We recommend you check before purchasing.
Final Words
After reading about the best iron for Perler beads, we hope you have gathered enough information to make a purchase that best suits your needs.
If the confusion still exists in your mind, then I might be of some help. According to me, Sunbeam Hot-2-Trot compact iron would be an amazing option for you as it offers incredible features at a reasonable price.
Nevertheless, we hope you choose right and have fun with your crafting projects.
Other Accessories That You May Like: