Jewelry stores hold an allure because of the way the precious and semi-precious stones throw glimmers all around. The way the stones are cut to bring out the different facets is an art and a science.
Chunks of stones are carefully cut by a specialized saw to yield slabs, which are then trimmed to form smooth gemstones with the shape of a dome. The main tool for turning these rough chunks to polished and sophisticated stones is a lapidary saw.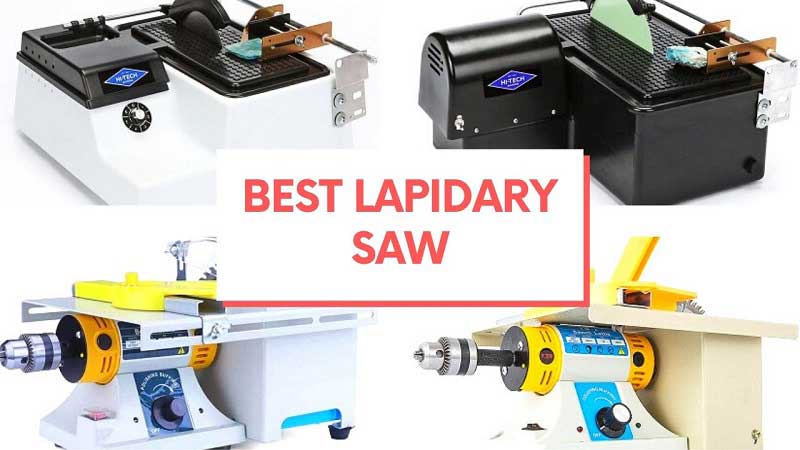 Many of us like making our line of customized jewelry for ourselves and others. In that case, you need the best lapidary saw to enable you to make the perfect-shaped stones to use in unique designs.
This post is aimed at guiding you to buy the right lapidary saw by carefully weighing out the pros and cons of the different brands available on the market. Read on to discover more!
IMAGE
PRODUCT
FEATURES
 

Best Overall

Best Overall

Weight:

18.81 pounds

Dimensions:

17″X 18″X 10″

Speed:

800rpm-3400rpm

Check Price

Premium Choice

Premium Choice

Weight:

35 pounds

Dimensions:

20″X 19″X 14″

Speed:

1725rpm

Check Price

Best Value

Best Value

Weight:

15.4 pounds

Dimensions:

10.4″X 8.7″X 5.3″

Speed:

0 to 10000rpm

Check Price

 

 

Weight:

13.23 pounds

Dimensions:

13.78″X 11.1″X 8.11″

Speed:

0 to 26000rpm

Check Price

 

 

Weight:

17.69 pounds

Dimensions:

18″X 14.5″X 7.75″

Speed:

0-3600rpm

Check Price
Best Lapidary Saw: Our Top 10 Picks
1. Hi-Tech Diamond 6″ Lapidary Trim Saw – Best Overall
From cutting slabs to finer jobs, this lapidary trim saw should be the one for you!
With two 6-inch diamond blades, this machine can make a clean trim of facets and cut out pre-marked cabochons smoothly.
The diamond blade with silver notches is used for cutting minerals and rocks like emerald, ruby, turquoise, garnet, and aqua. The other blade is red sintered, meaning you can use this to cut soft materials like topaz, glass, fine agates, and quartz.
The vise attachment makes the alignment of the material with the blade very easy and precise. The included spray shield gives you protection while you're working with the saw.
This is the best lapidary trim saw that is made from materials that are resistant to impact and rust, ensuring it lasts for a long time. It's portable and you can carry it anywhere and store it anywhere as it doesn't take up much space.
It has variable speeds with a range between 800 and 3,400 revolutions per minute or RPM and has ¼ horsepower.
You can choose the speed as per your preference, provided you are aware of the density of the material you are cutting. With the ball bearing in the motor, you are guaranteed smooth operation.
The coolant tank at the base of the lapidary trim saw prevents the machine from heating up and can hold a maximum of 16 ounces of water. To expedite the cleaning process, the saw table is removable and sits on the coolant tank.
The table measures 15.5 inches in length and 9 inches in width, giving you ample space for working without feeling cramped.
Highlighted Features:
Two 6-inch blades for cutting both hard and soft materials.
Vise attachment for perfect alignment and precision.
Variable speeds between 800 and 3,400 RPM.
Coolant tank with 16 ounces capacity.
Saw table with dimensions 15.5 inches length and 9 inches width for space.
2. Hi-Tech Diamond 10″ Lapidary Slab Saw – Premium Choice
For those in the regular business of cutting large pieces of rocks and stones, this slab saw is sure to speed up your projects.
Place large pieces of minerals, glass, and other materials and this machine will cut it down to more manageable sizes. There are two 10-inch saw blades so that you can apply the right one as per the density of the material. That means you can cut both heavier and more delicate stones with a single machine.
The red sintered blade is meant for cutting large pieces of fine agates, topaz, quartz, and glass. The second diamond blade is one that's notched and green to cut slabs of minerals and rocks like geodes, agates, and jade.
The cross-linked polyethylene material used to make this lapidary slab saw is unbreakable, rust- and impact-resistant, ensuring you own this piece for a long time.
At the base of the machine, the coolant tank is located with a capacity of 32 ounces of water. Cleaning this up is a matter of a few minutes as the built-in drain plug makes this chore less of one!
On top of the coolant tank sits pretty the removable saw table. With a length of 19.75 inches and a width of 12 inches, you get plenty of room to carry on your cutting projects with ease.
The motor has 1/3 horsepower and delivers a speed of 1,725 RPM to make smooth cuts in very large stones without any effort. No wonder it's considered the best lapidary slab saw by many.
A vise attachment on the machine makes precise cuts possible and also protects your hands from the blade.
Highlighted Features:
Two 10-inch blades for cutting all types of rocks and minerals into slabs.
32-ounce capacity of coolant tank with a built-in drain plug for easy cleaning.
Polyethylene structure for durability.
Ample working room with saw table measuring 19.75 X 12 inches.
1/3 horsepower motor with a speed of 1,725 RPM.
3. Mini Table Jewelry Saws – Best Value
An amazing little machine that can not only cut stones but also descale, grind, polish, drill, and engrave!
Complete your dream team with this jewelry saw so that your hobby can reach new heights. DIY projects could not be easier with this tool as its 110-centimeter shaft is flexible and you can adjust the angle with the ruler for high-accuracy measurements.
It runs on 100 Volts with a 350 power motor. A wide range of motor speeds – from 0 to 10,000 RPM – makes this tool a versatile one as you can adjust the speed according to the material you are cutting and your preference.
A blade guard makes buffing a more comfortable process as there's no chance of getting little bits of stones into your eyes or the dust getting into your lungs. Moreover, the buffer prevents any irritating noise and results in a smooth finish.
Each of the two buffing wheels is 4.25 inches and allows wheels of up to 6 inches in diameter. Equipped with two blades, this lapidary saw can cut objects with a thickness of up to 30 millimeters easily.
Don't worry about changing the buffing wheels as there are threaded mandrels included to make replacements of these wheels simple.
The polisher comes with double buffing wheels where you can use two types of grit at the same time, increasing your overall efficiency and saving time.
You can use this multipurpose machine at home or in your workplace to cut, grind, engrave, and polish not only stones for jewelry but also paper, plastic, aluminum, jade, wood, etc.
Highlighted Features:
All-in-one lapidary saw for cutting, engraving, grinding, and polishing.
350 motor power with a speed range between 0 and 10,000 RPM.
Accurate measurements with an adjustable shaft and ruler.
Blade guard to protect against noise, dust, and small pieces.
Two blades and two buffing wheels for more efficiency.
4. Mophorn Multifunctional Jewelry Rock Cutting Saw
You can do many types of DIY projects with this product as it allows you to use a wide variety of materials for jewelry making and also woodwork jobs.
A truly multifunctional tool, this has a power of 350 Watts and has the cutting depth ability of 26 to 29 millimeters or 1.02 to 1.14 inches. The cutting width capacity is 100 millimeters or 3.94 inches.
Its more impressive features include a speed range of 0 – 10,000 RPM, saw blade aperture of 16/20 millimeters, or 0.63/0.79 inches. It also offers a clamping range between 0.3 and 4 millimeters or 0.01 to 0.16 inches.
The small size and lightweight of the jewelry saw make it easily portable and particularly convenient for hobbyists and DIY-ers who can carry it anywhere.
With an alloy saw blade, you are guaranteed durability and its precision in giving straight cuts as long as you put it on a flat surface. Choose from a wide variety of materials to work with –bodhi, amber, wood, beeswax, nephrite, and many others.
The push-foot angle has three options to choose from –90 degrees, 45 degrees inside, and 45 degrees outside.
With the backer and ruler on the cutting table, you can be guaranteed accurate measurements and cutting. At the base are four rubber pads at each corner to ensure you have a safe and anti-slip experience. These pads also work as shock absorbers.
As the unit has a waterproof system, it prevents water splashes and resultant damages while working, extending the life span of the tool.
Do keep in mind that the length of the blade is not adjustable and it's not suitable for cutting long objects.
Highlighted Features:
26-29 millimeters cutting depth and 100 millimeters cutting width.
Small size and lightweight for easy portability.
Backer and ruler for accurate measurement and cutting.
Base rubber pads for anti-slip and safe experience.
0 – 10,000 RPM speed range.
5. SKIL 7-Inch Wet Tile Saw – Best Tile Saw for Cutting Rocks
Do you know how to cut rocks with a tile saw? Yes, this is a wet tile saw. As a lapidarist, you can easily use this saw by using a perfect lapidary blade for diamond cutting. Mainly cutting flat materials like small rocks or granite slabs are perfect for this saw.
Also, if you want to replace the tiles in your home by yourself, then this handy saw is the perfect solution for you!
This 7-inch wet tile saw will serve you for years and through multiple uses, as it has a stainless steel table to work on that resists rust and corrosion. You can easily cut 12-inch by 12-inch tiles with this machine.
For precision in cutting the tiles, there is a miter gauge that works in tandem with an adjustable rip fence to ensure you get straight cuts every time.
If you want to carry out more intricate projects that require bevel, this tool will help you do so as it allows 0-45 degrees of bevel to choose from. You can also use it when you have to tackle the end tiles that need a slight bevel to fit in well.
Besides bevel, the machine is also capable of making 7.25-inch diagonal cuts and 7.75-inch crosscuts. The blade diameter is 7 inches for smooth and quick cuts.
The motor is a 120-Volt 4.4 amp one and offers a speed of up to 3,600 RPM.
As this is a wet saw, there is a water tank that keeps the blade lubricated continuously. It also helps to keep the blade cool and prevents the dust from getting into your eyes or lungs. Plus, the minimum debris means you have less of a cleaning chore at the end of your work.
Many users have praised this product for enabling them to complete large projects perfectly and by helping them to save money. Plus, with its size, it's easy to store anywhere after use.
Highlighted Features:
7-inch wet tile saw for home projects.
Miter gauge and adjustable rip fence for precision.
7-inch diameter blade for smooth and quick cuts.
Water tank for constant lubrication.
25-inch diagonal cuts and 7.75-inch crosscuts.
6. ETE ETMATE Upgraded Jewelry Polishing Machine
Never be limited by the scope of application if you're in the hobby or profession of jewelry making. With this tool, you can complete all the processes of lapidary from cutting to polishing!
You can work with ease on the mini workbench in any situation – home, shop, or workplace. You can cut, grind, engrave, and polish all projects with wood, jade, plastic, precious metals, paper, aluminum, and others. With a larger workspace, doing these tasks has never been easier.
For precise material feeding, a ruler will help you adjust the angle while a 110-centimeter shaft that's flexible and detachable will guide the material properly so that you get straight cuts.
Run by a 350-power motor on 110 Volts, this lapidary saw allows you to use two types of grit at the same time. You can increase your productivity with the two buffing wheels, each measuring 4.25 inches. The machine can accommodate wheels of up to 6 inches in diameter.
With the threaded mandrels, you can easily replace the polishing wheels as deemed appropriate. You are guaranteed a smooth finish and a noiseless operation as the blade guard not only keeps the noise level low but also protects your eyes and lungs from tiny bits of stones and rocks.
Equipped with two blades, you can cut materials that have a thickness of a maximum of 30 millimeters. With a speed range between 0 and 10,000 RPM, you can cut according to the speed you prefer plus the thickness of the material you want to make pieces of.
Highlighted Features:
Two 4.25-inch buffing wheels for increasing productivity.
Ruler and 110-cm detachable shaft for precise feeding and measuring.
350-power motor with a speed range of 0 – 10,000 RPM.
Protective blade guard against noise and fine dust particles.
Cuts materials of maximum 30 millimeters thickness.
7. Inland Craft Tabletop Band Saw Machine with Saw Blade
This tool not only cuts pre-formed shapes from large pieces of stones, rocks, and minerals, it also enables you to form curves on your desired projects.
You can use this to work on a wide variety of materials –live coral, tiles, porcelain, glass, semi-precious stones, ceramic, leather, fiberglass, stone, marble, silicone, granite, fiberboard, plastic, and shells.
This is an ideal tool for hobbyists and DIY-ers as its low weight and compact design make it easily portable. The thermoplastic and rust-proof body of the machine make it durable too.
With 1/6th horsepower, this lapidary saw runs on a 115-Volt motor and offers a speed range of 800 to 3,400 RPM so you can now cut all types of materials as per their density and your comfort level.
It cuts maximum 3-inch thick rocks and minerals, glass bottles with a 3-inch diameter, and one-inch solid glass.
As this is a wet saw, you will get a constant supply of clean water to keep the blade cool and well-lubricated. Besides, the water lubrication prevents small flyaway pieces from entering your nose and eyes, thereby giving you protection.
The machine is fitted with proper channels to drain the dirty water while you are sawing and thereby, preventing it from reaching the blade and making a mess. The measurement of the blade is 37.7 inches or 96 centimeters and is made of stainless steel for preventing rust and rendering it durable.
The workbench measures an ample 12 inches by 9 inches, giving you enough breathing and working space to work at ease.
Highlighted Features:
Wet saw to cut shapes and curves from a wide variety of materials.
Stainless steel, durable blade measuring 37.7 inches or 96 centimeters.
Spacious workbench for comfortable work –12 X 9 inches.
1/6th horsepower, 115-Volts motor, speed range 800 to 3,400 RPM.
Integrated channel for draining dirty water and keeping the blade lubricated.
8. Genmine Mini Table Saw with Polishing Lathe
Who would have thought such a small lapidary machine could come to such big benefits!
With dimensions of only 27 centimeters in length, 16 centimeters in width, and 14 centimeters in height, this compact tool can be carried around everywhere and easily stored with its small footprint.
The structure of this product has a powder-coated metal construction that not only gives it good looks but also makes it durable and sturdy.
You can mount it on your bench with the included mounting screws and make your workstation as comfortable as you like. A hex tool is also included in the package.
With the switch and the power indicator, it is convenient for you to know which is on and off. Not only can you cut materials like stones and minerals, but you can also grind these. There are two separate set-ups for the cutting and the grinding processes.
Two abrasive wheels can polish your stone pieces to shine like diamonds! These buffer wheels are medium in size and sufficient for most small-scale projects.
The 350-Watt power motor runs on 220 or 110 Volts. With a speed range of 0 to 26,000 revolutions per minute, you can set the pace of cutting as per your comfort and the density of the material under the blade.
A button for carbon brush change makes it easy to replace the brushes. The package includes an additional set of motor brushes.
With its quiet mode of operation, this saw creates a peaceful work environment. The double shafts have tapered spindles to make the work of feeding and cutting more accurate.
Highlighted Features:
Compact design and lightweight for easy portability.
Powder-coated metal body for durability.
Separate sections for cutting and grinding.
Two medium-size abrasive buffer wheels.
350 power motor with a speed range of 0 to 26,000 RPM.
9. MK Diamond 7-Inch Bench Wet Tile Saw
For those who like to do home improvement projects themselves, this tile saw is a great tool to work on floor and counter renovation or replacement assignments.
It's a small tool but with huge power. Only 7 inches in length, it's a wet tile saw that can fit easily on a bench and create a cozy and comfortable workbench in minutes.
The 1/3rd horsepower motor has high torque and power to make the most difficult tile jobs easy for you. The speed it offers is 5,500 RPM, enough to get your project done efficiently. Weighing only 15 pounds, you can carry it around easily without feeling any pressure.
With zero complications, the machine is easy to set up and doesn't waste your time. The 7-inch diamond blade can cut pieces 12 inches long and 2 inches thick without any trouble.
The water reservoir is removable to make the cleaning process hassle-free. It's made from a thermoplastic material to withstand high impact and resist rust and corrosion. Hence, there will be none of the ugly peelings coming off it and it's guaranteed to last for a long time.
With the submersible water pump, the blade is continuously lubricated during the sawing process so that small dust particles won't get into your eyes or lungs.
To give you extra safety, the machine is fitted with a Safeswitch lock and cannot be operated until the switch is unlocked.
The adjustable rip guide ensures you get perfectly measured straight and long cuts each time.
Highlighted Features:
7-inch wet tile saw for DIY-ers.
High torque and power at 1/3rd horsepower motor and 5,500 RPM speed.
Anti-rust and impact-resistant thermoplastic water reservoir.
Water pump for continuous lubrication.
7-inch diamond blade for 12-inch long cuts into 2-inch thick materials.
10. Dzhot51 Mini Table Lapidary Rock Saw
Want to own a mini bench saw but not interested in a high-maintenance one? Well, here's great news for you as this little machine practically needs no maintenance!
The motor casing is dust-resistant and the polisher has pre-lubed ball bearings so that there is no dust particle to fly into your eyes and nose. The result is minimum maintenance!
You can cut, grind, engrave, and polish with this single unit that requires 110 Volts to run it. With double-shafted drives that have tapered spindles, feeding material with accurate measurements is a breeze.
With the RPM range of 0 – 10,000, choose the speed that will work for the material and you.
On top, the machine works quietly, helping you keep your focus on the job in hand without any distractions. The medium-sized buff wheels are abrasive and give your stones a superior shine. They can polish pads up to 4 inches.
This product can be mounted on the bench with the help of the hex tool and mounting screws included. Its durability is ensured by its powder-coated metal structure that resists corrosion.
The package includes a whole host of accessories to enable you to do most jobs without looking for parts elsewhere. Besides the grinding wheel and fiber wheel, you will also find a wood cutting disc, a jade cutting disc, chuck and chuck keys, wrench, Allen wrench, spindles, screws, and extra motor brush.
A sink is included so that the dust particles from cutting and polishing are collected in it to be disposed of easily.
Highlighted Features:
Low-maintenance with pre-lubed ball bearings and dust-proof motor casing.
110-Volts, RPM range of 0 – 10,000 for cutting most materials.
Medium buff wheels for pads up to 4 inches.
Accessories are included for most types of lapidary projects.
Powder-coated metal construction for durability.
Things To Consider Before Buying Lapidary Saw
A lapidary saw requires some investment and therefore, you should factor in the following points before you make a purchase decision.
Size and Weight
If you're planning to cut large stones, then you will need a bigger size lapidary saw. A rule of thumb is to pre-determine the largest rock size you will cut and select a saw with a blade that's three times larger than the rock or stone.
The size you choose also depends on if you need to move the blade often. Also, where you keep the lapidary saw will determine the size and weight you should choose. The weight should be just right if you want to keep it on a flat surface. You have more leeway if you plan to keep it on a sawhorse.
The storage space you have allotted for the saw when not in use will also help you figure out the size of the saw that would be right for you. Moreover, your workbench size will also indicate the right lapidary saw size.
Thickness Of Blade
A trim saw blade is thinner than the one you may find on one that has a tile-cutter style saw. You will need a thicker blade on larger size projects. For trimming small stones, a thin blade will help you to do an efficient job without wasting any part of the stone by cutting parts of it unnecessarily.
Motor Speed
The motor speed of a lapidary saw is measured by RPM or revolutions per minute. Choosing a high-speed motor is not always the right decision. A slower speed of the motor can maintain the right torque and can give you more control.
Moreover, large stones with a thick density will require a saw with a slow motor speed to give you control over how much you can cut.
Material
The material of the lapidary saw dictates how durable it is. It's wise to choose one with a stainless steel body that will resist rust and corrosion to settle on it. Powder-coated metal bodies are also durable.
How To Use A Lapidary Saw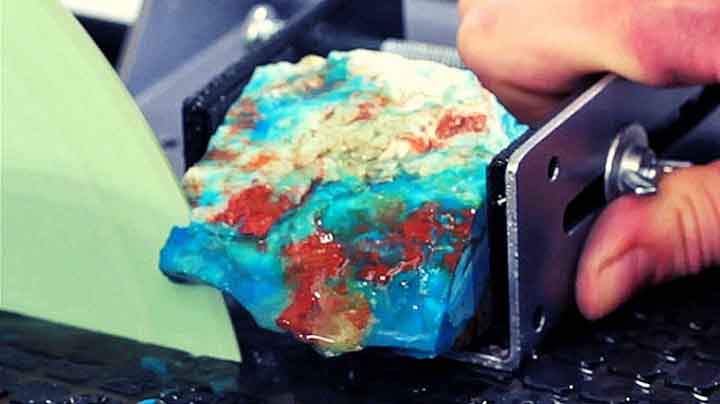 The first thing to remember is that a dry saw will not need the use of water or oil. So, depending on the type of saw, a few steps may vary. But overall, the following are the steps to follow when using a lapidary saw.
1. Shape Determination
You need to decide if you want an oval, square, round, or any other shape from the stone. According to your shape preference, draw it on the stone with a pencil.
2. Lubrication (Or Not) And Alignment
If you're not using a dry saw, use water or oil to lubricate the blade on the saw.
Now make sure that the stone is aligned straight with the blade. Alignment with an angle will cause damage to the blade by bending it. For perfect alignment, check the feed mechanism. It should lie parallel to the blade.
You can use the vise attachment in the lapidary saw for perfect alignment.
3. Feeding The Stone
If you are using a trim saw, you need to manually feed the stone. Make sure that you're standing and your primary eye is in line with the blade so that there won't be any bends.
4. Turn On And Set The Speed
After you get the alignment right and you have fed the stone, turn on the saw and set the speed. Depending on the density of the stone, set the speed. A lower speed is good for thicker stones.
5. Cutting
Hold the stone against the workbench and push it forward. By pushing the stone through the blade, you can cut the stone according to your desired shape. Make sure that the cuts are straight and short.
Lapidary Saw Maintenance Tips
To keep your lapidary saw in tip-top condition, follow the maintenance tips mentioned below.
Lubricate your slab saws with a saw oil and your trim saws with an anti-rust preventive.
To rejuvenate old blades, saw them on an ordinary brick to remove accumulated dirt.
Clean the sump of the saw occasionally by tipping the saw and emptying the lubricant into a large can. Then manually clean out the layer of sludge that has settled at the bottom by using a scraper or putty knife. Don't forget to wear gloves during the process.
Frequently Asked Questions (FAQ)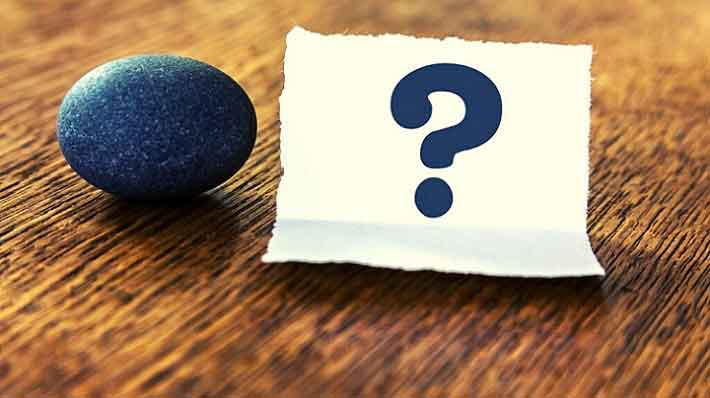 1. How Is A Slab Saw Different From A Trim Saw?
Answer: A trim saw is used for making more measured and careful cuts into stones according to the desired shape of the cabochon or cab. Such saws have very thin blades to enable you to cut with more precision around the marked shape without causing any wastage.
On the other hand, the best lapidary saw to cut large rocks and stones would be a slab-type saw. These have thicker blades for cutting the large chunks into slabs measuring 1/8th to 1/4th inches.
The blades in trim saws are 4 to 6 inches in diameter and between 0.004 to 0.12 inches thick. For slab saws, the diameter of the blade ranges between 6 and 36 inches, with a thickness of about 0.025 inches.
2. What Is Cabochon?
Answer: Cabochon or cab for short refers to the smooth gemstones with a dome-like shape that is used in rings, bracelets, necklaces, and other pieces of jewelry.
3. Besides Jewelry, What Else Can Be Made With A Lapidary Saw?
Answer: In addition to making fine jewelry with a lapidary saw, you can also use the machine to cut large chunks of stones to make glass and mug coasters, mats for the coffee table or dining table, marble tiles, and plenty of other creative projects that need your unique touch.
4. Why Do I Need A Lapidary Saw When I Can Use My Hands?
Answer: A lapidary saw will give you more precision in cutting rocks and stones than your bare hands. With a lapidary saw, you can cut any hard material besides semi-precious and precious stones like antler, bones, etc.
As the lapidary saw is tipped with diamonds and has coated plates, you can get straight long cuts as well as cuts that involve intricate designs.
5. Is There Any Safety Measure To Follow When Using A Lapidary Saw?
Answer: Yes, you should wear protective glasses and a mask to prevent small particles of stones from entering your eyes. Breathing in these particles may cause harm to your lungs and that's why wearing a mask is recommended.
It's also recommended to work with a saw in a well-ventilated area, a place where the toxic fumes won't get a chance to pose health hazards. Also, the maintenance of lapidary saws includes using lubricants like water-soluble oils.
Final Word
A lapidary saw is an essential tool for anyone who is into making unique jewelry. It's only with this machine that you can make precise cuts into large pieces of semi-precious stones and rocks without diminishing their value or incurring wastage.
Of course, depending on whether you're cutting slabs or you are into making fine jewelry, you will need to choose either a slim lapidary saw or a slab lapidary saw.
Either way, the best lapidary saw will enable you to cut small to large pieces with accuracy and bring out the facets of the stone with ease.
If you're tinkering with the idea of entering into the jewelry-making profession or just as a hobby, this post will guide you in making the right investment decision.
Related Articles You May Also Like:
Which epoxy resin is the right one for jewelry making?
Reviewed: Top 5 Cabbing Machine – take a look!
Reviewed: Best iron for perler beads – let's have a look!
Which string is the best for making waist beads – Check here!
Get the right stone wrapping gauge wire for your perfect style