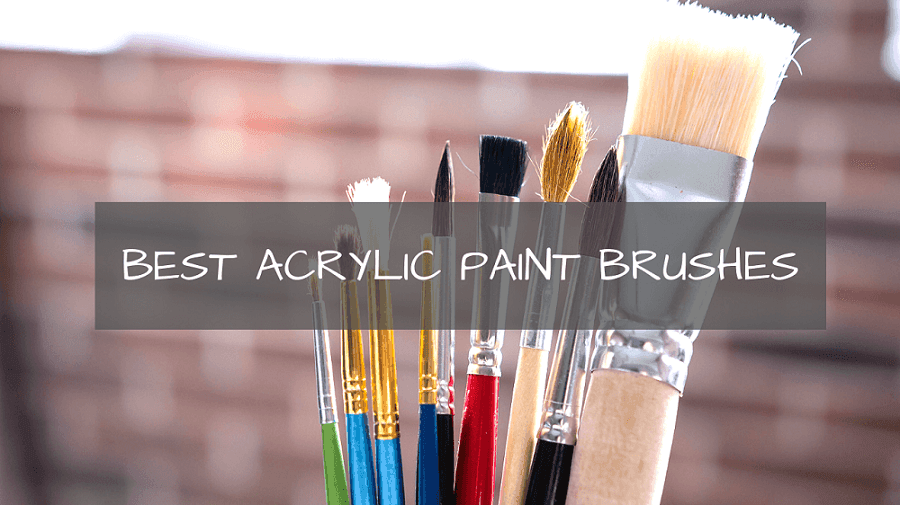 Getting the best acrylic paint brushes can be a daunting task. You have to consider comfort, functionality, and durability, among other factors.
You have to think about the bristles – will they fall off and ruin your artwork? How about the handles? Are they smooth to touch and gentle to your hand and project?
Prolonged painting hours might injure your hand if you are using low-quality brushes. While the market is highly saturated with different brands of brushes, some stand out. Every brand has to meet its customers' needs, thus keeping its track record clean.
In this article, we'll go through some of the top-rated and most preferred acrylic paintbrushes to save you the trouble of weeks or even months of research.
Let's dive in.
IMAGE
PRODUCT
FEATURES

Our Top Pick

Our Top Pick

✔

15 piece brushes

✔

Wear and tear proof

✔

Versatile with all paint types

✔

Suitable for all ages

Check Price

Best Value

Best Value

✔

20 piece brushes

✔

Sturdy wooden handle with Nylon brushes

✔

Various painting suit

✔

Easy to clean

Check Price

Premium Choice

Premium Choice

✔

16 pieces set

✔

Non-slip handle

✔

Ideal for all types of paint

✔

Worth Buying

Check Price

✔

15 various sizes

✔

Wonderful quality

✔

Long-handed wooden brush

✔

Highly-portable

Check Price

✔

12 detailing brush

✔

Balanced Brichwood handles

✔

Anti-shedding

✔

Long-lasting

Check Price
Types of Paint Brushes For Acrylic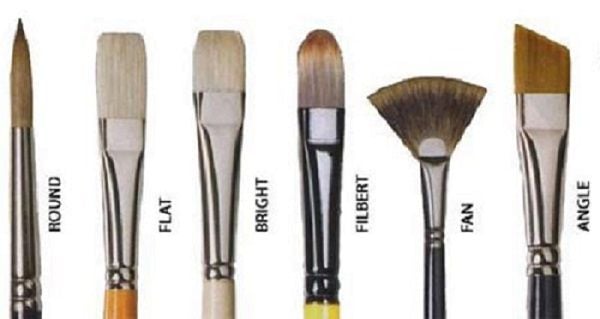 As an artist, you need to familiarize yourself with the various types of acrylic paintbrushes. Their uses will also come in handy to heighten your creativity.
Without a doubt, your painting sessions need to be enjoyable. Therefore, getting to know which brush types are meant for what purposes will make your painting experience indelible.
The list below is a compilation of the most common acrylic brush categories. Once you understand each of them, you can explore your artistry without messing it up.
Angled Brush – As the name suggests, this brush has an angled tip. It helps in making well defined curves and crafting lines and shapes with varying thickness.
Acrylic Wash Brushes – These brushes are the largest in a painting brush set. They are commonly used while one wants to cover a broad painting area. They also scoop a large amount of paint hence they are the brushes you need for doing large paintings.
Fan Brush – The fan brush make your painting moments fun. It is a versatile brush that allows you to paint on numerous surfaces, blend skies and backgrounds and enables you to incorporate varying textures.
Flat brush – This brush is a great substitute for the wash brush. While it might not be as thick and large, it is ideal for surfaces that might be a little smaller for the wash brush. The flat brush has thick bristles which enhance its ability to paint thick layers.
Liner brush – Liner brushes are extremely thin and have long bristles. They are known to provide detailed art work. They also make it possible to draw very thin lines as well as including words or letters in your piece of art.
Round Brush – These brushes have round edges with large belly. They allow optimum control while adding details to the paintings.
Palette Knives – While they are not necessarily brushes, palette knives are a must-have for every paint. They professionally allow you to exploit different textures and highlight details for fine-looking art work.
Top 15 Best Acrylic Paint Brushes Reviews 2021
1.Crafts 4 ALL Paintbrushes Set For Acrylic – Top Pick
Sturdiness, ease of use, and affordability were the main factors we considered when selecting the first item on this list. We found the Crafts 4 ALL Paintbrushes to be excellent in all three areas.
You know how some paintbrushes release bristles when painting? And how the released bristles ruin the painting? With the Crafts 4 All brushes, you can forget about that problem. These are made from the sturdiest material, it appears, since not even one hair comes loose.
We have to mention that the sticks aren't the strongest. That doesn't mean they're poor quality. You just have to handle them with care, so they don't break. And the quality is totally acceptable for the price.
If you're looking for a variety of paintbrushes, this is the set for you. The brushes you'll find in there are of different sizes and styles so that you have a brush for just about any task. Some of the sizes include 3/0, 4/0, and 1, while the styles include flat, liners, and round.
When it comes to ease of use, you'll love the shape and feel of the handles. They're long slender handles that are easy and comfortable to hold, especially for those of us with small hands.
What about the affordability, you ask? Imagine getting 15 high-quality brushes of different sizes and shapes for a few dollars! This is one of the most affordable, yet quality paintbrush sets you can ever find.
Another thing you're going to enjoy a lot is the versatility of this set. You can use the paintbrushes for a wide variety of painting jobs, and the brushes work well with both acrylic and watercolor paints.
Highlighted Features:
15 brushes of varying sizes and styles
Strong ferrules
Shed-free bristles
Long slender handles that are comfortable to hold
Compatible with both acrylics and watercolor
2. Heartybay Paint Brush Set – Best Value
When it comes to affordability, the deal that the Heartybay Paint Brush Set offers you is truly unbeatable. You get two packs of 10 nylon brushes for just a few dollars. That is 20 paintbrushes in total!
If you want to buy in bulk, this brand has made it really easy. As you'll see on Amazon, you can select from the 1-pack all the way to the 10-pack.
Variation is one of the benefits that Hearybay brings to the table. In each pack of ten, there are round, flat, angle, and other shapes to ensure you can manage a myriad of painting jobs.
You might wonder – if these brushes are so cheap, isn't the quality also cheap? As much as these aren't artist-grade paintbrushes, they cannot be referred to as low-quality. They're of average quality.
The handles are made of wood and coated with paint. Their nice finish gives you a good grip, which is vital for control.
As the handles aren't too short or too long, you'll feel quite comfortable using them. The nickel brass ferrules are pretty strong, keeping the fibers together and in shape.
There are two main issues with these brushes. First, the blue paint peels off quickly within the first few months of use. The second issue has to do with longevity. You cannot expect to use these for years. If you're an advanced painter, these brushes may not be very useful.
But, they might be the best acrylic paint brushes for beginners. Art students will find them very appropriate.
Highlighted Features:
2 packs containing 10 brushes each
Nice look and feel
Strong nickel brass ferrule that prevents fiber disintegration
Good handle design for control
Very affordable
3. Miniature Paint Brushes Detail Set
Looking for really fine tips that don't fall apart? Then go ahead and check out the Miniature Paint Brushes. These have some of the finest tips, allowing you to do spotting easily and draw long and fine lines.
The fine point brushes are handy for drawing ships, airplanes, cars, wildlife, and other items that need micro detailing.
Apart from the pointed varieties, there are also flats, rounds, and liners in the box. Note, however, that most of the brushes in this set are pointed. The sizes also vary from 0000 to 1.
One thing you'll notice about this set is that it's a bit more expensive than the regular paintbrush set. But that's totally understandable considering the quality.
As you will see, the ferrules are really strong. It's the support they provide that keeps the hairs from falling off or separating.
If you're not looking to have hairs destroying your artwork, then these are the brushes for you. Most of the people that have used them have affirmed that not even one fiber comes off.
Another awesome thing about the brushes is the aesthetic value. They come nicely packaged in a sturdy travel case that you can use for storage and transportation. The brushes feature an elegant design with a shiny finish.
You know what else you're going to love about this set? The handles are made of wood. They're very strong compared to other brands. They are ergonomically designed for balance and control and nicely coated to give you a comfortable grip.
Though some users have said the handles take a little getting used to, most have acknowledged they're comfortable and very easy to use.
Highlighted Features:
Varying styles including pointed, round, and flat
Different sizes from 0000 to 1
Elegant design with a nice finish
Super strong ferrules
High-quality hairs that don't break off
4. Art Advantage Acrylic Brush Set
Are you looking for an affordable artist-grade acrylic paintbrush set? You might want to try the Art Advantage Acrylic Brushes. These are high-quality brushes and go for less than 30 bucks price tag for the entire set of 24 pieces.
Before you check them out, we'd like to clarify that these, albeit being artist-grade, are more appropriate for someone who just went into professional painting. Advanced painters might not find them very useful.
You know how some brushes feature poor craftsmanship with feeble handles and ferrules and bristles that fall off? You're not going to experience that annoying issue while using these brushes.
These have strong synthetic bristles that don't break easily. The ferrules, which are also sturdy, are able to keep the hairs held on the head. You will have no worries about hairs falling off and ruining your work.
The wooden handles are long enough to give you an adequate gripping surface. They have a smooth coating that feels great on the hands. However, their thickness varies, but it's just at the right level for control.
Apart from the brushes, you also get a roll-up pouch when you purchase this set. The pouch has large pockets where you can place the brushes.
Some of the slots are large enough to hold ball pens and fountain pens, so you'll find the pouch pretty useful as well.
Furthermore, you'll be happy to see that of the 24 brushes, there's a variety of shapes/styles. The styles include angled, flat, pointed, round, and more.
Highlighted Features:
24 brushes in the set
Free roll-up sleeve for storage and transportation
A variation of styles including flat, round, and angled
Strong ferrules
Shed-free hairs
Nice and comfortable holder
5. Benicci Artist Paint Brush Set (15 pieces)
Want brushes that hold lots of paint? Try the Benicci Artist Paint Brushes. Benicci is also popular as a trusted brand in the art community. This brush set is one of the best artist paintbrush sets for acrylic paints you can get.
It comes with 15 brushes, and as a bonus, you get a storage bag that also acts as a brush holder. To use it as a holder, all you have to do is bend the bag into the right shape. The Velcro is already set up for that purpose.
Since the bag is zippered, it comes in handy for storage and transportation. One of the issues artists face with paintbrushes is that they lose point, especially the pointed ones. With these brushes, that's not a problem you'll face.
The ferrules are pretty strong, and the high-quality Taklon hairs are able to maintain their form for a long time.
So, what types of brushes do I get, you ask? One of the reasons people love this set is that it presents a wide variety of brushes, making it possible to apply different painting techniques.
There are filbert, fan, flat, comb, round, angular, and even more brushes. And that's not all! The brushes are of different sizes, going from 1/2, 1/4, all the way to size 8. So, you're prepared for various types of brush strokes.
And brushes are not the only thing you get. You don't need to search for something to mix your colors with because this set also comes with a palette knife.
The only issue we found with the set was that the palette knife wood is a little unfinished, so you might want to sand it a bit before use. But that's a very slight issue. Generally, the set is awesome.
Highlighted Features:
15 paint brushes
A wide variety of styles including filbert, fan, angular, fan, and more
Free carry bag that converts into brush holders
Free palette knife for mixing the colors
Strong bristles that don't fray of break
6. Myartscape Detail Paint Brush Set
Fine tips, relaxed bristles, and a variety of sizes are some of the things that made us list this product. If you crave to have fine artistry, this 12-pieces miniature brush set will be the ideal thing for detail work. You can detail your painting techniques with whatever you want.
Having the right tools at your palms is the reason you will stand out, and these brushes will help you achieve that.  The kit comes with flat and round brushes that will give you a unique touch and finish on different surfaces.
Each of the brushes in this kit is designed to give you a different feel. Some are meant to enable you to paint on the surface, while others will provide you with a chance to make a deep painting on areas where you would not reach otherwise.
We saw you would be able to use these brushes to paint army figures, airplanes, and model ships, among other things.
Do not worry about the surfaces and the media because Detail 12-Set Miniature brushes work on different media types, including oil, watercolor, acrylic, and gouache. Detail 12-paintbrush stands out with many qualities. The paintbrushes are ultra-durable, do not shed easily, and rival natural hair.
We also loved the brush's precision points. They are very fine, thus giving painters a detailed painting and finish. The cost should not worry you. Detail 12-set paintbrush kit goes for a pocket-friendly budget. We appreciated the fact that the kit is very light.
Highlighted Features:
Suitable for different types of media
Fine pointed tips
The kit comes with two types of brushes- round and flats
Liners are in the pack with sizes 2/0, 3/0, 4/0, 0, and 1
Flats are 0 and 1
Rounds are available in 0, 1, 2/0, 3/0, and 4/0
7. Xpassion Artist Paint Brushes (10 pieces)
Acrylic Xpassion 10-piece paintbrush is one of the most affordable on the market. In the pack, you will find 10 brushes in different shapes and sizes. Some of the sizes are 2/0, 5/8, 1, 4, and 5.
We must mention that this 10-piece paintbrush does not work on all media. It doesn't mean you can't use this set on your painting. Acrylic 10-piece Xpassion is ideal for acrylics and watercolor.
Beginners, children, students, and professional painters can use this 10-piece paintbrush. These groups of people are free to try the paintbrushes. If you are not satisfied with the results, you are free to return the brushes and get your money back.
Most of the brushes inside the pack measure between 6.5 inches and 7.5 inches. Others take different sizes. The package measures 10.8 by 2.8 by 0.3 inches. The brush's bristles remain intact even after painting for a long time.
These brushes are versatile. You can use them to apply die on your couch, shoes, or any item that requires die application or delicate work.
One downside is that the brushes are delicate. You should, therefore, handle them with care. Another thing is that the brushes are generally small. You may need to use gloves if you do not want to get in contact with the paint.
However, you can clean the brushes easily. Depending on what medium you are using, you need to submerge them in water or turpentine for some time.
Highlighted Features:
10 different brushes
Easy to clean brushes
Fine and pointed tips
Length of many brushes range from 16.5cm to 19cm
Ideal for acrylics and watercolors
8. Art Paint Brushes Set by Mont Marte
Imagine having a single pack of paintbrushes with 15 different sizes. Mont Marte is giving you exactly that. Sizes range from 3/0 to 12. Anyone can use these brushes from kids, students, adults, and painters in the industry.
These brushes come with long handles. We loved this feature because most painters do not want to litter their clothes with paint.
The quality of each brush is seen through the kind of work it does. You can use these brushes on different surfaces, including walls, scrapbooks, floors, wood, and ceramic.
Mont Marte 15-Set Paintbrushes is handmade. The manufacturer has assorted the best type of wood to come up with good handles. You will not worry about the brush leaving bristles behind on a task you have just completed.
We like the brushes' Taklon hair. It is very thick and smooth when painting. The aluminum ferrule seal keeps the hair intact. It will not get out easily, thus, you are assured of brush durability.
Even after using the brushes for a long time, we realized they do not break easily. Painters love this pack because of the strong wooden shafts of the brushes. They do not bend easily.
The paintbrushes are versatile. They are suitable for a majority of media such as soils, acrylics, gouache, and watercolors. Storing them is not a challenge. Mont Marte paintbrushes come in a nicely-zippered pack.
When you are done with your painting task, you will need to clean them and store them in their original packaging. Moreover, you can also reshape the brushes' bristles, emphasizing the tips. This will enable you to achieve a shiny painting the next time.
Highlighted Features:
15 different sizes brush
Nice pack with zip to protect from breakage
Ideal for oils, acrylics, gouache, and watercolors
Smooth, round, sturdy and long handles
Soft bristles
Aluminum shaft
9. D'Artisan Shoppe Acrylic and Oil Painting Brush Set
Have you been struggling with carrying your paintbrushes? This 15-piece from D'Artisan Shoppe will sort you out. The brushes come in a nice casing, which you can carry to your workstation or field.
You are guaranteed nice touches on your painting because these paintbrushes do not leave behind any loose hairs. You can use these brushes for acrylics, watercolors, oils, and gouache.
They come in a mix of 4 different hog hair bristles. You can choose which natural hog hair type you want to use on what surface.
Moreover, they are available in 11 synthetic bristles giving you the liberty to enjoy painting. The better components used to make these brushes ensure you don't find it hard to paint on seemingly rough surfaces.
The brushes have ergonomic handles. They are long thus, you do not have to fear your clothes getting dirty.
The 15 brushes are grouped into 4 filbert brushes, 4 flat brushes, a rigger paintbrush, 3 round paintbrushes, an angle brush, a fan brush, and 1 wide paintbrush. The latter is ideal for undercoats and rough surfaces.
The size of the rigger or liner paintbrush is 000, angle paintbrush 10, round paintbrushes take sizes 6, 3, and 1, size 4 for the fan brush, while the filbert and flat brushes take 2, 4, 8, and 9, and 6, 8, 11, 5/4, and 10 respectively.
Worry less when it comes to cleaning. With a little warm soapy water, you can easily clean these brushes. We loved the carrying case. It is compact, zippered, and safe to carry whenever you want.
When using oil, you can use an additional liquid such as turpentine to ensure the brushes are clean.
Highlighted Features:
Comes with a nice casing
15 paintbrushes
Smooth natural hog hair bristles
Long handles
Ideal for all media
10. VisuartPRO Premium Artist Brushes
You will love this painting tool because, with 15 brushes, you have all the variations needed to finish your task. This ultimate pack is ideal for adults, students, professionals, and beginner painters.
The good thing about the Acrylic 15-pack painting brush is that it comes with a bonus. The manufacturer has ensured that anyone buying this pack gets value for their money. So, what is the bonus?
VisuartPRO says it will give you 24-color acrylic paints every time you purchase this set. Isn't that nice?
Going deep into painting, these paintbrushes come with double clamped ability. If you didn't know, every time a brush's bristles are double clamped, it means the bristles will remain intact. You will also appreciate the fact that ferrules are strong.
The manufacturer is giving the 24-color premium acrylic paints. Yes, for the first time, you will receive a non-toxic color. Besides, it is made in a way that ensures rich pigmentation, the right color clarity, and durability.
It is possible that for a long time, you have not achieved a sparkling finish when painting. So, let's try to use the 24-color acrylic paints and, of course, the 15-set acrylic paintbrush.
Perhaps the only thing we didn't appreciate was the packaging. Some brushes may come placed on top of others. This may force the bristles to bend. Otherwise, the quality of the paint and the brushes is on point.
Together with the accompanying paint, the 15-set acrylic paintbrush works on different surfaces. They can decorate plastic surfaces, wallpapers, ceramic surfaces, and scrapbooks.
Highlighted Features:
Comes with a nice casing
15 paintbrushes
Smooth natural hog hair bristles
Long handles
Ideal for all media
11. Adi's Art Pro Acrylic Paint Brush Set
The joy that comes with a reliable set of the best professional acrylic paint brushes is fulfilling. How about you tag along with me and discover one of them?
Looking at Adi's Art Pro set, the package has been thoughtfully made for you. The 10 piece set consists of 2 flat brushes, 2 angle brushes, 2 round brushes, one rigger, and 2 filbert paintbrushes.
The different sizes and brush shapes will meet all your painting requirements. Therefore, seek no more and grab this set ASAP.
The bristles are exceptionally firm, thus keeping the paint in place with every stroke you make. They are also smooth hence your paintings will be smudge-free. Moreover, this brush set is recommended to work with heavy pigments.
However much you use these brushes, the brush shape and form will remain the same. You only need to take extra care of them, and their reliability will not fade away.
Forget the shedding of hairs with this set of paintbrushes. Despite being soft to feel, they are steadily attached to avoid falling off.
If you are an explorative painter, this is the perfect choice for you. It suits all purpose uses, including face paints, body paints, watercolors, oil paints, gouache, and acrylics. With this set, your creativity is unlimited, so go ahead and get dirty with the paint.
The ferrules are made of Aluminum Oxide hence making them rust-resistant. The wood handles are crafted to match your comfort. You can't help but paint for as long as you wish to with that comfort.
While you might be reluctant to dig out your dollars when buying some paintbrushes, switch your gears and buy these Adi's Pro Paint Brushes.
To crown it all, the set comes with unquestionable durability. If you are looking for a set that will conveniently take your painting to new levels all year long, this is the set you need in your painting space.
Highlighted Features:
Comes with 15 brushes
24-color acrylic paints as a bonus
Quite affordable
A variety shapes including round, filbert, fan, comb, flat, glaze, and angular
Different sizes
Zippered deluxe casing
Measures 8 by 2.5 by 11.1 inches
12. Artify Paint Brush Set (12 pieces)
As a painter, you require a versatile set of brushes. This is why the Artify 12 Pcs Paint Brush should be your drawing companion.
This set consists of eight types of brushes, hence stands out among the best brushes for acrylic painting on canvas. For precise functionality, the brushes come in varying sizes and shapes.
Experience the unique precision with the flat, filbert, angular, liner, dagger, fan, bright, and round brushes for unique paintings. Whether you want to do a wide, narrow, thin, or thick coating, this set has it all covered.
You know how shedding hairs are disastrous to every painting, whether you are a pro or beginner? To prevent that, grab this set; you won't regret it. The hairs are made from durable synthetic nylon material. Although they are soft, you can rely on them even after cleaning them severally.
Additionally, these anti-shedding bristles remain like new. They barely lose their shape and will professionally serve your painting needs.
You needn't worry about how to store your brushes. The Artify 12 Pcs set comes in a modern carrying case. Other than acting as a perfect storage case, it has a popup stand. This enables you to exchange the brushes with ease while painting. So, as a travel case, this brush set is totally perfect.
The casing also folds nicely so you can store the brushes in a backpack. It also comes with a carry pocket, which creates enough space for packing other painting necessities, such as a paint palette.
Painting enthusiasts spend ample hours working. Therefore, the handles need to be gentle on their hands. If you are planning to spend long hours painting, go for this set of handmade brush handles.
Their short and fit brush size offers comfort to all the hand sizes. Aren't your elongated painting sessions taken care of now?
Highlighted Features:
Firm bristles
Smooth and comfy handles
Very convenient
Varying brush shapes and sizes
Rust resistant ferrules
13. Nicpro Micro Detail Paint Brush Set
If you are looking for something to work on small detail work, we would recommend the Nicpro Micro brush set.
Part of the reason we chose them is their ability to retain the brush shape even after using them consistently. Therefore, you can have endless hours of painting without worrying that they will affect the quality of your work.
Most people worry about the first wash when removing the glue attached to the bristle. These brushes are different. They are easy to clean, and the glue comes off quite easily. Furthermore, the bristles are soft and attach firmly to the aluminum ferrule with no risk of shedding.
The package has everything you need to get you started and includes seven brushes, liners, and rounds of different sizes. These sizes include; 5/0, 4/0, 3/0, 0, and 2. You, therefore, can perform a variety of your favorite art paintings, such as face painting and nail art.
You can also use it for anything, like painting and decorating miniatures, dollhouses, models, rock painting, and much more.  The handle has seven layers of bitch wood that are gentle to your hands. Besides, it has a triangular design which offers you a comfortable grip while doing your paintwork.
You don't have to worry about dust gathering on the brushes since it comes in a plastic container and a dust bag that offers extra protection. Moreover, you can carry it anywhere since it's portable and allows you to venture outdoors or to your studio for some artwork.
Although their price is a little steep when compared to some options on the market, you will not regret buying this set. Or, go to an art supply store near you to check each brush with your hands.
For something so detailed, this masterpiece has a fusion of quality, durability, and versatility. If you are looking for a good bargain without compromising quality, look no further.
Highlighted Features:
They feature a triangular shape for a comfortable grip
Soft brushes with anti-shedding ability
Easy to clean and do not change shape after use
They come packaged in a neat plastic container
Versatile
14. Amagic Filbert Brushes for Acrylic (9 pieces )
There are good reasons why the Amagic Filbert Acrylic Paint Brush set is one of the best brushes for acrylic painting. Let's explore them.
When it comes to durability, we considered this set since the brushes feature high-quality material made of soft synthetic bristles with a smooth feel.
The handles are made of durable wood and are pretty long, allowing you to have a perfect grip when painting. Elegance and style will add some touch of class to your artwork. These brushes arrive in an adorable package with beautiful colors pleasing to the eye.
They are a magnificent piece and are a perfect gift idea you can give your loved ones for any occasion such as birthdays, Christmas, or graduation.
Most options on the market have weak bristles; however, with the Amagic, the bristles are held firmly by aluminum ferrules and thus will not shed. That's not all. The brush heads are held together with protective glue, which you can easily wash off before use.
With this set, you get everything in a complete package since the brushes are of different sizes, which include; 0, 2,4,6,8,10,12,14, and16. We would recommend them for beginners, students, and kids.
If you are a beginner looking forward to venturing into art as a part-time activity, this is the ideal selection for you.
While versatility is critical when choosing a product, this set is worth every penny. For the price, you will get value for your money. What are we saying? This set is suitable for a variety of tasks that involve art paint.
These are not limited to acrylics. They also work great as oil brushes. You can use them for watercolor, oil painting, special effects, rock painting, and much more.
Maintenance is quite easy since you only need to use some warm water after painting for a quick clean up. Similarly, you can store them in a brush stand or a plastic container until your next use.
Highlighted Features:
9 brushes of different styles and sizes
Large set of painting brushes suitable for various artworks
Long wooden handle for a perfect grip
Soft bristles for quality work
Sharp edges that guarantee accuracy
15. Artlicious All Purpose Paint Brush
Sometimes, it is a challenge for people to find the right brush. Looking at the level of versatility, the All Purpose 30-pack brushes stand out with a shader brush. You can use these brushes on water, oil, acrylic, or any other medium for that matter.
We also found out that these brushes come with nicely-designed wooden handles. They come in various lengths, sizes, and thickness. This is a creative way to ensure painters get the ultimate comfort when using the brushes.
Art students will find these paintbrushes ideal for many reasons. For instance, the brushes are safe for their hands. Again, they are certified, and thus do not pose any health threats.
Interestingly, this 30-pack brush isn't heavy to carry. Students will not find it a problem carrying it to and from school. Professional painters, too, will find the brushes a better option for portability.
The Artlicious All-purpose brush is perhaps one of the lightest packs you will ever encounter. Together, the 30 pieces weigh a meager 4.2 oz.
While other brushes come with one type of bristle, these come in at least four tastes. You can enjoy painting using camel hair, sponge, bristle, and nylon bristles. All these are made with your best interests at heart.
You love variety, right? For this reason, Artlicious decided to give you a product that does not disappoint. The paintbrush works on several media, including watercolor, oil, and acrylics. It simply means with this set, you can complete the entire task.
Highlighted Features:
Comes with 30 brushes
Varying lengths and thicknesses
Safe to use handles
Different tastes of bristles
Works with oil, acrylic, and watercolor
Acrylic Paint Brush Buyer's Guide
You need to make the right choice for your painting to stand out. Here are 5 factors you need to consider when shopping for the best acrylic brushes.
Size
Painters know why brush size is important. With the right size, you are able to paint comfortably. The length of the handle matters a lot if you do not want to paint yourself with different shades of colors.
Many acrylic paintbrush manufacturers package their brushes in a set, usually 10 and above. There is no right and wrong size, but you can accomplish your work with the right choice of thickness at the heel. Common brush sizes in the market include 00, 000, 0, 1, and 2, among others.
To be sure you have the right brush size, look at the number. Remember, different companies have different sizes of acrylic brushes with the same number. It is, therefore, prudent to look beyond the number of the brush.
Make sure you check the length of the brush. You can either conduct your own measurement or read what the manufacturer has labeled on the brush kit. Check the diameter of the brush. This includes the distance around the ferrule.
Shape
Did you know that each brush shape delivers different strokes during painting? Although you need to take time to know what shape delivers the ideal stroke style, it is possible to get the ideal shape as you experiment.
Material
Every professional painter will always look for a brush with soft bristles. Depending on the material used to make the bristles, a brush can be soft before it gets into contact with the paint but becomes stiff shortly afterward.
However, animal hair fibers or natural fibers are not appropriate for acrylic paints. Bristles made from natural hog hair usually work well with any medium, but synthetic fibers are easier to clean.
Handle
A small, rough, and feeble handle will make your painting experience a better one. When choosing a paintbrush, make sure the handle does not give you any discomfort. The length of the handle matters too. When examining the handle, do not go for too short or too long handles.
Ferrule
Another important factor is the ferrule, the connection between the hairs and the handle. In most cases, ferrules are made from metal.
However, in some incidents, ferrules can be made from hard plastic or other material. The important thing is to ensure the bristles remain in place for a longer time.
Benefits of Using a Good Quality Paint Brush
While dealing with artwork, you definitely need top-notch quality acrylic paintbrushes. This is because you will be able to play around with different artistic approaches for an even more beautiful outcome.
Below are the benefits that come along with using the best paint brushes for acrylic painting.
No more fallen bristles
Shedding off of the bristles messes up the painting big time. High quality paintbrushes come with firmly attached bristles. Therefore, they stay in place as you keep doing your work.
They offer undeniable comfort
While painting, especially for long hours, you need a brush that does not cause harm to your fingers or palm. That means undoubtedly, you need a high quality brush.
Most of these brushes are handmade from natural wood, thus optimizing your comfort. With them, your painting experience will be fantastic.
Durability
Low-quality brushes will disappoint you in a minute. If you do not plan to buy paintbrushes for every piece of work, be sure to purchase high quality brushes. They will last for more than a year as long as you take good care of them.
They prevent streaking on your paintings
No artist wants to come up with a carelessly done piece. While streaking can be due to the artist's mistake, brushes can also make it happen due to overdrawing on a paint layer that is not properly fry. This is caused mainly by stiff bristles. Good brushes come with smooth bristles that complement every stroke as you paint.
They provide stunning artwork
This is the highlight of enhanced paintbrushes. By taking care of every move you make with them, the final artwork will be authentic. So as you embark on your artwork, get the finest brushes, and you will not be disappointed.
Best Acrylic Paint Brush Brands On the Market
1. Benicci
Benicci has taken the art industry by storm. It is a family owned company that deals with art materials, including brushes. Situated in the busy streets of Orlando, the firm has, over the years, produced the most reliable paintbrushes in the market today. The brushes have a broad usage for watercolor, face painting, and acrylics, among other painting works.
2. D'Artisan Shoppe
D'Artisan Shoppe is one of the most renowned brands, especially in watercolors. It has been in the industry for more than 10 years now. Therefore, the quality of their brushes is unquestionable.
Whether you are a professional or just a beginner, D'Artisan Shoppe has considered you. The brushes hold a reasonable amount of paint; therefore, there is nothing to settle for other than brushes by D'Artisan Shoppe.
3. Nicpro
Nicpro has been a consistent manufacturer supplier of art and office products. The need to satisfy every artist has led Nicpro to venture into numerous artistic tools, including paintbrushes.
Many have considered these brushes to be the most reliable for professionals. Just as the name suggests, this company has, over the years, designed their brushes for the need of pro artists, students, and other painting enthusiasts. 
4. Heartybay
Every brand has a story, but I think Heartybay's story is unique. Its founder, Ben, had a daughter whose passion for art could not be ignored. As every father would do, he bought a paintbrush but unfortunately, she ended up with an injured arm.
This made Ben begin designing paintbrushes for his adorable daughter. This was his motivation behind the successful Heartbay Company.
5. Art Advantage
Art Advantage has been dealing with paintbrushes for quite a long time now. This company is clearly among the leading dealers of durable paintbrushes. Art Advantage has ensured that all the needs of all artists are covered.
Although you will have to cash out some more dollars for the brushes, worry not because the value of your money will be accounted for.
How To Clean Acrylic Paint Brushes Properly

Acrylic brushes require consequent cleaning after your final stroke in a painting session. By doing this, your brushes will function accordingly for a long time.
While some painters might find it easy to clean the brushes, others dread the process for one reason or another. Either way, the brushes have to be maintained. Don't store messed up brushes. Here are the tips to guide you on how to clean acrylic paintbrushes.
Step 1: Get rid of the paint remaining on your brushes
You can do this by using a paper towel or a piece of rag, or a cloth designated for painting. Doing this will minimize the difficulties that come with washing a brush with too much paint on it.
Step 2: Wet the brushes
You can use a little warm water here. This is because it works better by foaming when you add soap hence making cleaning a lot easier.
Step 3: Apply mild soap on the wet brushes
If you do not have soap specifically meant for cleaning paint brushes, you can use your laundry soap. As long as it is not aggressive.
Step 4: Use the palm of your hands to rub the brush
This will form enough foam to cover every part of the brush that has paint. Use your fingers to gently but thoroughly clean up the bristles. You should ensure that you wash in between the bristles to get rid of any paint that might be stuck there.
Check the ferrule as well to ensure that there is no paint stuck around it. This could spoil your bristles if you leave paint to dry in that area.
Step 5: Rinse the brush with cold water
After cleaning, dip the brush in water and massage the bristles to get rid of the foam. Inspect the brush closely to find out if there is any paint residue. If yes, repeat the process until you are satisfied.
Step 6: Dry the brushes thoroughly
Storing wet brushes will only ruin them. Use a rag to dry off the water, especially on the bristles. Afterward, leave them to dry in the open air. While doing this, ensure that the hairs are not supporting the brushes on any surfaces as they will be deformed.
Step 7: Store the brushes properly
Check if the brushes are completely dry. Ensure that you store them in a corner that will not ruin the shape of the bristles. It is preferred that you get a paintbrush holder.
How To Take Care Of Your Acrylic Paint Brush
Paintbrushes are the heart of a painter's artwork. Without them, there is obviously no artist that would successfully produce exceptional art pieces. Therefore, this calls for proper care while handling and using these brushes. Here are tips on how to take care of acrylic paintbrushes.
Use the brushes for painting purposes only
This is why they are called paintbrushes. You might be tempted to clean up a surface using these brushes, but you will be doing injustice to yourself. Let them strictly serve your painting needs. If you need household brushes, look for other kinds of brushes.
Keep the ferrule off any paint
While painting, don't get any paint to the ferrule. This is because it gets pretty difficult to clean. Your brushes will end up with gobbles of paint that will space up the bristles, thus rendering them unreliable.
Always keep the brushes clean
The brushes will undoubtedly get dirty while painting. Ensure that you thoroughly clean the bristles after every painting session to get rid of all the paint. They will get ruined if they stay with dry paint for prolonged periods.
Don't soak the bristles for too long
Leaving bristles submerged in water will weaken them. This means their ability to properly deliver will be altered. What is the outcome? Non-appealing artwork.
Avoid rinsing the brushes with hot or extra warm water
Always rinse the brushes with cold water. This is because hot/warm water loosens up the glue in the ferrules, thus loosening the bristles.
Store the brushes appropriately
Buying a brush holder won't hurt. After all, it is cheaper than purchasing a set of brushes every time you want to paint. The brush stand keeps the brushes off the surface of the storage container. Therefore, they will remain in shape for a longer time.
Frequently Asked Questions (FAQs)
1. How many acrylic brushes do I need?
Answer: The number of acrylic paint brushes you need depends on the task. First, you must understand which brush shape and size combination is perfect for your needs.
If you are a beginner, you may start with one or two brushes.  As you master the art of painting, you will require different categories and sizes of acrylic brushes.
If you decide you are going to use one paintbrush, you must clean it immediately after using certain paint before you dip it into different types of paint.
2. How often should I clean my acrylic paintbrushes?
Answer: If you want your acrylic paintbrushes to last, you need to clean them regularly. Standard practice dictates you must clean your paintbrush immediately after completing a task.
3. What can I use to clean my acrylic paintbrushes?
Answer: For acrylics and watercolors, you can use two kinds of solvents like normal water or warm soapy water. Experts advise using warm soapy water to clean paintbrushes after coming into contact with watercolors or acrylics.
For oils, you need to use a special chemical solvent. Turpentine or any other brush cleaner that can remove the oil is ideal.
4. Can I use 10 or 15 paintbrushes on a task?
Answer: The number of brushes you will use depends on the amount of work. A seemingly small task may need details that require you to use different types of brushes. However, many tasks do not require the use of more than 5 brushes.
5. Should I worry if my brush has a tint?
Answer: Most brushes are tinted due to the frequency of the paint used. Do not worry; tinting will not tamper with the quality of your painting. However, you must ensure the brush is clean before you start to use it.
6. I want my brushes to stay longer. What can I do?
Answer: Two things help in ensuring the brushes last longer. The first thing is cleanliness. If you have a tendency to wash your brush immediately after use, they will last longer.
The second thing is storage. This is the key to increasing the brushes life span. After using your brushes, you need to store them in a dry place. Stack them straight without putting a brush on top of the other. Make use of the manufacturer's casing, if any.
7. How long can I leave a brush in water?
Answer: A paintbrush should not stay in water or any other liquid. The moment the paint is removed from the bristles, you need to remove the brush from the liquid. The aim is to soften the bristles and remove the paint. Soaking the wooden handle for a long time will lead to its breakage.
Let's Summarize
Clearly, there are numerous models out there, but only a few make it to the list of the best paintbrushes for acrylic painting. If you're looking for models that won't mess up your artwork with fallen or broken bristles, the ones in our review will be immensely valuable. Try them and see for yourself.
But before you do that, keep in mind that there are both student-grade and artist-grade models on there. The student-grade ones are budget friendly and perfect for beginners.
For someone looking to go professional or a serious artist, the artist-grade, which are a little more expensive, will be more appropriate due to the added versatility, durability, and ease of use.
We wish you all the best in your painting endeavors. Feel free to leave us a comment, and if there's one model you have in mind that we didn't include, don't hesitate to tell us about it.
Related Articles:
>> Love to draw? Check our favorite copic papers for drawing
>> A look at our favorite paint for wood crafts
>> How to pick the right spray paint for graffiti? – We've summed it up!