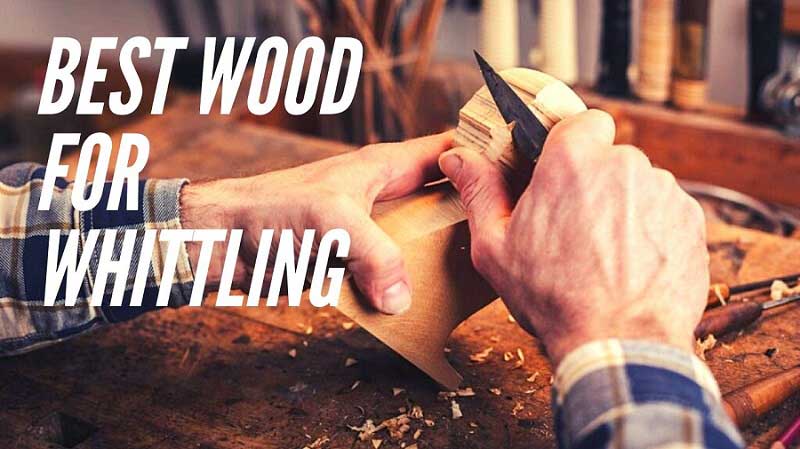 Whether it is your hobby or you do it for a living, the process of whittling wood is super satisfying. This activity has been with Humankind for a long time and is here to stay.
The best part is, whittling wood doesn't need the practitioner to invest millions of dollars into heavy equipment. You can start with minimal investment and basic beginner skills which are easy to learn.
However, before you get too enthusiastic, you should research the specifics and skills required. Here is a guide through the best wood for whittling.
What is Whittling?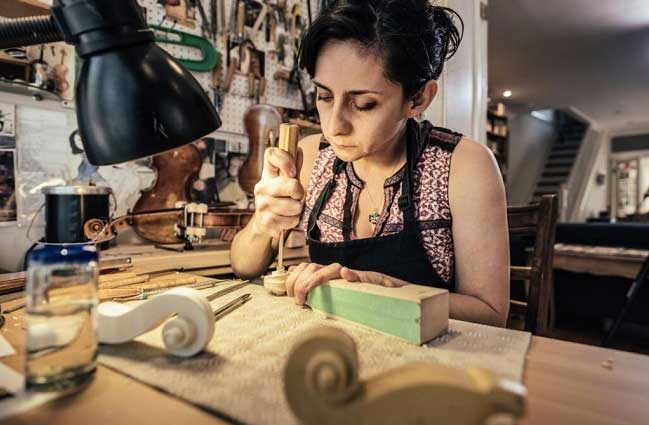 Whittling wood simply means carving wood to shape it into an object by slicing, chiseling et cetera. Whittling has often been called the cheapest hobby for someone who wants to craft something. You need wood and some tools with which to carve and shape the wood.
Here's one very basic rule of whittling: use softwood for whittling because they are easier to cut through. Other than this, keep practicing if you wish to get better.
Do not look at pretty flower baskets made by experts right at the beginning of your journey. Also, if you do not have any tool, just a penknife would suffice. But make sure the knife is sharp.
If you do not want bad whittling experience, stay away from blunt knives.
Best Whittling Wood Reviews 2021
Right, let's begin! Like I mentioned earlier, softwoods are the best for Whittling. Here's a list of the best types:
1. Walnut Hollow Pine Whittlers Carving Block – Best Overall
The first wood in the list is the pinewood whittler block from Walnut Hollow. Soft pinewood is generally a good choice for carving, as it holds shape.
And the pinewood blocks from Walnut Hollow are all the more a great choice because of its features. Manufactured in Wisconsin, these blocks are of the utmost quality with no knots which makes it easier to carve these.
The brand provides various kits with different sizes and price points. This offers you the choice to go for the specific size you are looking for. The kits are available in sets of 3 or 10 pieces.
I recommend this carving block because of the quality. Each carving block has individually been kiln-dried and sanded until it was perfectly smooth.
It is also extremely lightweight and hence can be glued to any surface easily. Walnut Hollow is a family-run brand who have been bettering their product for over 45 years of service now.
The makers of this product have not compromised on the quality and yet the price is reasonable. This is what makes Walnut Hollow's pine whittler blocks suitable for any hobbyist.
However, be cautious about one issue. The wood is soft and hence easy to carve. This is a great option for beginners who want to practice carving skills. But since it's softwood, it might not be suitable for long-lasting projects.
Highlighted Features:
High-quality products, available at a reasonable price point.
Softwood makes it ideal for beginners.
Each block is Kiln-dried and sanded until smooth.
Kits available in different sizes.
2. CANUSA Wisconsin Basswood
CANUSA basswood has been named the best quality whittling wood by many. This basswood product comes from the brand of Canusa services. As every hobbyist may already know, basswood is considered the best choice of wood for carving, and CANUSA's product adds more.
To begin with, Canusa claims that their product has more wood than most competitor kits which have smaller pieces. This in itself is a plus. The more wood you have, the more detailed your figurine can be.
And their wood has all the expected features like super soft texture easy to carve and pale color on the wood. The wood is specifically made so even beginners can use it easily and the pale color allows the detailing to come through on the finished product.
The pale color also makes it easier to stain or paint upon. This family-owned brand takes pride in the quality of their product. It is 100% harvested, milled, and shipped in the USA.
These wood blocks come in two sizes: 8 blocks which measure 1"x1" square and are 6" long and 2 blocks which measure 2"x2" square and are 6" long. These blocks are premium quality milled and kiln-dried.
However, the makers retain 8-10% of its moisture and sell it within a few months of procuring. The slight moisture prevents the block from completely drying out and splitting when you carve it.
Highlighted Features:
Basswood is the perfect wood for carving, has a soft texture and no knots.
The pale color is suitable for painting and staining. Beginners do not have to worry about the grain.
It comes in two different sizes.
It contains more wood than the competitor's product.
It is kiln-dried yet has enough moisture to prevent splitting.
3. JoePaul's Crafts Carving Blocks Kit – Best Value
This product is a basswood kit. This kit offers an array of different sized carving blocks. The product was designed keeping in mind the surfaces mostly demanded by woodcarvers.
It is best to work these with specialized carving knives but a penknife can be used too. JoePaul's Crafts promises their basswood is a 100% authentic basswood, unlike others who might sell low quality wood.
This basswood product also is known as Linden wood has a smooth texture and uniform density. This is ideal for any woodcarver.
The wood is of a pale cream color which makes it ideal for painting and staining. It also makes the detailing shine through.
JoePaul's Crafts' carving blocks are guaranteed to have a supreme quality which means it is free of knots and is lightweight. Their product is sustainably harvested in the USA and is kiln-dried.
And they have been targeting to sell the product more to people who opt for wood carving as a hobby even for beginners. The blocks come in 2 sizes.
The kit has 4 blocks of the dimensions 1"x1" square and 4" long, and 1 block measuring 2"x2" square and 4" long. The shipping weight of this package is about 0.6 pounds which proves it's lightweight.
However, at this price point, it would have been ideal if the product included a basic knife too. But overall, the product meets all expectations.
Highlighted Features:
Carving blocks available in different sizes.
The product is softwood, easy for carving.
It has a creamy color which is ideal for painting.
It is kiln-dried and has no knots hence carving is easier even for beginners.
4. KINGCRAFT Basswood Carving Blocks
This kit is the most versatile one in terms of the sizes available. Kingcraft's basswood carving blocks in this kit are available in 3 different sizes. 6 pieces measuring 6"x1"x1", 4 pieces measuring 4"x1"x1", and 2 pieces measuring 4"x2"x2".
The product is a 100% genuine basswood. You would know about the supreme quality from the fact that it soft linden with no knots and cracks and a straight grain on it. 
The manufacturers, Kingcraft stores made this whittling kit with kids in mind so it's ideal for them too. The manufacturers have provided smaller pieces for a better grip when a child's small hands are trying to work with them.
For more advanced users, the kit also includes larger pieces. The wood is natural and unfinished so that's it easy to work with when trying to carve it.
The package weighs 1.55 pounds and so these pieces are pretty sturdy. You can make tough objects like animal pieces or wall hangings, whether you want. The surface of the blocks is processed so that it is ideal for sanding.
Highlighted Features:
It is a basswood product, the finest wood for carving.
The wood has a soft texture and a pale color.
The product also has no knots or cracks.
The kit offers a great selection of varying sizes.
It is ideal for kids, beginners, and woodcarvers.
5. ARTEZA Basswood Carving Blocks
Next in the list is the premium basswood kit from the house ARTEZA store. As the name of the product suggests, it is ideal for carving, crafting, and whittling. The kit is a set of 5 basswood blocks.
The manufacturers of the product assure a genuine basswood product. Every block is made of natural basswood, which is why the blocks have a smooth surface which is ideal for carving.
ARTEZA stores also assure that they check the quality of each block before distributing them to maintain the excellent standard of their products.
The blocks are made precisely to the sizes mentioned and customer reviews are a testimony to this. Among the five pieces, one measures 4"x2"x2", and the other four measure 4"x1"x1".
A set of large blocks like these are ideal for any carver's imagination. The blocks are lightweight yet sturdy hence can handle even intricate carving details.
Thanks to the lightweight, the large blocks become easy to manage. The product has smooth surfaces, a light color, no knots or cracks. Everything that a carver dreams of in a carving block.
ARTEZA stores are confident in the quality of their product so much that they offer to refund or replace in case the product does not meet your expectations.
Highlighted Features:
The product is designed from 100% natural basswood.
The kit offers large and sturdy wood blocks and hence can be used for larger projects.
The kit offers 2 different sizes.
The blocks have a smooth surface, no knots, and pale color.
The manufacturers guarantee a quality product. They offer to replace/refund if the product doesn't match your expectations.
6. BeaverCraft Basswood Wood Carving Blocks Set
Another basswood option available to woodcarvers is this kit from the house of the BeaverCraft store. The kit has been designed keeping both beginners and professionals in mind.
The features of this kit are impressive and everything a carver could ask for. It is 100% bass hence the wood is soft, the surface is smooth and the blocks have a pale color. These are the qualities of an ideal carving block.
The kit offers 2 sizes of the blocks. 4 smaller blocks and one that's large. The large block measures 4"x2"x2", while the smaller ones measure 4"x1"x1".
The set is a little high on price but considering the quality of the carving blocks, it's justifiable. Professional wood carvers have appreciated the kit's quality.
The company takes pride in its product and customer service. They assure they are ready to assist the customer after the purchase. This kit comes with an ebook.
The company's customer service extends a hand for assistance as well. The set is lightweight as it weighs 0.8 pounds only. During sale and promotional offers, the company sends out free gift hampers along with the kit.
These include carving knives et cetera. Considering all these features, this carving block set also makes for an appealing gift set apart from being a great choice for expert woodcarvers.
Highlighted Features:
The product is a basswood product, which is the best wood for carving.
The blocks are soft and smooth on the surface, with no knots or cracks.
Ideal for beginners, professionals and is a good gifting kit.
It includes a free ebook and extra customer support.
The product is lightweight yet sturdy.
7. Sax Basswood Carving Block
This carving wood kit from the house of Sax Store is next on our list. Sax basswood carving blocks are available in varying size kits. The best one to opt for is the set of two blocks with dimensions 2"x4"x12".
These are best for large projects that professional woodcarvers often undertake. Smaller pieces usually aren't as sturdy as the larger blocks hence are delicate to deal with.
These blocks are made of genuine, quality basswood hence it is soft and smooth on the surface. It is easy to carve with no knots or cracks.
The larger size can be used for any model home or city project your mind can think of. It is also an ideal kit for art students, architecture students, and woodshop classes.
Being a premium quality basswood block, the product is pale in color and has a straight grain. It is ideal for any project that requires the wood to be painted or stained.
The kit is lightweight and weighs only about a pound, which makes it easy to manage while carving even though it is a large piece.
These blocks are genuine American products, kiln-dried, and sanded to be perfectly smooth.
Highlighted Features:
Premium basswood carving blocks made in the US.
Softwood, smooth on the surface which makes it easier for carving.
The pale color and straight grain are ideal for painting and staining.
The dimensions of the block make it ideal for larger projects.
Lightweight and easy to handle.
8. Starling Edge Basswood Carving Blocks
This product from the brand Starling Edge is our next favorite. This set comes with 4 large pieces of carving blocks. The measurement is 2"x2"x5" for all four blocks.
These are premium quality genuine basswood blocks. The product is good, which is apparent by how smooth the surface is. Hence all whittling projects become easier.
The brand claims their product is the top whittling wood because unlike others, their kit provides 4 large blocks fit for any large project you are about to undertake. These features of the kit also make it a popular choice among hobbyists and professional woodcarvers.
The premium quality of the wood makes it easy for anybody to carve it. Hence it is also ideal for gifting or for beginners like a girl/boy or cub scouts.
The blocks have a pale color (as expected from basswood) which is great for painting. It has no knots. The product is designed with the utmost care, hence it is kiln dried, which is why it won't move, crack open or warp while you are trying to whittle.
These blocks have an even grain and are lightweight despite being large. The lightweight blocks are easier to manage and can be glued together.
Starling Edge is confident with their product and offers a money-back guarantee if the product doesn't deliver well in terms of quality.
Highlighted Features:
Premium basswood product which is smooth on the surface.
The product has no knots and is kiln-dried.
It has a pale cream color which makes it easier to paint or stain.
The blocks are large and ideal for bigger projects but are lightweight at the same time.
9. 5ARTH Premium Wood Whittling Kit
Imagine a whittling wood kit for all your art projects, woodcraft projects, practice sessions et cetera. 5ARTH store's kit is perfect for all of these, which is why this kit is next on our list.
The kit offers 10 basswood blocks of varying sizes for all your whittling projects. Two of these blocks measure 6"x2"x2" and the other eight blocks measure 6"x1"x1".
The blocks are made of premium quality natural basswood. Every block undergoes a process of cutting and sanding until it is perfectly soft and smooth for whittling. The even texture thus achieved makes it easier to carve these blocks.
The kit was designed keeping, kids, beginners, and hobbyists in mind, which is why they have been crafted as such. The varying sizes and texture allow everyone to carry out a project.
The larger pieces also give your imagination the scope to run wild. You can carve any grand structure you want to. The blocks are of a creamy white tint which is perfect for the paint or stain to come through.
These blocks are sanded, with utmost precision to ensure the accuracy of the dimensions mentioned.
The brand mentions that the blocks undergo preliminary processing, so the color of the product may vary a little if it stays idle for long before use. This happens because of the placement environment.
Highlighted Features:
Premium quality natural basswood blocks.
The product is cut and sanded until they are perfectly smooth. This is ideal for carving.
The kit has 10 large pieces that make larger projects possible.
Ideal for beginners and hobbyists both.
The product has a pale color and even grain.
10. WOWOSS Basswood Carving Blocks Kit
The penultimate choice to feature in this list is the Wowoss basswood carving blocks kit. It is a set of 10 large premium quality whittling blocks. These unfinished kiln-dried basswood carving blocks are ideal for kids, beginners, adults, and hobbyists.
They are premium quality blocks hence a popular choice among woodcarvers. They have been sanded to perfection, meaning they are smooth and best for whittling projects.
Among the 10 pieces in the kit, 2 are of the dimensions 6"x2"x2" and the other 8 measure 6"x1"x1". And even though these blocks are large, they have been designed so that even kids can have an easy-grip.
Practicing on such large blanks can actually help a beginner try out fun projects without having to worry about mistakes.
And since these are unfinished blanks, they are easier to handle and carve, so you can let your imagination run and carve anything you want.
The product is made of genuine and premium quality basswood. They are lightweight even though the blanks are large. Being lightweight it is easier to hold them while carving and they can be glued well to other surfaces.
The blocks are soft, so they carve well and they have a butter color tint which is quite pale.
Highlighted Features:
This kit has 10 large basswood blocks, ideal for large and small projects alike.
The product has been crafted keeping kids and adults in mind, so they are suitable for both.
The quality of the product is topnotch. The blocks are smooth and easy to carve.
The blocks are lightweight hence easy to handle while carving and can be glued together.
Things to consider before buying whittling wood
Having discussed the best choice of carving blocks, you might want to know what other accessories to buy so you can finally start your project. Here's a list of things you should consider:
Type and Size of Wood Block
Before you go ahead and purchase a kit of whittling wood, decide which type of wood will you prefer for your project. Basswood, Balsa, Pinewood are all great options, but they have different textures and grain.
So make sure you know which one you prefer for your project. Also, think about your project. Do you want to carve a small gnome or a wooden sculpture of a giant truck?
Once you are clear about your inspiration you can order a specific sized block suitable for your project. If your project is detailed and includes a lot of small and big elements, go for kits that offer blanks of varying sizes. 
Quality
As an artisan or even as an amateur woodcarver, you will need the top quality whittling wood. Poor quality wood will not give you the precision of design and the overall experience would be unsatisfactory.
Hence, it is better if you purchase the carving blocks from a popular brand. Look at the company's profile, read reviews, check for refund policies before you place an order.
Expertise Level
Buy a set of wood that is suitable for your level of expertise. If you are an amateur it is always better to buy kits that are designed for beginners. With more expertise, you will have an elaborate set of carving knives and then you can move on to more advanced levels.
Your Interests
As I mentioned earlier, you need to be sure about your interests and the project. Are you an amateur? Do you want carving to be a casual and relaxing activity?
Do you want to hone your skills and carve something elaborate? The answers to all these questions will help you when you are trying to decide which wood to choose or which carving knife to buy.
Your interests would inform your decisions.
Research
If you are a beginner, you would need some guidance before you can start carving and whittling wood. Hence, conduct thorough research.
Read about whittling practices, watch videos about how to whittle wood. Learn the basics from online tutorials before you actually try it on your own.
There are a lot of tutorial videos on the web and even Youtube which could help you. If you are young, it is better to carve in the presence of an adult.
Tools and Pricing
You can't carve wood with your fingers. You will most definitely need whittling tools such as knives. To start carving, all you need is a carving block and a very basic knife.
There are carving wood kits available that have a set of basic knives included in the set. If they don't, get hold of a simple swiss army knife (penknife) and whittle away!
Lastly, be careful about the price of the product you are buying. Compare a few brands and reviews to know that you are buying a quality product at a reasonable price.
5 Types of Wood For Whittling
Although, earlier in the article I've already given you a comprehensive list of all the top whittling wood. Here is another listing of all the wood types you could choose from based on your interest.
Basswood
Basswood is considered the best whittling wood out there. It is a favorite among woodcarvers because of its texture which is easy to work with. Basswood also produces less grain when it is whittled.
The best place to source a block of basswood is from the forests of Europe because that's where it originally came from.
Pinewood
Pinewood is the one that is most easily available for carving. Owing to the ready availability, it is also cheap over other kinds of woodblocks. Pinewood is easy to carve but it is a little coarser than basswood. It is also not as pretty as Basswood.
Balsa Wood
Another option of carving wood available to you is Balsa Wood. It is mostly acquired from forests in central and northern America. This wood is also available readily and is hence cheap to buy.
Compared to the previous two, Balsa Wood is pretty coarse and grainy. You will need to use sharp tools to whittle a Balsa Woodblock.
Butternut or White Walnut
Butternut is ideal for beginners because this wood is soft and easy to carve. Butternut is also a great option if you want to stain your artwork as it has a very pale brown color. White walnut wood is mainly sourced from southeast Canada.
Aspen
Aspen is also a great choice for beginners. It is a very soft wood hence easy to carve. Aspen is most commonly used to make items like toothpicks. Being so soft and fine-grained, carvers have to careful not to split it. This wood won't be able to handle fine detailing as it split.
Whittling vs Wood Carving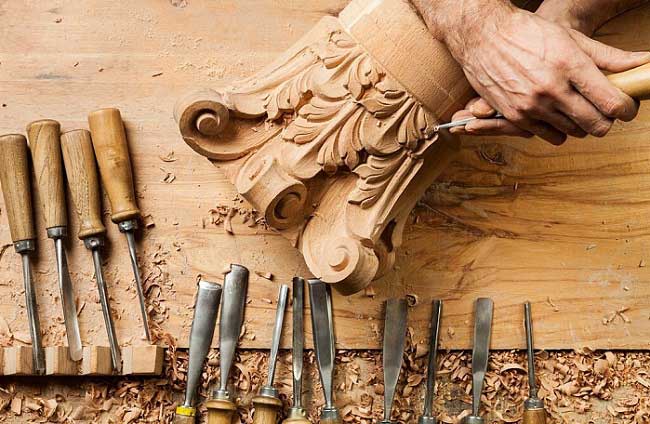 We have talked a lot about whittling and wood carving. But if the terms are different, there has to be a difference in the skill too, right? The difference between whittling and carving is little.
In very simple terms Whittling refers to carving a piece of wood using only a straight-edge knife. Carving, on the other hand, is more intricate and uses a wider array of tools.
Whittling and wood carving are two terms that are often used interchangeably. And this is because the difference is negligible. It is only that the two processes use different sets of tools.
For basic whittling, all one needs is a wooden block and knife/blade. Some whittling hobbyists consider using folding knives, sandpapers, and fixed blade knives when they are whittling at home. It is safe to say that whittling is the simplest form of carving wood.
Wood carving is more detailed and hence carving enthusiasts use a great variety of tools and techniques. A woodcarver uses chisels, gouges, a mallet, and even power equipment such as lathes.
To understand the context you could consider this example. A whittler might be able to carve a gnome from a wood plank, a woodcarver could fashion a life-size figure from the tree trunk itself.
A woodcarver has a large assortment of tools available, he can take up a larger project. Both these art forms are related yet need specific knowledge of the tools.
Safety Tips For Wood Whittling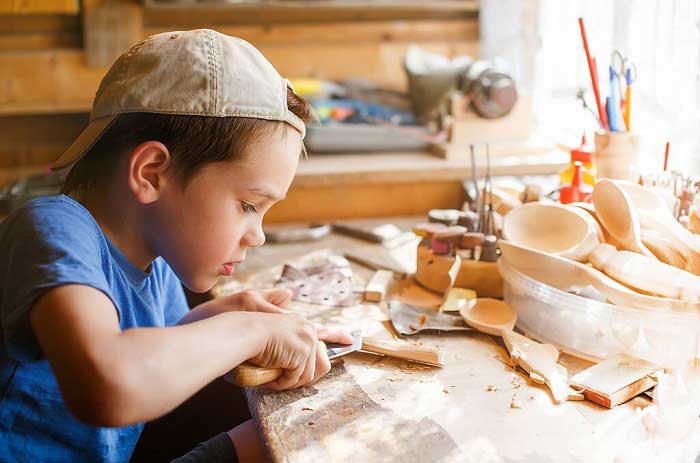 When you are whittling wood or carving, you are working with sharp tools. Hence safety is crucial especially when you are a beginner. It is easy to think that you can handle a simple knife and be reckless about handling it.
Let go of this pride, whittling knives are really sharp and can cut deep. Here are some tips that you should keep in mind and follow religiously.
Be patient, no rush
Whittling a wood is supposed to make you feel relaxed and satisfied. You don't want to cut open your fingers. Go slow, take your time, carve through the wood while enjoying it. You must be patient with your projects.
If you use a blunt knife, it will not cut smoothly through the wood. If you push hard, it may rebound and hurt you. So take your time, this is not a car race.
Use sharp knives
As I mentioned earlier, blunt knives are probably more dangerous than sharp knives. This is because when you try to carve with a blunt knife it will not cut through the wood so easily.
Dull blades have a tendency to slip on smooth surfaces and if it slips it will land on your hand. And even though the blade is dull it will be sharp enough to cut human skin.
Use sharp knives but carefully. Make slow and controlled cuts to the wood.
Gloves for protection
If you are new to wood whittling, this is especially important for you. The best way to protect your hands from scratches and wounds is to wear protective gloves.
For amateurs is this very important because even though you might think you know how to handle a knife, it can be a struggle while whittling.
So for the initial few projects, there is no harm in being safe and wearing a glove until you are absolutely confident and know your way with different knives.
Wear a thumb pad
Every woodcarver knows that while carving your thumb bears the brunt of all the minor cuts and nicks. This especially happens to the thumb of the hand in which you hold the knife.
Even minor cuts on the thumb can burn later on, so here's how you can protect your thumb. Wear a thumb pad. These are really cheap accessories available in the market or you could even make your own thumb pad.
Simply wrap some layers of duct tape on your thumb. It will provide your thumb a safe cushioning and protect it.
Frequently Asked Questions (FAQs)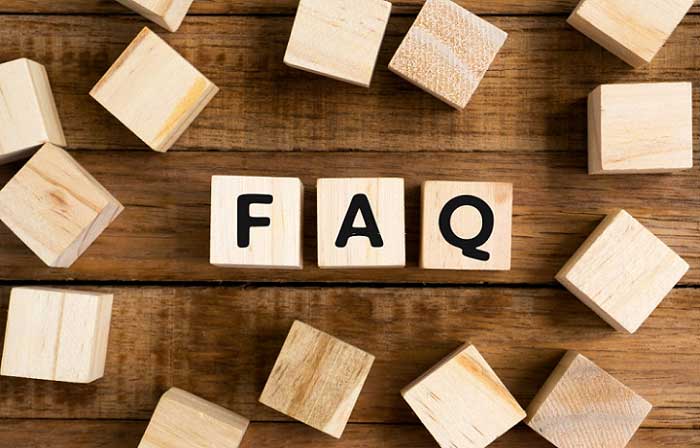 If you still have questions, it is natural. Here are some of the questions people ask most commonly:
1. Which is the best wood for whittling for an amateur?
Answer: Beginners should start with wood blocks that are soft and easy to carve. Basswood and Pinewood are known to be the best options for beginners. Even Aspen is quite soft, but Aspen can split easily.
2. Is wood carving difficult?
Answer: I do not mean to get philosophical, but everything in life seems difficult at first. Learning the alphabet must have seemed difficult as a kid. Similarly, with wood carving, it only looks intimidating. Any new hobby needs patience and practice and it becomes easy.
3. Which is the best knife for wood whittling?
Answer: Whittling does not require you to have fancy knives. Any basic knife can do the job. Just ensure it is sharp enough. Pocket knives serve the best but different people have different opinions.
There are specialized whittling knives in the market which offer electrolyte coated grips et cetera but it is all a matter of choice.
4. Where should I buy the wood?
Answer: Honestly, the best place to get your woodblock is the forest but we live in urban cities! So, my suggestion is, think about your project, your interests and then decide on the type of wood you want to buy.
Once you have decided that, there are both physical and online stores that sell whittling woodblocks.
5. I want to know more about whittling, which books should I read?
Answer: If you are a beginner or even someone who has been carving for a long time, going through resource material is never a bad idea. You may find inspiration for a new design or your next project.
Some great books include The Little Book of Whittling by Chris Lubkemann. This book is a great start for beginners. If you are looking for design ideas and inspiration, Josh Nava's How to Whittle: 25 Beautiful Projects to Carve by Hand is a great option.
6. How do I start whittling wood?
Answer: The idea of handling large wooden blocks and using sharp knives can get a little intimidating. But there's nothing to worry about.
For a beginner exercise, pick up any stick and start by gently slicing away thin layers. When you feel comfortable use a small knife like a penknife or something similar and start slicing shapes on a pre-cut wood block.
Use a softwood block like Basswood or Pinewood. Keep practicing and slowly you can start to scale up. 
Final Verdict
If you've read the poem "Whittling" by John Pierpont, you already know that this sculptor's art is precious. Whittling is a hobby that can calm you down and be a satisfying experience.
For generations, it has been a great pastime for men who yearn to create.  And the best part is, it is one of the cheapest hobbies you could adopt.
All you need is wood and a simple straight knife! And once you start to learn and practice, the passion only grows.
In this article, I have tried to present all the basics so that you can start with your own project soon. And I hope this guide has been of help. I hope you choose the best wood for whittling soon and enjoy your project.
More content related to wood craft:
A look at the best wood burning tool on the market
Our favorite craft paint for wood right now