"Don't play with fire – it might burn you."
Well, hold your breath as today we are going to break this rule and WILL play with fire to introduce you to the art of "Pyrography", also known as "The art of drawing with fire"!
A quick look at history will tell you that fire has been associated with various forms of arts and crafts since ancient times. The impressive cave drawings that you see today are the creation of Stone Age people etching the walls with their little fire sticks!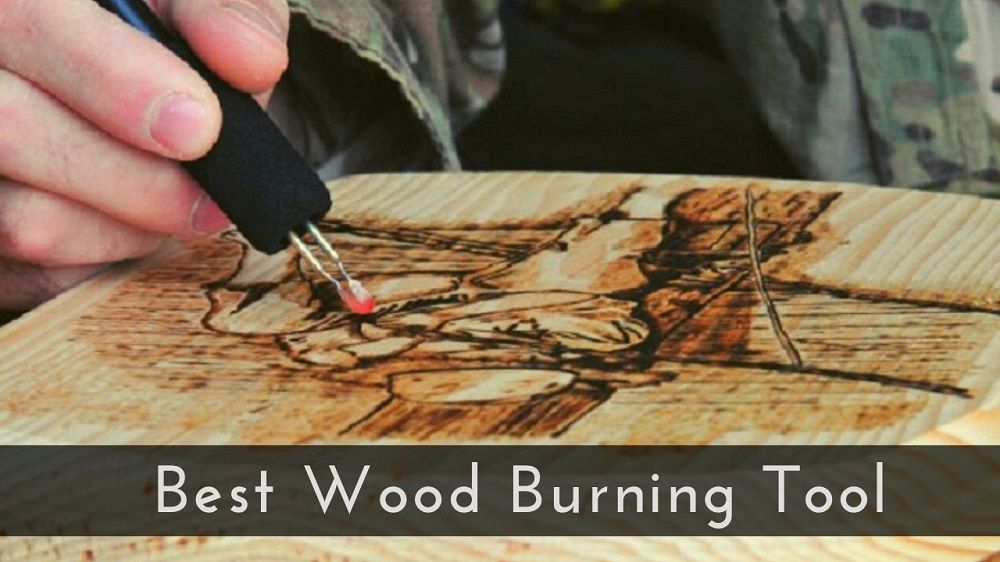 In modern times, you can create similar art on wood with the help of a heated pen. I know what you are thinking! It must be expensive to get started on this craft, right?
Well, no! The only thing you will need is the best wood burning tool, a slice of wood and your passion to create an outstanding piece that can be used as an excellent DIY gift for your friends and loved ones.
A Quick Comparison of Our Favorites:
IMAGE
PRODUCT
DETAILS
 

Our Top Pick

Our Top Pick

Type:

Wire Tip

Points:

11 Interchangeable

Temp:

0 to 950°F

Check Price
 

Type:

Wire Tip

Points:

21-35 Tips (depends on kit)

Temp:

15W and 30W (Dual Power settings)

Check Price

Best Value

Best Value

Type:

Wire Tip

Points:

28 Interchangeable

Temp:

200° to 450°c.

Check Price

Premium Choice

Premium Choice

Type:

Wire Tip

Points:

40GA Tips

Temp:

60W with Digital Temperature Control

Check Price
 

Type:

Wire Tip

Points:

10 Burnmaster tips

Temp:

0 to 130W(max.)

Check Price
What is a Wood Burning Kit and How Does It Work?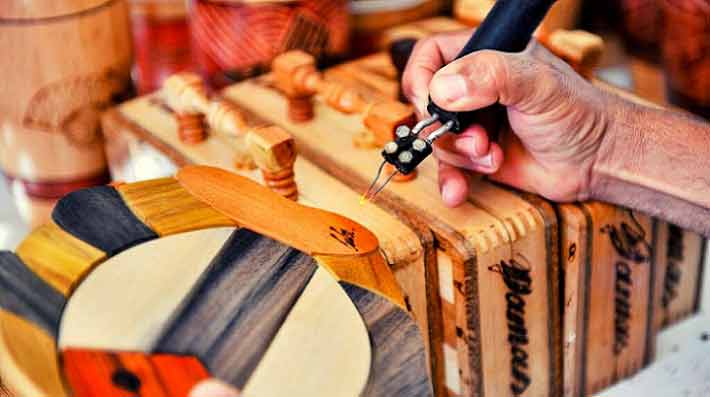 Now that you have decided to take a peek at the wood-crafting world, it's time to get you a nice set of wood-burning tools that include everything you need to get started on your first ever pyrography project right away!
A wood-burning kit usually comes with a pyrography pen, which is heated to draw sketches on a plank and several soldiering nips for cutting and curving various shapes on it.
Types of Wood Burning Tools
An artist needs different tools to improvise! When it comes to wood-burning tools, you will find two different categories which are described below:
Craft-Style
Beginners love the craft-style solid point tools as they come with larger pen grips. Meaning, you get a better grip on them while you are working!
Also, they come with a thick brass tip that gets heated at a pre-adjusted temperature, which allows you to concentrate solely on your project at hand without fussing over the temperature.
Some tools even come with a dual heat shield to protect your hand from getting too hot while working!
However, there's also a downside to it.
This tool isn't good for doing any fine detailing work. It's mostly suited for filling in the large gaps between two borders. Also, the pen tips take a longer time to cool off, which goes up to 8 minutes at a time.
Wire-Nib
The variable temperature Wire-Nib tools are mostly preferred by professionals and advanced users. The handle of these tools is much smaller, which makes it easier to write with these pens for a long time without getting a cramp on your hands!
Wire-nibs cool off in a short amount of time, usually in a minute or two thanks to its dual-wire elements. The notable feature that it provides is its variable temperature control, which allows you to draw detailed artwork quickly and with more accuracy at the same time.
However, it takes a bit of time to get used to this technique, especially if you are just at a beginner level.
Best Wood Burning Tools and Pyrography Pens Review for 2021
1. Walnut Hollow Creative Versa Tool – Top Pick
Even if you've never used a heat gun before, you are still going to have an easy time learning the curves with Walnut Hollow Creative Versa Tool!
Not only this kit is specially built with keeping a beginner's need in mind, but also, it's a real bargain in terms of price considering the fact that it comes with ELEVEN interchangeable points for you to choose from!
Measuring 1.7×5.3×9.8 inches, this tool features a comfortable grip so that you can work on your project as long as you want without getting tired. It also comes with a heat shield to protect your fingers in case the device gets too warm for you.
Getting bored seeing your work only on a wooden surface?
Well, I have good news for you!
Walnut Hollow is compatible to work with a wide range of materials including wood, leather and cork. And it cuts and curves through every single of these materials with the help of its Variable Temperature Control.
Yep! You can control the temperature as per your wish and have the flexibility to set the range anywhere between 0 to 950-Degree Fahrenheit. It's ideal to set the dial to your preferred point before you start crafting.
Remember the 11 interchangeable tips that Hollow promised?
On a positive note, these tips are all lead-free solder, meaning you get to go GREEN while using this product!
Also, these tips are all used for a wide variety of different styles including Tapered, Calligraphy, Shading, Stamping, Universal, Mini Universal, Hot Knife, Flow, Mini Flow, Cone and Soldering.
Highlighted Features:
It comes with a comfortable grip that can be used for a long time.
You can choose to set a temperature between its given ranges.
The device features 11 different interchangeable tips for different styles.
It can be used on other materials as well.
Walnut has added a heat-resistant shield for your convenience.
2. TRUArt (Stage 1) Wood and Leather Pyrography Pen
Whenever I intend to purchase a DIY kit, the first thing I check is whether the toolset comes with proper instruction, guidelines about how to use it and warning labels for safety purposes.
After all, as I am doing all the hard work by myself, it would be terrible if all my efforts go in vain just for a simple mistake!
Well, TRUArt seems to tick all my boxes and comes with a full set of instructions that clearly dictates how to use this tool in the right way!
The device itself heats up pretty quickly, leaving you with plenty of time to work in multiple projects simultaneously.
To keep up with your creative ideas, TRUArt has included 21 different interchangeable tips including groove, dot, solder point, razor blade, pattern transfer, stripe, branding, knife, calligraphy and many more!
The greatest part is you get to attach all of these awesome pattern-tips with a quill, which features a rubber handle that's resistant to heat and impact, therefore, it allows you to work in comfort.
TRUArt is a multi-purpose tool and works on both wooden and leather canvases. The dual power mode allows you to operate the device on 15-watt for leather and 30-watt for woodburning purposes.
Highlighted Features:
The kit includes 21 tip selections for creating different patterns.
It comes with a detailed instruction manual and tips for beginners.
The pen is lightweight, easy to hold and has heat-resistant protection.
The dual-power mode allows it to operate on both wood and leather.
It has a quick heating up system. 6. The stainless-steel construction of the device makes it durable.
3. Drtulz 56PCS Wood Burning Kit – Best Value
Is your grandfather still fidgeting with his old pyrography tools?
We all know how grandparents are! They have one thing in common and that is the tendency to never throw any old things away!
Here's an idea.
Let's make this holiday season more special by gifting him the brand-new Wood Burning Kit from Drtulz that has 56 PIECES of accessories in it to keep your grandpa occupied all day long!
The reason why I am recommending this kit as an ideal present is that it has lots of new tools, colorful pencils and many other surprises inside its box.
While taking a look at the unit, you will notice that there's a dial to adjust the temperature between 200 and 450-Degree Celsius. The device is designed to get heated up in just 15 seconds once you turn on the switch.
This kit includes the best pyrography pen that comes with a temperature-resistant casing, to protect your fingers while working for a long time.
With 28 different interchangeable pen tips, you can perform a wide range of activities like image transferring, stencil cutting, soldering, stamping etc.
One thing that you should note is before you make a switch for a different tip, let the device cool off a little bit by turning off the power.
Not only you will have an easy time while prying off the tips in this way, but also, they get to enjoy a longer lifespan at the same time!
Highlighted Features:
It's a suitable gift item for surprising your loved ones.
It comes with a varying temperature that can go up to 450-Degree Celsius.
The device gets warmed up within 15 seconds after you plug it in.
It features 28 different tips to choose from.
It can be used for stencil cutting, stamping or fabric embossing purposes.
4. TRUArt Stage 2 Single Pen Professional Woodburning Tool – Premium Choice
Up until now, we have talked about what a beginner needs when he sets foot in the world of woodcraft for the first time.
However, we also have some professionals out there who are already familiar with the basic concepts and now looking for something extra-special that's going to glam up their work even more!
Well, to scratch your itch, TRUArt presents a Stage 2 Single Pen Woodburning kit, which has been designed especially for the professional artisans to cater to their requirements!
With 60 wattage of power, this device heats up quickly once it's turned on and reaches up to its max potential within a few seconds.
And the notable part is, the pen is constructed in a way that it doesn't get hot even when you use it on the highest power settings!
The Stage 2 version comes with 40 different tips that include some unique patterns like, shading, razor-thin etc. The package also includes a cleaning pad to polish the tips after you are all done with your wood burning session.
Did you know brass tips break or get dented while putting too much heat or pressure onto them?
Well, with TRUArt Professional Kit version, you get a Digital Voltage Control unit that allows you to alter the temperature within a second!
This is the best wood burning kit that works more precisely as well as the tips get to enjoy a longer lifespan.
Highlighted Features:
It comes with 40 different interchangeable tips.
The digital voltage control measures the temperature accurately.
The device responds instantly to the temperature control unit.
The tips cool off within seconds and can be switched quickly.
It is mostly suitable for professional wood burners.
5. WAMTHUS Wood Burning Kit
Did you know to overtire your hands in works that need repetitive movements like woodburning might result in severe hand cramps?
Relax! We are obviously not suggesting you quit your favorite hobby!
Instead, you should find a suitable device like WAMTHUS wood Burning Kit that's designed in away to help you operate at different angles so that you can work without putting any pressure on your hands.
The ergonomically designed handle is comfortable enough to hold for a long time and the greatest part is it's quite lightweight!
The 30-watt welding devices come in a bright red color and are perfect for stamping, cutting, burning, engraving on different surfaces including wood, leather, plastic, fabric, and paper mediums.
WAMTHUS gives you plenty of options and allows the user to control everything from the scratch.
For instance, if you are getting bored while drawing the same pattern, then you can easily change the tips of your device and pick one from its collection of 26 different wood burning and soldering tips.
Still not up to your expectations?
Well, the package also includes 12 colorful pencils to give your art some vibrant appearances!
Simply draw the outline of your favorite design on the plank. Then, use the kit to engrave that into the wood. Finally, use the color pencils to highlight the detailing works and make them look alive!
Highlighted Features:
The package comes with 44 different accessories.
The ergonomically designed handle allows you to draw comfortably.
The 26 different tips can easily be interchanged while working.
The welding device heats up in only 45 seconds.
The kit includes some colored pencils to make your artwork more playful.
6. ATHOMEY 40Pcs Wood Burning Kit
[Please note: This kit is currently sold out]
Remember the trip to the beach you took last summer? The shots came out amazing, didn't they?
While you are looking for a perfect frame to display those fond memories, there's an affordable way to give those plain old boring wooden frames a new look with some basic pyrography skills!
If you are interested in this idea, yet don't understand where you should start, then take a look at ATHOMEY 40Pcs Wood Burning Kit.
This kit covers everything that a beginner needs to know and also comes with a set of clear instruction manual that guides you along the way!
With 60 wattages of power and inner-heated Ceramic Technology, it doesn't take longer than 45 seconds to get this device all heated up and ready to work. You can also control the temperature between the ranges of 200 to 450-Degree Celsius.
As a beginner, it's quite understandable if you are a bit nervous about leaving your first imprint on the plank!
Well, to assist you in your crafting works ATHOMEY includes 28 soldering tips and accessories that are easy to use and help you ace your first ever DIY project!
What's more is that you also get a converter, 5 assorted wood embossing tips, a hot knife chuck with blade and a suitcase to carry everything in it.
Highlighted Features:
The welding iron is lightweight and compact enough to use comfortably.
It comes with a variable temperature that can be adjusted easily.
It takes only 45 seconds to get this device ready for work.
The 28 soldering tips allow you to work with different styles.
It comes with a clear instruction that guides you along the way.
7. TAMEHOM Wood Burning Kit
Engaging your kids with the art of wood burning is a fun and creative way to explore their artistic abilities!
You can even use the spare wooden blocks that have been lying around your room for ages for this purpose! All you need is a good-quality wood burning kit to get your kid's attention turn to this fun, yet educational activity.
I think it's the perfect time to bring our next item on the list, which is an UL Listed Wood Burning Kit from TAMEHOM.
It has got everything you need in ONE single package and is suitable for everyone, whether you are a professional or just a beginner!
TAMEHOM is a multi-purpose tool that can be used for pyrography, soldering, leather burning, paper crafting, stamping, embossing etc.
Depending on what material you are working on, you can adjust the temperature of the device, which can be varied from 400 to 850-Degree Celsius at the max setting.
Running out of inspiration? Well, this kit has plenty of supplies to cheer you up!
From stencils to assorted wood embossing tips, TAMEHOM brings you a complete package packed with all the essentials!
You also get to have a knife chuck with a blade, 10 soldering tips, 9 wood embossing tips, one Stencil, wood burning pen and tips holder plastic box and a carrying case to hold all these awesome products inside.
Another good news is, this device comes with a metal stand that supports and holds the heated device to ensure your safety.
So, you get to spend as much time as you want on your artwork without getting distracted even a little bit!
Highlighted Features:
This kit is suitable for a wide variety of materials.
You can set the temperature anywhere between 400 to 850-Degree Celsius.
The package includes lots of accessories that are suitable for beginners.
Red LED indicator helps a lot for your quick work.
It has a metal stand that can be used for holding the heated device.
8. Burnmaster HAWK Single Port Woodburner PACKAGE
Art in any form can turn an ordinary item into a treasure that you will cherish forever!
The wooden spoon you use to stir fry vegetables?
Did you know there's a way to make that spoon more interesting by drawing a simple pattern over the handles?
Not only this personalized touch to the cooking accessories will earn you a few compliments from your family members, but also, it's going to make you more confident in what you do and inspire you to take up more hobbies in the future!
Well, to get you started on the right foot, let us introduce you to the Burnmaster HAWK single port Woodburner kit, which comes with all the essentials needed for a beginner to start burning right away!
The Hawk control unit features 130 wattage of power that can be adjusted according to your need with the help of its variable micro-heat power supply.
You only have to turn the knob of the heat adjuster and choose any number between 1 and 10 that your project requires.
While the other burners on the market might take some to get all warmed up, this one gets instantly ready to rock as soon as you plug it in!
Although it does get a little warm if you constantly use it on the max settings, there's a "Reset Breaker" that automatically shuts the device off in case it gets too hot for a long period of time.
Highlighted Features:
The Hawk kit comes with 10 pen tips that are easy to switch.
The 130-watt unit has an adjustable knobfor your convenience.
The device has a microcircuitry that resets the unit if it gets too hot.
It gets instantly warm as soon as you plug it in.
The cord is designed to stay out of your way while you work.
9. Fuyit 42Pcs LCD Wood Burning Kit
[Please note: this kit is currently sold out]
We are all creatures of habit.
Once we find the perfect rhythm that works best for us, we often like to stay inside that comfort zone.
Keeping that in mind, Fuyithas come up with a digital pyrography pen that remembers the temperature you used in your last session and resume from that exact same point when you turn it on the next time!How cool is that?
Moving on to the add-ons, you get 28 different curving tips and 5 soldering tips with this kit.
The tips are all interchangeable and include a wide variety of collections including Universal, Tapered, Calligraphy, Shading, Transfer, Flow, Hot knife and Solder tips.
With all these accessories you can use this kit with different materials like leather, cork, foam, welding circuit board etc. Don't worry!
You can adjust the temperature between the ranges of 180- to 480-Degree Celsius to suit your need for whatever project you are working on quite easily.
Fuyit always strives to utilize the latest technology and this product is no exception!
Equipped with inner-heated ceramic technology, the pen warms up within 40 seconds and gets ready to give you the finest experience possible.
You can monitor the temperature level with the help of its thermostatic LCD screen that's attached to the pen and make any instant alternation if needed.
Highlighted Features:
The 42 pieces kit includes everything for a professional or beginner artist.
Ceramic Technology helps warm up the tool within 40 seconds.
You can monitor and control the temperature through its LCD display.
The device remembers and uses the last settings you worked on.
It includes 28 curving tips for various purposes.
10. Colwood Super Pro II Woodburning Kit
Looking for the perfect anniversary gift for your significant other?
How about a wooden vase with a big heart carved on it?
And don't forget to write both of your initials and some romantic lines along the way! Oh well, we aren't going to get into any more details and leave the rest up to your imagination!
However, to get started on this thoughtful gesture, first, you will need a woodburning kit like Colwood Super Pro II, which includes a writing tip along with a popular Pyrography Workbook written by Sue Walters.
Colwood starts on a positive note by including 2 pens in its kit.
The advantage of getting a dual pen mode is that you get to work faster and don't have to wait for your pen to cool off while changing its tip.
You can choose to decide which pen to get heated first with the help of a toggle switch that's located on the device.
Skew, a rounded skew and a writing tip are included in this kit help you to draw different patterns on your selected wooden piece.
Although you can choose to go for any wood that you prefer, woodburning usually works best on soft-textured woods like cedar, pine, poplar, cherry and basswood.
To extend the lifespan of the pen tips, clean them with the abrasive tip polisher that comes with the kit once you are done with your crafting session.
Highlighted Features:
The package includes a popular book on pyrography in it.
With dual pen mode, you can work faster than the single version.
It comes with pen tips that are specially designed for curving letters.
The abrasive tip polisher helps clean out the tips effectively.
The device cools off within a minute and lets you work comfortably.
11. INTLMATE 54 PCS Wood Burning Kit
[Please note: This kit is currently sold out]
Steady hands are a blessing when it comes to woodburning works. It makes your design come out perfectly and looks great once you are done with the project.
However, if you get a little bit too nervous while sketching your design on the first try, then it's advised to start with a stencil and gradually work your way up.
On that note, let me present the INTLMATE 54PCS Kit, which includes 16 different stencil collections along with many other surprises!
The plastic stencils with different styles are super easy to use. Just place one on top of the plank and use a pencil to trace the design.
Then use the welding tool to track the pattern and voila! No one will ever doubt your artistic skill anymore!
The 60-watt power tool is quite easy to operate and it gives total control to the user by offering an adjustable temperature unit that can be altered between 200 and 450-Degree Celsius.
The advancement of automation has made everyone a little bit impatient these days, don't you think?
Well, to keep up with the recent times, the INTLMATE is equipped with Inner-heated Ceramic Technology that enables it to get heated up in only 45 seconds!
Not only this feature reserve energy and protect our environment, but also, it makes sure that your electricity bill fits under your budget at the same time.
Highlighted Features:
It comes with a wide variety of stencil collections.
The kit includes 27 assorted tips for woodburning and soldering purposes.
It takes only 45 seconds to get the device ready to work.
You can adjust the temperature of the device as you like.
All items are easily portable as they come with a travel-friendly bag.
12. Chandler Tool Wood Burning Kit
Imagine the following scenario.
You are working on a masterpiece with full concentration. Just you are about to put the final touches and call it a day, the soldering device decided to go cold again and ruined the pattern that would have been perfect otherwise!
If you are a wood burner with a faulty device, then this situation is quite familiar to you.
However, Chandler Tool Wood Burning Kit is built with a reliable heating element that keeps the temperature consistent for as long as you work without breaking a sweat!
Chandler makes a solid first impression with its Grey and Sapphire Blue color combination. The device comes with a 6-foot long cord, which means you can work in comfort without having to readjust your position at all!
The handle is covered with an insulating material that protects your finger while you use the unit on its max settings.
This 30-watt powerful device is UL-safety Certified, so you can use it without having to worry about safety concerns.
The package includes 8 premium-quality solid brass tips. These tips are built in a way to withstand temperature as high as 300 to 380-Degree Celsius! Ergo, no more broken nibs stuck in your wooden blocks!
One point to be noted is that you need to be a little careful while attaching the tips to the welding device.
It's best to tighten them firmly by using your hands once they cool off instead of pliers, which might break them accidentally.
Highlighted features:
It comes with an extra-long cord so that you can work comfortably.
The device maintains a consistent temperature while it's turned on.
It comes with 8 brass tips that are of high quality.
The pen tips can withstand high temperature quite easily. 5. The device is UL-safety certified.
The device is UL-safety certified.
13. JIAN YA NA Wood Burning Tool
Does the regular wood burning tool work too slowly for you?
Want to burn wood 2X faster?
Well, then you need the JIAN YA NA 60W Wood Burning Set, which comes with not one, but TWO detailing pyrography pens!
You know what that means, right?
There's literally zero waiting period whenever you need to switch the tips of the pen with a different one!
One point to be noted, you can't use both pens at the same time. However, switching the pens back and forth is quite easy with the help of the toggle that's located on the front side of the device.
When it comes to burning, JIAN YA NA is extremely precise and uses a digital voltage control unit to measure and produce just the right amount of heat that's needed to get your work done!
The detailing pen that comes with the kit has all the qualities of the best wood burning pen!
It has a handle that's small, lightweight and easy for you to hold on for an extended period of time without getting tired.
The package also includes almost 20 different pyrography wire tips that allow you to draw patterns on a wide variety of materials including leather, paper, wood and gourd.
The coolest accessory that you get with this kit is its fancy suitcase, which is quite large, durable, packs everything nicely inside the case and lets you carry it around anywhere you want!
Highlighted Features:
It features two detailing pens for speeding up your work.
The digital display lets you measure the temperature accurately.
It comes with 20 different tips for you to choose from.
You can work on a wide range of materials with this kit.
All accessories come neatly packed in a luxury case.
14. TOPELEK Wood Burning Tools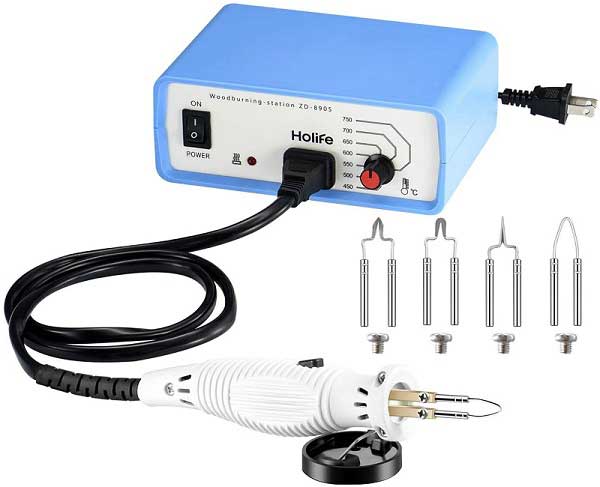 Wooden artworks are a nice way to spice up any empty space in your house.
Instead of purchasing an expensive piece from the craft store, you can easily make one of those cute little wall arts using the TOPELEK Wood Burning Kit at home on your own!
The biggest advantage of this unit is, you get to choose any temperature between the range of 450 and 750-Degree Celsius. The variable temperature control allows you to work on other materials like leather and gourd as well.
TOPELEK is equipped with an especially designed 0.8 mm wire nib that heats up faster than the others allowing you to start working right away!
I know what you are thinking. It would be way more awesome to have them cool off at your command, right?
Well, that's exactly what it does as well!
The burner pen has a switch that controls the heating process and by turning the switch off you can get the nibs cool down within just a few seconds!
This 40-watt device is powerful enough to work with the utmost precision. And to protect the machine from unexpected events, it comes with a built-in voltage converter that supplies it with the right amount of voltages and keep it safe 24/7.
The package also includes a stand, instruction manual, 4 replacement screws and 3 wire tips so that you can draw precise lines on different surfaces without a hassle.
Highlighted Features:
TOPELEK features a 0.8 mm wire nib that heats up quickly.
You can adjust the temperature as per your wish.
The built-in voltage converter protects the device from getting damaged.
You can also use this kit on other materials including leather and gourd.
The kit includes 4 extra screws to extend the tool's lifespan.
It features a switch to cool off the nibs faster than the others.
Factors to Consider Before Buying Wood Burning Kit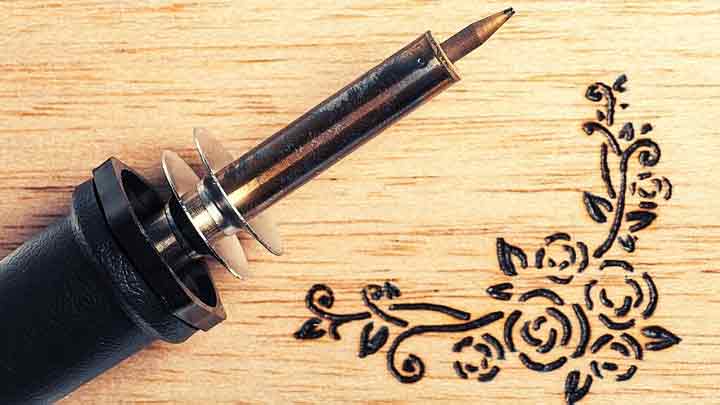 Are you familiar with the features that you should look for when purchasing a wood-burning kit?
If not, then we are here to give you a little insight into what should you expect from a good-quality kit and what should you avoid in order to not to get disappointed on your next purchase!
Let's take a look!
Comfort
Whether you are working on your DIY projects or just practicing to get better at this craft, you are more likely to spend a lot of time while holding your utensils.
So, it's quite important that the pyrography pen is lightweight enough to hold with ease and comfort for an extended time.
Also, try looking for a quill that comes with a smaller handle. Not only it will help you work without getting a cramp in your hand, but also it will allow you to draw fine details quite easily.
Adjustable Pen Tips
If you are just a beginner, then you can go for pens that come with fixed nibs on their ends. They tend to heat up in less amount of time and good for uniform writing style.
However, once you start working with a bit more complex designs, you will soon find yourself looking for ways to create different effects on your workpiece.
For that, you will need to have a kit that comes with versatile tips and a quill that's able to attach to them.
While purchasing, make sure the package includes pen nibs that offer to do both fine lines as well as thick ones.
Accessories
Say YES to the free accessories!
As a beginner, you probably don't have anything prepared for your first ever crafting project.
While you can just go and purchase all the necessary items individually, wouldn't it be nice if you got them all in one package and that too free of cost?
A complete package like that includes loads of stuff, like, stencils, transfer paper, color pencils for enhanced effects, knife chuck with a blade, metal stand, instruction booklet for better understanding and many more!
Choose the package that you think includes most of your required items and also don't forget to check on the price tag to make sure it fits right in your budget!
Quick Heating
I don't know about you, but I feel it's a bit inconvenient to wait around sitting like a fool while your tools heat itself slowly!
Imagine if you have to partake in multiple projects simultaneously, then it would take forever to complete your task!
Well, that's why it's you should look for devices that don't take as much time and heats up pretty quickly within 2-3 minutes and saves your precious time and energy.
Temperature Control
Some devices come with fixed temperature and others give you the control to adjust the temperature as per your convenience.
Well, you can choose to go either way in this situation. A fixed-temperature device will let you work in peace without having to check whether it's getting too hot or not enough.
While, on the other hand, a variable-temperature device gives you more flexibility and opportunity to try out different styles and patterns.
It's advised to take on this option if you are at an intermediate to advanced level in crafting.
Power
Don't fall into the trap of thinking that the more powerful a wood burner quill is, the better it is!
A low-powered pen is actually a better fit for you if you are into drawing fine detailing works and need to go at a slower speed.
A powerful pen will get heated up pretty quickly and end up leaving a black spot on that place if you hold it too long.
On the other hand, if you know what are you doing, can design pretty fast and need to get your job more quickly, then a powerful device might be a better option for you.
Before you start playing and experimenting with designs and patterns, first, you have to select what type of wood you are going to draw on and which pen tip is better suited for this purpose. 
Types Of Wood And How They Work
No two kinds of wood create the same effect! Therefore, it's essential to pick your favorite canvas according to your needs.
Although there are several other options available, here we are going to talk about the ones that are suitable for beginners.
Pinewoods have a soft texture that makes it easy to create different patterns, grooves and embossed lines on it. The light tan color makes it easy for your drawing to shine through and the greatest part is it's quite inexpensive!
You can find this in any general lumber store. Maple timbers have a perfect balance and don't get cracked even if your tool slips and embosses too hard while working. It has a light to medium shade in terms of color.
Polar is a cheaper version of Maple, but works as good! The plank is gouge-resistant, so you will have an easier time while fixing a mistake. It comes in the right shade and is available in a lot of various sizes in any local craft store.
The clear and bright color of Basswood makes it perfect for a beginner. It contains minimal grain, is soft as butter and easy to draw decorative patterns on it. However, it's a little bit more expensive than the Polar.
Types of Pen Tips
Once you unbox your woodburning kit, you will find several type nibs with varied styles waiting for you to try them on!
Let's look at some of the basic pen tips for beginners down below:
The universal tip comes with a sharp thin edge that can be used to draw thin, medium or thick lines depending on how you hold the Pyrography pen. You can also try holding it at a varied angle to achieve your desired outcome quite easily.
If you want a smooth tip that glides across the surface effortlessly, then this one is suitable for you. A flow tip has a round shape and is also used for drawing polka dots.
It's very much similar to the universal tip and can be used to create calligraphy style lettering quite easily. You can draw fine lines or thick lines according to your preference.
Apart from these, there are also other tool tips to choose from including Tapered tips, Shading tips, Branding tips, Groove tips, Transfer tips, Dot tips and Stamping tips etc.
However, you will need to learn different techniques in order to use them properly.
How To Prepare Wood For Burning Or Pyrography?
To make your woodburning session successful, prepare the selected wood beforehand by following these steps:
1. Select A Suitable Piece
Cut the wood to a suitable size for your project. Then inspect the surface to see if there's any small marking on it.
If you happen to find a dent or two, use a damp folded cloth to place on top of the surface. Then use an iron to press on the cloth and keep pressing until that spot gets raised higher to a level that it's not noticeable anymore.
2. Sand Down The Base
You only need 320-grit sandpaper for this purpose.
First, determine which direction the wood fiber is faced. Then use the sandpaper to polish the surface as much as possible while moving it in the same direction to avoid getting any scratch marks on the surface.
Then, use a small towel to get rid of all the sawdust off the plank.
3. Wet The Wood
After the plank is all sanded out, it's time to give it a wet bath!
Well, we aren't going to drip the surface completely! The plan is to get the surface wet enough to clean all the dust on top of its surface. You can use a wet sponge for this purpose.
4. Make It Smooth!
After the plank dries out, it's best to sand it again, gently this time. The surface should be really smooth by now.
And now your wooden piece is ready for all kinds of burning sessions! You can check out our easy wood burning art ideas.
How To Use A Wood Burning Tool?
Once you purchase a woodburning tool, the rest of the steps are easy if you follow the instructions mentioned down below.
1. Choose Your Preferred Tip
Most of the woodburning kit comes with several pens tips including Universal, Tapered, Transfer, Shading, Flow, Calligraphy etc.
So, the first thing that you have to do is to choose the tip you want to work with it and install it to the soldering device. Then, thread the tips into the device's head and keep turning it in until it gets locked in place.
Careful! Don't try to tighten it forcefully with a plier as too much pressure might end up breaking the tip altogether.
2. Use Stencil If Necessary
Some kit includes several stencils that you can use to make different patterns if you are a little bit intimidated to burn on your first attempt!
The stencil technique is quite simple. Just place the stencil on top of your selected wood and trace the design with the help of a pencil.
There! Now you get the advantage of having a pre-drawn pattern on your wooden piece that can easily be traced later.
3. Connect The Device
Depending on what the model of your tool is, you need to find a power outlet that matches the voltage requirement of the device.
After connecting it to the power, you might need to wait for some time to let the device heat up to the correct temperature. The waiting period may last for a few seconds up to 8 minutes at most.
4. Start Burning!
Once the device is all heated up, it's time to cast your spell and show your magic!
Yep! Now's the time to unleash your artistic ability on the wood and enjoy the sight of getting your design burned onto the plank.
5. Switch Tips If You Want
In case you are getting bored and want to try a different pattern, then switch out your installed tip for a different one.
However, you have to turn off the device and let it cool off first. Then try unhooking the tips by using your hand and use a plier only if necessary.
6. Highlight Parts With Colored Pencil
Once you are done burning the design, it's possible that you might look at your handiwork and feel like something's missing!
Well, for the color-loving people out there some manufacturers include colored pencils to their kit.
You can choose to add some color to your project and highlight the parts you want to give it a nice finishing touch.
Wood Burning Tool Tips – Safety First
Before you start burning on your selected wooden frame, it's better to practice for a little bit on scrap pieces first.
Give the pen tip some time to cool off while switching it out for a different one.
Clean the tips properly after a burning session to prevent any kind of carbon buildup.
Use light-colored wood to bring out the colors in your workpiece.
To start on a good note, try blowing onto the tip as it touches the wood for the first time.
If the wood that you selected is grainy, then apply more heat to get your burning across those areas.
Start with soft, light strokes and then gradually work your way up to deeper strokes to get the finest result.
Frequently Asked Questions About Wood Burning Tool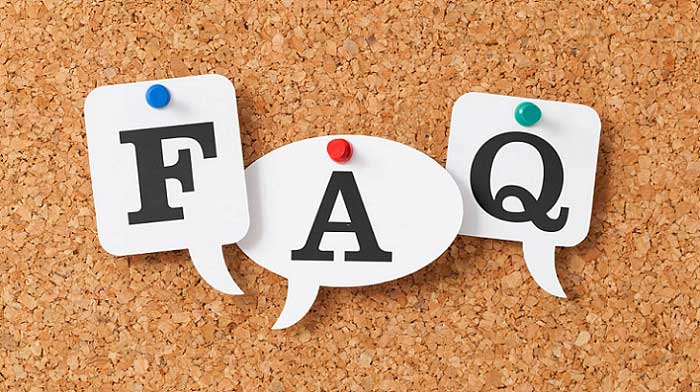 1. How To Keep The Pen Tips From Getting Dirty?
Answer: Over time, it's natural that the tips of your pen might collect some debris and carbon build-ups. To clean that up, you can use a sharpening tool or sandpaper to take out all the dirt and small particles.
2. How To Make The Wooden Art To Last Long?
Answer: Sunlight is the biggest reason your artwork might lose color over time.To protect your work, it's a good idea to use a protective varnish over your finished project.
3. Does The Pyrography Tools Produce Smoke?
Answer: Yes. As the wood is getting burned, it's only natural to experience a little smoke and a burning smell while working. You can get rid of that by setting up a desk fan to blow the air away from your working station.
4. Can I Use The Wood Burning Tools To draw On my Leather Jacket?
Answer: That's probably a bad idea. Most leather jackets are chrome-tanned and therefore contain the chrome ions, which releases chemicals that are injurious to human health while getting burned.
However, you can use the pyrography tools on vegetable-tanned jackets as they don't possess such risks and are safe to use.
5. How Can I Fix A Mistakenly Drawn Pattern?
Answer: It's necessary to be careful before you draw on the woods. In case you make a mistake, use a sharp device, for instance, a blade or a metal scraper and scratch away the burnt pieces as much as possible.
6. Can I Burn Any Painted Wood?
Answer: NO! Burning woods that have been painted, altered, treated, strained or modified in any way should always be avoided as they tend to release a harmful chemical in our environment.
It will only cost you a little to purchase fresh-cut wood from the store, so don't try to use any short-cut method in this case.
Final Words
One thing that sets the art of pyrography apart from other crafts is that it requires relatively few tools.
However, the sense of gratification that you feel after finishing up a project is immense and motivates you to take your rewarding hobby even further!
In fact, many people have turned their desire to work with wood into a profitable business by creating decorative pieces, signs, wall arts or customized frames and selling them for a good amount of money.
So, what are you waiting for?
Get the best wood burning tool in your collection and start burning right away!
Regardless of how much skill you may possess and how good your piece turns out to be, one thing for sure, you will have lots of fun playing with different tips, texture and adding depth to your work along the away!
Thanks from craftersdiary.com for staying with us!
Related Buyer's Guide:
Reviewed: Top 10 whittling wood – let's have a look!
A roundup of our favorite wood crafts paint