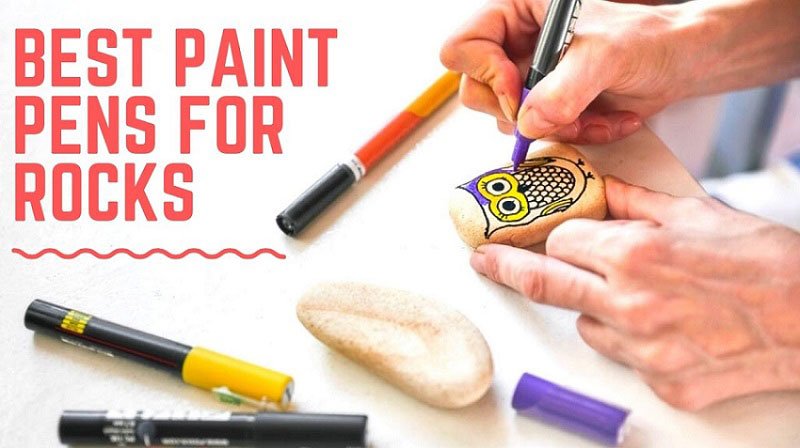 Artworks on smaller rocks look adorable and create enough appeal to buy some for no reason. You might wonder if you can draw, paint, or doodle on stones for crafting using color pens or paint and brush. Technically, you can use these colors. But, the colors will not be as vivid and beautiful as commercial ones.
For painting on stones or rocks, you will need specially formulated pens. Using the best paint pens for rocks, you can color, doodle, or write small quotes on rocks.
These specially formulated color pens draw or paint much accurate, vibrant, and well-saturated colors on such various solid materials that look absolutely stunning.
For your curious soul, this article includes some of the best and high-quality rock markers within a reasonable price tag.
A Quick Comparison of Our Favorites
IMAGE
PRODUCT
FEATURES

Editor's Choice

Editor's Choice

✔

Water based durable ink

✔

Non-toxic and odor-free

✔

Suitable for the maximum surfaces

Check Price

Premium Choice

Premium Choice

✔

Water based with extra fine tips

✔

No need to bleed

✔

Easy to use on rocks

Check Price

Best Value

Best Value

✔

Oil based ink

✔

Quick drying

✔

Perfect for beginners

Check Price

✔

Water based ink

✔

High quality vibrant colors

✔

Ideal for rock paintings

Check Price

✔

Water and fade-resistant Italian ink

✔

Odorless consistent flow

✔

Works on most surfaces

Check Price
Can You Use Paint Pens On Rocks?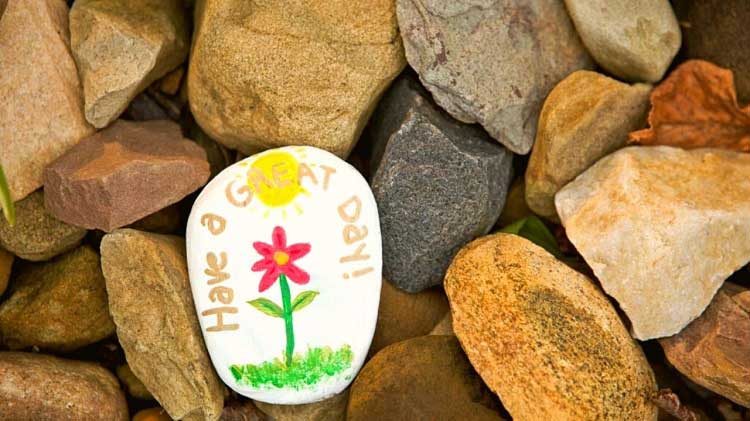 Rock painting is mostly done by oil-paints with brush and other painting supplies. However, you can still make amazing and stunning looking designs, drawings, quotes, and many other artworks using paint pens.
Even though not all the paint pens are ideal for rock paintings, there are some that are specially formulated for this purpose. Using paint pens or markers on rocks is much more convenient, easier, and user-friendly.
Without spending much time, and not creating a great mess, you can make adorable designs on rocks. Also, these markers can be used on other household items such as mugs, fabrics, plastic, leather items.
Best Paint Pens for Rocks: Our Top 15 Picks
The requirements for professionals, artists, and beginners aren't the same. Keeping that in mind, I have gathered a wide variety of paint markers for rocks, from which you will find the most suitable ones for your needs.
1. ARTISTRO Paint Pens For Rock Painting – Editor's Choice
With consistent ink flow, vibrant colors, and sturdy tips, these color pens can create beautiful looking arts on rocks. Also, you can try painting other hard materials such as stones, ceramics, glasses, canvas, and wood without much issues.
Water-based ink on these markers dries without taking much time. You can design or paint rocks with its vivid and nice looking colors. Even though the pens provide a glossy finish on both light and dark surfaces, the colors are quite long-lasting.
You can paint on your favorite mug whatever you want. No matter if it's a quote or any design, it will look stunning. Be ready to hear warm compliments from your visitors. Gifting such crafted items will make you beloved to people.
You can make the paint waterproof after baking the mug at 180 C for 1 hour or try sealing it.
If the projects that require drawing fine lines and detailed artworks, these pens will come very handy to deliver you so. The tip is only 0.7mm, which is more than enough for great outlining and detail work. So, even if you are to draw or paint on small rocks, you will be able to do so with great precision and efficiency.
The set includes 12 colors. Most of your works will achieve great perfection with the touch of these color pens. Unlike cheaper ones, these don't flow poorly or too much of inks.
Highlighted Features:
12 vivid color pens
Water-based long-lasting inks
Multi-purpose pens can be used on many surfaces
Fine tip for detail and delicate outlining
Consistent flow of ink
2. Uni-Posca Paint Marker Pen
Water-based inks are the best for painting on rocks and other solid materials such as stones, glass, plastics, etc. This marker pen set of 12 markers is also a water-based product that assures you of great looking and vivid colors on rocks as well as other hard materials.
The feature that makes quite an appeal to the artist is that the markers include very fine points. Outlining as well as detailed painting are much easier, convenient, and great looking. You will be able to do some great detailed artworks on smaller rocks without any struggle.
Because of the extra fine tips, the ink will be used quite less, and 12 colors will last you much longer than conventional ones. So, spending some extra money for such fine and long-lasting color pens wouldn't be a bad choice.
There are all primary colors that you will find enough to add perfection to your artworks on rocks. The colors are well-saturated; thus, even if you use them on a darker surface, the painting will not look faded.
Unlike cheaper and alcohol-based inks, Uni-Posca doesn't bleed while using. In addition to that, the overall flow of ink is quite consistent and impressive. You don't have to face any hazard regarding the quality of the ink.
Even though you can use these on many surfaces, the pens work best on smooth and non-porous surfaces. So, apart from rocks, you can also add great looking design on items like shoes, headphones, etc.
Highlighted Features:
12 water-based well-saturated color pens
Non-toxic, waterproof and lightfast inks
Extra-fine tips
Consistent ink flow
Requires less inks to paint
3. Sharpie Oil Based Paint Markers
Among the artists and enthusiasts, Sharpie is a well-reputable name for producing great quality color markers. Some artworks on rocks require oil or solvent-based inks to last-longer and resist fading. To serve these purposes well, this set of 5 oil-based markers from Sharpie can be an ideal choice.
You will be able to paint on rocks as well as other surfaces, and create stunningly high contrast and glossy looking colors that stand out both light and dark as well as reflective surfaces.
Compared to conventional solvent-based inks, these ones dry a lot faster, and resist fading issues quite well. There will be zero to minimal smearing and water damage on the paints regardless of the surfaces.
Painting that requires to cover large areas without wasting much time, these markers will come great handy for such needs.
Due to the round-shaped tips, covering areas will be much easier once you use these markers. If you don't need to deal with fine and detailed works, this color set can be a great addition to your arsenal.
Its medium sized tips or points lay down great looking highly visible lines, which is perfect for decorating windows and other larger objects.
Even though the pack includes only 5 colors, these are the most commonly used ones for quick, simple, and color enriched artworks.
Highlighted Features:
5 high contrast color markers
Oil-based fast-drying inks
Resists fading, water and smearing damages
Medium-sized points
Stands out impressive on light, dark, and reflective surfaces
4. JR. White Acrylic Paint Pens
Although the title says these are pens for painting rocks, you can use them on other materials as well, even on your shoes and smartphone case. Jr. White 12 markers also allow you to paint on wood, glass made household items, plastics, cards, stones, canvas, and countless other materials.
These water-based color pens are non-toxic and don't have a strong chemical smell. So, you can also gift this set to kids. However, pay close attention if you give these markers to kids under 3 years old.
Each marker features a 2mm medium tip. You will be able to use these markers for great coverage as well as creating artworks that include bold and thicker strokes. You can paint on your favorite glass mug with whatever design or quote you like.
In addition, if you think any household items and accessories are lacking colors or you want to DIY color projects on them using color pens, you will find the colors quite durable and convenient to paint on.
All the markers provide great and vivid colors that look absolutely stunning regardless of the surfaces. The inks don't bleed like most cheaper markers. Also, you are assured about its consistent flow of ink too. These 12 color pens will be more than enough to provide great finishing touches to most coloring projects.
Highlighted Features:
Water-based non-toxic inks
12 colorful and well-saturated colors
2mm medium tip
Smooth ink flow
Great coverage
Usable on a wide variety of materials
5. Asani Acrylic Paint Markers Set
For crafting purposes, artists require high-quality color pens to make their creations look unique and impressive. Keeping this thing in mind, this marker set is made for those enthusiasts who want to make sure their workpieces or materials get the best quality colors without spending much money.
The ink characteristics make it one of the best pens for drawing on rocks. Apart from kindness rocks, you can also show your creativity on ceramic, glass, porcelain, wood, fabric, leather, canvas, plastic, and metal materials. Also, if you are up for scrapbooks, you will find great pleasure while coloring with these pens.
Each marker has 3ml of high-quality fade-resistant premium Italian ink to add perfection to your crafting and artworks. The colors come exceptionally vivid, and don't fade due to water and UV damage. Also, the drying time is relatively less compared to other color pens that you will find on the market.
You can breathe life to your creations using these 12 color pens without much compromise. The colors are more than enough for most projects. No matter what material you are about to express your creativity on, you will find the perfect color for each portion of the artwork.
These markers come with an extra-fine 0.7mm nylon tips, which is great for outlining and detailed works. Also, you can use it for coverage on smaller areas conveniently.
As the inks are odorless and contain no toxic, you can give these to kids to spend time with colors rather than with screens. This can be a useful way to reduce their screen time.
Highlighted Features:
12 eye-catching colors to any color project
Extra-fine tips
Water and fade-resistant water-based inks
3ml of ink reservoir
Odorless and non-toxic
6. Morfone Acrylic Paint Marker Pens
Sometimes it becomes quite an overwhelming task to find the best rock painting pens as rocks are less light than art papers and other paintable surfaces. But, you can still make your drawings and paintings look great and vivid using these marker pens from Morfone.
The set includes 12 colors that you will find suitable for most coloring projects. No matter what you need to color, you will not run out of options. Apart from rocks, you can use them on stones, glass, wood, plastic, canvas, wood, and other materials with great convenience.
Its gold and silver markers are metallic colors. But the rest of the color pens provide a nice looking matte finish.
These markers have a 2mm tip, which is much easier to control while drawing on surfaces like rocks. You can outline larger details, write with semi-bold font, and cover large areas using the pens.
No matter on what surfaces you are showing your creativity, these highly pigmented inks will look absolutely impressive. As you expect from water-based inks, the colors dry quite faster than oil-based ones.
Also, there is no toxic and artificial odor used to formulate the colors; thus, you can confidently give a set of markers as a gift to your kid to improve his/her drawing and coloring skills.
Highlighted Features:
Highly pigmented water-based inks
10 matte finish and 2 metallic colors
Colors come vivid even on darker materials
Non-toxic and odorless
2mm medium round tip
Paints a wide variety of materials
7. Niutop Acrylic Paint Pens for Rock Painting
Some color DIY projects require complementary colors as well as the primary ones. If you are in need of such a color pen set, you can consider getting this Acrylic paint pens from Niutop.
The set includes 12 basic colors, 4 pastel colors, and 8 metal colors, from which you will be able to complete pretty much any color projects as well as DIY ones.
With its extra-fine nylon tip, you will be able to create precise and delicate outlines as well as tiny coloring on a wide variety of materials. Like all the water-based inks, these markers also dry much quicker.
Where conventional marker pens don't seem to maintain a good ink flow, this one is totally opposite. The inks will flow at a proper rate, not too poor, not too high, to make sure that your paintings meet perfection.
As the inks are highly pigmented, the quality is assured. The colors are weather-resistant; so, if you want to hang one of your artworks next to the window, the UV ray will not fade the colors away anytime soon.
As for being a water-based ink, it's environment-friendly. The ink doesn't contain toxic materials, and the colors are odorless. So, kids can also express their creativity using these color pens.
If you are to paint on rocks and stones, you will notice the pens creating highly saturated vivid colors even on darker materials. Also, you can paint on glass, wood, fabric, metal, ceramic, and other similar paintable surfaces as well.
Highlighted Features:
24 vibrant primary and complementary colors
Water-based quick-drying formula
Weather-resistant
Odorless and child-friendly
Fine tips
8. Tooli-Art Paint Pens Acrylic Markers
Looking for the best paint for rocks while not compromising the number of colors? What about these 30 great quality color markers from Tooli-Art? Even if you color other materials, this deal will not disappoint you for sure.
This color marker set includes 30 marker pens of a wide variety of colors. No matter how colorful projects you handle, you will never run out of options once you have this set. You can add great variety in your artworks, which will surely enhance your painting skills.
These Japanese markers have highly pigmented ink to deliver impressive opaque coverage on pretty much all surfaces. The ink dries quickly, and looks stunning on both dark and light surfaces. No matter where you use these colors, it would make your artworks objectively better.
With its 0.7mm nylon tip, making finer strokes will be much more convenient and precise. You can draw, paint, outline, or make detailed works using the tip. To keep the tip's shape well, there is a valve-action top.
Water-based color markers have a good reputation for being odorless and non-toxic. You can give these to kids without any worry.
Apart from rock surfaces, you can use these colors on stones, glasses, cardboards, plastics, canvas, papers, and many more paintable surfaces to create amazing looking artworks.
Highlighted Features:
30 wide range of vivid colors
High-quality pigmented water-based ink
Fade-resistant
Looks vibrant on both light dark surfaces
0.7mm fine nylon tip
Safe for kids
9. Colorful Art Co. Acrylic Paint Pens
While finding the best pens for rocks, you might have come across different types of markers. But there are hardly any markers like these in terms of quality of the ink, longevity of the colors, eye-catching finish, and tip sizes. Let me introduce you to 12 premium acrylic paint pens to draw on all paintable surfaces.
If you are an artist and use color pens for DIY and color projects, the elegant and high-quality inks will enhance your coloring skills significantly. These water-based colors dry within a short time and provide excellent glossy finish on various materials.
Apart from rock paintings, these color markers will satisfy your artistic soul when you use them for drawing on mugs, woods, glasses, and other household items. The coverage that these markers provide is really exceptional regardless of the surfaces.
Using its reversible tip, you will be able to use them for various coloring purposes. With a 3-5mm reversible tip size, these markers will come great for both fine and bold outlining, highlighting, and drawing. Compared to other markers on the list, the broader tip will allow you to cover large areas conveniently.
Doesn't matter whether you are drawing on a light or dark surface, the colors will be bold and much electrifying on designs and texts. Its odorless characteristic will not make it uncomfortable for you to use them for painting. Also, as the ink is water and UV resistant, you can expect the colors to last much longer.
Highlighted Features:
Well-saturated and vibrant 12 premium color pens
Water-based long-lasting ink
Can give glossy finish on various materials
Unique reversible tip
Water and UV resistant
10. Posca Acrylic Paint Marker Set
Another reversible tip color marker set on the list. For simple yet elegant rock painting projects, you don't need much colors, only the primary ones are enough for making the rocks jaw-opening attractive.
If using a lot of complementary colors isn't your way of doing rock painting, these can be the best paint pens for rocks as well as other materials. These water-based markers create great opaque and excellent looking color arts on various surfaces.
Painting or drawing on wood, cardboard, ceramics, metal, plastic, glass, and other paintable surfaces will get you great results. If you plan to draw on your favorite mug, there is no reason for you to not do so, you will love the mug even more.
All the 8 classic colors feature reversible tips that you can use for versatile coloring purposes. This also ensures the prolonged use of the markers.
To provide you with consistent ink flow, there are balls that mix inside the barrels, and make coloring tasks smooth and flawless. So, unlike cheaper markers, you don't have to face poor ink flow hazards at all.
You can mix these colors as long as they are wet, and make nice looking color gradation effects. Also, if you are to layer on any particular artwork, applying darker colors on lighter ones will bring great results, and make the art piece look different.
Highlighted Features:
8 primary markers
Reversible tips
Consistent flow of ink
Paintable on various surfaces
Mixable and layerable colors
Water-soluble ink
11. Zeyar Premium Acrylic Paint Pen
Markers aren't only limited to rock painting. However, there are not many marker sets like this one that draws or paints excellent quality colors on other materials as well. Doesn't matter whether you are coloring on darker or lighter surfaces, the colors will look vibrant and much saturated to please your eyes.
Compared to most marker pens of the market, these come in more capacity, and longer writing or drawing distance. If you mostly spend a prolonged period while crafting with colors, your hands will feel much more comfortable holding the pens.
There are 18 colors to add perfection to your color projects. 8 markers provide vibrant metallic finish on various surfaces. You will get most commonly used primary colors to beautify household items as well as your drawings.
With its 0.7mm extra-fine tip, you can outline and highlight some serious finer lines. Detailed work will be much easier and convenient when you use these markers.
Having water-based and odorless inks, these markers are also environment-friendly. There is no harmful toxic chemical or material used while making these pens. Your kids can also draw or paint using the markers without any issues.
Of course, these colors will look absolutely stunning on rocks of both light and darker tones. Also, you can color on paper, stone, ceramic, wood, rubber, glass, plastic made commonly used household items. So, you can literally modify the looks of your mug, shoes, building blocks, and more things conveniently.
Highlighted Features:
18 colorful vibrant markers
8 metallic color markers
Water-based odorless non-toxic inks
Ideal for various materials
0.7mm extra-fine tip
12. Acrylico Acrylic Paint Markers for Rocks
This pack of 16 extra-fine markers is for those enthusiasts and DIYers who need to maintain precision on their art pieces. From its wide range of attractive and high-quality colors, beautifying various surfaces will not be an issue for you.
Among these 16 markers, there are 4 markers for metallic finish. So, when you need to highlight some parts of your painting or drawing, the metallic colors will be quite vibrant and colorful even on darker surfaces.
With premium quality acrylic inks, rock painting, leather drawing, and other crafting and creative artworks will look much vibrant in colors. Your kids can also use these for school coloring projects. The ink is odorless and certified as safe for kids.
Using the extra fine 1mm tip, you will be able to create delicate and finer outlines and highlight narrow spaces with great precision. Unlike conventional fine markers, the colors don't look washed out. The water resistance properties of the ink further assure you about the longevity of your artworks.
Whether you use these pens on rocks, ceramics, metal, wood, plastic, canvas, glass, and any other similar paintable surfaces, you will find the colors to dry much quicker. You don't need to wait ages for your art piece to dry.
Personalizing by coloring household and regularly used items will be much more convenient once you have these.
Highlighted Features:
16 fast-drying color markers with 4 metallic colors
High-quality Italian ink
Extra-fine 1mm tip
Fade and water resistant vibrant colors
Odorless
Paintable on a wide variety of materials
13. Penguin Art Supplies Craft Paint Markers
Want a color marker set to do more than just rock painting? What about this one from Penguin Art, which comes with 28 color pens? No matter what you are planning to color, these high-quality colors will surely enhance the beauty and appeal of your craft and artworks.
The most exciting and bestselling feature of these markers is the dual-tipped design. Each marker has 3mm chiseled tip for fine to medium bold and 5mm tip for bold strokes to add great versatility on your color projects. You can add variations of design on your drawings using these multi-purpose markers easily.
As being permanent markers, these are long-lasting, water and UV-resistant. So, you can expect your great piece of artworks to last much longer regardless of the conditions.
The colors look absolutely stunning on wood, glass, stone, ceramic, metal, canvas, and paper surfaces. No matter what you are up to regarding the coloring, you will not be disappointed.
It's expected to mass a bit be it on your skin or the household things around where you draw or paint using colors. You can easily wash the masses off using warm water and mild soap without any struggle.
These non-toxic markers are ideal for baby crafting as well. You can spend quality family time with your kids coloring on kindness rocks, mugs, canvas, and many more items.
Highlighted Features:
12 basic colors among its 28 colors
Reversible tip with dual-tipped point
Water and UV-resistant
Easy to wash off from skin and fabric
Paintable on a variety of surfaces
14. AROIC Paint Pens for Rock Painting
Colors of good quality marker pens look quite the same on surfaces in most cases. However, not all the markers provide weather-resistant and waterproof ink which indicates durability. When durability of colors is your preference, you cannot go wrong with this set of markers.
The high quality ink in these markers properly makes the coverage opaque no matter where you use it. Most common paintable surfaces such as rocks, stones, metal, wood, canvas, plastic, ceramics, etc. materials are ideal for using these markers.
As the ink is oil-based, colors that come out from the markers look quite vibrant and rich in tonality. Whether you are a professional or beginner, the colors will not disappoint you. The set includes pretty much all the colors that you would need to add great perfection to your creations.
These waterproof pens are non-toxic; so, your kids will be just fine while using them for their color projects. Writing, drawing, painting, etc. can be done very smoothly. The ink dries fast, and doesn't fade too soon unlike conventional ones.
If you like to customize your regularly used items and accessories such as shoes, helmet, skateboard, cup, etc. by painting, the bright and durable colors will look pleasing to eyes.
Highlighted Features:
Oil-based fast-drying color pens
Waterproof and weather-resistant
Bright colors
36 medium tip color markers
Paintable on a wide variety of surfaces
15. Moxix Acrylic Paint Marker Pens
Last but not least, this is one of the most high covering marker sets on the review. These color pens will come great beneficial and efficient for DIY or coloring projects that require bold, wide, and high covering strokes.
Top quality inks are long-lasting as well as give the artists a convenient painting experience. This is no exception to these markers. The colors are waterproof and weather resistant. Elements and weather issues will not make your drawing or painting washed out like most conventional markers.
When it comes to stroking bold and high covering lines, the smooth ink flow as well as opaque colors will significantly improve your overall drawing experience.
Your creativity and crafting skills aren't only limited to rock painting. Understanding the fact, the manufacturer formulated the ink to be applicable on canvas, paper, wood, metal, ceramics, glass, tires, plastics, and other surfaces as well. Let your creativity make noise regardless of the surfaces and conditions.
As these are oil-based colors, you are assured about the longevity of the artworks that you make using these markers. The colors that come out are rich and vibrant enough to make your coloring projects eye-catching and attractive.
You will get a smooth flow of ink while using the pens, and also the colors will dry without taking too much time like most solvent-based markers.
The manufacturer will provide you a free E-Book to guide you to various crafting and coloring projects.
Highlighted Features:
36 colorful and vibrant markers
Oil-based non-toxic low-odor ink
Weather-resistant and waterproof
Paints on various materials
Wearable medium tip markers
What to Look for Before Buying Paint Pens for Rock Painting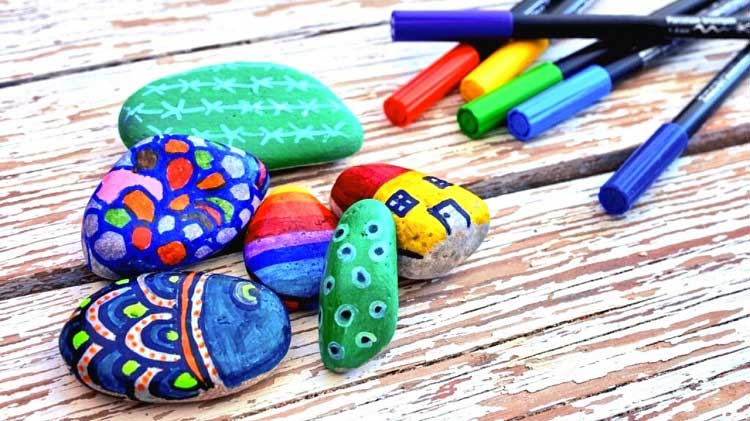 Although rock painting color markers don't cost much, still, to make your investment worth spending on quality markers, be sure to check for the following key things before you buy.
Ink Type
You will come across two types of inks; water and solvent based.
Theseinks are the most popular and commonly used ones. Both artists and DIYers use this type of colors for their DIY or color projects. These markers are odorless, dry quite faster, don't include any toxic substances, and child friendly. However, durability isn't as good as solvent-based ones.
These ones come with a wide color range, durable ink, and great color vibrancy. Drying time is relatively slower compared to water-based markers.
Most of them have odor more or less. These markers bleed through paper. But, for painting on rocks, stones, glass, metals, etc. surfaces, there will be no such issue.
You will have to spend more for a solvent-based color marker set.
Tip Size
Markers for rocks and other similar materials, come with fine and medium round shaped tips. Fine tips can be as small as 0.4mm up to 0.7mm.
These are great for outlining and highlighting narrow, tiny, and thinner lines with great precision. For artworks that are mostly done with thinner strokes, go for markers with fine tips.
On the flip side, there are markers with a bit larger and thicker tips of 2-5mm for medium, wider, larger, and thicker strokes. If you are to cover large areas on your art pieces, having a set of thicker markers will come great for your crafting and painting.
Numbers of Colors
For rock painting, stone painting as well as painting on other household items, you don't need much a wide range of color collections.
If you are a DIY person or occasionally paint on rocks, mugs, and other materials, don't waste money buying more color markers. As long as there are primarily colors, you are good to go.
But, if you are an artist or enthusiast who needs to use a lot of colors on artworks, be it on rock, glass, metal, paper, etc. surfaces, go for a set that includes more colors. Make sure the color set includes quite a few metallic markers, it will add great variety in your paintings.
Color Quality
As far as rock painting is concerned, more colorful and vibrant inks are needed. Rocks usually have a darker surface in most cases; thus, you need the color to have enough vibrancy to make sure they on the rocks look pleasant even if the rock is a bit darker.
Of course, a highly pigmented ink will also look great on other surfaces.
How to Prepare Rocks for Painting?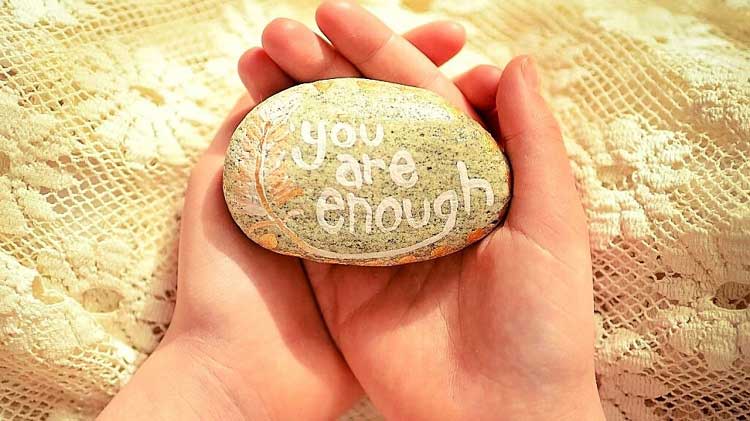 So, you have gathered all the rocks that you could find for painting purposes. Before you proceed to paint, preparing your rocks is a must to make the paintings look great and long lasting.
Although you can paint any rock, it's ideal to pick flat and smooth ones for painting purposes. Rocks with ridges are harder to paint.
Be sure to wash the rocks properly. Check if there is still any dirt left on the surfaces. Wash them several times using dish soap if needed. Then let them drain with water, and then dry properly.
The surface of the rocks can be damaging for your markers. So, seal them before you stroke the markers. You can use spray sealer and clear brush to do that. Or, you can prime the rocks using white paint; it will make the colors more vibrant on the rocks.
If you have bought the rocks from online, and these have a waxy coating on them, be sure to remove the coating by boiling or using nail polish remover.
You can also make rough rocks super smooth and easy to paint by using wood putty on them. Try it, you will not regret for sure.
How to Permanently Write on Rocks?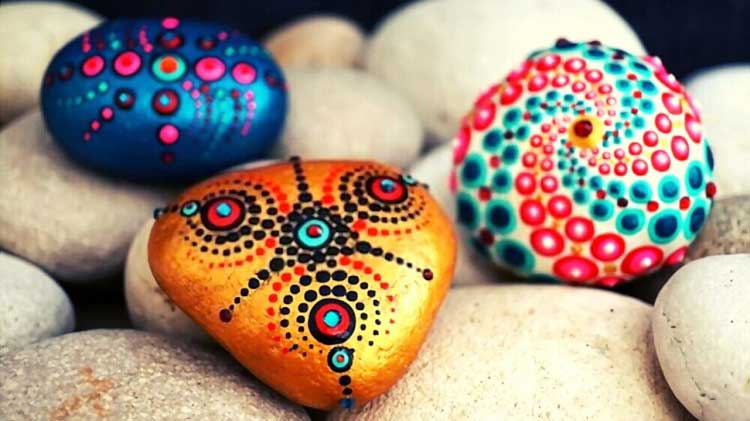 Writing your favorite quote on rocks sounds fun. But, for how long can you preserve the writing? Great looking hand lettering on rocks can be done permanently without spending and doing much.
After you prepare the rock for painting, write the text on the rock using a pencil. After that, use highly pigmented permanent markers to overwrite the text. Using solvent-based markers is recommended as these are the most long-lasting ones. Once you have finished writing on the rock, let the colors dry completely.
Now, you will need Mod Podge to make the hand lettering permanent on the rock. Apply one coat of Mod Podge on the text, and let it dry. Then, apply another coat. Be sure to dry the coating completely for this time as well.
Use whatever sealer you prefer on the rock. It will preserve the writing permanently.
Rock Painting Tips for Beginners
Whether you are a beginner or have been painting on rocks for a long time, and have still not figured out what's the best and easiest way to rock paint, I have gathered some expert tips for you.
Always pick smooth and flat rocks to make painting a lot easier and pleasant looking.
Paint the design or text you like on the surface for a couple of times on areas that don't need fine outlines. Let each coat dry before re-coating the rock.
If you use pastel colors, use a stylus or small brushes to make finer details and small dots.
Be sure to use water or oil-based color markers, as these are the easiest to paint on rocks with, and they also last much longer.
If anything goes wrong, wipe the paint off using a damp cloth while the paint is still wet.
Frequently Asked Questions (FAQs)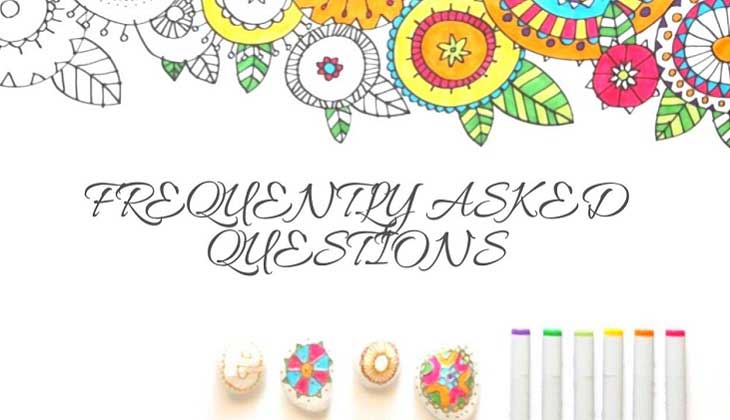 What pens write on rocks?
Both water and solvent-based marker pens can write on rocks with great results. There are a wide variety of markers. You need to pick one that is high-pigmented, well-saturated in colors, and have great vibrancy. As rocks have darker surfaces in most cases, the color pens should provide enough vividness.
Can you use Sharpies for painting rocks?
When it comes to rock painting, Sharpies aren't the best choice for professionals as well as enthusiasts. Rocks require differently formulated color markers that don't look washed out even on darker surfaces. Also, Sharpie markers are hard to seal, the colors can be a bit touchy as well.
Do you need to prime rocks before painting?
You should apply prime on porous rocks using white paint. Colors don't appear well on porous surfaces. Thus, if you apply the prime, the colors will be more vibrant. Also, it will be much easier to paint, and provide the rocks a pleasant finish.
Do painted rocks need to be sealed?
Sealing is recommended if you want the rock paint to protect for a long time. However, good quality acrylic paints are self-sealing; thus, you don't need to seal any further.
What pens write on rocks?
Due to the solid surface, you need different types of pen for rock paintings. The regular pens will not be able to paint properly. There are marker pens that are specially formulated to draw surfaces such as rock, stone, glass, plastic, etc. You can use those color pens or markers to make rocks look colorful.
How do you seal kindness rocks?
You may use Mod Podge or any other spray on sealer to make the rock waterproof. However, there are some marker pens I have listed above that can also make rocks waterproof or water-resistant to some extent.
Final Words
Not everyone would need an expensive set of markers. If you rock paint occasionally, just to satisfy or make yourself relax, consider not spending much. You don't need lots of colors.
However, get the best paint pens for rocks with many color options if you are an artist or professional. Your artwork should have the touch of high-quality pigmented ink.
Related Articles:
Which spray paint is best for graffiti art? Check our top picks!
Which brushes are used for acrylic painting? Our details guide!