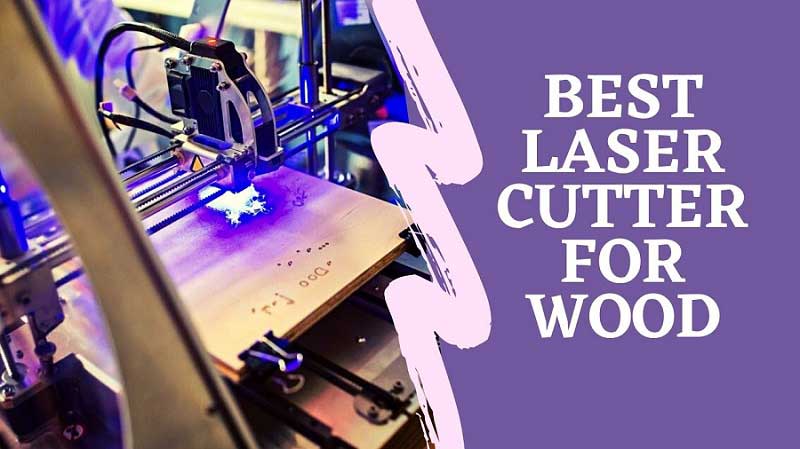 When your DIY wood projects require accurate cutting and precise finish, the best laser cutter for wood can bring you endless possibilities. Most professionals as well as enthusiasts use these machines to engrave stunning and complex graphics into deep wood.
Whether it's your business purpose or something you need to do in most DIY projects, investing in one machine can significantly improve your works and save both time and effort.
But, the main hazard is to pick the right machine for your work that will ensure efficiency, precision, ease of use, and flexibility. We have come with 15 suggestions that can handle wood cuttings of different requirements.
A Quick Comparison of Our Favorites
IMAGE
PRODUCT
FEATURES

Best Overall

Best Overall

✔

Engraving Area: 11.8 x 7.1 x 1.8 inches

✔

Sturdy and long-lasting

✔

Suitable for versatile materials

Check Price

Best Value

Best Value

✔

Engraving Area: 11.8 x 7.1 x 1.8 inches

✔

0 to 10000 rpm speeds

✔

Best for beginners

Check Price

Premium Choice

Premium Choice

✔

Cutting Area: 24 x 24 x 3.3 inches

✔

Perfect wood engraver and cutter

✔

Worth buying

Check Price

✔

Engraving Area: 11.8 x 7.1 x 1.8 inches

✔

Offline controllable

✔

Easy to set up

Check Price

✔

Engraving Area: 15.8 x 19.7 inches

✔

Perfect for Engraving soft materials

✔

User-friendly

Check Price
What Is Laser Engraved Wood?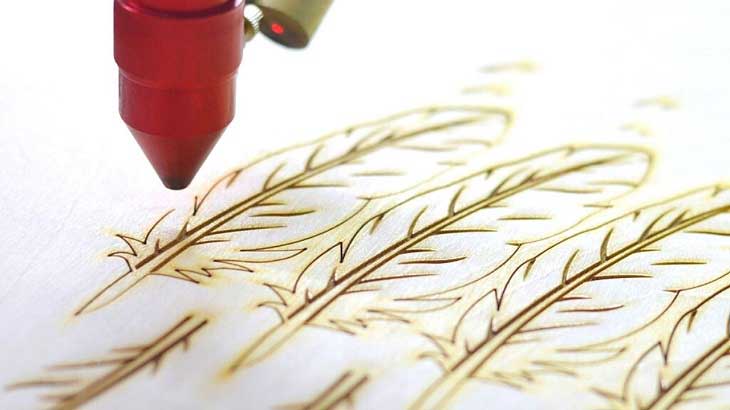 Now that you have decided to buy an engraver machine, you must know and get familiar with the basic functions of such a machine.This will help you find the perfect one for your work.
Engraver machines use a laser to engrave different designs, shapes, and images on wood materials. Not all the woods are ideal for this job, only the softer ones are considered ideal for engraving.
The machine runs on a software from which you can select any image or design to print on the wood. It can take as little as 30 seconds to as high as an hour to engrave on the material depending on the complexity of the design or image.
Best Laser Cutter for Wood Reviews: Top 15 Picks
No need to spend time any further. Among these machines, you will find the perfect machine according to the difficulty level of your woodworking projects.
1. Genmitsu CNC 3018 PRO Router Kit – Best Overall
With impressive upgrades and great spaces, Genmistu CNC 3018-Pro machine is capable of handling complex carving and engraving projects. Whether you are a CNC student or a DIY enthusiast, you will find the machine to be highly beneficial for whatever projects you will be using it.
The machine is compatible with a wide variety of types of materials. You can work on plastic, wood, aluminum, acrylic, PVC, and PCB materials flawlessly. With its 1.8 inches depth of operation, handling your DIY experiments and projects will not be much of an issue for this machine.
To further enhance its performance, the machine is equipped with a durable ABS case and fan. These two elements greatly influence the stability as well as the performance of the mainboard.
It comes with custom software that is made for this particular mainboard to make sure both the hardware and software is well-optimized, and works seamlessly. The software provides you precise control on the movement. You can rely on its functions and simplicity regardless of the difficulty level of your projects.
CNC 3018-Pro also allows you to manually adjust the axis. You will no longer need to connect the machine to a computer and download files for that. So, you can work without any compromise no matter where you are.
You can add a separate laser module if your projects require it. It will unleash the true power and enhance your skills further.
Highlighted Features:
Advanced power adapter to control input/output
Optimized custom software for the mainboard
Manual offline control
Works on versatile materials
Laser module can be added
2. Mcwdoit Upgrade Laser Engraver Kit – Best Value
For the beginners and most DIYers, this laser engraver machine comes with specs and features that make it the best laser engraver for wood for such individuals. It will enhance your learning and increase creativity skills while keeping operations user-friendly.
With its large 300x180x45 mm work surface, you can work on applications that require moderate space for flexibility. Whether you are to work on plastic, acrylic, copper, aluminum, PCB, CCL, and other similar soft materials, you will find this machine to be enough to show great cutting works.
The control board is well-optimized with its GRBL software that offers you great stability while working. It delivers high power for better and precise results. Also, they ensure user-friendly operations with great flexibility.
For accurate and precise results, you need to focus the laser module to manually adjust while working on aluminum.
You can conveniently import pictures for engraving, no need for creating gcode and taking extra hassle. It can store up to 1024MB of G-code for your convenience.
Like the previous laser wood cutter, this one also offers you a manual offline controller. You can work flawlessly without connecting to the computer.
The mainboard got a sturdy case that is very less likely to take any damages. Also, there is an external fan with a fixed heat sink for better performance. The power adapter provides protection against self-contained short-circuits for convenience.
Unfortunately, just remind that this engraver is not for industrial grade level. Otherwise, you will get a handful of accessories with the machine to work like a boss.
Highlighted Features:
Wide working surface
Works on versatile materials
GRBL optimized software
Controllable manually
Perfect for beginners
3. BobsCNC E4 CNC Router Engraver Kit – Premium Choice
For those who are looking for a starter CNC router without compromising the quality as well as the performance, Evolution 4 router can be an ideal machine for them.
The machine features a rigid laser cut frame that does the job with great accuracy and precision. Even if this is the first time that you are about to engrave on wood or other material, you will find the laser module to be very straightforward and easy to use. The cuts will have great details and finish on them.
Its SG20U supported rail system is the component that maintains precision when you work on any materials. The rail system is reliable and user-convenient to keep things easier yet top-notch.
Equipped with Makita RT0701C router and Arduino microprocessor, the performance of the machine is quite satisfying. It uses the GRBL software system, which is highly optimized for the given hardware.
However, the manufacturer recommends using Java-based software to operate this machine flawlessly.
There is a USB connection port to establish communication for detail work. The work surface measures at 24x24x3.3 inches, which is more than enough for most DIY and educational purpose projects.
The machine isn't an expectation to most CNC routers on the market when it comes to 3-axis CNC, but you will get almost double cutting area compared to conventional models. For your baby steps toward the CNC industry, this can be the best wood laser cutter to start with.
Highlighted Features:
Rigid construction
24x24x3.3 inches large working surface
3-axis CNC
SG20U compatible rail system
Compatible with Java-based software system
4. MYSWEETY CNC 3018 Pro Engraver
This can be the best wood laser cutter for newbies and CNC students. Whether you engrave or process wood for hobby or professional purposes, the machine will suffice your needs from pretty much all aspects. Beautiful looking curved text and patterns are not much difficult to print for this laser cutter machine.
You will get 300x180x45 mm of engraving area to accommodate your materials. For beginners, this space will be more than enough. The frame is mostly made of aluminum material; so, you are assured about its strength and durability.
The machine runs on an Arduino GRBL control system that makes observing and controlling the engraving work a breeze. Its GRBL 1.1 board has over-temperature and over-current protection for convenience.
When you don't have any PC or laptop nearby, you can still control the operation offline. All you need is an SD card that writes G-code into the root directory. You can also manually adjust X, Y, and Z-axis locations to set the engraving starting point.
If you need an upgrade, you can easily add a laser module kit to the machine to further enhance its capability.
The machine can smoothly engrave plastic, wood, PVC, PCD, acrylic, etc. soft materials. Don't try to engrave on hard metal or materials using this laser wood engraver.
Highlighted Features:
Effective engraving surface
Aluminum made sturdy base
GRBL control system software
Offline controllable
Supports laser module
Engraves on various soft-materials
Mainboard is over-current and over-temperature protected
5. Bachin Laser Engraver Kits For Wood
For those who are looking for a cheap laser engraver for wood, this engraving machine has some exciting features and specs to create much appeal for such buyers.
Equipped with a 500MW laser power module, you will be able to engrave most DIY and amateur projects without much struggle. However, if you also need to cut on the materials, go for the version with 2500MW or 5500MW laser module.
The machine can nicely engrave on soft materials such as wood, bamboo, paper, soft leather, etc.
Simply connect the machine to your PC or laptop and export any pictures to engrave as it is. With its 40x50cm engraving area, you can accommodate smaller materials for DIY projects without much compromise.
Made of aluminum and acrylic material, the machine is quite durable. In addition, it weighs only 5kg; thus, you can move it from one place to another easily.
Compared to other machines on the list, assembling it will not require much effort from you. It will be much quicker and super easier.
There are two software that run the device. Be sure to download both of them to make the most out of its capabilities.
Other than the machine, you will get a power supply, USB cable, safety glasses for convenience.
Highlighted Features:
500MW, 2500MW, and 5500MW laser option
40x50cm working area
Aluminum and acrylic build
Engraves on soft materials
User-friendly software to control the engraving process
Directly engraves from picture files from computer
6. SZCY LLC Wood Router Engraver with Offline Controller
When you need precise and accurate engraving works with ease of operation and durable build, a wood router machine like this, fits these need the most.
Equipped with a powerful 3000MW laser, this machine can handle some serious engraving projects whether it's personal or business purposes. As the laser module is a bit larger, you can be assured about efficient and precise operation.
Its focal length is adaptable to various industrial engraving machines for convenience. Plus, the control board features an integrated driver chip, fan, and fixed heat sink to keep the temperature to its minimum. This helps to achieve maximum performance, and also increases the overall longevity of the machine.
The heat dissipation job is smartly handled by its aircraft aluminum shell with heat sink groove. Optimization between hardware and software is solid; thus, it affects the engraving performance positively.
You will have much better control over the process. Whether it's controlling the movement or observing the operation, both are easier and seamless on this laser cutter.
Apart from wood, you can cut on a wide variety of materials including aluminum, plastic, acrylics, PCB, PVC, and many more. So, no matter what your project is, or client requires you to do, there will always be material that you can show your great engraving creativity.
Highlighted Features:
Powerful 3000MW laser module
Aluminum heat sink temperature control
Adjustable focal length
Offline control without the need of a computer
Supports both Arduino and GRBL software
Engravable on various materials
7. Yofuly Laser Engraving Machine
When precision with great-looking engraving cuttings are required for whether professional or personal use, you need a more powerful laser cutter just like this engraving machine. Even though the machine suits the professionals well, beginners will find operating it quite convenient and user-friendly as well.
With this powerful engraver machine, you will be able to engrave most complex designs and pictures with great precision. You'll get 11.8×7.1×1.8 inches engraving area with maximum 120W power. The work pieces will be neatly engraved no matter what material you prefer to print the design on.
With such a powerful laser, you can cut thicker materials without any issue, which makes it the best laser cutter for wood within its class.
Great engraved design can be printed on wood, bamboo, PVC, plastic, leather, silicone, acrylic, bone, aluminum, stainless steel, and other soft metal surfaces.
In this upgrade control board, there is a built-in cooling fan for dissipating heat. Thus, you can engrave for a long time, while not reducing much of its overall lifespan.
However, new v3.4 version control board allows you to add white shell. It will prevent early damage. Its computer software has an easy and simple interface, which is great for beginners. You can also use TF card besides the micro SD card.
When no device is connected with it, the machine can still receive your input and start engraving offline. You just need to make sure that the picture is stored in the machine.
Highlighted Features:
Built-in cooling fan to reduce heat
Engraves on a wide variety of materials
Controllable through computer
Offline engraving support
User-friendly GRBL software
8. Orion Motor Tech 60W Co2 Laser Engraver
Equipped with a powerful 60W laser cutter, this machine from Orion Motor Tech can further enhance your engraving precision as well as increase your working experience. Whether you are to get the best wood engraving machine for household or business use, you can consider getting this one.
Even if your projects require you to create complex engraving patterns, it can get you the desired cuts without much issue.
You will find its 20×28 inches working area to be large enough for most applications. Also, the pass-through door is specially designed for oversized and odd-shaped objects, which comes very useful. Apart from wood, you can also create stunning engraves on leather, glass, acrylic, and many more materials.
The machine features an advanced Rudia Digital Control Panel from which you can edit graphics and control the laser function conveniently.
Its beehive-pattern cutting platform makes the overall operation quite stable while reducing a significant amount of noise and lowering the heat for smaller objects. In addition to that, the aluminum cutting platform comes great at adjusting the height and dealing with rigid objects such as acrylic materials.
If you are used to working on Lightburn or LaserCAD, the machine is capable of working with these programs swiftly.
To enhance the overall performance and durability, there is a mounted air compressor on the laser head that removes excess heat and combustible gases.
Highlighted Features:
20×28 inches large working area
Powerful 60W laser tube
Rudia controller with LCD display
Engraves a wide variety of materials
Dual working platform
4 movable wheels
9. Laecabv Engraving Machine With Protected Board
The next product on the list is for professional uses. If you need quite a large working surface to accommodate large-sized materials, Laecabv CNC 3018 Pro Max can get you enough space to engrave with ease.
For large materials, the machine has a large 300x180x40mm working surface. So, you don't have to compromise while cutting larger pieces.
Its GRBL 1.1 software allows you to control the cutting process and observe it. Using the software is quite easy as it comes with a user-friendly interface. The software is well-optimized with a machine that assures you of stable performance every time.
Due to the wear-resistance and temperature-resistance construction, you can be rest assured about the durability of the machine for commercial usage. There are protection boards on both sides to make it even more convenient to operate. Its small size and lightweight construction allow you to carry it easily.
The control board of the machine has got all the necessary protection that makes a device to perform safely. It has overflow protection to prevent accidental damages due to current instability.
There are also adjusting tool, limit switch, steering gear, as well as 4 dissipation cooling fans to keep the machine performing optimally.You can engrave on various materials with both online and offline support.
Highlighted Features:
Large working surface
Wear and high-temperature resistant
Great performing well-optimized GRBL 1.1 software
Overflow protected board
Heat dissipation cooling fan
Offline engraving support
10. Titoe Laser Engraving Machine
For business purposes, you need a laser wood engraver with a more powerful laser that can engrave time-efficiently. To meet such commercial purposes well, this CNC Carving and Engraving machine is something worth considering.
With its powerful 5500MW laser power, you can engrave more complex and time-consuming designs within a relatively short time. For your convenience, the machine can engrave out of JPG, BMP, SVG files directly. There is a cooling fan at the bottom of the module to keep the temperature low to enhance performance.
You can manually adjust the axes positions to locate the starting point. It's not necessary to connect to a computer all the time. If the SD or TF card has the necessary files to engrave, this is all you will need to cut materials successfully.
So, offline control on this machine will be more than enough for commercial engravings as well.
The machine runs on the GRBL or Laser GRBL control system conveniently. You can observe and control the engraving procedures without doing any hassle. There are two 5mm acrylic baffles on both sides of the device for you to easily monitor what the laser does to the given material.
You will get 11.8×7.1×1.8 inches of effective working area to accommodate materials for most projects. Engraving wood, plastic, PCB, CCL, acrylic, copper, aluminum, and other soft materials will be much easier using the machine. There is a built-in CNC router to create 3D objects as well.
Highlighted Features:
Highly powerful 5500MW laser with air cooling
Protected acrylic baffle design
Offline control
Aluminum shell and heat sink groove for heat dissipation
Adjustable focal length
Engraves on different soft materials
11. Mophorn Laser Engraving Machine
If you frequently have to engrave on smaller objects, this laser cutter will be much beneficial for your projects.
Its CO2 40W advanced laser tube discharges high-concentrated gas to produce powerful laser. With such power, you will be able to engrave complex designs and cut precisely.
The laser head is made of high quality and durable material that also contributes to the overall precision as well as performance.
Additionally, the exhaust fan and air vents contribute to reduce the temperature. There are also emergency stop, power, and lighting switches for convenient operation.
You can connect your desktop or laptop through the USB port that the machine comes with. It allows you to control the engraving process with great precision.
With the 12×8 inches of working surface, you can work with precision on smaller objects.
Its integrated CoreDraw software has the ability of both Newlyseal and Newlydraw. You can conveniently crave and cut using this software on a Windows PC and laptop.
Great engraving work can be achieved on materials such as wood, rubber, bamboo, paper, acrylics, and other non-metal ones.
As far as durability is concerned, you can rely on it regardless of tough use and abuses.
Highlighted Features:
12×8 inches working area
Powerful 40W water cooling laser module
Includes a USB port
Runs on CorelDraw software
Heat dissipation system
 12. NEJE Laser Engraver For Wood
Even though the machine features a 20W laser cutter, its smart operation, convenient user experience, and precision of engraving make it an ideal and inexpensive machine.
If you are looking for a cheap laser engraver for wood, you can consider buying this one. You will hardly find another mid-range wood laser engraving machine like this one.
Its 20W laser cutter is able to engrave different materials with 5mm to 50mm laser focus range. With its 10mm optimal focus, you can easily adjust the laser point with your hands.
So, if you mostly have to deal with smaller engraving projects on soft materials, this machine can efficiently handle all. To protect the laser from damage and enhance its overall lifespan, it features a temperature sensor and surge protection design.
The machine also features convenient offline multi-functional keys that allow you to engrave on materials with great precision without using a computer. It also got the built-in gyroscope protection that records the working position for convenience.
Whether you have a Windows PC, Mac, Android phone, or iPhone, controlling and observing the engraving process will be much smoother and convenient for the device.
If you accidentally touch or anything causes the machine to shift, its smart sensor will detect the issue and stop engraving to prevent anything from going wrong.
You can use CAD and Inkscape software that deliver professional-grade results. The software allows you to accurately execute the designs or image files. You can also edit the files if needed.
Made of aluminum alloy, stainless steel, and composite materials, you can rely on this machine for durability.
Highlighted Features:
20W laser cutter
Windows, Mac, iOS, and Android control
Offline operation using multi-functional keys
Gyroscope protection device
Compatible with Inkscape and CAD software
13. VEVOR CO2 Laser Engraving Cutting Machine
This laser engraver cutter is for those hobbyists and craftsmen who regularly deal with engravings that require precision and great detailing. You can customize your designs and patterns to further enhance the engravings on surfaces.
Cheaper and conventional laser cutters shake while working, which affects the precision of engraving. But this is something that doesn't happen when you work with this machine. The complementary belt and stepping motor engraves with great precision and accuracy.
Its 80W laser tube does all the magic. The discharge produces high-pressure that excites a highly concentrated CO2 gas to produce laser. With a wavelength of 10.6um, engravings and cuttings come out exceptionally well and stunning.
The laser tube engraves 0-20 inches per second depending on the materials. If you are to use it for cutting, the machine can cut at a speed of 20 inches per second.
Apart from regular wood surfaces, you can also show your creativity and work of excellence in plastic, leather, paper acrylic, crystal, horns, and many more materials. Whether you use your work pieces for advertisement, craft, gift, garment, or other purposes, the machine will get you decent and attractive results.
For convenient operation, the machine has 28×20 inches working area to accommodate most average to large materials.
Using CorelDraw software for operating this amazing wood cutter machine, it will be much more convenient and user-friendly to you. Regardless of your skills, you will be able to control and observe the operation without much hassle.
Highlighted Features:
28×20 inches working area
80W laser tube
10.6μm laser waving
CorelDraw software to control and operate
Cuts and engraves on a wide variety of materials
14. Glowforge Plus 3D Laser Printer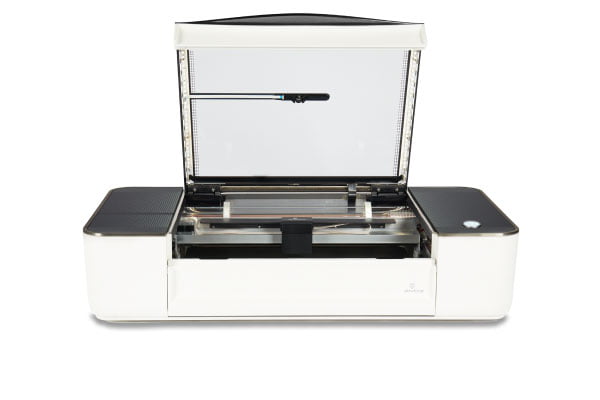 Last but not least, this 3D laser printer does engravement works conveniently and swiftly. If dealing with hassles to get things done doesn't fit your style, this one will be just perfect for you.
With its 40W laser cutter, you can create attractive and eye-catching artworks. Whether it's for gifting, business, or personal use purposes, you will find the machine to be very convenient for these kinds of jobs.
All you need is to select an image, PDF, or drawing of your desired design, and print exactly the same design on various types of household materials including wood, plastic, leather, paper, fabric, acrylic, cardboard, glass, and metal.
Its automated process focuses, detects, and prints without requiring much effort from you. The machine allows you to carve up to ½ inch deep, 11 inches tall, and 19.5 inches wide.
Using this 3D laser printer, you will be able to create stunning 3D engraved products. You will be able to explore doing a lot of things once you bring this amazing machine to your home.
If you are a good artist, and want to breathe life to the arts, just take a pen and draw the design directly onto your desired material. Within a few minutes, you will see the design transform and come to life. There are also onboard cameras to see the preview of your design to make sure you are doing it correctly.
Highlighted Features:
Powerful laser cutter
Fully automated
Precise laser for operation
Allows manual drawing
Live camera preview
Wi-Fi connectivity
15. Kkmoon Desktop Laser Engraver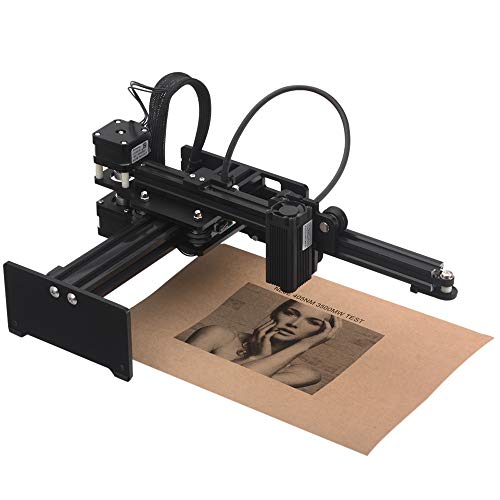 Laser engravers for artistic purposes need to have powerful components and superior durability to cope up with loads of work. You will get all these benefits from Kkmoon Desktop Laser Engraver, which will also handle your workloads more efficiently.
You can create most complex engraving works, with its high-quality laser module. The laser focus is easy to adjust; you can do it easily using your hands. For precise operation, the head of the focus is fixed to the rubber gasket.
With its 150x150mm working area, you will be able to deal with smaller sized objects without much struggle. The machine can create beautiful engraving works on materials such as wood, paper card, plastic, leather, and other soft materials.
Made of acrylic, stainless steel, and aluminum, this laser cutter machine is created to last. It takes 3500MW of input of 12V to create 600MW of optical power and 405nm of laser wave.
If you prefer using Inkscape and CAD software, the machine can directly execute .nc and .dxf files accurately. More so, you can export JPG and PNG files directly through the software to engrave according to the file. These advantages make it the best desktop laser engrave on the list.
There is a built-in gyroscope protection device to record the work position from the beginning. This helps to prevent accidental placement when you have touch unwillingly or have displaced the object.
Highlighted Features:
150x150mm working surface
Input power 3500MW, output optical power 600MW
Easy to adjust laser focus
Directly executes image files
Built-in gyroscope protection device
What to Look for Before Buying Laser Cutter for Wood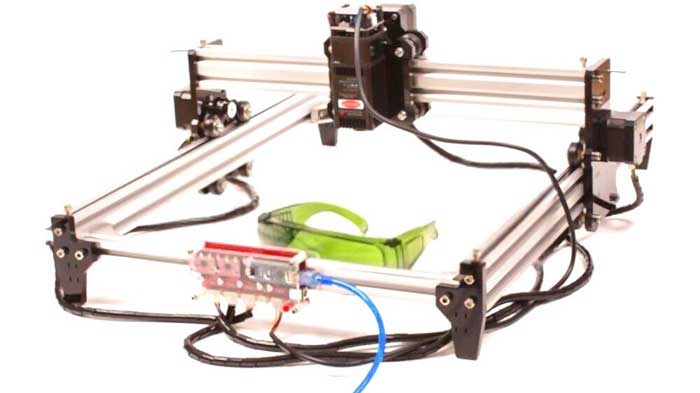 Investing in a laser cutter isn't a joke, especially when you are to get one for business purposes. Even if you are looking for a machine for your DIY projects, you don't want to see engravings and cuttings on materials come out below average.
While researching, I found some factors that can be considered as standard for the best laser cutter for wood. Be sure to see through these key factors before you finalize your order.
Types of Laser Cutter
Although these are all laser cutter machines, the functionalities and way of working are different. Once you have a clear understanding of different laser types, it will be easier for you to choose one that suits your needs.
Laser printers are the most reputable and commonly used machines by the beginners as well as DIY enthusiasts. The laser beam uses CO2 gas to be able to do all the beautiful cuttings on the materials.
At an affordable price point, these printers offer highly efficient performance, useful features, convenient user experience, and many more.
These laser cutting machines are of neodymium-doped crystals as you probably have guessed. It delivers a more intense and laser of higher wavelength compared to the CO2 laser. The intensity allows the machine to cut through thicker materials including some metals and ceramics.
However, you will have to spend a considerable amount of money for maintenance.
Theselaser machines work using a seed laser that amplifies through specially made glass fibers. The laser intensity is quite similar to that of Neodymium, and you don't need to spend much for its maintenance. Usually, it's used for laser marking and labeling workpieces.
Laser Engraving/Cutting Techniques
Laser modules work differently to serve specific purposes. Depending on your work type, you need to decide which one to buy.
This method fires vector beams persistently to perforate through the materials. If you need to engrave or cut vector graphics on your work pieces, this is the type you need to go for.
Following the same work procedures, vector engraving is a low intensive laser operation that only engraves the topmost part of the materials. It doesn't cut, rather it engraves, which is also known as 'kiss cuts' among the professionals.
Compared to vector cutting, this one is a less intense way of modifying materials. Raster engraving only cuts the top layer of the materials. You can use different colors to engrave on your work pieces. Without perforating the surface, it cuts with great details.
Also, you can produce different raster effects as this type works considering dots per inch. The machines are mostly used for wood and leather.
Cutting/Engraving Materials
Laser printing machines can handle a wide variety of materials. More powerful machines can cut or engrave on thicker materials, whereas average models show decent performance on soft materials.
You can print your desired designs and images on wood, acrylic, cardboard, forex board, leather, metal, and more materials.
Working Surface
Different laser printing machines come with different sizes of working area. Considering the size of materials that you mostly have to deal with, you need to choose a machine that can accommodate the size.
The working size also influences the size of the machine. Some models come with an adjustable bed feature to fit materials of different sizes. You can go for smaller bed size, or larger bed size, or a machine with size adjustability feature.
Laser Power
The power of the laser module is measured in watts (W). More watts means a more powerful laser. The suggestion would be to pick a larger machine even if it comes with a low power laser. You can upgrade the laser module if the model allows you to do so.
Best Laser Cutter Brands On The Market
Brand value matters a lot for laser wood cutting machines just like other expensive work tools. Among the professionals, there are a few brand names that are well-known for their reliable, proficient, and user-friendly machines.
BobCNC
On every shortlist, there will be one or more wood engraving machines from BobCNC. Machines made by this brand are truly unmatched in the industry. Their engraving and cutting machines include a router to provide more superior performance.
Most of their machines work with all operating systems. The working area is comparatively large on their wood engravers. You can get both the cutting engraving services from one machine conveniently. BobCNC router machines fit for business purposes-cutting and engraving the most.
Mophorn
Although Mophron engraver machines aren't as expensive as BobCNC, if you are to compare the performance of machines from these brands, it would be hard to conclude considering all aspects.
Materials are engraved and cut with great precision and details by Mophron machines. Their temperature control technology highly influences the overall performance, and enhances the lifespan. And of course, you can engrave and create stunning designs on a wide variety of materials.
Orion Motor Tech
Mid and high-end Orion engraver machines feature powerful laser modules to handle tasks with great precision within a short period of time. You will be able to work on large workpieces as their machines have enough space to accommodate larger materials.
You can engrave with impressive depth and precision. Most of their machines run on CorelDraw and AutoCAD software, which are user-friendly and provide a lot of functionalities. Like most popular brands, their machines are made of quality materials to last much longer.
Glowforge
When it comes to 3D laser printers, most experts would suggest going with Glowforge without giving a second thought. The prints have great design as well as deliver satisfying performance on a variety of materials.
Their machines are so user-friendly that even beginners would not have much trouble figuring out how to print great designs by tweaking the features. If budget isn't an issue, and you want to get the most convenient user-experience, Glowforge is the name to rely on.
Kkmoon
Run by Inkspace and AutoCAD, Kkmoon engraver machines are well-known among artists for precise and accurate engraving work on versatile materials. Their machines are great for working on smaller materials.
Reliable performance, great build quality, and user-friendly software make Kkmoon engravers appealing to enthusiasts as well as professionals.
Laser Cutting vs Engraving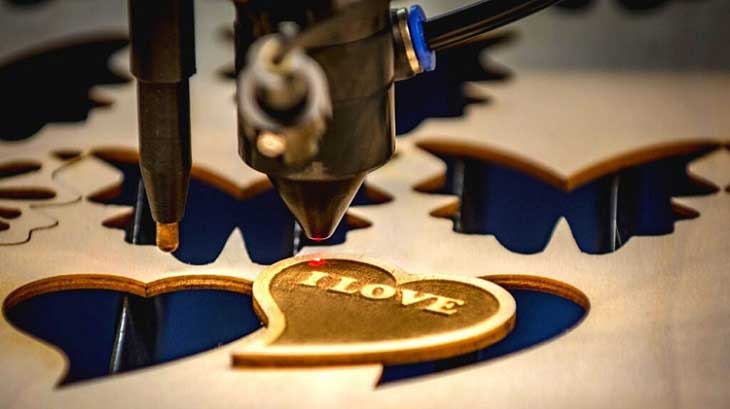 Even though you cannot exactly differentiate engraving and cutting works on different materials, these are two different processes of designing.
Laser Cutting
This is a much faster way to cut materials with greater depth. Even though the quality of engraving isn't quite satisfactory in a laser cutting machine, when it comes to cutting, the machine ensures a higher quality creation.
One major difference between these machines is that the focal length on a laser cutting machine is more tolerant to height variations while producing much less taper in the cutting edge. Laser cutters are for cutting thicker materials.
Also, you would need a material with a larger depth to cut while maintaining the quality.
Laser Engraving
These machines have a highly optimized laser to achieve great engraving quality on cutting materials. Compared to laser cutting machines, engraving machines result in much better quality engraving with great precision and details.
However, as these laser modules have less power, it's not sufficient to cut through thicker materials. The focal length in laser engraver machines is shorter, as it is specially designed for finer and more delicate spots on soft materials.
What Is the Best Wood for Laser Engraving?
Not all wood types are suitable for laser engraving. There are certain woods that take engraving very smoothly and look more beautiful. If you want to engrave on woods, be sure to pick right wood types that are given below –
Alder
This softwood has a bit of a supple type texture with very minimal streaking. The light color of the wood looks very pleasant with dark engraved design. Although there are a few knots, these will not affect the clarity of the engravings that much.
Cherry
Cabinets made of cherry gives any room a nice look regardless of the decoration that the room has. You can engrave on this wood type. Its low resin content makes the design look more attractive. Due to its light color, the dark engraved design creates quite an appeal to pretty much everyone.
Maple
Like the other two types, maple also has a light color that looks stunning when you engrave on the surface. Its light streaking makes it an ideal choice for the hobbyists for photo laser engraving.
Laser Engraving Wood Tips for Beginners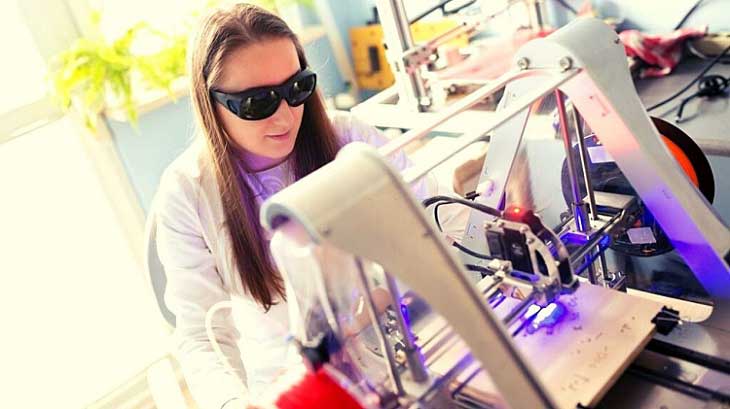 Want to take your wood engraving to the next level? If so, be sure to follow these expert tips.
If you are to engrave the same design on multiple wood pieces, engrave them all at a time instead of engraving one by one. Expand the page size on the software until it matches the full table size of the machine.
Picking an image of higher DPI can significantly increase the engraving details. However, it takes much longer to finish. If you lower the engraving resolution a bit, it will engrave a lot faster. Also, you need to use different dithering patterns that are with the Epilog print driver.
If you have any popular design, and get frequent custom orders for engraving it, consider pre-engraving the main graphics of the design into a batch of wood pieces. When custom orders come, just place the pre-engraved piece on the bed, and apply custom design.
To engrave on smaller objects, you can use the center engraving option to custom engrave quickly. You don't need to create a custom template for each one.
Frequently Asked Questions (FAQs)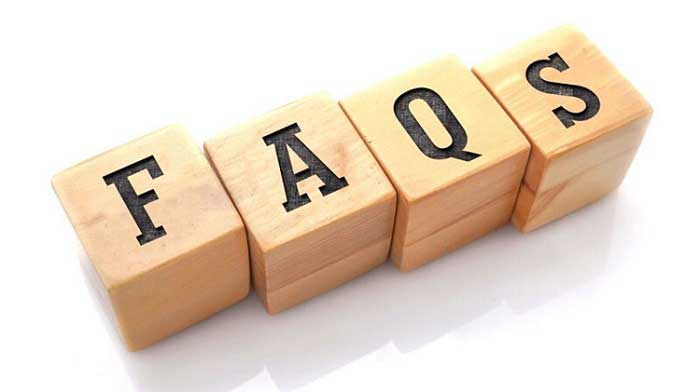 1. Can a laser engraver cut wood?
Answer: A machine with a low power laser cannot be used for cutting wood. These machines are for engraving only, which is less intensive than cutting. For laser cutting, the laser needs to be powerful enough to cut thicker materials.
2. How deep can you laser engrave wood?
Answer: There is no straight cut answer to this question as the thickness of different materials isn't the same, also not all the laser engravers are equally powerful. But in most cases, machines can engrave around 0.25mm on acrylic material. As far as the wood is concerned, you can engrave up to 0.5mm deep.
3. What can a 100-watt laser cut?
Answer: A 100-watt laser cutter is quite powerful. Apart from soft materials, you can also cut thicker materials such as 19mm pine, 9mm ply, 20mm acrylic, MDF, cardboard, leather, fabric, and many more objects.
4. What can a 60-watt laser cut?
Answer: A 60-watt CO2 laser cutter can engrave non-metal materials such as stone, glass, wood, acrylic, leather, plastic, etc. soft materials that are up to 5mm thick.
You cannot expect to cut thicker materials using such a laser module. However, engraving soft materials will result quite well.
5. How long does it take to laser engrave wood?
Answer: The time length depends on the thickness of the wood, laser power, and engraving design type. However, it takes more or less 20 minutes for a laser engraver machine to engrave on wood.
Some materials can be engraved within 30 seconds while some take up to an hour, depending on how much information the laser has to print on the material.
6. Are cheap laser engravers any good?
Answer: Smaller and cheaper laser engravers come with less powerful lasers. So, as you would expect, a less powerful laser will not be much effective.
Apart from that, most cheaper machines don't seem to perform as advertised. So, you better invest in a mid-range or entry-level engraver.
Final Words
Purchasing a laser engraver can seem quite overwhelming to most beginners.
However, if you determine your needs and the purposes for which the machine will be used for, and pick the best laser cutter for wood that meets all your professional or DIY related requirements, your money will not go in vain for sure.
Related Articles:
What is the best pyrography pen to buy? Check Our Top Picks
Looking for paint to use on wood crafts? We've summed it up!