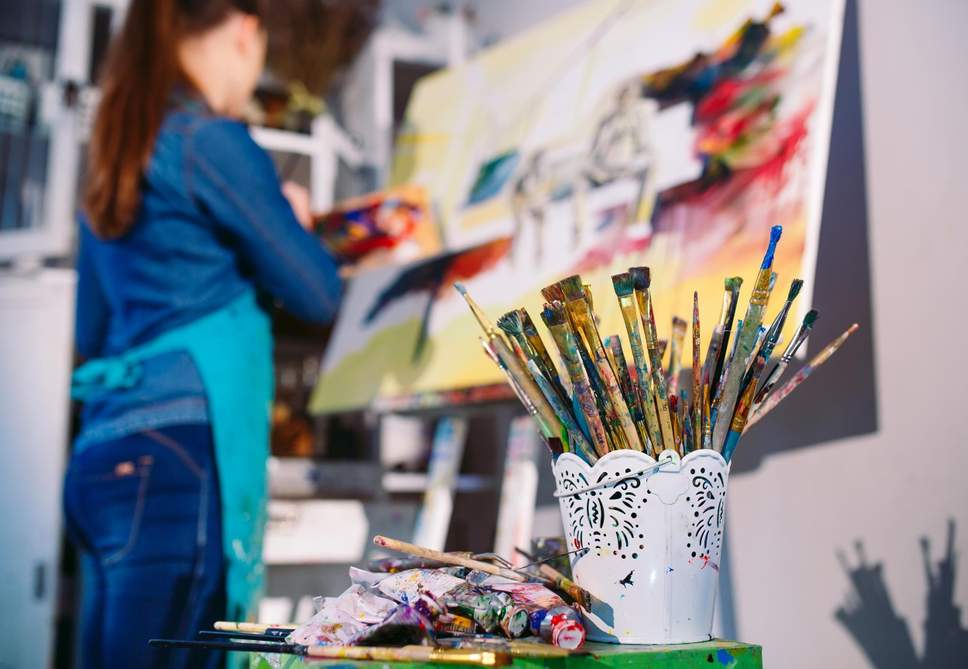 As we all know, painting with acrylics is not easy in the first place, especially if you are painting on canvas. Most of the experienced painters actually spent a lot of time and practice to master this technique of painting.
Therefore, we are going to try to explain to you everything you need to know in order to achieve the best possible results when it comes to painting with acrylic on canvas.
We will divide this article into sever steps so you can have the best insight in the whole process. So, let's begin.
Step by Step Acrylic Painting For Beginners
In order to learn how to paint with acrylics on canvas, first, you need to buy and set up your supplies. Let's see more about that.
Pick The Right Canvas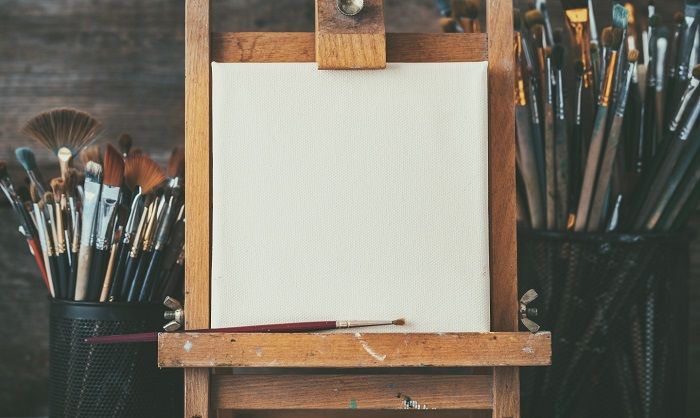 Pick only canvasses with the exact weight of 8 to 10 oz. This is important because you need to know that heavier weight canvasses are better and they offer more quality paintings in the first place.
The heavier the canvas is, the better the canvas will be. Also, it will provide better results. Besides that, the weight of the canvas is determined by the thread density, which directly affects the texture in these next ways.
Smooth texture is the result of higher density thread count.
Heavier canvasses are equipped with more wood pieces that are located across the back.
For beginners, canvas boards are the best option.
Sanding Canvas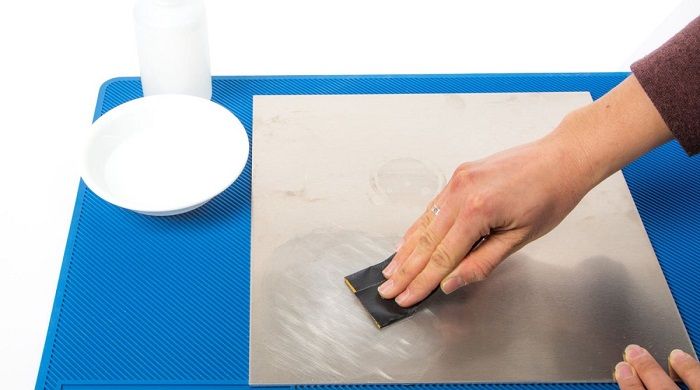 It is important to begin with the sanding the canvas with the high-quality 200-grit sandpaper. This will ensure that the top threads are smooth and that your brush will softly slide across the canvas.
Besides that, gesso is a pretty convenient way of enriching your paintings with the finest possible touch.
However, after you applied the gesso to your canvas, you need to let the canvas sit there for an hour. This is important because gesso takes time to be absorbed by canvas.
Get a Variety of Brushes for Acrylic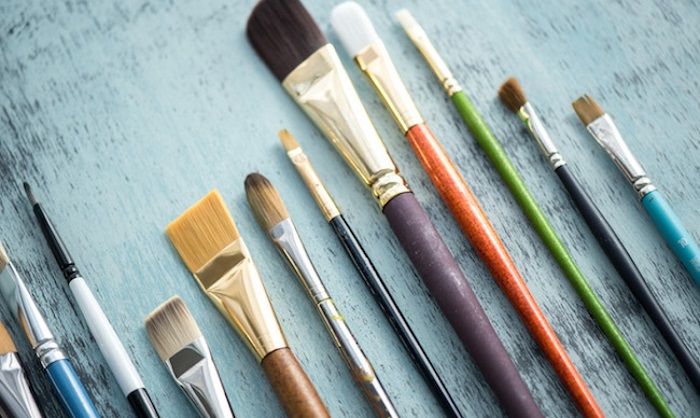 With only one brush, your creativity is a bit limited, and that is something that really bothers every artist. Therefore, you need to get the variety of brushes that are specially designed to work with acrylic paints.
In that light, you will have the best possible working environment and tools to begin to paint on canvas with acrylic. Not only that, but also, you will be provided with the best possible results.
Choose Only Professional Grade Acrylic Paint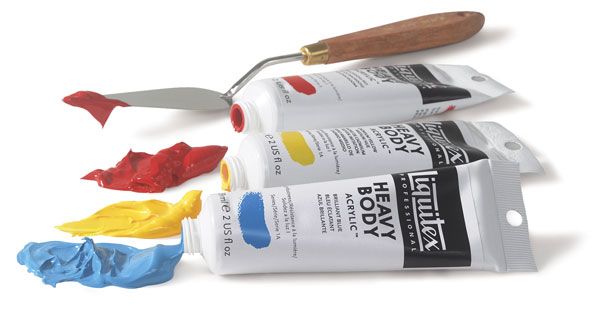 As we all know, there are plenty of different options when it comes to acrylic paints. Anyhow, by choosing the high-quality one, you surely will be able to achieve the best results and paint a wonderful picture.
Since there are many different options here, we will suggest some.
Professional or artist-grade acrylic paint.
High-quality acrylic paint with Medium.
Start with primary colors like red, yellow, and blue.
Paint Palette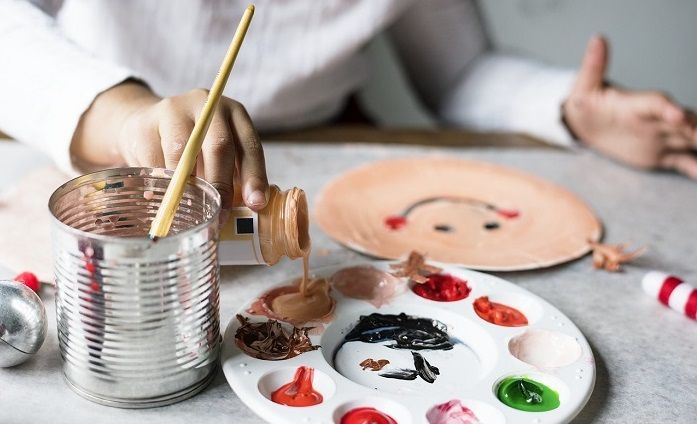 For ensuring that you can always pick a different color without any problems, it is crucial to organize your paints in a palette. Therefore, you should get a good palette for acrylic paints and pour only the primal colors.
Next, when you did that already, it is important to mix these colors to get the variations of paint colors as well. This will provide you with the best possible work environment and you can easily paint on canvas without any troubles.
Acrylic Painting Techniques For Beginners
After you prepared everything to start the paining process, we can now discuss how can you actually begin to paint. Let's start.
Sketch your ideas on the canvas first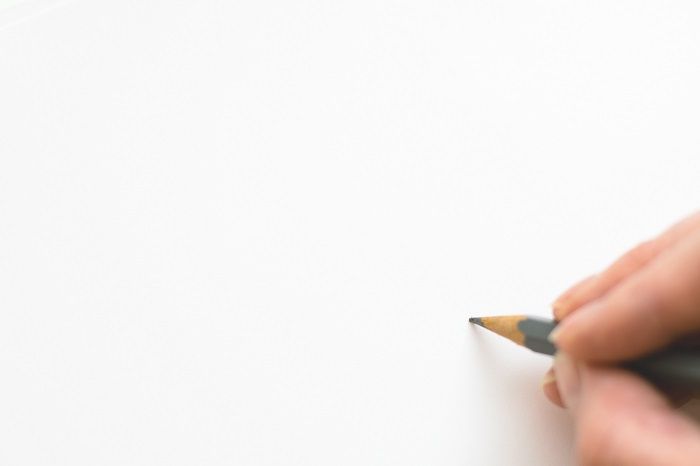 It is absolutely important to begin with the sketches. Namely, you can use a charcoal pencil and begin with the sketching of your ideas on the canvas. This way, you will make sure that you can erase something if you don't like it.
Also, charcoal is a pretty convenient way of starting every painting since you can overpaint it later with acrylic paints. This is because charcoal will dissolve into paint later on.
Mix the paints before starting anything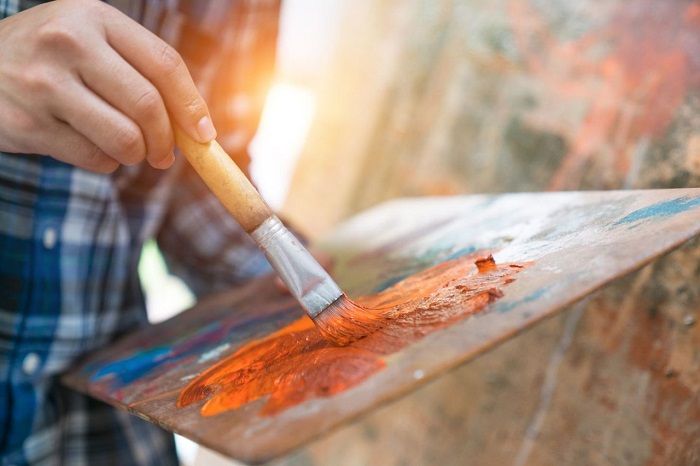 Before you start painting with acrylic on canvas, it is important to know that you need to mix the paints first.
Simply speaking, you can start with the primal colors like red, blue, and yellow. After that, you can create variations of colors that you find suitable for your painting.
Therefore, having everything prepared in your hand is quite painting important thing since you can easily and without any problems begin to paint on canvas.
Dip the brush in water
After you prepared the paint and the color variations, it is time to dip the brush in the water first. Why is this important? Well, when the brush is wet, you can apply more paint on canvas and the result will definitely be better.
Otherwise, if the brush is dry, the paint will dry faster and it will create problems in your work.
If you want to change the color and use the same brush, you need to rinse the brush's head first. This will provide you with the ability to use different color any time you like.
Work fast because the paint will dry
In order to achieve the best possible results, you need to work quickly. The reason for this actually is because the paint will start to dry, and, you can't let that happen.
However, you can't finish a painting in just two minutes. But, try not to extend your painting process into 4 hours of work.
Also, it is quite important to know that you can always slow the drying process of your painting with the wet paper towel that you can put on top of your painting.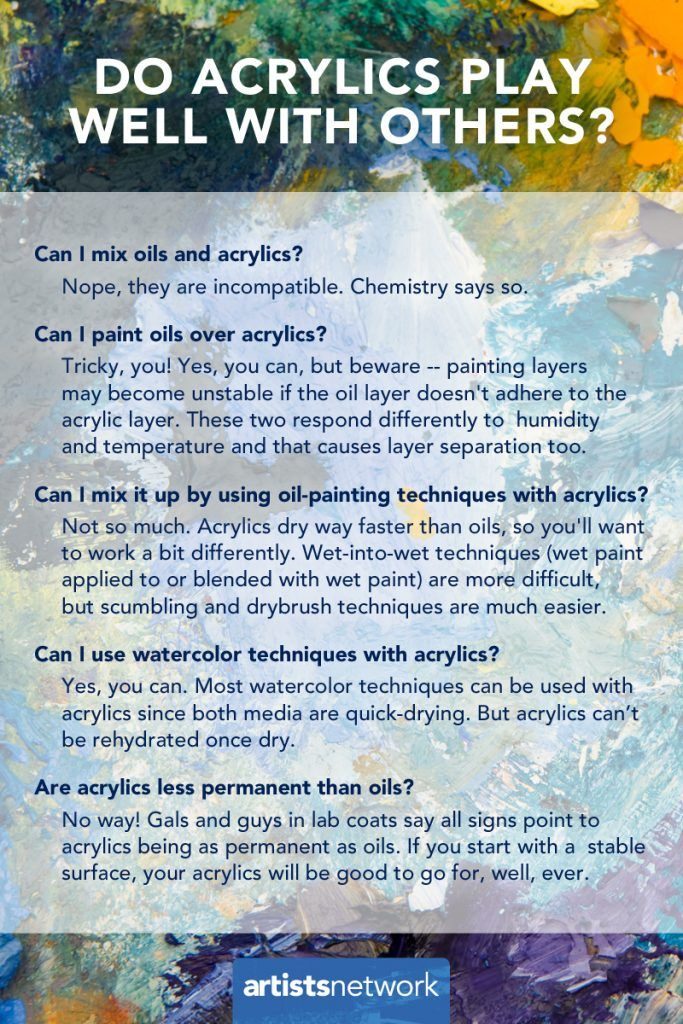 Conclusion
As we can see, painting with acrylics paint on canvas is not that hard. But, you need a proper knowledge in order to achieve the best possible results.
We have discussed everything that you need to know, so, it is time to start with the painting.
Keep in mind that you need to follow these steps in the given order if you want to achieve wonderful results.
You may also like: