Artists love Copic markers. They are probably the most reliable & bright alcohol-based markers on the market. So, they provide outstanding results to all kinds of drawings and artwork.
But to use them correctly, you will need the best Copic marker paper. As alcohol-based products, the markers can bleed through, weaken the surface, or may not slide as required on regular kinds of paper. So, you'll need a certain type of paper.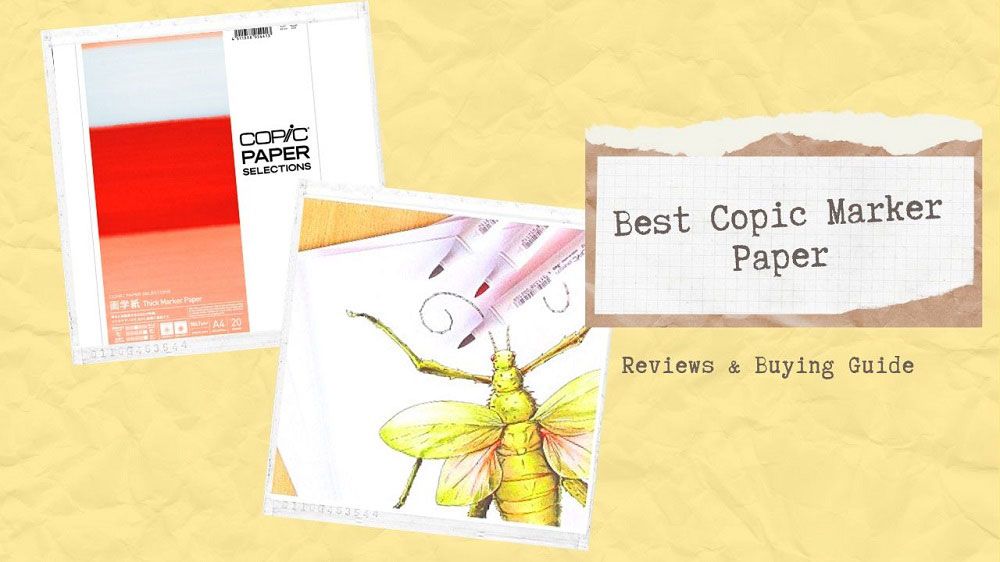 That's what we are going to show you here. Next, you'll learn everything about the best papers for Copic markers and a little more to make the right choice. 
IMAGE
PRODUCT
FEATURES
 

Editor's Choice

Editor's Choice

Weight:

160 gsm

Sheets:

60 sheets

Dimensions:

7″ x 10″ sheets

Check Price

Best Value

Best Value

Weight:

74 gsm

Sheets:

100 sheets

Dimensions:

9″ x 12″ sheets

Check Price

Best Overall

Best Overall

Weight:

100 gsm

Sheets:

100 sheets (3 Packs)

Dimensions:

5.5″ x 8.5″ sheets

Check Price

 

 

Weight:

70 gsm

Sheets:

50 sheets

Dimensions:

8.27″ x 11.69″ sheets

Check Price

 

 

Weight:

180 gsm

Sheets:

50 sheets

Dimensions:

5.5″ x 8″ sheets

Check Price
Why Should You Use Copic Markers Paper?
Professional artists and drawers love Copic markers; there's no doubt about it. But these markers can also be problematic, especially for their alcohol-based composition.
Luckily, you can use them without a problem if you have the right paper. Here's what the proper paper for these markers will offer:
One of the most common things artists suffer from is their markers ink going to the other side of the paper.
With regular sheets, this happens pretty often and can produce real messes on tables and other surfaces below. But if you use the right one, you can prevent this.
Despite their amazing tips and exceptional softness, Copic markers may go difficultly through some types of paper.
Using the right one will help you achieve the smoothest application you can think of. This will save you time and make your overall drawing experience better.
Strengthens After Applying
Similar to bleeding through paper, the ink of a Copic marker may weaken the sheet. This could make handling difficult and could end up in your artwork being destroyed. But with the right paper, you won't experience weakening – so you won't have to worry.
Best Copic Marker Paper Reviews
Now that you are aware of the various advantages of using the proper paper, it is time to learn all about the highest-quality options out there. Here are 15 of the best Copic marker paper options we found and their respective reviews:
1. Canson XL Series Mix Media Pad
For beginners, professors, nomad artists, and those who like bringing their ideas to life in any place, the Canson XL Series is an excellent choice.
The Mix Media pad offers the chance to enjoy 60 sheets of paper in which you can draw with your Copic markers without losing any richness or smoothness.
You can glide over the paper effectively, so achieving even the most ambitious trace is a piece of cake.
You can use it for practically anything too, as it is not only a thick pad with several pages to enjoy but also large with a size of 7-inches by 10-inches.
The texture is fine and soft for smooth application. This will help you create all kinds of drawings, sketches, collages, and more.
On top of that, it comes with 160gsm of thickness that helps resist alcohol-based inks without problems. You may experience a little bleeding with several traces of ink in the same spots, but for a paper pad, this one is still among the strongest you can find.
The weight of the paper is 98 pounds, which delivers excellent durability and strength, so you can use them at any time without problems.
Each sheet also comes micro-perforated, so you can take it off the pad whenever you need to and achieve more versatility.
Another considerable advantage is the chance to erase on each sheet. You can make traces of marker disappear without harming the paper, which is a fantastic feature to enjoy.
Highlighted Features:
Hugely convenient pad design
Excellent size for decent drawing capacity
Decently thick sheets at 160gsm
Ideal weight for durability & strength
Erases & re-paints well without weakening
2. Strathmore 300 Series Spiral Sketch Pad
Sketching is one of the best things you can do with a Copic marker. But for that, you'll need a sketchbook or pad. The 300 series from Strathmore is precisely that.
The pad contains 100 sheets of paper that will promote a clean and practical experience when drawing. Each sheet has a 50-pound weight build which delivers lots of strength and resilience.
If you want an excellent experience with a paper that doesn't tear or break easily, this one will do.
The texture is still pretty amazing, not as smooth as its competitors, but with a slight texture that adds excellent traces and provides grainy results.
This texture looks fantastic even with a Copic marker, especially if you're drawing something with a textured appearance.
The size of each sheet is 12-inches by 9-inches, which is ideal for most artists. You can use the sketchpad for almost anything – including small sketches or drawings, practicing techniques and tracings, and a lot more.
To get the most out of this small pad, we recommend using it for training and improving your marker tracing, especially for its textured surface. This will help you get new skills when drawing and sketching.
This is not the thickest paper, though. So while it works well for experimentation, it is not ideal for making layer over layer of marker traces.
Still, it holds decently and prevents bleeding through the paper, which is something you will surely hate.
Highlighted Features
Exceptional textured surface for unique tracing
Works well for experimenting & improving skills
Comes with a decent size for almost anything
Perfect paperweight for a long-lasting build
Decently thick prevents bleeding
3. ARTEZA Premium Sketch Book
The quality Arteza brings to a sheet is paper is unmatched. With the Premium Sketch Book, you get all that quality and more.
This affordable sketchbook comes with 100 sheets of pages, which is ideal for hard-working artists who are always practicing and improving their skills.
But it doesn't work only for training; it also helps achieve outstanding results for projects and the like.
It comes with a large sheet size at 5.5-inches by 8.5-inches. This is perfect for beginners and professionals alike who want a large enough capacity for all their drawings and sketches.
Every sheet is decently strong, though, especially with the 68 pounds of weight, which stands up to a lot of use and delivers excellent durability. It still handles bleeding and prevents fading, all thanks to its 100gsm in thickness.
A considerable advantage you get with this sketchbook is the chance to remove each page when needed. You get a spiral-bound that makes it effortless, so you can draw without using the entire sketchbook.
And if you're doing the sketches for someone else, this makes it easy to give them away.
If you want to give a more practical and versatile result to whatever you make with your Copic markers, this premium sketchbook from Arteza won't disappoint you.
Just remember it is still a sketch, so it is recommended to use each sheet of paper carefully to prevent bleeding and marking things below.
Highlighted Features
High-quality sheets at 100gsm of thickness
Decent weight for extra durability & resilience
Ideal protection against fading & bleeding
Excellent size for any type of use
Handy spiral-bound design
4. Bee Paper Company Creative Marker Book
Bee Paper Company is among the highest-quality options you can get – and with its Creative Marker Book, it goes the extra mile to deliver an artist with the almost perfect paper option.
Each of the 50 sheets of paper in this sketchbook provides an ultra-smooth experience that helps you make more detailed and precise traces with your markers.
It is outstandingly resistant to bleeding and delivers decent thickness at 180gsm. This pairs up really well with its 110 pounds capacity.
If you want a durable and resilient sheet of paper for your artwork with markers, then this is an excellent choice.
You may also use it with ink pens, crow quill pens, and other water-based or permanent markers if needed.
Each sheet is also large enough for most artworks. At 5.5-inches by 8-inches, it provides the ideal size for making several drawings without problems.
But you can also get 2 different options that go from 8.5-inches by 11-inches up to 8-inches by 8-inches, so you can pick whatever works better.
Another excellent feature to consider is the double-wire binding. It allows you to effortlessly glide through every page without having to make much of an effort. Thanks to the micro-perforated design, it lets you take pages out in a single pull of a sheet.
What really stands out is the sturdy cover made of chipboard. It is completely recycled but manages to provide heavy-duty protection to the sheets.
You won't have to worry about the state of your projects or drawings when traveling or doing anything.
Highlighted Features
Excellent size options for ideal drawing space
Works with all kinds of inked products
Offers decent weight & thickness for durability
The ultra-smooth surface makes traces easy
Heavy-duty cover protects sheets effectively
5. Transotype Alcohol Marker Pad
For those artists who love making manga, comics, and similar drawings, nothing works better than a set of thin paper that resists bleeding. That's precisely what you get with the Transotype Alcohol Marker Pad.
It is a pack of 50 sheets that works for almost anything, including anime, manga, comics, fashion designs, architecture, product design, landscaping, and much more.
Using its durable construction and extra resistant sheet, it offers the chance to blend several colors without weakening.
Each sheet is 8.25-inches by 11.69-inches in size, which is ideal for most drawings so you can have enough space for any kind of artwork. It is also perfect for academic work if needed, practicing, and more.
What really stands out is the 20 pounds of weight, which delivers one of the thinnest sheets of paper on the market.
At only 70gsm, you will receive an outstandingly thin and soft paper that makes it enjoyable to work with markers.
Despite its exceptional thin build, the paper holds really well against bleeding and provides a robust capacity that you can enjoy.
If you are often drawing and redrawing and need sheets of paper that stand the hassle, this marker pad can be an excellent idea.
The best thing about this paper is not the size, thickness, or softness, but the superb price tag it comes with. You won't have to spend much to get what every drawing expert needs for practicing and delivering high-quality artwork.
Highlighted Features
Thin sheets offer more versatility
Perfect size for all kinds of drawings
Highly resistant against bleeding
Soft & smooth surface for better results
The unbeatable price tag for the quality
6. Bianyo BN-5801 Bleedproof Marker Paper Pad
For those who want to prevent bleeding effectively, nothing works better than a Bianyo Marker Paper Pad.
The BN-5801 model is a high-quality pad with 50 sheets of paper that any artist will love. It is smooth as the softest paper you can think of and still manages to provide a reliable marking experience for any of your drawings or sketches.
As for size, you get 8.5-inches in width and 12-inches in height. This makes the perfect drawing canvas with your markers.
The vertical design is especially useful if you focus on sketches and similar drawings, adding extra practicality to your artwork. And you can still get its 11-inches by 14-inches size if needed.
You can use them for anything, especially with the 70gsm thickness that prevents bleeding through but also delivers a thin and easy-to-handle product. If you like some versatility with your marker paper, this one works wonders.
It gets even better when you consider its ultra-smooth surface. It will help you create the most ambitious artwork without lousy traces. You can also use it with any type of marker if your Copics drain out.
Overall, Bianyo is a pretty decent choice that many artists love, especially sketch professionals. The smoothness, the quality, and the superb bleed-proof build will make it an almost perfect paper pad.
Highlighted Features
Decently thick for bleed resistance
Excellent size for sketches
Outstandingly smooth surface
Works well with all kinds of markers
Magnificent price for the quality
7. Copic Marker Express Blending Card
X-Press It blending card is probably the most popular card for the use of Copic markers. For a high-quality blending card, why not look for something from the same brand as the marker? That's what this Express Blending Card from Copic delivers.
These paper sheets come in a pack of 125, with 8.5-inches by 11-inches size, and work for almost any type of drawing.
You can make it work for anime, comics, product and architecture design, landscapes, fashion designs, and even manga, comics, or the usual occasional drawing.
Whatever you use it for, it will look fantastic and deliver the ideal durability & smoothness.
Apart from that, the design works specifically well for cardstock, card-making, and similar productions. Yet, it works for almost anything you want despite the size, especially for unique small drawings.
The paper is made from a silky material that gives an almost flawless application process.
You won't feel any friction while the marker glides through the paper, which will help you achieve fantastic results. Also, it'll make handling easy for its weight.
But the real advantage of this paper is the ability to resist multiple ink streaks without weakening or bleeding. This will help you achieve various blends for your drawings, increasing the number of colors and versatility for even the most ambitious artwork.
This all happens thanks to the 250gsm of thickness you get, ideal for superior strength and durability so you can enjoy all kinds of results.
If you are a demanding user searching for seemingly small sheets of paper, this is an option you shouldn't overlook.
Highlighted Features
Small but practical size for cardstocks
Extra blending capacity for more colors
Doesn't weaken with several layers of ink
Silky surface for extra smoothness
Perfect thickness for durability
8. Crescent Creative Products RENDR Wire-Bound Sketchbook
Sometimes, what you need is not a paper pad or a ream of paper, but a sketchbook. That's what you get with the Crescent Creative Products Rendr Sketchbook – the best sketchbook for Copic markers on the market.
If you're an artist who's always making sketches in all places and almost at all times, this one will come as an ideal choice.
It offers 32 sheets of paper of the highest quality, making it possible to make all kinds of sketches without losing the habit.
It comes in a size of 8-inches by 8-inches, which could be ideal for the smallest sketches on the go.
The sheets are 110 pounds in build, making them durable and reliable enough for use. You actually get 180gsm of thickness which makes them light and thinner than many other options, but still pretty useful and versatile.
It has Rendr no-show thru technology, so you won't have to worry about ink on the other side of the paper. This will make it ideal for those artists who are always sketching and creating new drawings on each page.
The sheets of paper come with a double wire spiral binding design. This makes it perfect for going through the sketchbook without wasting any time or effort.
The wire-bound also makes the whole piece more durable and effortless to use.
Highlighted Features
Excellent sketchbook design for convenience
Totally smooth and practical for sketches
High-quality wire-bound design for ease of use
Thick sheets of paper with bleed resistance
Has a 110 pound capacity for extra strength
9. Crafter's Companion Spectrum Noir Premium Cardstock
Are you looking for the best cardstock for Copic markers? Then don't waste any more of your time searching – the Crafter's Companion Premium Cardstock pad is what you need.
This is a fantastic option for most artists who want a resistant sheet for their alcohol-based markers. It is not only highly resilient but also incredibly smooth, which makes overall drawing and sketching a piece of cake.
The cardstock design at 8.5-inches by 11-inches is ideal for people who want to make unique artwork without losing any drawing space. You won't have to settle for small cardstock paper when you can get a large enough option like this one.
The paper is not only decently large but also thick enough. Boasting 80 pounds of weight and about 160gsm, you can get exceptional durability from the paper.
Also, it increases its bleeding resistance that allows several marker traces without weakening the paper.
The smoothness of the paper is astonishing. Gliding through the surface so you can make precise and beautiful drawings effortlessly.
This will also increase how well the markers look, so you can double the improvement from other similar papers out there.
Another advantage of this paper is that you can use it for almost anything. It doesn't matter if it is a simple drawing or an ambitious sketch.
Even if you just want to use the paper to print high-ink images, you'll want something reliable like this cardstock pad.
Highlighted Features
The decent thickness for a strong sheet
Amazingly smooth surface for easy marking
Sufficient drawing space with its sheet size
Highly resistant to bleeding
Works for any kind of use including printing
10. Copic Marker Copic Sketchbook
A sketchbook directly from the brand that makes the markers will always be worth having. That's what you get with the Copic Maker Copic Sketchbook, an almost flawless addition to your art equipment.
If you're constantly drawing and sketching, you will find a book like this pretty useful. It is not only the design with wire-bound paper but also the ultra-smoothness with its Japanese material.
This paper lets you glide through the surface to make the most fantastic traces without any problem.
Every sheet is also of the highest quality you can think of. They come with a 70 pounds weight that helps to provide sufficient strength for most handling activities.
You won't have any issue using the paper for different things. With the 107gsm of thickness, it handles most drawings without bleeding through.
The pages are also decently large at 7-inches by 10-inches. This is a slightly unusual size for paper sheets, but it is ideal for users who are continually looking for enough space for their drawings.
With the wire-bound design that makes it easy to get pages out, the sturdy cover that keeps the sheets safe, and its exceptional thickness and weight – you can expect no less than a fantastic experience with this option.
You will get 55 sheets of paper, which are enough for artists who are continually drawing and practicing their skills. If you are one of those, this one will be like a gem.
Highlighted Features
Smooth and durable Japanese paper build
Handy wire-bound design
Excellent weight & thickness for strength
Helps to make soft traces without issues
Comes at an ideal size for most artworks
11. Bee Paper Company Marker Pad
For those who love a marker pad, the Bee Paper company is one of the most practical options you can find. Without making too much of a burden on your wallet, this pad comes with 30 sheets of paper, so you can have enough sheets for several drawings or sketches.
The pad is straightforward to use and delivers a super smooth surface. It is one of the softest you will find, which adds versatility when drawing. You will have tons of things to enjoy with this paper pad.
As its name says, this is a bleed-proof product. This means that you won't experience even a single drop of ink going to the other side of the sheet.
Also, the sheet holds up really well if you make several traces in the same place with different markers.
It comes in a 8.5-inches by 11-inches size, which is ideal for most people who want a decently big sheet of paper for all their drawings and sketches.
With its 110 pounds of weight, you can expect a durable and robust sheet that stands up to all kinds of handling and tons of marker traces.
The thickness is 180gsm, which adds a long-lasting effect to the sheet. You can achieve all kinds of projects without losing color richness or sheet strength.
If you are tired of papers that weaken when using Copic makers, then this one will come as an excellent improvement.
Highlighted Features
Ultra-smooth sheet for easy tracing
Thick 180gsm offers extra durability
Decent size for most sketches and drawings
High-quality build with bleed-proof design
Comes in various sizes for handiness
12. Winsor & Newton Bleedproof Marker Paper Pad
To get the best paper for Copic markers, you can go with a well-known brand Winsor & Newton. When it comes to accessories, this brand goes the extra mile to provide what no other option does.
With sheets of 9 by 12-inches in size, you get all the necessary space for bringing your drawings and sketching to life.
If you need more space for sketching, you can pick the 11-inches by 14-inches option, which will work exceptionally well.
The surface is pretty smooth too. Creating fantastic artwork is a piece of cake with this paper, especially if you're looking to blend trace over trace of markers. You won't have any problem making precise and utterly beautiful projects with this option.
It also offers a 20-pound weight build, ideal for supporting tons of use without weakening.
This goes well with 75gsm of thickness, which will improve its overall durability when blending different colors so you can achieve unique results without drawbacks.
Bleeding will also be a thing of the past. You won't have to worry about messing up things below the paper. Instead, you can enjoy the smoothest tracing with your markers while enjoying clean and tidy results with high precision.
The paper pack comes with 50 sheets of paper that you can use for several art pieces. It won't last a lifetime but will help you make several artworks without having to waste any money or time.
For a nice cost and with exceptional quality, this is a paper option you don't want to dismiss.
Highlighted Features
Highly reliable build with a 20-pound weight
Offers decent thickness to prevent bleeding
Ideal size for all kinds of drawings & sketches
Comes in packs of 50 paper sheets
Extremely smooth surface
13. Art-n-Fly Marker Paper
Among the most popular brands, Art-n-Fly always impresses. With this marker paper, you get fantastic results without worrying about anything.
The paper is translucent. This means you get one of the thinnest papers out there. But it still manages to prevent bleeding, which means it is one of the most fantastic papers you can have.
You can add the richness of the surface, which brightens the color of the already excellent Copic markers.
The sheets are thin at only 56 pounds of weight. With its 90gsm, you can get a versatile sheet of paper that helps you create fantastic drawings of all kinds. You won't have a limit to the number of things you can draw and sketch with this type of paper.
You'll get 60 sheets at 9-inches by 12-inches in size, an ideal vertical design to make sketches or draw portraits. It also works wonders as a beginner pad, especially for those who are always practicing and improving their skills.
Thanks to its fold-over design, it is also easy to pass the page and keep your drawings safe when using.
You won't have to worry about bleeding the pages below, and it will still add extra practicality so you can draw almost anywhere you want at any time.
Anyone who appreciates the convenience and wants thin sheets will not regret getting these paper sheets.
Highlighted Features:
Superb bleed-proof capacity
The excellent thickness for versatility
Helps to improve the color richness
Comes with the ideal size for sketching
Practical fold-over design for ease of use
14. Too Copic Paper Selection Special Paper
If you are a fan of layering and making cardstocks, you'll find the Copic selection special paper an almost perfect option.
Practically anyone can use it, though, as it uses thin sheets that help produce all kinds of drawings without weakening or losing strength.
If you appreciate extra quality when blending and producing high-quality artwork, this paper will work well for you.
You'll get 20 sheets at 8.3-inches by 11.7-inches. This is a regular A4 size that works for almost any type of drawing. People practicing new skills or developing fantastic artwork will not fail to love this option.
It comes with a medium weight you can easily handle. This means as much as 157gsm, which will deliver one of the softest and gentlest papers out there. Especially useful for artists who love the extra challenge when using markers.
You can still achieve exceptional results with little to no bleeding when using. Even if you like layering or blending colors, this paper will hold fine enough so you can draw effortlessly.
The surface is probably the smoothest in the whole list, so you can be sure that all your traces will be close to perfect.
You will achieve exceptional precision as well, and you'll have the chance to enjoy maximum color richness.
Highlighted Features
Fantastic smoothness for easy drawing
Medium-weight paper
Standard size for more versatility
Decently bleeding resistant
Especially useful for layering & illustration
15. Canson Artist Series Comic Manga Illustration Pad
Another famous brand Canson offers the perfect paper to draw over. That's the acid-free Illustration Paper for Manga.
With this excellent pack, you can draw any type of manga, anime, comic, or even more technical works like product design, fashion designs, architecture, and much more.
The 9-inches by 12-inches size works wonders for comic and sketch artists. You can still use any type of marker, and it will always prevent bleeding, which adds extra results to your drawings.
After you start using this paper, you won't have to worry about bleeding or making messes when using – and that will be enough to say that this paper is a fantastic option for sure.
This gets truer when you consider the 250gsm of thickness in each sheet. The strength and overall bleeding protection you'll have will make you a much more pleased artist with this paper.
On top of that, you get 20 sheets of paper for a premium cost. If you are on a tight budget and need a paper pack to use with your markers that doesn't empty your bank account, this one will work correctly.
The ability to highlight the richness of your markers, achieve multiple blending layers, and provide an almost perfect choice for comic and sketch artists makes this paper an outstanding opportunity.
You can be totally assured that it will surpass your expectations.
Highlighted Features
Thin but highly bleed-resistant sheets
Ultra-smooth for easy drawing
Comes with several sheets at a decent cost
Highlights color pigments well
Especially useful for comic illustration
Things to Consider Before Buying Copic Marker Paper
If you are really interested in getting the best paper for Copic markers, you'll have to do a comprehensive review of each product. For that, you'll have to know what to look for. Here are several factors you need to consider:
Weight
One of the first things you'll notice when looking at a cover of a sheet of paper pack, a pad, or a sketchbook, is that most of them come with a weight measurement.
This weight measurement usually goes from 20 pounds up to 120 pounds more or less. It refers to how much ink the paper can absorb.
When buying paper for your markers, the weight measurement is tricky to think about. But it is still an excellent way to know how durable and quality-oriented the paper is. In short, the more weight the paper has, the better.
We recommend sheets of paper with at least 90 pounds of weight. Anything below or over that may also work decently well.
Thickness
The thickness is another factor that affects the overall quality of the paper and its durability. Because you're working with Copic markers, you'll want something that doesn't bleed through, that doesn't weaken with ink, and that makes it easy to handle when using.
You'll find measurements that go from 35gsm up to 400gsm for the thickest options. The thinnest sheets will offer about 35 to 55 gsm. That would be like the thickness of a newspaper.
You can find medium-thick options at about 80 to 120 gsm. This would be a little thicker than printer paper, ideal for using markers over without bleeding through too much.
For the best experience with Copic markers, we recommend anything over 120 gsm. Up to 200 gsm, you will find pretty thick paper similar to the thickness of posters. They are thick enough to handle marker ink without problems.
Anything over 200 gsm is pretty thick, going from flyers to business cards and the like. They will handle the ink even better, but they are often more challenging to use and tend to have grainy or rough surfaces.
Texture
One of the best indicators of quality in paper is texture. We always recommend smooth surfaces over anything else. But some options may come with rough surfaces that artists may use for particular purposes. But of course, roughness also looks less enticing but absorbs ink much better.
Size
Then, you will encounter the size. This is a perfect factor for finding the best paper to use with Copic markers for your needs. Here, you should look for anything that meets your requirements.
You will find the paper of 8-inches in width by 11-inches in height, which is the typical A4 paper size. Other options can be as broad and tall as 11-inches by 15-inches, as small as 4-inches by 8-inches, and so on.
Types of Marker Paper
Finally, you'll have to consider what kind of paper you want. This will change the primary purpose of the paper, so you can know what will work better for you and why. Here, you will find:
These contain thin and soft sheets of paper. This is ideal for practicing and developing skills instead of making art projects from scratch. Beginners will find these perfect.
This is the thickest option you will find. It works well with any kind of ink, including watercolors, acrylics, markers, and so on. But due to its thickness, it can be a little challenging to handle and use.
As its name says, this is the best option you can get for drawing with Copic markers. They are thick enough but also easy to handle when drawing. You will find them resistant and easy to use.
Finally, you will find the manga or comic paper, which is a little thicker than marker paper but less than cardstock.
It is not the ideal option to use with markers, but it delivers excellent results still, without weakening or bleeding through.
Copic Marker Paper Usage Tips
Even if you have the best paper for Copic markers, you will still need to use them correctly to achieve flawless results. That's what we're going to teach you now – several different things you can do to use marker paper correctly:
Make sure the surface where you place the paper is smooth. Glass, ceramic, metal, flattened wood, and other surfaces will work well enough.
The surface should also be dry and free of any dust, dirt, or particles of any kind. Otherwise, each trace will have inconsistencies and eventually look messed up.
Try your Copic markers elsewhere before making your first trace on the paper sheet. This will help you prevent over-moist tips or fading colors.
To prevent bleeding, you can always place a regular piece of paper below. This will help to avoid bleeding on objects but also increase the flatness and smoothness of the marker paper.
If you want to blend different colors in the same lines or traces, you should try not doing more than 3-4 streaks per color. This will keep the amount of ink low and prevent bleeding or weakening of the paper.
These are all useful factors to think about before using paper for markers. Follow them, and you'll probably have an excellent experience.
Frequently Asked Questions(FAQs)
After going through all the reviews, buying guides, and additional info, you may still need some more data to pick the best Copic marker paper. The following section may help you out:
Q: How much does a marker pad last?
Answer: It all depends on how often you are drawing. A marker pad, sketchbook, or paper pack may have between 20 and 100 sheets. If you draw every day, a standard 30-page option will last one month.
Q: Can I use Copic markers on regular sheets of paper?
Answer: Yes, they also work for Copic markers, but you will probably experience bleeding, weakening of the paper after drawing, and lack of color richness. If you want to prevent that, use marker paper only.
Q: Is it possible to erase a marker trace in paper?
Answer: If it is small and not too strong, then the trace can be easily erased. Otherwise, it is not.
Q: How many Copic marker layers can I make on marker paper?
Answer: It all depends on the thickness of the sheet and the weight. For paper with 100gsm, you can make up to 3 layers of marker traces. But for anything less than that, you may experience some bleeding with the third trace.
Q: Will a Copic marker paper make my Copic markers last longer?
Answer: Not necessarily. It will improve the way your markers look and glide through the surface but won't save too much ink in the long run. Also, you can check how to refill a Copic marker.
Final Words
Are you looking for the best Copic marker paper? Then this guide will surely help you out.
You just need to consider each one of the tips, pieces of advice, and our reviews if you want to select the best possible paper. Remember to get something that meets your demands and needs that will be the ideal option.
Related Articles: