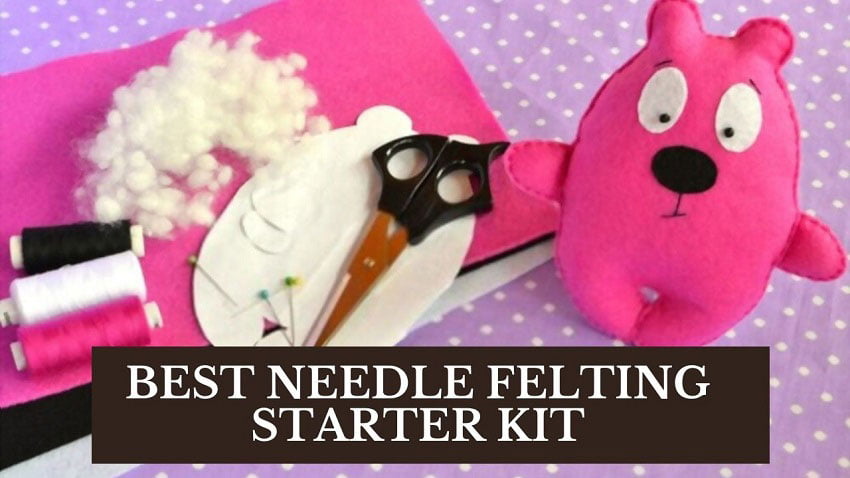 If you're looking for a relaxing hobby that would calm your mind and help enhance your focus, needle felting is what you should go for. It is easy to learn, doesn't require a lot of skills, and above all, doesn't cause you any trouble at all!
From making super cute toys for your baby brother to surprising your friend with a homemade present- needle felting does it all.
This particular work doesn't require a lot of tools to begin with, but if you plan to make something amazing with it, you will need the best needle felting starter kit. A kit that will help you learn this beautiful craft, a kit that'll accompany you whenever you want.
IMAGE
PRODUCT
FEATURES
 

Editor's Choice

Editor's Choice

✔

40 rainbow colors wool roving

✔

24 felting needles for wide application

✔

Suitable for needle felting project and DIY wool craft

Check Price

For Beginners

For Beginners

✔

46 pieces high-quality felting kit

✔

Comes with an elegant gift box

✔

Ideal for beginners

Check Price

 

 

✔

Comes with both Carded Maori Wool (15 color) and Combed Merino Wool (5 color)

✔

6 sharp felting needles with 2 leather fingercots

✔

Perfect for 10+ ages

Check Price

 

 

✔

50 colors roving wool

✔

Complete felting tools for variety of wool projects

✔

Easy to use for all

Check Price

 

 

✔

16 colors wool and 6 felting needles

✔

Comes with all necessary felting tools

✔

Suitable for 8+ ages

Check Price
What Is Needle Felting? 
At this point, you might have a query- what exactly is this needle felting the writer keeps talking about? How do you even make dolls out of it? 
Well, for starters, needle felting is a special process where you poke the wool fibers repeatedly with a special kind of needle, often called a barbed needle. The process is quite meditative and calming, and it sometimes helps people with anxiety issues to calm down. 
Needle felting is quite similar to water felting, where they agitate a knitted item in water to mix the fibers and create a soft, durable object. It's kind of the same here, but instead of water, needles are used.
10 Best Needle Felting Starter Kit Reviews
Here we have ten of the most useful needle felting starter kits that will help you make your very first felted toy in no time!
1. MAYBOOS Needle Felting Kit – Editor's Choice
If you're looking for a quality needle felting kit to take decorations into your own hands, Mayboos has something you're bound to like. This all-in-one needle felting kit comes with 40 mesmerizing colors of Roving wool, felting needle, finger cots, foam pads, and many more! 
What we loved about the Mayboos felting set is that it's compatible with a variety of felting techniques. Dry felting, wet felting, or regular needle felting projects – anything is possible when you have the right needles and imagination! 
Getting started with this wonderful craft isn't hard at all. You just need all the supplies to have a comfortable beginning in the needle felting arena. Keeping that in mind, Mayboos packs all the tools you're ever going to need in the best needle felting starter kit.
It has pliers, scissors, tweezers, and thimbles to give your felted toys a neat finish. The set also comes with 120 plastic eyes and 50 noses to help with your lifelike 3D modeling.
Let's not forget about the 24 high-quality and strong felting needles that came with the box. Other than the basic felting tools, you'll also find twenty 9-shaped needles and twenty T-shaped needles for rocking your crafts like a professional.
Finally, the colorful Roving wools are individually packed in 40 bags so that they're easy to store and find. 
Highlighted Features:
40-colored, assorted roving wool with individual bags
Ideal for dry and wet felting, needle felting, and wool painting
The 24 felting needles are suitable for many types of wool and non-woven materials
Includes multiple felt pads and molds, scissors, tweezers, pliers
2. UOOU Needle Felting Kit – For Beginners
UOOU has an excellent felting kit for artists, newbies, and anyone who can follow a DIY toy-making video to create their masterpiece. The set consists of 46 pieces for making a cute bundle of four toys. You get 10 plastic eyes in black color, 6 sturdy felting needles, tweezers, a felting mat, and so on.
The felting mat is made of premium quality foam, and it won't become mushy over time. And as for the feting materials, you get a generous yarn of eco-friendly, roving wool. It is refined and brushed for a soft, plushy feel. Three pairs of felting needles in 3 different sizes allow you to try brand-new techniques.
They'll also help you avoid unwanted dimples in your felted toys. You can use the 36-gauge needle for pre-shaping the felt. After that, the 38-gauge needle will help you make the felt into an animal shape. And finally, you can take the 40-gauge needle for making necessary post-modifications.
So, even if you're new to this craft, you'll find the UOOU needle felting kit very easy to use.
We found the four felted-dog material bags to be incredibly helpful. Its easy-to-follow instruction manual can guide anyone to be an exclusive felting artist for a day. We also loved the beautiful gift box where you can store the finished toys and surprise a special one.   
Highlighted Features:
Three pairs of felting needles for pre-shaping, shaping, and finishing
Includes 4 toy-making material bags
Eco-friendly roving wool
Comes with a gift box
3. Desert Breeze Distributing Premium Needle Felting Kit
Desert Breeze distributing sure knows what you need to kickstart your felting fun at full throttle. No wonder how they came up with such a thoughtful needle felting kit. It includes 5-colored, crimp-free Merino wool, 2 ounces of Corriedale wool for creating the perfect cores, structures, and accents!
If you want to make adorable felted animals from scratch, Desert Breeze got the best needle felting kits for beginners like you! It comes with five combed Merino wool in color black, grey, oak, nutmeg, and parchment. We loved the addition of premium carded wool in 15 eye-catching colors!
They can be great samples of felting wool before you find your favorite brand of carded rolags.
Now, let's talk about the accessories that come with the box. You'll get 2 leather fingercots and 100% wool. Felting is going to be a fulfilling experience once you have the Desert Breeze needle felting kit.
Moving on to the 6 felting needles, you'll find 3 pairs of 36-gauge Star, 38-gauge Star, and 40-gauge Twist needles. They are manufactured by a well-known German company called Groz-Beckert! 
Highlighted Features:
Comes with both Corriedale wool and Merino wool for base core and accents
15-colored, carded wool from New Zealand
Includes two leather finger cots and a woolen felting pad
6 Groz-Beckert felting needles
4. Outkitkit Needle Felting Kit
Coming in 50 luscious colors, the best quality roving wool can make your felted toys look adorable and brand-new for a long, long time. And the Outkitkit felting kit offers you that at a reasonable price. Felting is a satisfying textile art where you have all the room to let your creativity shine.
For example, you can make the cutest fuzzy toys to surprise your little ones or the children in the family. Moreover, you may also mend a favorite woolen sweater by neatly felting the holes. That said, you're going to find the felting tools that come with the Outkitkit tool quite handy.
It includes a 4″×4″ sponge pad, a wooden handle and peg, two-finger protectors, a lanyard, a pair of scissors, and pliers. The needle felting kit also comes with a super handy mold. It will help you shape felted animals, hearts, trojans, etc., without an extra pair of hands.
You can felt hanging ornaments for giving your home interior a personalized touch. Especially when you're renovating the kids' room, your very own needle felting kit can cut down the cost of store-bought decorations. Each of the roving wool balls is packed in a plastic bag for keeping dust away. 
Highlighted Features:
Includes fifty 3-gram roving wool felts
Ideal for needle felt painting, doll filling, and jewelry making
Comes with molds for shaping DIY felt toys
Pliers, scissors, sponge pads, and fingercots are included
5. Woolbuddy Needle Felting Starter Kit
Learning the ropes of felting isn't any harder than knitting, crocheting, and other popular crafting methods. The Owl needle felting kit by Woolbuddy packs 16 hypoallergenic wool felts, 6 felting needles, and an easy-to-read felting guide to making your first felted animal right out of the box! 
The Woolbuddy needle felting kit can help you make headway on wool felt painting as well. Although there are kits with a better range of felt colors but not all of them are hypoallergenic. We loved the Woolbuddy kit for its quality wool felts. They are soft to the touch and amazingly durable for a starter kit sample.
And the needle felting foam mat will be your workstation on which you wrap up the whole felting process. And truth be told, it won't take much time to finish one felted animal, even for beginners, because the needles are precise and strong. 
Their felting needles come in three gauges for the different stages of felting. From creating the base to accentuating the features, these Woolbuddy needles will be of the greatest help to keep everything in order. You also don't have to worry about them bending midway.
Also, the colored visual illustrations help you pick up the basic felting techniques for your first flawless project!
Highlighted Features:
16 colors hypoallergenic wool
Easy-to-follow instruction book
Includes 3 thimbles and a 4″×4″ felting mat
6 felting needles with great precision
6. SIMPZIA Wool Felting Tools Kit
The Simpzia needle felting kit is all about the needles. It's a pack of 30 felting needles of the highest quality. Needless to say, this kit is perfect for all types of felt projects such as toys and plushies, jewelry, 3D modeling, and so on. 
In the box, you will find 10 pieces of 3-inch needles, 10 pieces of 3.3-inch needles, and finally, 10 more pieces of 3.5-inch needles. The felt wool material and project size will decide the felting needle. Thanks to Simpzia's broad range of needles, you have the opportunity to work with different kinds of wool.
For example, Merino wool is a commonly-used material in wet felting methods. However, this lightweight fiber barely has crimps to it. So, it's better if you leave this wool for adding a finishing touch and accent. You can use Corriedale wool for creating the base.
As for the additional tools, you get a glue stick, a 4.9-inch awl, a big case of sewing pins, two-finger cots, and a wood handle with eight 3-inch needles on the top. We advise you to prop your project on the foam mat and not a hard surface directly to avoid damage to the needles. 
Highlighted Features:
30 felting needles and 40 sewing pins
A generous 5.9″×3.5″ foam mat
Suitable for making rugs, mats, felt animals, and jewelry
The 3-inch, 8-needle wood handle is easy to disassemble
7. Jupean Needle Felting Kit
While it's true that kids' toys have gone through dramatic changes over the past few decades, the appeal of handmade felt toys is evergreen. But if you're constantly running out of ideas, consider the Jupean needle felting kit to be your best friend. 
This is a big box of ultra-fine roving wool in 24 fabulous colors. From beautiful mauves to striking magentas, you have plenty of colors to design felted toys. Their refined texture and smooth feel offer you the best quality, fuzz-free finish. The wool felts don't lump up in places. They are also evenly dyed for consistent colors.
You also get 5 grams of roving wool per roll, whereas most needle felting starter kits provide only 3 grams per roll. The Jupean kit is one of the best needle felting animal kits we've come across.
You can easily make cute farm animals, wild critters, forest creatures, and decorative wall hangings with the help of 8 needles.
The best thing about the Jupean kit is its two fine, 40-triangle needles for premium surface finishing and adding delicate details to felt animals.
It comes with a glue stick for felting the more complicated animals such as reindeers, cats, chickens, and teddy bears.
The color-coded needles will be great for felting embellishments to woolen sweaters, hats, and mittens. You can turn your basic winter wear into exclusive garments with the help of this kit.
Highlighted Features:
Each roll of wool comes securely packed in resealable bags
5-gram roving wool per roll
4 pairs of needles
2 wooden handles for installing the felting needles
8. Imzay Needle Felting Tools
This premium set of 60 piece needles will take your felting game up a notch and make sure that you never run out of felting supplies. They're made of high-quality materials with excellent durability. If you're a full-time felt artist, the Imzay felting needle kit will give you the best comfort!
At this point, you already know that finishing a single felting craft requires tens of needles. And when you have an oversized felted animal to complete, anytime short of a strong needle felting tool is a waste of time.
Luckily for you, the Imzay kit offers a wooden handle with the option to install eight triangular needles for the speediest felting. If you consider the 8 triangular needles, you get 68 needles in this set. And for the price, you won't be coming by an amazing deal like this anytime soon.
You can easily remove and reinstall needles on the wooden handle. The 36-gauge, 38-gauge, and 40-gauge felting needles can handle any felting project in your hand. Since you get 20 needles in each size, this kit will last you years. They come in storage tubes, so you don't lose them. 
Lastly, all of the 68 needles in the box are triangular needles. They have three sharp barbs on the pointy head for a flawless felting process.
Highlighted Features:
36-gauge triangular needles are perfect for making outlines and shaping
38-gauge needles help with shaping and tightening
40-gauge needles help with fine detailing
A wooden handle with 8 triangular needles for big projects
9. PP OPOUNT Needle Felting Starter Kit
Whether it's a felted toy or a creative DIY project, this needle felting kit will have you covered in all areas. If you're new to felting, its 24 rolls of colorful felt wool will give you plenty of hands-on experience before you move on to delicate 3D modeling. 
To begin with, the PP OPOUNT needle felting starter kit includes an awl. It helps you poke a hole for installing 9-shape needles. The two leather finger cots will protect your hands from injuries. Cutting off the surface float will require a pair of scissors, which also come with the box.
The pair of 36-gauge needles will help you fashion the sculpture. Moreover, the two 38-gauge needles will be the perfect tools for all-around shaping. And when it comes to drawing the finishing touch, the fine-tipped 40-gauge needles will come in handy.
We also loved the convenient storage box where all the felting tools are safely stored in individual plastic packaging. The two felt molds house a lot of fun shapes and sizes to give you a head start.
Since roving wool is the best wool for both wet felting and needle felting projects, it was smart of the brand to include roving wool instead of merino or Corriedale. 
Highlighted Features:
24 3-gram roving yarn in different colors
The yarns come in resealable plastic bags
Includes 2 felting molds and a 6″×4″ felting mat
3.5-inch long wooden felting tool
10. QMNNMA Needle Felting Tools
Felting molds are like the cheat sheets to greatness. You can not only start sculpting in a short time but also finish the beautiful craft without breaking a sweat. This needle felting kit includes 5 useful molds with nearly a hundred patterns to choose from! 
For starters, you get 50 bright-colored roving yarns. It has a generous section of pastel colors and an equally gorgeous section of deep, vibrant colors. None of the rolls have over-dried areas.
The texture is smooth enough for making felt toys for toddlers. They are beautifully wrapped in plastic bags as well.
If you want to try felt lettering, 20 9-shaped needles will be there to help you out. 9-shaped needles are perfect for fine detailing after you're done with sculpting, felting, and joining. The lanyards will help you make DIY keychains and practice felting small objects.
And the thimbles will protect your fingers and palm from accidental pricks of the needle.
Moving on to the wooden handle details, it has 8 needle grooves on an evenly spaced surface. Installing any of the 36-gauge, 38-gauge, or 40-gauge needles is very easy. You can take a ball of the roving yarn and gently prod it into one of the molds with the wooden handle tool until it forms a shape. 
Highlighted Features:
Includes 5 felting molds for an easy start
50 yarns of smooth-textured roving wool
Wooden handle with 8 needle grooves
Comes with 15 keychains and lanyards
Needle Felting Starter Kit Buying Guide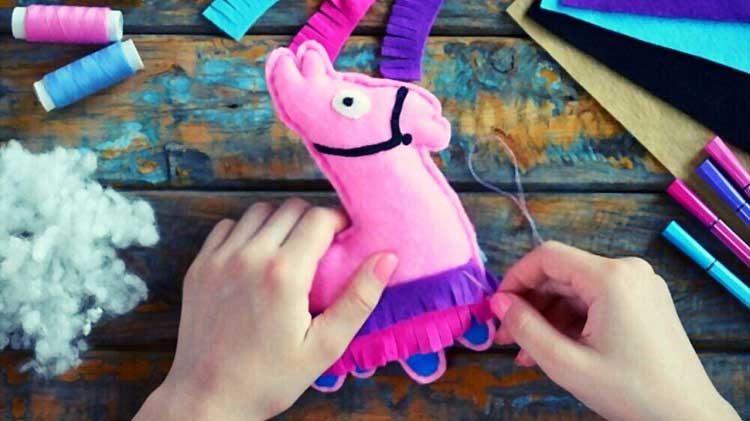 While it is true that there are a considerable amount of quality felting kits out there, you have to make sure you pick the best one for you. We can help you out on this as well- just check these things before you make the right call, and you're good to go!
Instructions and Simple Design
Nobody expects you to be a pro at felting on your first attempt. You can gradually get better with proper practice. But there are people who try to learn this skill overnight and make it a bit overcomplicated. Don't be that person. Try to start with easy projects.
No, we are not discouraging dreamers who want to start with complex designs, but we can suggest you keep it simple at the beginning. Playing around is cool, but first, you need to learn the basics. On that note, your starter kit should have instructions and some simple designs to replicate from.
Your kit needs to help you out with crafting specific objects rather than felting as a whole. Once you've learned the basics, then it's time to step up on that creativity train, and off you go!
Check the Items on the Kit
It's just not one item; it's a whole set of tools that you would be needing. So it's pretty apparent that you'll have to check every single item available in that box. First up are the essentials: good quality wool and different sizes of felting needles.
Another must-have here is protective equipment like a felting mat and/or a finger glove.
But that's the usual box. If you're looking for the best option, it must have something extra, no? This is where the additional accessories come in. A common extra tool is the wooden needle handle- makes your work very efficient. Other accessories include scissors, glue, keychains, and lanyards. 
Know Your Needles
You're about to play with needles, how about you know a bit about these sharp objects with pointy ends? Jokes apart, knowing about the gauges and your needle sizes is very important, mostly because not all needles can stab the wool in the same manner. You have to understand the abilities and usage of different needles.
While most of these needles are triangle blades in nature, there are star blade needles that are well with four blades. There are variations in them too. For example, the spiral blade needles have three blades, but they're twisted. Then there are the heavy and finer gauge needles among these types.
And you'll need both heavy and finer gauged ones for different purposes. But choosing three or four blades depends entirely on your preference.
Choose Your Wool
There are several types and two styles of wool in general. If you ask us about the best type available, we would definitely go for the medium-coarse wool from New Zealand.
At the same time, you might not be anywhere near that country, so you can settle for Norwegian or Romney wools. Coarse wools, like the ones in Iceland, are good for felting but don't have that smooth finish.
In most cases, you won't be told about the origin of the wool, but you sure can ask the vendor personally or check the selling company's websites.
You need to make sure if you want batting or roving style wool. Batting is relatively finer, expensive, and less common than roving-styled wools. While both are quite similar, roving-styled wools are easier to store.
Check Storage Options
Most people felt because they feel good doing it. They take it as a hobby, and why not carry around your beautiful hobby in places you travel to? With this in mind, many felting tool boxes either come in with adequate spaces or and extra boxes to keep your unused wool and, if possible, sneak in one or two of your creations.
This is quite essential because you can't use up all the wool on one go, and keeping them safe should be your priority. Make sure they provide at least enough space in your box to keep the unused wools.
How to Use Needle Felting Tool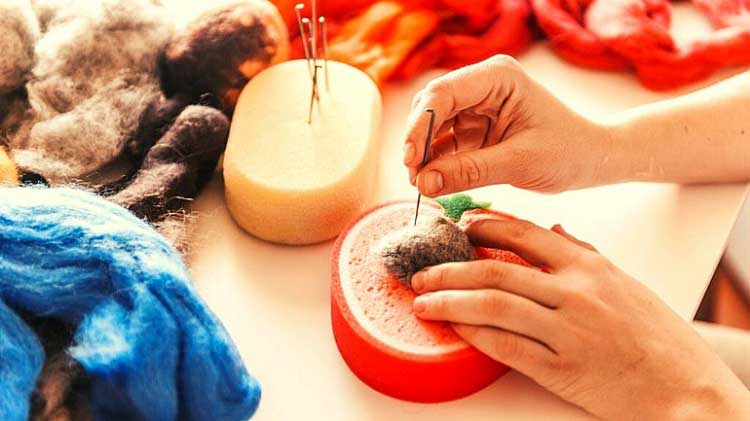 Here, we'll tell you about the use of a needle felting tool in detail.
Step 1: Decide the Fabric
First up, you need to figure out what sort of fabric or wool you're going to use.
Step 2: Get Felting Needles and a Pad
Fast forward to the other items- you will need felting needles and a pad or cushion for safety and comfort.As simple as it gets, you would require the felting needles to stab through the wool and create objects that will eventually turn into a doll or something interesting.
The cushion is essential because when you're poking through the wool, the endpoint of your needles will have to go somewhere, and it better be a cushion than your legs, right?
Step 3: Poke the Wool
As mentioned earlier, in order to do the felting, you first need to poke the wool. It's not that simple, though. You have to follow a process.
The first step to do it is by rolling up some wool and starting stabbing it in a systematic manner, focusing on a single point. While that is being done simultaneously, the needle automatically pulls some wool into itself.
Step 4: Keep Poking
When you continue doing the stabbing and poking, the wool that adds to the special needles locks together with its tiny scales.
If you keep on doing this over and over again, you'll finally get a decent round shape. That is your base. From that, now you can add more wool and felt some more to make the object that you intend to build!
Frequently Asked Questions (FAQs)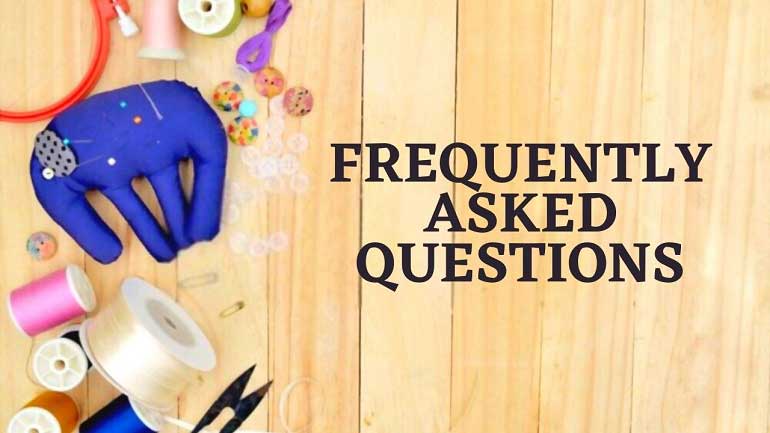 Here we have the most commonly asked queries regarding the best quality needle felting kit:
1. What is the right way to felt a needle?
Lucky for you, there is no right way to felt a needle. It fully depends on your personal preference as to which way you're comfortable doing it.
A felting needle comes with different needle sizes, you can experiment all you want with them, and hopefully, you can find your perfect combination!
2. Do we need a cushion to work with?
Not exactly cushions, but you will require a soft but sturdy surface to work with. Needles are sharp. They're not child's play. So when you stab through the wool with them, you should make sure that the endpoint reaches somewhere safe.
Cushions or towels are a good choice, but most of the tool kits come with felting mats these days- and felting mats are specially made for these situations.
3. What if I'm not getting the shape I want?
Chances are high that you'll get an in-depth booklet regarding felting and sample shapes you can make, so you don't have to worry about that much.
But if you don't get one, then the internet is always your best buddy on this! You can see instruction videos or check out designs to make a better shape with your felting needles.
4. Roving or batting- which style of wool is better?
To tell the truth, you can felt your needle with both styles of wool. The main question here is which one is preferable.
Batting wools are more refined versions that are cleaned and disentangled. So naturally, they're more comfortable while felting. However, roving wools are relatively cheaper and more common, and you'll probably get a ball of roving wool with your felting kit.
5. Which kind of needle is better, heavy-gauge or fine-gauge?
The answer is inconclusive here. There's no such thing as called a better needle among the same set of needles with different sizes. It depends on the type of object you plan to create.
Heavy-gauged needles catch more wool whilst finer-gauged needles give you more finesse and a good finishing touch. We'd say you need both kinds to achieve perfection. 
Final Words
The best thing about taking up needle felting as a hobby is that you can let your creativity run wild and free. It's easy, it's fun, and it naturally calms your soul.
Be it a keychain or a next-door neighbor doll- needle felting never misses out on any chance to make you happy!
That being said, we hope you can choose the best needle felting starter kit from our detailed list. Best of luck on your felting journey!
Related Articles: