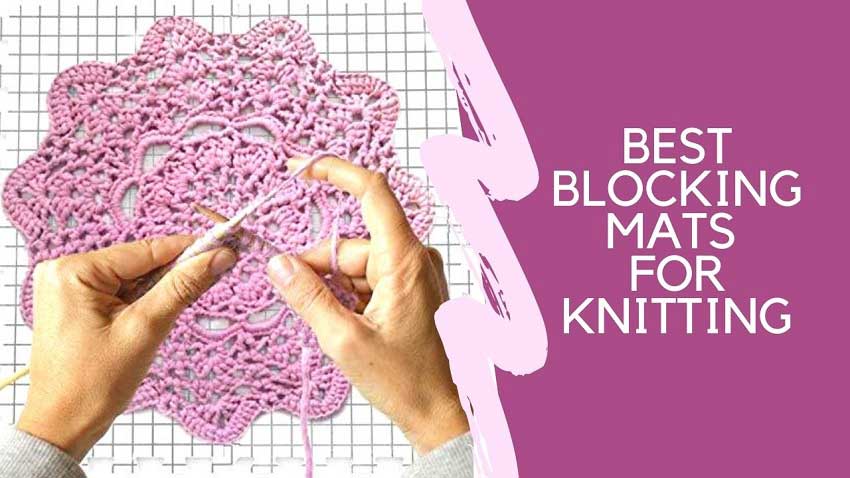 It doesn't matter if you're a beginner in knitting or a professional – the importance of having the best blocking mats for knitting can't be disregarded. A good blocking mat holds the power to turn your homemade knitting project into a professional one.
Now we understand how tough it really is to find the ideal blocking mat best suited for one's needs. But don't fret just yet, as we've chosen and reviewed the top blocking mat sets available in the market.
Besides, we've been included the buying guide amongst other necessary information in case you're in need of it. Without further ado, let's get right to it.
What Is a Blocking Mat for Knitting?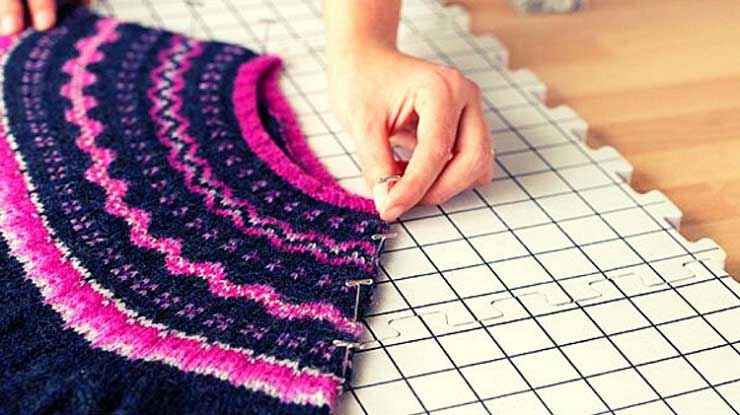 Generally speaking, a blocking mat is a tool used to give support to the item you're knitting as a base. These are also the mats used to keep the project you're working on to allow it to dry. In most cases, these are made up of waterproof materials such as foam or rubber.
Regardless of what type of project you're doing, you can place them on these mats to dry up. Some mats are resistant to heat and water, so you can use steam to dry your project while it's on the mat, while others aren't water or heat resistant and require other alternatives unless you go for air drying.
Best Blocking Mats for Knitting: Top 7 Picks For 2022
We've selected the following 7 blocking mat sets for knitting and reviewed them for you. If you're interested in getting an idea about them, continue down below:
1. KnitIQ Blocking Mats for Knitting – Editor's Choice
Whether you're a beginner or an expert at crafting and knitting – KnitIQ will have your back. By using a sophisticated and complex gridding system, you can easily attain top-notch knit, needlepoint, crochet, or lacework designs. It comes with nine different boards, all of which can be rearranged into various shapes and sizes!
Better yet, all of them are guaranteed to remain as you place them! Amazing, isn't it? All of the boards come with grid lines to ensure clear-cut blocking to help you achieve that immaculate, professional finishing. Thanks to the dense foam base of the mats, you can rest assured that the needles won't poke you.
Amazingly, these blocking mats are heat & moisture-resistant, so you can use them to steam or dry your work. More importantly, they're the ideal choice for steam or wet projects as well. If this isn't one of the best blocking mats for knitting, we don't know what is.
Highlighted Features:
Designed to be resistant towards heat & steam
Comes with a very handy kit with many bonus additions
Includes a thick and comfortable foam that'll prevent pins from poking holes
Can be interlocked in case you want to do a big project
Extremely versatile and easy to work with
2. Hephaestus Crafts Blocking Mats for Knitting
Up next, we have the blocking mat set by Hephaestus Craft. This one's easily the ideal candidate if you're looking for an easy-to-handle device that is also affordable. The clean design itself makes it super worthwhile.
You have the choice to either use the boards on its own join them together to work on a larger project. The accuracy of patterns will help you nail any form of knitting, including lacework or crocheting.
One of the best parts of this blocking set is that it's super lightweight. Thus you can carry it around and craft anytime, anywhere. Besides, its water & heat resistant nature allows you to steam and dry the projects quickly.
The dense foam is versatile enough to be used on all sizes of projects. You'll find that they can be effortlessly arranged and rearranged to suit your needs. Moreover, the foam helps to prevent your hands from fatigue and while saving it from getting poked by the needle.
All in all, we'd recommend this to anyone who's looking for a lightweight, portable blocking mat that delivers precise details.
Highlighted Features:
Features clean and precise grid lines for accurate detailing
Super lightweight and portable, which allows for work on-the-go
Will allow you to steam and dry without issues
The kit includes a lot of useful items
Suitable for both small or big projects
3. WOODLOVE Extra Thick Blocking Mats
Credit where credit is due – if you're looking for a blocking mat set that'll give you ultimate flexibility and control, you've got to check this one out!
Made with a compressed foam, which is surprisingly lightweight yet durable. The material will give you the right amount of elasticity to mold it into the shape or size you need. Additionally, the material is amazingly resistant to getting damaged by water or heat.
Say goodbye to unequal edges and imperfect work thanks to precise marking on each of the blocks. The grid lines will deliver extraordinary accuracy and detailed work.
If you're a beginner, you'll love how considerate WoodLove was when you notice the extremely handy accessories included in the kit. The cover itself is great for keeping the mats secure and durable for years.
Highlighted Features:
Created to be highly durable
Precisely marked blocks deliver superior accuracy
Offers great flexibility that allows you to be more creative
Comes with all the needed accessories for doing a crafting project
4. Boye Interlocking Blocking Boards
In case you're looking for the best blocking board for knitting that won't put a dent in your wallet, then look no more; here's your ideal pick.
The interlocking blocking boards by Boye is a dream come true for beginners or experts alike. The boards have been designed in a manner that allows the users to attach as many of them as needed. Thereby, you can tackle big projects by using these as well!
Many users have raved about how stiff the blocks are, which helps to provide sufficient support for blocking purposes. However, some have complained about them being too thin and not as flexible.
While the cute, small size is loved by most, many users have said that the mats are much smaller than the claimed 12" size. That being said, almost all of them have raved about how useful the grids are.
You can work with a steamer to dry your work without worrying about damaging it. But we should inform you that it does have a slightly overpowering chemical smell.
Highlighted Features:
Extremely budget-friendly
Suitable for both dry & wet projects
Sports a firm and sturdy build to support any type of workload
Quite lightweight and portable
5. Knit Picks Blocking Mats
If convenience and versatility are what you're seeking, then you've got to check out the blocking mats by Knit Picks.
We love a tool that allows us to create many different items with it. This is exactly why we had to include this mat set. Starting from lace to garments, you can block on literally everything. Incredible, isn't it?
Hands down, it'll be our first recommendation to people who intends to work on big projects. These blocks have been designed with interlocking sides, which helps them to fit into each other with ease.
You can use this durable blocking mat set to work on wet and dry blocking as well. The mats are dense enough to stop the pins from poking your working table or you. However, the mats aren't very thick. In fact, you'll find thicker blocking mats in the market within the same price range.
That being said, this is a highly durable and efficient blocking mat set. The great quality poly case that it comes with is certainly another plus point.
Highlighted Features:
Features an excellent build
Interlocking design helps the users to connect as many blocks as needed with ease
Designed to be highly efficient and versatile
Highly durable
6. Umien Blocking Mats for Knitting
Crafted with thick, compact foam material, this set of blocking mats will deliver the best support and satisfaction when in use. You'll find that the set includes properly defined grids and allows the usage of needlepoint, crochet, wet or dry blocking. This basically means it's well suited for any type of knitting project.
We were happy to find that Umien has already provided us with thick blocking mats. The thickness is perfect enough to stop the pins from even damaging the mats themselves. It also guarantees a longer-lasting tool kit.
These block boards have been created to be durable as well as super precise. You can use them for your small personal projects or for larger commercial projects. With this block set, you'll always get a professional finish when thanks to the perfectly aligned grids.
It comes with a lot of additional accessories, which were included to improve your crafting experience even more. Each of these accessories is made out of high-quality material as well.
Our favorite part is certainly the protective and convenient storage bag that makes traveling with the set super convenient.
Highlighted Features:
Comes with a great quality foam
Blocking mats have the perfect thickness yet is super lightweight
Perfect for any project
Has the gridlines drawn very accurately
The mats are self-healing thus will be durable for many years
7. Knitter's Pride Lace Blocking Mats
The lace blocking mat set by Knitter's Pride is one of those products that makes knitting seem easy – even if it's crocheted items.
Most users have claimed that these blocks are fairly easy to set up and are highly durable. While they do have a decent size, some users have commented that they needed at least two of the sets in order to work on bigger projects.
A quality finish is something that's been promised by Knitter's Pride, and that's exactly what they've delivered. You can use it to create new items or fix older items and make it look professionally done.
However, most repeated customers have complained that they didn't maintain their standard or accurate sizing when making these blocks. Most of the customers found it difficult, if not impossible, to connect older sets with newer ones as the shape and size didn't match.
We were also disappointed to find out that the set doesn't include basic accessories such as pins. This is especially unacceptable given that sets that are being offered at half the price are offering these basic accessories.
Highlighted Features:
Highly durable
Makes the process of knitting very easy
Simple and hassle-free to assemble
Helps you to give the item a professional look
Blocking Mats for Knitting Buying Guide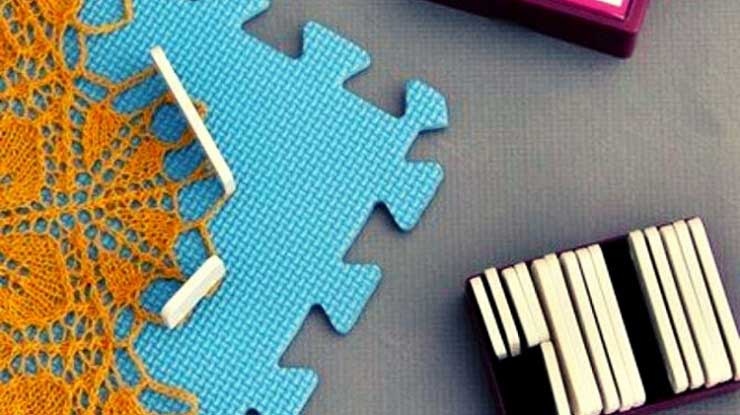 While choosing a blocking mat can be a fairly easy task, there are some criteria that you should be on the lookout for to ensure a successful purchase. Let's take a look at what those are down below:
Material
The material used is super important in determining which set to go for. First off, you need to check the quality of the material. Materials such as foam or rubber are the most durable ones. They're also very stable and are likely to be heat and moisture-resistant.
Next, you need to check out the thickness of the material. Getting a thick board will be protecting your work from getting any scratches or marks. It'll also be able to keep itself durable for a longer period of time.
That being said, you shouldn't go for a board set that it's too thick, or else it might not be as lightweight as you need it to be.
Ease of Use
The last thing you need before you start your knitting project is getting a blocking mat set that's difficult to set up. A good blocking mat set should be easy to set up, and they should always have a standard measurement so you can easily attach as many mats as needed for your project.
What's in the Bag
It's crucial to check what's included in the set apart from the mats. Having to purchase these things separately can be time-consuming and well spike up your total investments. Thus, make sure that the set comes with at least 100 pins, a good storage bag, and other needed accessories.
Durability
Durability is, of course, an important factor to consider. A good quality blocking mat set is likely to last for decades, even if you use it regularly.
On the other hand, cheaper materials or cutting can leave you with mats that'll give up on you within a few months or years. It'd be best if you could get your hands on a set like Umien that heals itself from pin marks.
Grid Lines
There's actually no point in getting yourself a blocking set if it doesn't come with proper grid lines. Gridlines will help you to make your work as accurate and flawless as possible. Thereby, it's imperative to get one that has proper, accurate markings given.
How Do You Use a Blocking Mat in Knitting?
Using blocking mats is no rocket science after you get familiarized with it. You can use these mats in three main methods, which are pin blocking, wet or steam blocking, and finger blocking.
In all of these methods, you will have to use pins in order to hold down the thread to make it easier to shape it and keep it in its place. And in case of steam or wet blocking, that's when you use water to help the threads stay in a straight line.
Frequently Asked Questions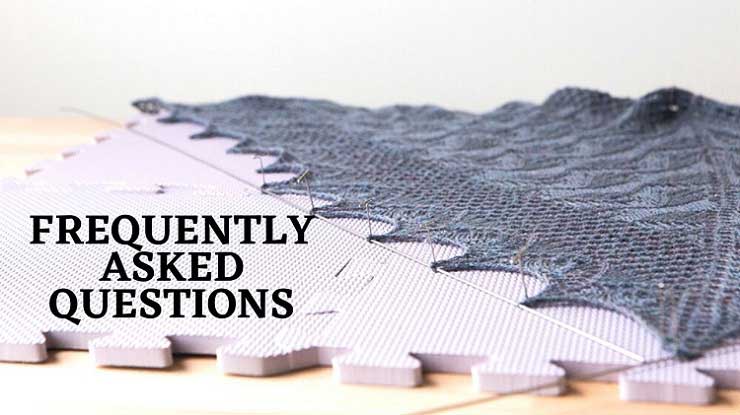 Here we have the most commonly asked queries regarding the products:
1. Can I knit a shawl using these mats?
Answer: You can practically knit everything using these mats, including shawls.
2. Is it possible to do perfect knitting if the mats don't come with grid lines?
Answer: Gridlines are the essence of a good knitting mat. These lines are the reason behind achieving professional-grade work from home.
3. What is the ideal thickness of these mats?
Answer: The ideal thickness should be ¾" per mat.
4. What's the best material for such mats?
Answer: In our experience, foam is the best material used for such mats as they provide better flexibility and durability as opposed to other materials.
5. Do I need any tools to attach multiple mats together?
Answer: No, you don't. These are shaped like puzzles to make it easy for you to attach them.
Final Verdict
We believe by now you shouldn't have any issue in choosing the best blocking mats for knitting for your needs from this article. Before we part ways, we'd like to emphasize doing proper research on the selected blocking set before making the purchase to ensure a solid purchase.
And if you need further help, we're just a shout away. You can inform us about what kind of help you need in the comments section, and we'll do our best.
More Articles You May Also Like: