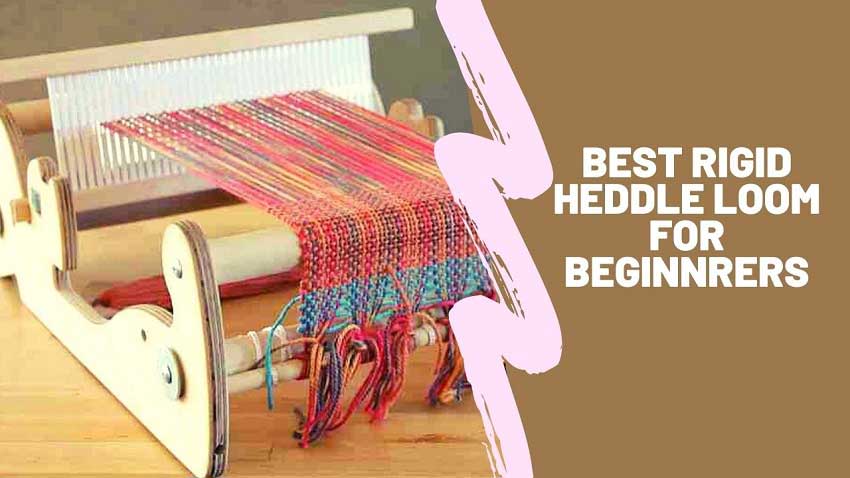 From tiny tea towels to oversized blankets, there's hardly a thing you can't weave on a rigid heddle loom. With the help of one pick-up stick or two, you instantly have an endless possibility of weave patterns.
You can now make brilliant tapestries, elaborate wall hangings, and designer shawls in the shortest amount of time. No wonder why rigid heddle looms are all the rage right now.
If you want your weaving career to take a flight, help yourself to our list for the best rigid heddle loom for beginners below. These exceptional weaving tools are compatible with all types of yarns.  Got a weaving class to ace? Buy a portable rigid heddle loom and unleash your creativity!
What Is a Rigid Heddle Loom?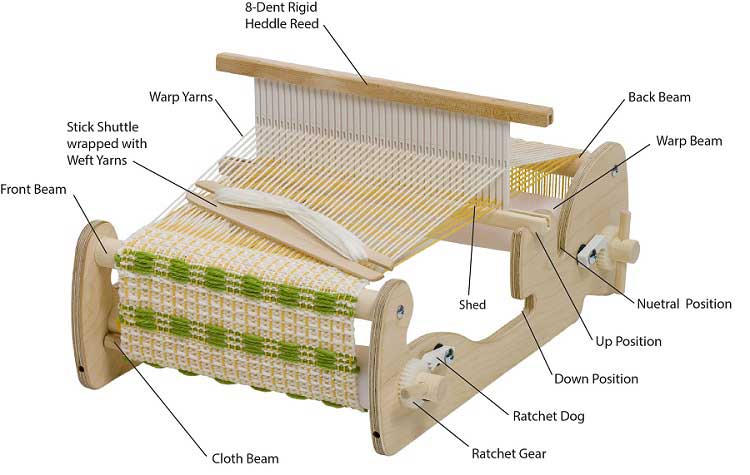 If you're familiar with knitting and crocheting, you've surely come across a handloom you just can't wait to try. In that case, a rigid heddle loom is the easiest loom you can start with. If you can't wrap your head around a rigid heddle loom, we're here to help!
It's a loom with a firm frame with slots and holes. Weavers call this frame a heddle reed, or simply a heddle. Now let's explain why the slots and holes are there. After you tie one end of the yarn to the apron bar, you pull it through a hole on the heddle and wrap it around the peg.
The plastic partitions that separate each hole on a heddle are called slots. Threads in the holes stay fixed to the peg and cannot move. Whereas the slot threads can move freely.
After you've set up the warp, it's time to weft! But what exactly is a weft? It is the strand of yarn that you draw back-and-forth through the warp for creating weaves. As you raise or lower the heddle, a "shed" is created in between the hole threads and the slot threads.
You pass the weft yarn through this open space for weaving patterns. This is how a woven fabric is made. Professional weavers use a rigid heddle loom to practice new weave patterns or sample them for a bigger project.
Our 5 Best Rigid Heddle Loom For Beginners in 2022
Can't decide on a rigid heddle loom to learn how to weave? We are reviewing 5 of the finest looms available in the market right now.
1. Schacht Cricket Loom 15″ – Editor's Choice
If you're not new to the world of weaving, you've surely heard about Schacht Spindle Company. For more than 50 years, this family-run business has been manufacturing exceptional, high-quality hand-weaving looms, spinning wheels, and accessories as an integral part of the American craft resurgence.
To begin with, the Schacht Cricket Loom can be your stepping stone into the life of a full-time weaver. This rigid heddle loom is tiny in size- giving you ample opportunity to learn its techniques and sample your works.
If you don't want to start with a more complicated double-heddle weaving, you're going to love the Cricket Loom for its simplicity. From handmade tea towels to color field scarves, you have a lot of options to try out with this loom.
It's available in 10-inch and 15-inch weaving widths. Both sizes are perfect for transporting the loom from one place to another. You also don't have to compromise the selection of projects you can pull off with this well-made loom.
A generous dent size and weaving width, robust construction, and easy portability are some of the features that make the Schacht Cricket Loom the best rigid heddle loom for beginners.
It is made of hard maple wood, which is a very sturdy material for portable looms. Its 8-dent reed has 4 holes and 4 slots per inch of the warp yarn. The good news is- the Cricket Loom is now remodeled with ratchet gear and dog. It will make adjusting the tension on the warp much more effective and easier!
And finally, the rigid heddle loom comes with an extra threading hook, two shuttles, a few table clamps, and a warping peg. You also get two complimentary balls of yarn to get started with your first handloom project! 
Highlighted Features:
15-inch weaving width that is suitable for small weaving projects
Includes two balls of yarn, shuttles, warping peg, threading hook, and clamps
8-dent reed makes it suitable for thin yarns
Ideal for tabletop installation
2. Ashford SampleIt Weaving Loom – For Beginners
While Ashford is nearing a century of making the finest handlooms, their SampleIt loom is a safe choice for professional weavers and hobbyists alike. This affordable and compact loom can give you hands-on experience with various weaving techniques.
The best thing about Ashford SampleIt looms is that they are made of premium Silver Beech hardwood- native to New Zealand. Its 7.5 dent reed is a fabulous choice for using worsted yarn as warp.
Since the dent size falls in the medium range, you might not be able to work with very thick yarns. But weaving with thin to moderate yarns will be the most comfortable. It also allows you to work with sports weight yarn.
You can weave lightweight sweaters, scarves, and mittens on the SampleIt loom. After you take the tension off your fabric, the in-between spaces fill in for a nicely woven project. You have to gently beat the yarn with a beater.
If you're patient enough, you can also weave a nice little blanket on the loom by sewing the pieces afterward.
The Ashford SampleIt loom makes a thoughtful Christmas gift. Moreover, it can be your all-in-one handloom starter kit before you step into the more intricate, multiple heddle looms.
Its 10-inch weaving width is the perfect size for table runners and transparency samples. Carrying this small tool to your weaving class will not be a hassle either.
Since every new thread will require a heddle, you'll find its second heddle option to be a useful feature. It comes with an easy-to-follow instruction kit. So, assembling the loom is a simple task.
Highlighted Features:
7.5 dpi, 10-inch reed
Suitable for weaving with worsted, medium-weight, and variegated yarn
Made of Silver Beech hardwood
Comes with a second heddle option
3. Ashford Sample it Loom
If you're looking for a rigid heddle loom for beginners, then the Ashford SampleIt is perfect for you. It offers a 16-inch weaving width, a second heddle, and plenty of accessories to get you started.
Ashford has a huge collection of portable and tabletop looms in different sizes. This New Zealand based brand has unmatched expertise in the weaving arena.
We already reviewed the SampleIt 10″ Rigid Heddle Loom before. Its best attraction was the Silver Beech construction and the option to add another heddle. Ashford's 16-inch rigid heddle loom is no different, apart from its bigger size.
This brilliant loom houses many user-friendly features. The fact that you have two heddles here opens doors for you, as you have a ton of fun patterns to try. Drawing the weft yarn through the warp in different styles will result in remarkable twill, basket, satin, and plain weaves.
Moreover, you can get twice the width on a two-heddle loom. If you're not a big fan of pick-up sticks and heddle rods, this feature will be your saving grace.
The SampleIt loom comes with strong clicker pawls and ratchets. They keep the warp firmly in place, so that it doesn't unwind by accident. Its 7.5-dent heddle will comfortably receive yarns of medium thicknesses.
You can take a look at Ashford heddle reeds from 2.5-dent to 15-dent sizes for working with heavy, textured, and lightweight yarn.
Highlighted Features:
Silver Beech hardwood construction with a natural finish
Option to add a second heddle for weaving three-shaft patterns
Includes a warping peg, shuttles, and clamps
Quality ratchets for adjusting the tension.
4. Beka Child Weaving Loom For Beginners
As if weaving isn't hard enough, most looms require assembling and polishing before you can even get to the warping part. Luckily for you- the Beka Child S 10″ comes already warped and started with a woven piece! You can start weaving on the rigid heddle loom right out of the box.
Be it a fashionable scarf or an intricate table runner, Beka Child S helps you rock any weaving project with an outstanding finish. Its back beam allows you to make a long warp. You can easily weave up to three yards on this rigid heddle loom. But it is limited to 10 inches in width.
Since it doesn't offer an additional heddle choice, you can't exceed the said width in any way. You have to use a pick-up stick for weaving different patterns. Beka has a good range of rigid heddles that work with this particular model.
A 4-dent, 4-inch heddle comes with the package. It fits bulky yarn the best. If you want to weave tea towels or light knitwear, then use a 10-inch heddle with tiny eyes.
Another thing we noticed about the Beka loom is that it has a clamp that holds the warps near end in place. But there isn't another clamp on the other side. So, you have to use a board and additional clamps to get the right tension.
Moreover, the shuttle isn't tapered, and it might feel blunt to you. Looking beyond these points of discomfort, the rigid heddle loom is a decent pick for the price.
Highlighted Features:
Includes two heddles for different types of yarns
Warped and started with a woven piece
Can weave up to 3-yard-long projects
Suitable for making scarves and light winter wear
5. Ashford Rigid Heddle Loom & Stand Combo
This 48-inch rigid heddle loom by Ashford is for those of us who have already stepped into the weaving wonderland and are now eager to move on to the big stuff.
If you want to create fabulous homemade shawls, sweaters, and throw blankets for the coming winter, this Ashford loom will be right up your alley!
For starters, it has a 7.5-dent reed for setting up the warp. Your woven fabric can be 48-inch wide. A bigger workstation will not only increase your productivity but also help you weave garments from scratch.
It makes weaving a blanket so much easier because you have fewer pieces of blanket fabric to sew. Besides, gently beating the yarn will make the finished product have a nice, smooth drape.
You can help yourself to both sports weight yarn and worsted yarn for adding weft on the warp. Many of us think that they cannot dive into the versatile side of weaving on a rigid heddle loom because of the limited choice and movements of the heddle.
If you're patient enough, getting a pick-up stick-on board will help you create unique weaving patterns just the same.
The loom is made of Silver Beech hardwood that contributes to its robust build. You might not be able to carry this 48-inch rigid heddle loom, given its whopping size. But it's certainly easier to use than the stand-alone shaft looms that can take up a whole room.
Since 48-inch is the highest weaving width you can achieve with this loom, you can now try out wall hangings and tapestries as well. Let's not forget pillow covers, shawls, and ponchos.
On the flip side, you might feel warping the huge reed a bit difficult, but only if you're new to weaving.
Highlighted Features:
48-inch weaving width and 7.5-inch dent
Ideal for making tapestries, throw over blankets, and shawls
Made of Silver Beechwood from New Zealand
Comes with a 28-inch stand
Rigid Heddle Loom Buying Guide For Beginners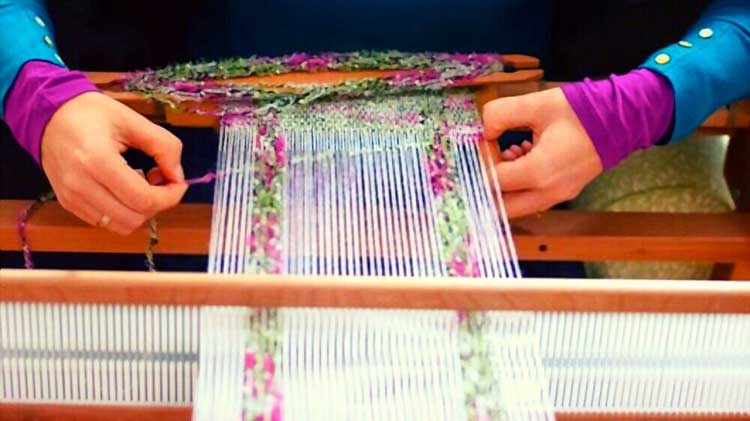 A rigid heddle loom is an economical choice compared to shaft looms. That doesn't mean you should waste your money on the first rigid heddle loom you see. Unlike shaft looms, these are not very versatile in yarn choice, dent size, and weaving width.
We are mentioning some key things that will help you pick the right rigid heddle loom for your creative weaving project!
Choice of Yarn
Finding a suitable yarn for rigid heddle looms is not as easy as you think. Not every yarn will suit the same loom.
You can try out the pinch-and-pull test to choose the right yarn. It's when you pull on a small section of the sample yarn to project how well it might stay taut without breaking or fuzzing up under the loom's tension. If it breaks easily, the yarn is not right for you.
Moreover, rigid heddle looms vary in dent sizes. A 5-dent heddle loom is perfect for heavy yarns. As you move up the dent count, you can work with finer materials, such as sports weight and fingering yarns. Most portable yarns work just fine with medium-weight, worsted yarns.
Width of the Loom
The loom's width matters so much because it decides how wide your woven project can be. If you're only starting, a 10-inch or a 16-inch rigid heddle loom would be suitable. The Ashford SampleIt looms come in a few portable sizes. They are the easiest to carry to a weaving workshop.
Besides, the width cannot be adjusted afterward. That is unless your loom comes with a built-in second heddle block. This way, you can incorporate an additional heddle for making eye-catching patterns, other than the regular twill and rib.
Second Heddle Option
We have already mentioned how the option of another heddle pushes the boundaries of your possible weave patterns. This additional heddle doesn't need to be of the same size as the main heddle. It also increases the width of your fabric up to two times.
That is pretty amazing because you get a fabric twice as wide in the same rigid heddle loom. The Ashford SampleIt loom comes with a second heddle slot. 
Dent Size
The term "dent" refers to the number of threads there is per inch on the reed. An 8-dent reed has 4 slots and 4 holes per inch. Rigid heddles usually have dents available in any of these four sizes- 5, 7.5, 8, 10, and 12.
A 5-dent heddle is ideal for bulky yarns. You can make high-quality winter wear such as mittens, shawls, and blankets with them.  An 8 or 10-dent heddle works best with worsted yarns for weaving table runners, scarves, tea towels, and rugs.
And finally, a 12-dent heddle is the perfect choice for weaving any lightweight napkins, boxy tops, placemats, and cowls.
Supported Patterns
A rigid heddle loom will never be as versatile as a shaft loom. Each heddle introduces a new thread to the weave and controls it. You can easily overcome this setback by using heddle rods or pick-up sticks.
Many beginners start with a portable rigid heddle loom because it has an easy configuration. That said, you have a limited number of patterns to try out on the loom before you bring a pick-up stick to the picture.
Weaving Accessories
No rigid heddle loom is ever complete without a few necessary tools. If you want to be a professional weaver, you need at least 5 accessories every time you get to work.
They are pick-up sticks, shutters, rigid heddle ratchet dogs, warping pegs, and threading hooks. Fringe twisters keep the fringes even.
Pick-up sticks help you weave beyond plain weaving, twill, basket, satin, and the other basic weave patterns for beginners. They offer more sheds in the weaving. It helps you weave elaborate patterns even on a single heddle loom.
How to Warp a Rigid Heddle Loom?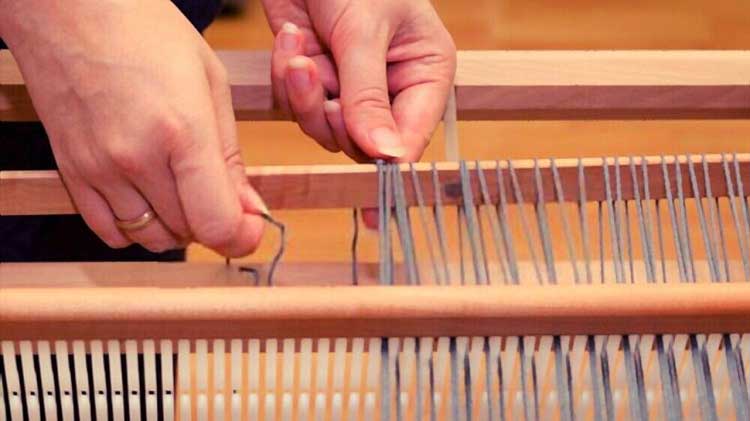 Warping a rigid heddle loom is easier than you think. First of all, let's get you familiarized with a few weaving terms which will come in handy later on. The heddle or the reed is a rigid frame that has holes and slots in it for threading in a yarn.
The yarn that is threaded straight to the heddle is called a 'warp'. A different thread, or 'weft' is then drawn throughout the warp in a systematic pattern to create weaves.
After clamping the rigid heddle loom to the table, follow the steps below:
Place the apron bar in the middle of the heddle and the beam. Take one end of the yarn and tie it in a knot on the bar. Up next, pull this yarn through a slot on the heddle with a warping hook.
As you pull the loop through the other side, place it on the warping peg. You should place the peg at a length that determines your total working area. Now, take the yarn which is still behind the heddle and loop it around the apron bar.
After that, pull the loop through the next slot on the heddle with a warping hook, and place it on the peg once again. You don't need to put tension on the yarn right away. Make sure that the strings are straight and perfectly parallel to each other.
Be careful not to miss any slot. You can introduce new yarn in the same way. Cut off the last strand after looping it on the peg with scissors, and tie it to the apron bar in a knot like the first one.
Frequently Asked Questions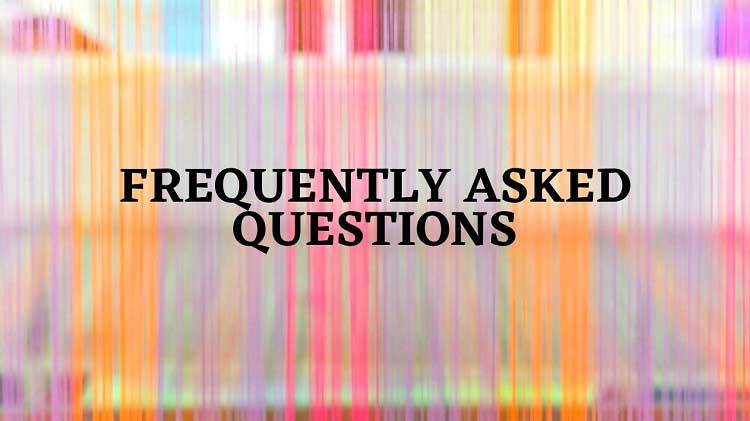 1. What type of yarn is suitable for a rigid heddle loom?
Answer: Depending on the dent-size, you can use lacy yarns, fingering or sports weight yarn, basic worsted yarn, or bulky yarn on your rigid heddle loom. The lower the dent count, the heavier the yarn.
2. Does dent size matter in a rigid heddle loom?
Answer: You can't change the dent size on a specific heddle. However, you can go a level bigger or a level smaller if your rigid heddle loom supports a second reed.
A heddle with 7.5-dent is suitable for worsted yarns. It is a bit tiny for heavy yarns and a bit large for fingering yarn. So, dent-size limits your choice of materials.
3. Why are double heddles better than a single heddle?
Answer: Double heddles are more advanced than a single heddle because it helps you weave more ends per inch (epi). Using two 8-dent heddles means that you will have 16 ends per inch.
It doubles up your previous weaving width and helps you work on larger projects. Double heddles also give you a shot at 3-shaft patterns.
4. What is the difference between a shaft loom and a rigid heddle loom?
Answer: The main difference between a shaft loom and a rigid heddle loom is their size and pattern range.
While a rigid heddle is a portable option with limited weaving structures, the shaft loom is a hulking tool with boundless weaving possibilities. Using a shaft loom is tiresome, and you need a bigger amount of warp tension.
5. What patterns can I weave with a rigid heddle loom?
Answer: A rigid heddle loom allows you to weave the plain pattern as well as twill, rib, and basketweave rugs. We're also talking about fringes, satins, and overshot weaves. You'll be needing a pick-up stick to create these patterns on the warp.
Final Words
We're yet to find another handloom that is as comfortable as the Ashford SampleIt rigid heddle loom. Their 16″ loom is by far the best rigid heddle loom for beginners that we've come across.
The SampleIt will be your best friend as you advance in your weaving journey and pick-up new techniques every day. 
Recommended Article To Read: