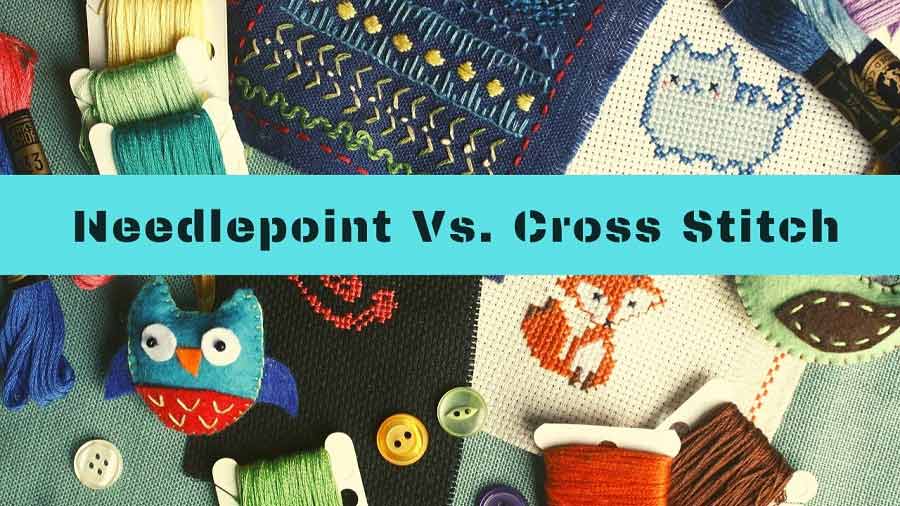 If you have ever taken an interest in embroidery stitches, you are no stranger to the needlepoint and cross stitch patterns. They seem so similar to each other; it is hard for beginners to see the differences between them right away!
Both of these are very popular stitches for embroidery work – be it modern times or the ancient days. But which one is the better option for you? Let's find it out in our detailed comparison of needlepoint vs cross stitch!
What is NeedlePoint?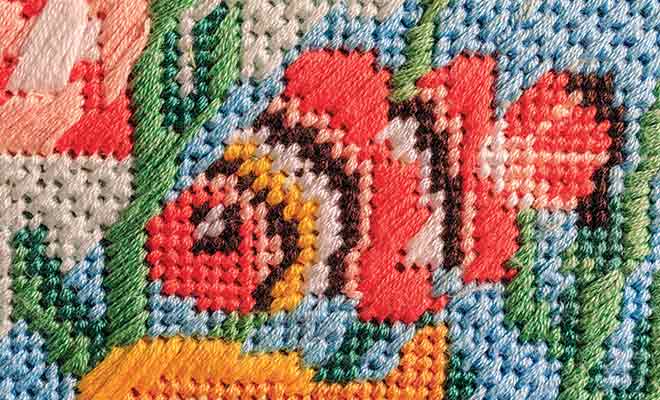 This is a pattern of embroidery work done on clothes created by closely stitching the thread. You can use this stitch pattern to produce large images with intricate details on canvas.
Its simple yet artful strokes manage to paint the picture in encompassing elegance. You can find the needlepoint stitch in more than 150 variations.
The most common among them are tent, continental and basket weave. It is quite easy to learn any of them since they all follow a basic principle of covering the smallest squares.
Each square on the canvas consists of four holes. You bring out the needle with your preferred yarn from one corner hole and then insert it into another hole of the same square.
The latter depends on which particular needlepoint stitch pattern you are following at the moment. Many people mistake needlepoint for tapestry.
However, they are two different weaves where needlepoint is used on canvas mesh and tapestry is created on vertical looms. Although, they mean the same thing in the United Kingdom. Another name for needlepoint is canvas work.
Advantages of Needlepoint Stitch
●      Full-on Creativity
From the smallest details to the largest pictures – everything can be created with the needlepoint stitches. The reason behind this is the minuscule units required for such embroidery.
By pairing needlepoint with a thick floss like wool, you can fill up the blank canvas with as many colors and designs as you want!
This gives imaginative individuals the artistic freedom to experiment with their stitchery visions. They can come up with unlimited designs depicting their inner thoughts and observations.
With the abundance of colors in yarns and the strength of canvas fabric, you can make some masterpieces for both necessities and decorative pieces.
●      Wide Range of Stitches
The easiest and most common needlepoint pattern is the tent stitch, which itself can then be divided into more variations. Among them, the most prominent ones are basket weave, half cross and continental.
While they all follow the same strategy of covering the canvas, their patterns of execution are different. Some go from side to side, while some go diagonally. Most of them cover an entire row before moving to the next one.
Disadvantages of Needlepoint Stitch
●      Fabric Limitation
The needlepoint stitch is usually not done on any material other than canvas. This may be due to the fact that its blunt needle and thick yarns shine the most on such fabrics.
Canvas has bigger holes than other alternatives like cotton and muslin. So it is easier for the embroiderer to put in and bring out the needle.
You will also find it more comfortable to finish off a row on this fabric since the rows and columns are already measured for you. Drawing on it will not be necessary.
What is Cross Stitch?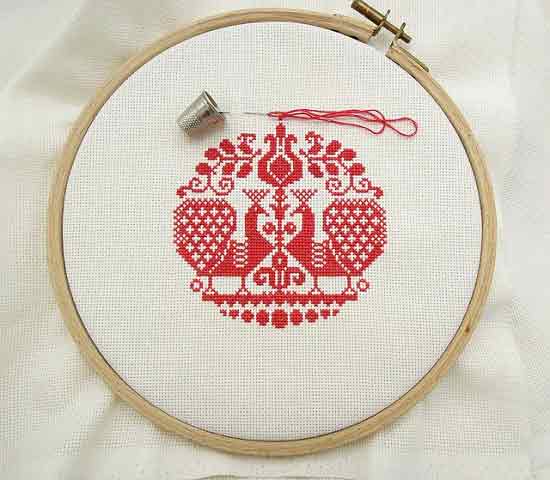 Cross stitch is exactly what it sounds like – a stitching style with patterns of cross or "x". You will need to draw up at least one column on the framed fabric before starting to sew.
Then pierce the top right corner of this column with the sharp end of your threaded needle.
Pull that needle up from that point and insert it into the bottom left corner of the column's first square. This way, half of your first cross will already be established.
Now bring the needle up again through the top left corner of this cross and take the thread into its bottom right corner.
And voila! There is your first cross completed. Repeat this pattern throughout the column to finish off the line of cross stitch.
Of course, you can also do it diagonally by stitching the crosses into diagonal squares. However, it cannot be smaller than a square or in any other unit of shape.
Advantages of Cross Stitch
●      Multiple Fabrics
Compared to needlepoint, you can explore more fabrics with cross stitch. Along with canvas, it is safe to apply on finer materials as well. So you can try it out on more regular fabrics like cotton, linen and muslin.
As a result, you don't have to buy a separate cloth just to practice stitching. You can do it on any piece of clothing available in the house which is not preoccupied for another purpose.
●      Sharper Brain And Eyesight
Believe it or not, certain layered stitches like this one can actually improve your cognitive and visual powers!
This is not as straightforward as other stitches which forces your brain into keeping track of the directions. In order to keep the momentum going and prevent any faulty move, you also need to observe the pattern carefully before piercing the next corner.
Doing so repeatedly over a period of time on a daily basis will enhance your brain and eyesight. As a result, these two crucial senses will grow to be more aware of your surroundings naturally.
Disadvantages of Cross Stitch
●      Pixelated Looks
One drawback of the cross stitch is that you cannot create a seamless design with this pattern. It will always look pixelated since the smallest unit of this pattern is a square with intersecting lines.
When put together, all these intersected squares make up a giant picture made of tiny individual tiles.
●      Steeper Learning Curve
Compared to many straightforward stitches like needlepoint, this one is a little harder to adopt. It will take some time for any beginner to get used to this cross pattern because of its alternating sides and corners for threads.
They need to go left to right and top to bottom (and vice versa) to complete each square or cross. So don't anticipate any amateur seamstress or seamster to pick up the pace right away.
Comparing Cross Stitch Vs Needlepoint
Uses
Both of the stitches in discussion are great for making decorative items like wall pieces. They are very popular choices for handmade embroidery as well.
Other than that, needlepoint shines in creating seamless effects on canvas fabrics. You can create any shape or design using needlepoint and a bunch of colorful yarns. It brings a retro feel pairing it with contemporary patterns for a unique look.
On the other hand, you can use cross stitches to create a pixelated effect on a variety of fabrics. It will create a unique artistic impression on the cloth. Besides, it is often used for closing hems on completed stitching projects.
History
The earliest proof of needlepoint can be found in remnants of Egyptian caves dating back to 1500BC! The Pharaohs like Tutankhamen used to rely on this stitch to create his royal garments.
But that is not the needlepoint we see nowadays. The modern needlepoint has its roots in the 16th to 19th centuries. After multiple modifications over this time, the professionals attained the stitch patterns we see at present.
In contrast, the cross stitch has been around since the middle age. It had dominance in many parts of the world including Asia and Europe.
Instead of wearable garments, this stitch was mainly utilized for designing household items like dishcloths and pillow covers.
Patterns
As we have discussed in detail in previous sections, needlepoint and cross stitch follow two different patterns of sewing.
The former is more straightforward where you only need to bring out the thread from an adjacent hole of the same row.
On the other hand, cross stitch requires you to make the cross sign in each square.
Fabric
As a beginner, you can try both the stitches on a piece of canvas fabric. However, as you learn more about stitching and gain new skills, you will want to expand the boundaries of creativity.
This is where needlepoint disappoints a little since it only works on fabrics like Aida, Jobelan and linen.
You will have plenty of fabric options for cross stitch since you can carry out the pattern even on cotton and muslin.
Look
Cross stitches can only help you with pixelated looks. If you want that unique artistic effect on your garment or decorative piece, it is definitely a good choice.
But if you want something more elegant, needlepoint would be the better option since it flows seamlessly on the fabric producing intricate details.
Types
In case of variations, needlepoint has a lot more to offer than the restrictive cross stitch. You can do needlepoint in multiple styles like basket weave, continental, mosaic, Gobelin, half cross and Parisian.
In contrast, cross stitch has only two variations named back and partial.
Bottom Line – Which One is For You?
It is needless to say that both needlepoint and cross stitch have proved to be gems for designers. Any creative individual with a knack for garments or sewing can learn them easily to materialize the designs they envisioned.
So you get to decide who wins the battle of needlepoint vs cross stitch. The first one will let you form seamless patterns on a large canvas while the latter will create a pixelated effect.
However, you can only use canvas-like fabrics for needlepoint whereas cross stitch can work on almost any fabric. Therefore, the ideal choice between these two depends on your particular requirements.
More Articles you may also like: