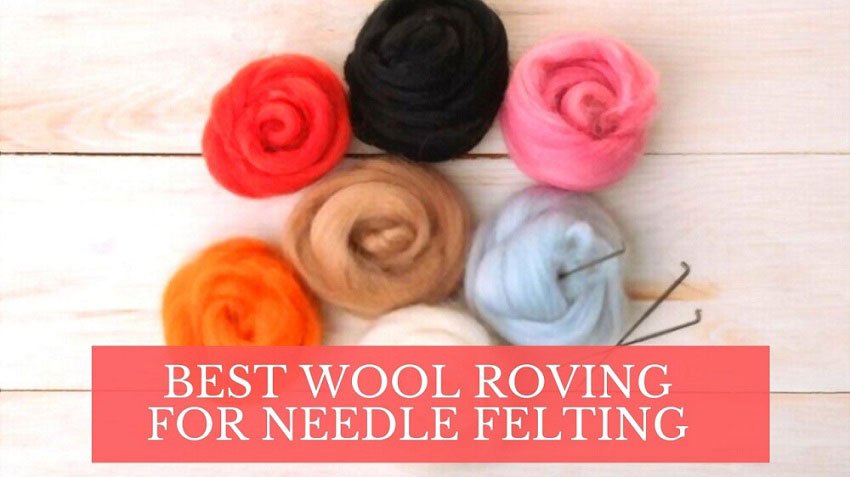 Felting is a skill that has been around for centuries. Whether you want to make small accessories or toys, knowing how to felt will surely help you out.
Although the process is easy to learn, problems arise when you have to go wool shopping. The quality of your wool and where it has been made will greatly determine the quality of the finishing of your end product. And so, you need to make sure you get the best wool roving for needle felting.
Today, we will be looking into the process of selecting the right wool while also reviewing our selection of the best ones. Whatever it is that you're felting, we're sure you'll find the right wool here.
Our Best Wool Roving for Needle Felting in 2022
To aid your decision-making process, we have decided to narrow down your choices and create a list of the best wool roving out there. Let's take a look!
1. MOMODA Wool Yarn Roving for Needle Felting – Editor's Choice
First up on our list is this lightweight DIY wool roving from MOMODA. Constructed from the best quality fiber, this is ideal for beginners and professionals alike.
The high-quality fiber is great for your DIY projects because of how easily it interlocks with one another. For kids or adults willing to try felting, this is the perfect starter kit. You can even purchase this as a gift to your relatives and challenge them to try something new.
Coming in 50 different colors, each individually packed, to give you a wide range of options. Whether it be all the colors of the rainbow or any unusual color, you can bank on it that MOMODA has it all. Moreover, the brightness of the colors makes your end product stand out even more.
To make it easier to pick out your desired color, each of the wool rovings is packed in zippered pouches.
If you're familiar with good-quality roving, then your eyes will definitely catch the crimp on this one. Each of the wool rovings in the set is fluffy and soft, giving your end product a nice lightweight finish.
Highlighted Features:
Comes in 50 different colors
Separate packaging for each color making it easy to identify and pick
High-quality soft fiber wool for a soft and fluffy texture
Vibrant colors make your project stand out
Can be used with both needle and wet felting
2. 100% Natural Roving Core Wool for Needle Felting
Coming straight from the farm is this soft 100% natural wool roving by Desert Breeze. Once you get a feel of this wool, you'll know that they have definitely mastered the skill. Processing high-quality wool since 1955, Desert Breeze has managed to perfect their manufacturing process to the fullest.
Unlike your dyed wool sets, this pack comes in 4 neutral colors. What's more, they are all undyed, making them easier to felt. All of your wool comes from a specific Corriedale cross sheep. This breed has been selectively chosen to provide the best quality wool roving.
Furthermore, measuring in at 29.5 microns, this wool roving is one of the easiest to use for needle felting. Once you roll the roving into your desired shape, giving it a few pokes will bring your project to life. As the fibers can interlock easily, you also require fewer pokes when compared to other wool dyed wool rovings.
Being 100 percent natural gives this roving the added benefit of not harming the earth with chemical wastes. Processed directly from sheep in Australia, each fiber is made entirely using eco-friendly methodologies. As it isn't dyed either, there are no waste by-products of its processing.
Highlighted Features:
100 Percent natural harvested soft wool
Made with eco-friendly manufacturing procedures
Comes in four different colors
29.5-micron fiber for quick felting
Extracted from a specific breed of sheep to give a soft and fluffy texture
3. Wistyria Editions Ultra Fine 100% wool roving
For those of you wanting different shades of a specific color, you can take your pick from 13 different sets with 8 or more colors. This is perfect for scenarios when you need to broaden your wool color palette.
Made from 100% wool, you can rest assured that there are no artificial mixes within. This makes it much easier to felt when compared to others. Even though the wool sets have all been dyed, you don't have to worry about difficulties in felting.
While it's true that undyed wool is the easiest to felt, this set from Wistyria definitely comes close.
Each of the fibers has been processed thoroughly to make them ultra fine. Wistyria claims that this ultra-fine texture smoothens out the texture of the wool and also prevents any sort of lumps. Also, the ultra-fine texture makes it easier for your felting needle to pass into your roving.
Often when wool rovings come in sets of 8 or more, consistency becomes an issue. If you're unlucky, you might even notice overdyed areas.
However, when it comes to Wistyria Editions, you should just sit back and start felting. They specifically focus on ensuring the quality of both the wool feel and color. This, in turn, leads to providing you with the best quality service.
Highlighted Features:
Comes in various sets of 8 or more, aiding flexibility
Ultrafine fibers to prevent any sort of lumps when felting
Ensured consistency to prevent overdyed spots
100% wool fiber makes it easy to felt
4. Jupean Spinning Wool Roving Yarn
If you want something versatile that works with spinning and wet felting as well, then check this next selection out. Made 100% naturally with no mix of other substances, this wool is ideal for more than one type of felting.
The softness and versatility of the wool roving open up tons of different combinations for you. You can choose the make dolls, jewelry, or even blankets! The choice is yours.
Being able to use the wool with both needle and wet felting, you don't need to spend extra on buying a felting needle.
And the high-quality fiber used by Jupean has some of the brightest color selections we have seen. With 19 different options to choose from, don't be afraid to add a little color and liven up your project. The fiber quality influences the number of fibers you have sticking out.
When it comes to this roving, we can assure you that proper felting will reduce the loose fibers on the surface.
As with most wool roving sets, managing, and colors and packing them after use is quite hectic. Japan provides you with separate pouches for each color. That way, you are not mixing up your colors with one another, and you are being to organize them easily.
Highlighted Features:
Wide variation to choose from as it comes in 19 different colors
Works with wet needle felting and spinning
High-quality fiber to give your project the right bit of softness and fluff
Each color is separately packed to identify easier
Quick felt fiber makes it easy to felt within a faster time period
5. Habbi Needle Felting Wool
Not everybody is happy with a limited range of colors. For some, needle felting is a passion, and limiting their color selection gets in the way.
Well, this wool roving set from Habbi will have you astounded with 100 different shades of colors. All of the colors have their own vibrance and is guaranteed to give your DIY project a look to remember. Organizing 100 wool rovings can be tough, especially when you have to look for your desired one.
Habbi packages each of your 100 colors into small resealable packets that make them easy to store and organize. Also, the resealable trait of the packets makes sure your wool doesn't get damaged due to moisture from the air.
Engage in soap making, jewelry-making projects, or even toys. With this endless color palette, the sky is the limit. The plasticity of the fibers is one that should be credited. And the texture and the softness make it evident that the roving has been constructed with the best quality wool.
This gives your project a fluffy feel while also being super light. The plasticity of the fibers is well made to easily interlock with one another using the felting needle and even during wet felting.
Highlighted Features:
Fine quality fiber content to give the overall roving a soft and fluffy feel
Provides 100 different colors to choose from
Can be used to needle and wet felt
Each color is packed in resealable packets for easy storing
Resealable packets prevent moisture from ruining the roving
6. Zealor Needle Felting Wool Set
If you're a beginner or someone who wants to upgrade their needle felting kit, then look no further. This kit from Zealor takes care of all your equipment needs in order to complete your DIY project. The top-quality fibers make it the best wool roving for needle felting.
To start off with, the small tray of needle felting equipment comes with everything you will need to learn and master the art. It comes packed with felting needles, Awl, Scissor, leather finger cot, glue stick, and even a wooden felting tool!
Buy it for yourself or wrap it as a gift to your close ones. Trust us; they'll love the nice gesture.
Moving on, Zealor has managed to pack some great colors into their color selection. If you're not into colors, they also have a natural white alternative you can switch to.
However, once you look at the saturation of the colors, it might be hard for you to get your eyes off them.
What makes this product the best option for children and adults is the safety precautions packed within the starter kit box. Equipped with leather finger cots and safety eyes, you don't have to oversee your little one using that felting needle.
Highlighted Features:
Provides 16 different colors to choose from
Included within is a needle felting starter kit
Bright and saturated colors to make your project stand out
Starter kit comes with a plastic case to store all the tools
Each color of wool roving is individually packed
7. Discovering DIY Premium Wool Roving
Finishing our list off, we have one for those enthusiastic needle felters. Discovering DIY brings you a set of 60 different lightweight wool rovings. Whether you're looking for bright colors like the rainbow or your darker tones, this set has it all.
Each color is prettier than the last, and altogether, they will make any DIY project look amazing.
Much like our other products, all the 60 colors in the set are individually packed. The bags are reusable, and so, once you use them, you can place them in and store them for later use.
These small zip-lock pouches are perfect for storing your wool roving as they block out any excess moisture.
Also, the separate packaging prevents your rovings from mixing with one another. With a fiber content of 100% wool, you can expect this product to be reliable. These fibers within the wool roving are soft, making it easy for your felting needle to push through and lock them in.
In addition, the crimp of the wool roving is quite good. This is directly proportional to the roving's ability to hold its shape together.
Highlighted Features:
Each of the colors is packed in a ziplock bag to prevent the seeping of moisture
100% wool content gives the roving a naturally soft texture
Wide range of color choices from dark tones to light
Individual packaging makes it easy to separate the colors
What To Look Before Purchase Wool Roving for Needle Felting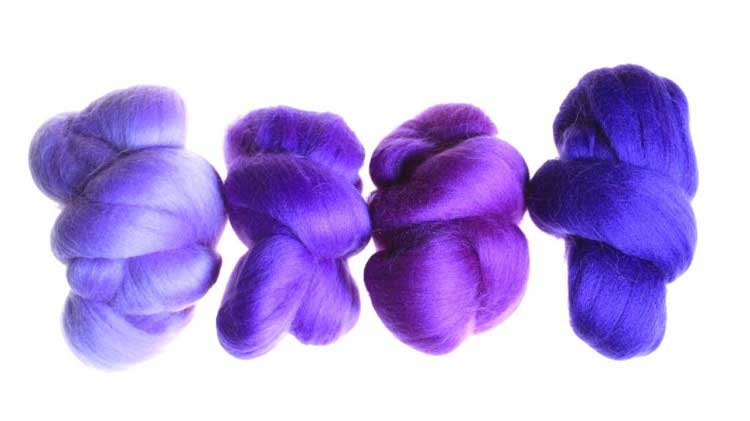 Some people are caught under the impression that buying wool roving is an easy process. We're here to tell you it's not. But, by focusing on certain characteristics, you should be able to pick the right one.
Fiber Type
The contents that make up your fiber have a large part to play in the quality of felting. If you use wool that has been mixed with materials such as nylon or silk, you are likely to have a hard time interlocking them. When it comes to needle felting, you can never go wrong with some good animal fiber.
You also need to make sure there are no other mixes, which means it has to be 100% pure animal fiber. Sheep wool is one of the most common ones in the market and the easiest to work with too.
Crimp
This is directly related to the diameter of each strand of fiber you choose. Generally, the crimp is responsible for the natural waviness of the wool. It also helps the wool fibers interlock with one another.
In addition, wool with greater crimp will make it easy and fun for you to felt. The waviness increases the softness of the end product while also ensuring that it maintains the shape. When you go to purchase wool roving, pick one with a wavy texture; the wavier, the better.
Wool Treatment
The wool that you purchased has gone through different procedures to make it into roving. Some brands will dye their wool or even bleach them, which can be counterproductive when felting. Another example is super-washed wool, which will not shrink at all.
So, using it to felt will prove to be quite a tedious task. When purchasing your wool, be sure to watch out for any treatments that might affect its felting quality.
How to Needle Felt Wool Roving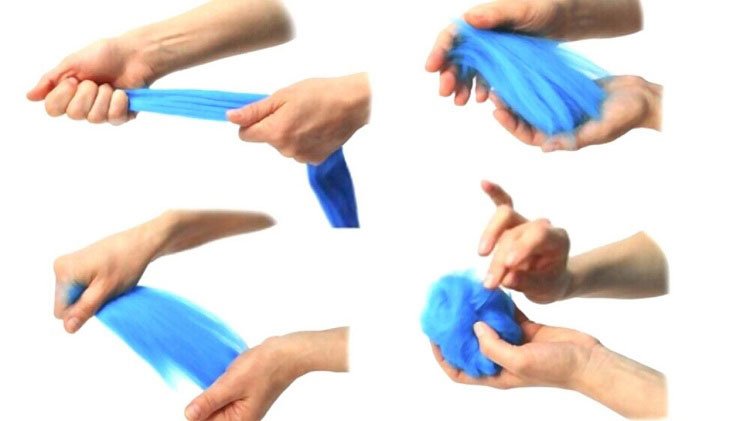 The whole process of needle felting is quite simple, but it does require a hefty amount of patience. Once you figure out the pattern, you can begin experimenting to get different effects. Let's look into the basic process first.
When purchasing a wool roving, you receive a long piece of interlinked fibers. Depending on your desired end product, tear as much as you need off it.
Next, you want to keep rolling your roving between your palms to turn it into a ball shape. If you notice the ends of the roving sticking out, try to keep them tucked in.
Now, you can place your wool roving ball onto the felting surface of your choice and begin to poke it. Your felting needle is quite sharp, so be extremely careful. To increase efficiency, we advise you to poke in straight directions and not in angles.
After a long session of poking, you will notice the wool has shrunk. To know when to stop, you need to press the wool and get a feel of it. If the wool feels soft with fibers sticking out, you will need to continue using the needle.
Soon enough, you will notice the wool shape will start feeling sturdy and smoother.
Frequently Asked Questions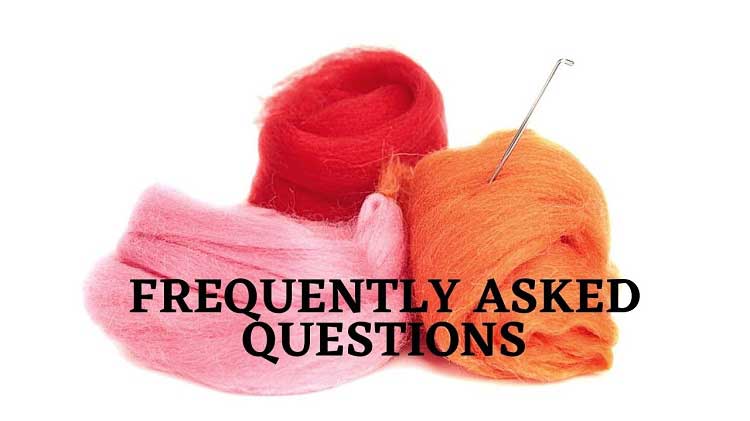 Here we have the most commonly asked queries regarding the top quality wool roving for needle felting:
1. Are washing instructions included?
Answer: The washing instructions are not usually included, and they also differ from product to product. We would suggest you find your fiber content and search the web for possible solutions.
2. Can I use my wool roving for wet and needle felting?
Answer: Yes. While some wool rovings are compatible with both the felting methods, some are not. And so, you should check with your store to find one that is suitable for both kinds.
3. What happens if I store my wool rovings out in the open?
Answer: We would strongly advise against it, especially if you're situated in humid areas. The moisture in the air can react with the fibers and deteriorate their bonding properties. Also, it can cause the color of your roving to go dull.
4. What surface should I use for felting?
Answer: Whenever you are needle felting, you want to make sure the surface underneath does not get damaged. You can invest in a felting mat that will last you for long periods of time, or you can use a thick sponge. Either of them works, but the mat offers you a sturdy grip on your roving.
5. What does 100% wool mean?
Answer: When you hear the term 100% wool, it means your roving is made entirely from animal fur. There are brands that offer mixed wool rovings that contain a percentage of silk or nylon within them for a change in texture.
Final Verdict
Choosing the best wool roving for needle felting is undoubtedly a choice that requires some pre-planning. However, your choice should always be centered on the requirement of your project. Whether you want to prioritize weight over softness is entirely up to you.
If you're a beginner, we would suggest you follow our instructions and make sure you have all the safety precautions, such as leather coats. We wouldn't want any accidents from carelessness.
All in all, we hope our review of some of the best options in the market will aid you in choosing the right wool roving.
More Articles You May Like: