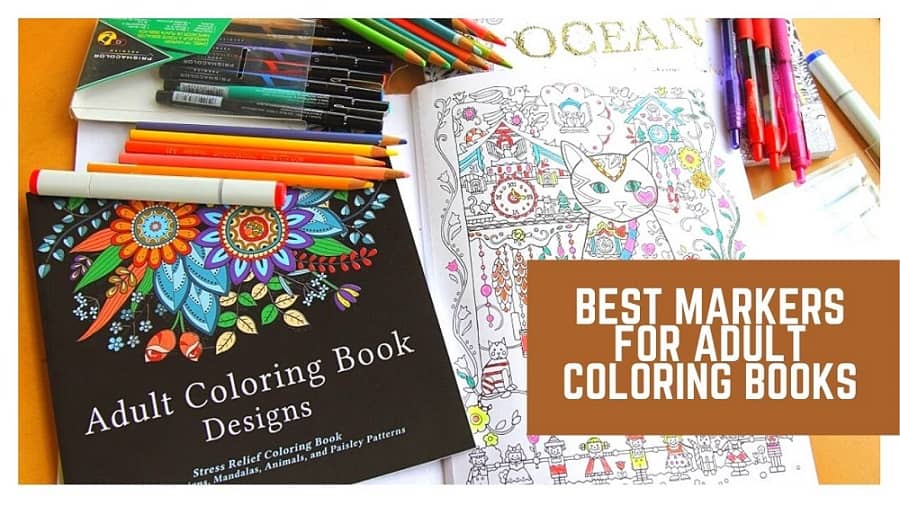 Whenever you look at children's color projects, it soothes your eyes. All those color-fireworks are mostly done by cheap color markers that are primarily made for the little ones to use. However, there are adult color markers that provide many vibrant and well-saturated colors compared to cheaper ones.
You will be amazed to see how well the best markers for adult coloring books performs in any coloring projects. Whether you are a professional artist, or you do coloring just to relieve the stress, you will find great enjoyment using these markers.
I have gathered the top 14 markers for you to pick the right one according to your need and preference.
IMAGE
PRODUCT
DETAILS
 

Editor's Choice

Editor's Choice

✔

40 vibrant colors

✔

Long-lasting

✔

Best for ages 12+

Check Price

Best Value

Best Value

✔

80 rich color markers

✔

Blends perfectly

✔

Suitable for all

Check Price

Premium Choice

Premium Choice

✔

72 permanent markers

✔

Vivid and electrifying in dark light

✔

Worth the investment

Check Price

 

 

✔

36 Dual-tip pens

✔

Acid free

✔

Easy to blend hues

Check Price

 

 

✔

50 colorful markers

✔

Non-toxic

✔

Ideal for illustrating

Check Price
Types of Adult Coloring Book Markers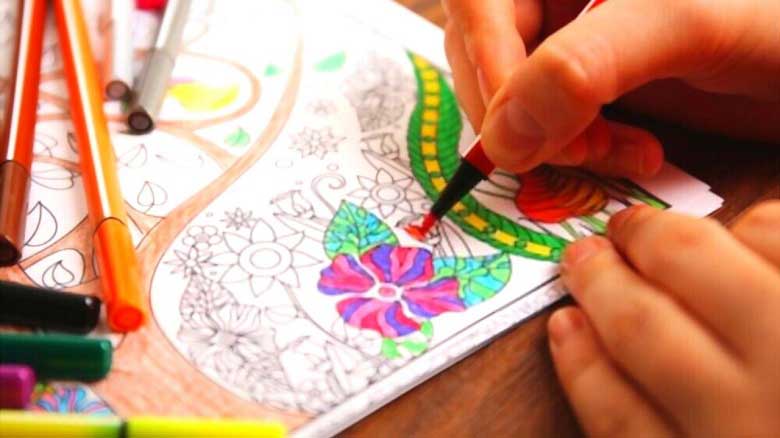 Before you pick one set of color markers for coloring books or hand lettering purposes, you need to know about the types of these markers. This will help you decide to pick the most suitable ones.
This is the smaller and finer tip available for lettering and journaling purposes. Usually, these tips are 0.4mm in size. You will be able to precisely outline or highlight colors while having solid control over the pen to maintain every detail of the art piece. 
As the name goes, these markers include a brush-like tip to allow the user to shade and color of a bit larger size. Brush tips are 1-6mm in size. Shading, coloring, and covering large areas on the art paper become easier when you use a brush tip.
Some markers come with flexible brush tips that allow you to put slight pressure while coloring.
These markers have both the fine and brush tips on the sides. It's highly recommended to pick a set of these as having dual-tipped markers come in handy and very useful for coloring book purposes. This feature adds great versatility as well.
Gel-like inks deliver vibrant and consistent colors that are quite similar to what writing pens provide. If you are not up to anything exceptionally well or amazing, gel pens are enough for hand lettering purposes.
Similar to watercolors, these markers have a watery consistency and take longer to dry.
Our Review of the Best Markers for Adult Coloring Books
I was looking for the best quality markers that don't compromise the ink quality. No matter which one you pick from the list, you will not get disappointed.
1. Crayola Fine Line Markers Adult Coloring Set – Best Overall
The first one on the list is from Crayola that promises you high-quality ink with exceptionally beautiful outcomes on paper. This coloring set includes 40 fine line markers that you can use for coloring projects and creating lines as well.
Due to the non-washable formula, you can rest assured about the longevity of the colors that these markers deliver. Your color projects will look rich and vivid without fading the colors anytime soon. Compared to cheaper markers, these bring brilliant eye-catching color-blasts to your artwork.
These markers feature fine line tips that allow you to color more delicate and detailed lines and drawings. If your designing work primarily has to deal with delicate and narrow lines, this can be a great collection of markers for you to have. Coloring small areas and intricate designs were never so easy and fun before.
Even if you do coloring for relaxation, you will find great pleasure while marking with these markers. Just sit back on a couch, and let your creativity and artistic soul do the rest of the work for you.
Although these are adult markers, your children can also have fun with them without any issue. Keep your kids busy and away from screens in a fun, creative, and good way.
If you are concerned with the color counts, well, these 40 primary markers will be more than enough to color most of your artwork projects. You can also create shades out of the colors as your skill allows you to do so.
Highlighted Features:
40 fine line markers
Great vivid and well-saturated colors
Fine tips for more delicate artworks
Non-Washable and long-lasting formula
Handles smaller areas and intricates designs quite well
2. Ohuhu Art Marker Set for Adult Coloring Book – Best Value
Among artists that use color or Copic markers, Ohuhu is a trustworthy name. Their markers are well-reputable among professionals and artists in terms of quality and providing hassle-free coloring experience.
This color set of 80 markers has all the colors that you might need be it for designing, scratching, drawing, writing, etc. purposes. All these markers produce great-looking vivid colors that don't fade away easily.
The inks are highly pigmented and have great vibrance to enhance the beauty of your artwork. Unlike conventional markers, there will be no smudges and blotches while you color using them whatsoever. With a great flowing rate, you will be able to add colors to your drawings conveniently and smoothly.
Although these inks dry a lot faster, there is no compromise with longevity. You can expect markers to last about 984 ft. of worth drawing.
The most exciting feature about these markers is each of them has dual tips; a broad and fine tip for versatile purposes. When your artistic mind requires broad and wider lines, you can use its broad nib, and when there are needs for delicate and narrower line drawing, you have the thin liner to do the task for you.
Apart from 80 markers, there is a colorless blender for you to blend colors, and create custom colors and cool overlay effects. So, the only limit is your imagination. You can blend colors and produce whatever color effects you want for your artwork.
All the color markers got color-coded caps for you to find the right one easily without wasting much time. Also, the carrying storage bag makes organizing these markers quite easier.
Highlighted Features:
Dual tips for versatile purposes
Vibrant 80 long-lasting colors
Colors can be blended to create cool effects
Highly pigmented ink
Color-Coded caps
3. Sharpie Permanent Markers Ultimate Collection – Premium Choice
It's not that easy to find a perfect color marker pack that provides good quality inks like this one. If you are looking for the best markers for coloring books, take a look at what this one has to offer.
Among its brilliant collection of colors, you will be able to create unique creations as your artistic skill can deliver. Apart from the colors, these markers provide original and natural-looking shades while eliminating dullness from your drawings.
The colors look very bright and vivid in the daylight and give a glow in low lighting conditions as well. If you even have to draw on any darker surface, these markers will not disappoint you regarding how the colors look.
Where maintaining precision and dedication is something that cannot be compromised, you will find its 20 ultra-fine tip markers to be sharp enough. Also, there are 32 fine tip markers for areas that require bold and accurate drawing.
The set also includes 5 neon markers to light out darker areas with enough vivid color contrast. If some of the areas require shining brightness, there are 6 metallic markers for this purpose as well. So, no matter what your artwork requires you to create, you will find these 72 markers more than enough to do that.
You can pretty much draw and write on almost every surface without much trouble whether it's paper, plastic, metal, or something else. The ink is quick-drying and water-resistant; this assures you of its durability. Also, the colors don't fade away easily.
Highlighted Features:
72 great color-producing markers
Fine, ultra-fine, neon, and metallic markers
Great detail drawing with better control
Quick-Drying and water, fade-resistant formula
Stays bright in darker surfaces
4. TANMIT Markers & Brush Highlighter Pen Set
For those who are waiting to look for the best pens for adult coloring books, the wait is over. This color marker pack of 36 comes with versatile color pens to complete your color projects, designing, rendering, and other artworks with ease.
These markers have a dual-tip versatile design that allows you to choose finer and wider tips as per your artwork requirements. Its 0.4mm fine point is for outlining finer and more delicate detail.
You will be able to draw thin and consistent lines. This particular tip is ideal for journaling and adding colorful detail to your art pieces.
Whereas, the broad 1-6mm tip works great to draw wider and provide quick coverage on large areas. You can quickly create medium or bold strokes by changing brush pressure. As the brush tip is flexible, putting a slight pressure will get your job done effortlessly.
The pack comes with primary 36 vivid markers that will be more than enough regardless of the type of artwork you are engaged in. Whether it's for lettering, calligraphy, sketchbook, drawing, illustrating, journaling, etc. these markers will provide great value for your money.
Both the fineliner and brush tips work flawlessly without any skipping or poor ink-flowing issues. Unlike cheaper markers, these don't smudge while you use them on paper or any other surface.
The inks are acid and toxic-free that will create no issue for your skin. Also, you can blend the colors for creating something exceptional out of them.
Due to its high-quality ink, you will not experience disturbing odor and bleeding issues while working with these colorful pens.
Highlighted Features:
36 vibrant colors
Flexible brush tip and fine tip
Zero skipping, poor ink flow, and smudge-free
Non-Toxic, acid-free, and non-bleeding markers
Blendable colors
5. Sargent Art Fine Line Markers
If you are looking for quality markers for illustrating, writing, outlining, and other coloring purposes, you may look at this one. This set of marker packs includes 50 high-quality markers to add elegance and classy touch to your artwork.
The inks are non-toxic; thus, if you are sensitive to chemicals, there is no reason to worry. In addition to that, the colors can be washed easily from fabrics and skin using regular soap and water without much struggle. So, even if you accidentally mark your dress or somewhere else, you will be able to easily wash it away.
From its 50 vibrant colors, you will be able to complete your drawing, sketching, designing, or other artworks. The color pack includes all the primary colors to finish your piece of art with excellence.
Unlike cheaper markers, these colors don't fade easily. You can expect long-lasting performance from these markers.
Its fine quality conical felt tip is perfect for delicate and narrow designs and coloring purposes. Also, the design allows you to create wider strokes when you hold it from an angle. So, for both wider and thinner strokes, you will find the markers serve their purpose quite well.
You can also give these markers to your kids. As the inks are child-safe, you got no reason to worry regarding the health of your little ones. Just make sure your kid doesn't lick the ink.
These washable markers come in a convenient plastic bag that makes carrying very easy. For both home and school color projects, it's hard to find another marker pack within this price range of this quality.
Highlighted Features:
Wide 50 color range
Washable with soap and water
Non-Toxic ink
Colors are long-lasting and durable
Vivid and beautiful colors
Both thin and wide strokes
6. ZSCM Dual Tip Art Markers Set
Whether you need fine, ultra-fine, or brush tips to complete your drawings, designing, and other artworks, these 60 color markers will suffice your most needs. You will be able to add great vibrant colors to your coloring books, sketching, drawing, journaling, doodling, and many more coloring purposes.
Its ultra-fine tip measures 0.4mm, which allows you to draw more delicate and fine details. This comes also great for journaling purposes as well. On the other hand, there is a 1-6mm brush tip to create thicker and wider lines on your artwork. Its brush tip is flexible enough for you to make bold strokes conveniently.
The versatile function of these markers makes them ideal for beginners, amateurs, students, and enthusiasts as well. As the markers got color-coded caps, there will be no hassle when it's about organizing and finding pens. It will save both your time and effort.
When you will color using these markers, there will be no skipping or poor ink flow issues whatsoever. The high-quality water-based dye inks assure you of great vivid looking color-works regardless of the surfaces. As it's water-based, the ink is odorless and non-toxic; thus, you can also give these markers to your kids.
Like most good-quality adult coloring book markers, these don't trigger issues such as smudges and blotches when you write or draw. The ink dries much faster; so, there will be very minimal chances of ruining your beautiful artwork.
As per the packaging is concerned, all 60 color markers come in a convenient round paper barrel for easy storage.
Highlighted Features:
60 colorful and vivid markers
Fine and broad brush dual-tipped pens
Color-Coded caps
Great quality non-toxic inks
Water-Based dye colors
7. Smart Color Art Dual Tip Brush Pens
Coloring adult books is one of the best ways to relax your mind from the radiation of this busy world. For this purpose, you will need the best coloring markers for adults like this one from Smart Color Art.
Their color pack of 48 markers comes excellent when it's about coloring books and journaling. The markers feature dual-tip design to add versatility to your coloring tasks.
With its 1-2mm brush tip, you will be able to shade and create medium broad lines conveniently. Also, there is a 0.4mm tip to write and draw more fine detail and delicate colorings.
With these fast-drying inks, you will be able to conveniently blend multiple colors to bring some exceptional color effects. Due to its fast-drying characteristics, there will be much less chance of damaging your artwork. The colors are long-lasting; thus you can expect your great piece of works to hold colors for much longer.
Its quality inks and reservoir allows you to smoothly write or draw on pretty much every surface. If scrapbooking, comic, animation, mind mapping, doodling, etc. are one of your hobbies, you will find these color markers to add great elegance and excellence to your works.
Even though the number of markers isn't much compared to other packs on the list. Still, these 48 colors will be more than enough for most of the coloring projects that I have mentioned earlier.
As these markers are non-toxic and non-acidic, you can give these to your kids for their school coloring projects as well.
Highlighted Features:
48 unique beautiful color markers
Dual-Tipped design with 1-2mm and 0.4mm tips
Blendable quick-drying inks
Long-Lasting colors
Great for color booking
Water-Based non-toxic and non-acidic color
Clear plastic storage box
8. TOOLI-ART Dual Tip Markers Set
When you only need primary colors and don't need any complementary ones, then a marker set like this one can meet your requirements quite well. The pack includes 36 color markers of great quality to enhance your artistic skills.
For adult coloring, these markers got a dual-tipped design to add versatility to your art. There is a 0.4mm fine tip to outline finer and delicate stuff. Unlike typical ones, the fine tip provides great control while writing or drawing with it on a wide variety of surfaces.
When you need thicker strokes, you will find its 1-4mm flexible brush tip to be useful enough. Also, covering large areas becomes easier when you have this tip. The tip also helps you to illustrate, shade, color, highlight, scrapbook, and much more things.
This marker set is one of the smooth-flowing markers on the list. Unlike cheaper ones, the pens don't leak, bleed, and smear while you work using them. As the colors are long-lasting, your art will not fade.
There is no odor in these water-based inks whatsoever. Also, the formula doesn't include any harmful chemicals and acid. Adults along with kids can use these colors without any issue.
You will get a durable canvas organizer to organize all your colors perfectly. The storage box is durable and highly portable. You can conveniently carry the box wherever you want. The company will also provide you a coloring Ebook to guide you to create eye-catching attractive artworks.
Highlighted Features:
36 colorful markers
0.4mm fine tip and 1-4mm brush tip
Water-Based fast-drying inks
Non-Toxic odorless formula
Smooth flow of inks
Comes in a durable plastic organizer
9. Hethrone Dual Tip Brush Pens
This marker set of 100 color pens includes vibrant and highly pigmented colors to add elegance and excellence to your artworks. Along with primary colors, there are also complementary colors to satisfy your coloring hunger. You will not run out of color options once you get this amazing color set.
If you need customized colors, you always have the option to blend these markers. Blending them will result in cool-looking coloring effects and overlays that you desire.
You will find its 0.4mm fine tip to outline or highlight delicate and precise stuff without ruining your effort. The fine tips also provide great control while drawing, letter, and sketching as well. These also come great when it's about journaling.
In addition to that, the other end of each marker has a 1-2mm flexible brush tip to draw thick and wider lines. You will be able to color fill in large areas conveniently. Due to its flexible tip, blending colors seems like a fun way to use these markers.
Where conventional color markers have only 1.2g of ink reservoir, markers in this set have 1.5g reservoir to provide you long-lasting service. Being a water-based ink, there will be no color odor whatsoever. Also, unlike alcohol-based colors, these don't include harmful chemicals in the formula.
Apart from coloring books, these markers also provide great results for lettering, calligraphy, crafting, doodling, journaling, and many more aspects of artworks.
The portable case that holds all the colors, is made of durable material. Its double hinge construction provides great convenience to the user.
Highlighted Features:
100 primary and complementary colors
Highly pigmented water-based vibrant inks
Dual tip design
Large ink capacity
Tonix and acid-free
Smooth drawing without bleeding hassle
10. GC Writing Quill Dual Tip Brush Pen Set
If you are really into adult coloring books, journaling, calligraphy, or hand lettering, this collection of 100 coloring markers can be a great addition to your arsenal. These adult coloring pens come with all the primary as well as secondary colors that you will need no matter what type of color project you are involved in.
You will find its dual-tip design to be very useful for writing or journaling purposes. Its 0.4mm fine tip allows you to draw or write more delicate and fine lines and letters.
In areas where precision is required, you can rely on its fine tip. You will have much control over the tip to make precise strokes every time.
The brush tip, on the other end, has a diameter of 1-2mm. This allows you to create broad and wider lines as per your art requires. The brush tips are also flexible enough for you to deal with coloring conveniently. Also, these tips come great when it's about shading purposes.
Among the huge collection of 100 coloring pens, you will find every color that is required whether it's for painting, drawing, sketching, hand lettering, illustrating, shading, journaling, and whatnot.
If you are up to professional fine art or especially adult book coloring and crafts, you shouldn't miss this amazing set.
Due to the strong pigments that are used in this colored marker set, you can expect the colors to last longer. The company claims its markers to provide 300 meters of drawing.
Since it's water-based, there is no harmful chemical and toxic used to formulate the ink. So, chemical-sensitive persons and kids will have no issue while using these coloring pens at all.
With that all being said about this marker set, they can be the best markers for adult coloring books for you.
Highlighted Features:
Water-Based chemical-free pigmented inks
Great collection of 100 vibrant colors
1-2mm fiber brush tip along with 0.4mm fine point tip
Long-Lasting and odorless inks
Ideal for coloring books and journaling
11. CADITEX Brush Pens and Fine Tip Markers
If you want every color for your adult coloring books, calligraphy, lettering, or journaling projects, hopefully, this set of 120 color pens will be more than enough.
With 120 unique and beautiful-looking markers, you will have a great coloring experience from now on. The inks are water-based; thus, the colors will dry much faster. Compared to cheap coloring pens, these last quite long as well. The ink capacity is 1.5g in each marker, which is relatively larger too.
Due to the odorless, non-toxic, and non-acidic characteristics of these markers, kids can also use the colors for their school coloring tasks.
As far as the color quality is concerned, the colors are highly pigmented and produce bright and vivid drawings regardless of the surfaces you use them on. Both the primary and complementary colors can be blended perfectly to produce custom overlay color effects for convenience.
Like most adult coloring pens on the list, this pack also includes dual-tipped markers. There is a 0.4mm fine tip for outlining delicate and fine tasks. If you are up to writing, journaling, doodling, and lettering, you will be highly benefited from its fine tips.
On the other end of these markers, there is a 1-2mm fiber brush tip that shades and colors well regardless of the surfaces. Its flexible brush takes the coloring experience to a convenient level.
Due to the color-coded caps on each marker, it's much easier and convenient to organize and find them whenever you need one. The storage plastic box also does a great job at storing, and allowing you to carry without much struggle.
Highlighted Features:
Water-Based quick-drying inks
120 unique and well-saturated colors
1-2mm flexible brush and 0.4mm fine tip
Free of harmful chemicals and acids
1.5g large ink capacity
Color-Coded caps
12. Shuttle Art Fineliner and Brush Dual Tip Markers Set
Another set of unique 120 colors to suffice your adult book coloring and other coloring purposes as well. The versatility and great ink quality make one of the best coloring markers for adults on the list.
You can take your bullet journaling, calligraphy, designing, coloring books skills to the next level with these markers.
This set of markers is made of water-based inks that dry much quicker. Unlike cheaper color pens, these are free of chemicals and acids.
Therefore, these are also safe for kids as well as chemical-sensitive individuals. If any of the kids of your house asks you to give these markers, you have no reason to deny the request.
With its flexible brush tip of 1-2mm, you can color and shade like a pro no matter what is the surface that you are writing or drawing on. Bold strokes that require slight pressure will be easily achievable using its special fiber-made tip.
The extra-fine tip of 0.4mm allows you to outline more precisely and delicately with great control. You can create crips and finer details without much struggling. If you are to color or write for a long time, you will find different thicknesses and shapes of the markers to be very useful.
These markers will provide smooth inks without smudges and blotches. Plus, the fibers on the tips are wear-resistant and create no branching hassle while you color for a longer period.
The color-coded caps on each marker allow you to quickly find the one you look for. Also, the plastic storage bag is quite durable and holds the pens well. You can carry the bag conveniently.
Highlighted Features:
120 unique color markers
Different thicknesses and shapes of penholder for long time using
Flexible 1-2mm fiber brush and 0.4mm fine tip
Water-Based non-toxic inks
Color-Coded caps with a durable plastic bag
13. DACO Dual Tip Fine Brush Markers
I gotta admit, this is the most appealing marker set to me. From its design to great-looking packaging make it hard to resist buying it. The marker set includes 60 unique colors to complement your great creations be it lettering, drawing, journaling, or adult book coloring.
Like most color pens on the list, this one also has a dual-tipped design to add versatility to your artwork. Its 0.4mm fine tip allows you to outline more delicately and precisely with having great control over your drawing. Every detail and the fine point will look attractive and stunning if you use this tip.
In addition to that, there is also a thicker brush tip for shading and coloring more efficiently. Creating thicker and broader stuff becomes much easier when you have this tip.
No matter if you outline, highlight, shade, or color using these markers, the ink flow will be very smooth without any smudges and blotches whatsoever.
This water-based formula is highly pigmented and provides great vibrance to your creations. Due to its fast-drying characteristic, there is much less chance of ruining your great piece of art.
Also, the inks are odorless and non-toxic. So, you can also give these great colors to your kid to bring his/her inner creativity.
Among these 60 colors, you will find your desired primary as well as complementary colors whenever you need one. To keep your markers safe and well-organized, the package includes a practical cotton carrying bag along with a round-shaped box to organize them well.
Highlighted Features:
Primary and complementary 60 colors
Highly pigmented colorful inks
Water-Based and non-toxic formula
Fine tip and brush tip
No smudges and blotches
Easy to carry box and bag
14. Soucolor Dual Tip Brush Markers Pens
Don't make a mistake by underestimating these markers just because I'm reviewing this set at last. The pack includes 32 great quality markers to fit your most artwork requirements.
Even though there are only 32 colors in this marker set, there are no duplicates. All these markers are primary colors. So, if you don't need complementary colors much, you may consider buying this pack.
These water-based color pens are rich and vivid in colors. You will be able to arouse your creativity using the pens no matter whether you mostly do color booking, journaling, hand lettering, drawing, etc. artworks.
All the markers have a dual-tipped design to offer versatility to your creative creations. With its 0.4mm fine tip, you will be able to precisely and delicately outline or highlight or color stuff with great accuracy.
On the other end of the markers, there is a 1-2mm brush tip for creating broader and wider lines, shadow, and covering large areas on art papers.
As the ink is water-based, you will not have to tolerate strong chemical odors whatsoever. Also, the inks don't include toxic chemicals; thus, kids will be fine using these markers for their color projects.
Compared to conventional color pens, these have a large ink capacity that provides you with long-lasting coloring service. The ink dries much faster, so you no longer need to worry about damaging soft papers.
While using any marker, you will not experience any bleeding or leaking issues at all. You will get consistent and smooth ink under all circumstances.
There is a plastic storage bag for organizing all the marker pens conveniently. The bag doesn't take much space in a backpack.
Highlighted Features:
32 unique primary colors, no duplicates
Water-Based rich vivid colors
0.4mm fine and 1-2mm brush tip
Inks don't bleed or leak
Smooth and consistent flow of ink
What to Look for Before Buying Markers for Adults Coloring Books?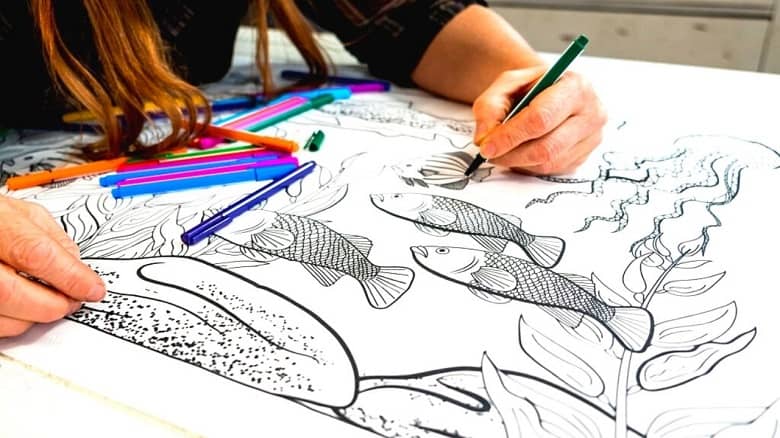 Color pens or markers create an overwhelming appeal that is hard to resist. Don't finalize your purchase just by seeing attractive markers and artwork advertisements. Be sure to check for these things to make sure you are getting the best markers for adult coloring books.
Number of Colors
Having a marker set of lots of colors adds perfection to your drawings. But, not all the color sets that include lots of markers, are useful. Many of these sets include duplicate and multiple colors that belong to the same color family.
So, before you go for more color options, be sure to check if there are any duplicates or if there are too many unnecessary colors that you will never need.
But, if you are someone to whom every single color of each color family really matters, don't hesitate to buy such a set. You will need similar-looking colors for your type of artwork.
Getting a color set of 30 to 60 colors isn't that bad. Color sets that don't come with an overwhelming number of markers, include primary colors that you will need the most. Also, there will be some complementary colors as well.
Ink Types
When it comes to choosing color markers, there are primarily two types of inks that are used; alcohol and water-based inks.
Although alcohol-based markers are the most expensive ones, these aren't much beneficial for color booking, journaling, hand lettering, calligraphy, and other similar artworks. These are primarily good for drawings that have to do with more vibrant colors.
Water-based colors, on the flip side, are ideal for adult color booking. Although these last less than the alcohol-based ones, longevity isn't much of the concern when it's about color booking for most people.
Color Vibrancy
Highly pigmented inks provide great color vibrancy from every aspect. Your artwork shouldn't look washed out after you are done coloring. Markers that are highly pigmented, provide colors as promised.
There is one way to check whether the marker is well-pigmented or not. Take a marker that has a cap of a darker shade. If the ink appears to be lighter than how it's on the cap, then the ink isn't properly pigmented.
You can also check for customer reviews to find whether a particular color set is well-pigmented or not.
Marker Tips
Adult coloring-book markers primarily come with two types of tips. A brush tip, which is a bit wide and broad. It shows great results in shading or coloring for coverage. The strokes create a wider outline as well.
Be sure to check whether the brush tip is flexible or not. Flexibility will provide you an upper hand while using. You can put slight pressure for better coloring if needed.
Markers also come with a fine tip. This one is used for precise, accurate, and delicate outlining, highlighting, and detail writing. A good quality fine tip will also provide you great control while using the pen so that nothing goes wrong on the paper.
Ink Consistency
Although markers always tend to bleed more or less, only the good quality markers are free from this issue. When you write or design, you want the ink to be smooth and consistent.
If the ink of markers overlap or bleed while you deal with them, chances are high that your artwork will be ruined.
Be sure to also check the ink flowing rate. Poor flowing ink isn't something that you would expect from your markers. It makes the color as if they are washed out. Also, inks that flow too much, aren't good either. Overflowing ink causes bleeding in most cases.
So, you need to pick a marker that lays in the sweet spot between poor and overflowing ink.
Design of the Markers
Compared to drawing, book coloring, hand lettering, journaling, calligraphy, etc. adult book coloring projects take more time to complete. Thus, you need to make sure the markers feel comfortable for the fingers even when using them for a prolonged period.
The surface or construction of the pen shouldn't be too slippery. Otherwise, the markers will slide between the fingers. Pens with more contours offer a comfortable hold. You can also look for markers with a matte finish, these are great for prolonged use.
Blending Ability
Although for book coloring purposes, blending doesn't seem to appeal much, some enthusiasts prefer blending and creating custom colors in some areas. Good quality ink with the right flowing rate blends better with different colors.
Fast-drying inks blend a lot better and also provide much better results than inks that dry slowly. You can achieve perfection in your artworks creating great-looking unique and custom color effects and overlays.
Ease of Use
Apart from the colors and features, some other factors will enhance your overall user experience.
In most cases, you will do the coloring task on a table. If the markers roll away easily, it would be a hassle for you to keep them in place. Make sure that you are picking markers that don't easily roll, or have anti-rollable caps to prevent such a hassle from happening.
If you prefer buying a color set that comes with lots of markers, then organizing and finding can be a hazard for you. To tackle this, many markers come with color-coded caps that tell you about the color of a marker.
So, you pick the right one without wasting time. Also, having good quality storage or carrying bag or organizer will make organizing these markers a lot easier for you.
If you plan to go outside carrying the markers, make sure the storage case or bag is easily carryable.
Frequently Asked Questions (FAQs)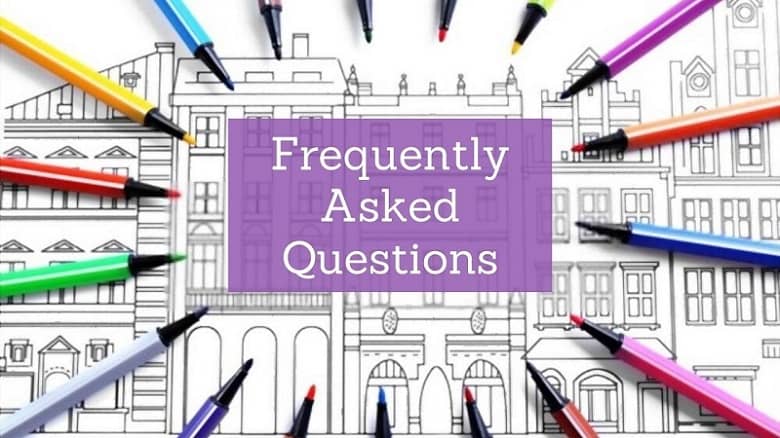 What's a marker for adult coloring books?
Adult coloring-book markers have similarities with markers that children use. However, these adult coloring book pens have better quality ink and are designed to provide versatile use. Both sides have tips of different shapes to serve different coloring purposes.
Should I use markers or colored pencils?
Many artists prefer using colored pencils due to their good control, which is much better than markers. However, some artists prefer markers because of the speed that these color pens provide on paper as well as other surfaces.
How do I keep markers from bleeding through papers?
Be sure to use a finer nib as inks don't tend to pool much from fine nibs. You can use water-based inks that dry faster. Some water-based pigments cause smudging, so make sure you pick one that doesn't create such a hassle.
Don't underestimate using a good quality paper as the bleeding issue gets worse if the paper is thin and soft.
What are the best colored markers for journaling?
As far as color journaling is concerned, markers with both finer and brush tips are recommended. Water-based inks will be the best one to pick regarding this coloring task. Having plenty of color options isn't necessary, only the primary colors will be more than enough for this purpose.
Are water-based color markers permanent?
Water-based color markers don't include permanent inks. This is one of the drawbacks of these color markers. As most people don't rely on these markers regarding heavy drawing, getting a permanent marker isn't necessary for color booking decorations.
Are water-based markers good?
Like other inks, water-based ones don't bleed through the paper that much. This makes the ink ideal for coloring books, hand lettering, journaling, and similar artworks. However, using too much of these colors can damage the paper, which is a common thing for other inks as well.
Final Words
At the end of this article, I would suggest you pick markers that have well-controlled fine tips that produce vivid colors without the bleeding issue. The best markers for adult coloring books can also be used for journaling, hand lettering, rendering, and similar purposes.
Related Articles:
What markers are comparable to Copic? Check our top picks!
What paper is best with Copic markers? Read our reviews!