Cleaning products, such as disposable sponges can become expensive and are unsustainable when you're constantly throwing them out.
A good way to reduce waste is to replace your sponges and paper towels with reusable dishcloths, and what better way to make reusable dishcloths than through crochet! 
In this article, I will provide you with a step-by-step guide on how to crochet a dishcloth.
So, let's get started.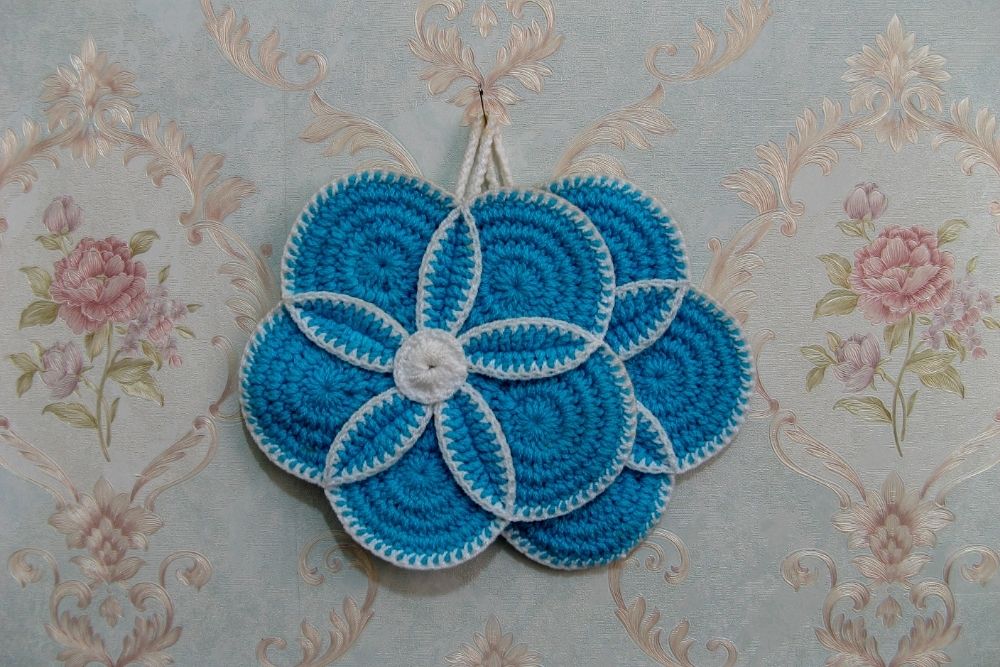 Benefits of using crochet dishcloths 
Great for practice 
When you're first starting out your crochet journey, choosing smaller projects like dishcloths is a great way to practice your new skills! 
As your dishcloths are just for cleaning, there is far less pressure, and it allows you with the breathing room to perfect your crocheting.
In addition to this, it's a significantly smaller project and is less time consuming when you're first starting out this new hobby!
Crochet dishcloths are more hygienic 
Making your own reusable dishcloths means that you can use a new one each day – without the waste!
To clean them, you simply need to throw them into the washing machine with your next wash.
If you're not washing them immediately, rinse in cold water and hang to dry so that you can keep them as fresh as possible while they're waiting to be washed.
Alternatively, you can put them in a bucket of cold water with oxy-bleach to sanitize them prior to washing.
Sustainable and better for the environment
By reusing dishcloths rather than buying disposables, you're reducing the amount of household waste.
Reusing your dishcloths is much more sustainable and environmentally friendly, as when they've run their course, they won't end up being sent to landfill like the majority of waste is.
Microfiber cloths, which are popular for cleaning, are made from a blend of polyester and polyamide or nylon. In short, this means these dishcloths are made of plastic.
Every time you wash these synthetic fabrics, millions of microfibers are released into the water. Microfibers entering the ocean is becoming a big problem for marine life.
This simply comes down to the fact that microfibers are too small to be filtered out by waste treatment plants, so they end up in our waterways and oceans, where they wreak havoc on marine animals and the environment.
Crochet dishcloths made from cotton don't contain microfibres and aren't shedding them into the water system when they are washed.
In addition, if you are using natural fibres (organic is best), you can add the dishcloth to the compost pile at the end of their life, which gives back to the soil.
Helps clean dirty dishes
The texture of crochet dishcloths also help with cleaning around the kitchen.
While it's not going to scrub off tough food that has been burnt to pots and pans, a crocheted dishcloth is textured enough to make cleaning dishes easier than a standard jay cloth. 
Although you will still need a metal scourer for the tougher jobs, crocheted dishcloths are a perfect addition to your kitchen!
How to crochet a dishcloth
Equipment that you'll need 
Size 4 crochet hook – This will give you a tight stitch washcloth. If you want the stitches a bit looser, you can go for a larger hook
Larger or smaller size crochet hook (optional) – Helpful if your initial chain is too tight or too loose
Yarn needle – A yarn needle is useful if you have trouble weaving in the ends with the crochet hook.
100% cotton yarn in your color of choice – For knitted or crocheted dishcloths, you have to use the correct cotton yarn. Kitchen cotton or Handicrafter cotton is the best for this purpose. These yarns have a thread-like quality and are less fuzzy than standard acrylic yarn, making them more absorbent and ideal for cleaning up around your kitchen!
Stitch key 
Ch = chain stitch
Sc = single crochet stitch (through stitch, yo, back through, yo and pull through 2 loops on hook)
Hdc = half double crochet stitch (yo, through stitch, yo, back through, yo and pull through 3 loops on hook)
Ss = slip stitch (through stitch, yo, pull back through and through loop on hook)
Crochet dishcloth pattern
Row 1: Chain 25, ch 2 (forms first Hdc).
Row 2: Hdc in third stitch from hook and work across row. Count to make sure that you have 25 stitches. Ch 2 turn.
Rows 3-16: Continue working hdc in each stitch across each row, ch 2 at end of each row before turning to work next row.
Row 17: Check to make sure that the beginning tail of the thread is on your left. Work across the final row.
When it comes to edging, don't turn the dishcloth, rather, continue around the outer edge sc in each opening and use 2 sc in corners. Finish off with ss in the end. Incorporate thread ends on the back of the dishcloth.
Notes 
Use the right type of yarn
When crocheting dishcloths, always make sure that you are investing in the right type of cotton yarn! While you can use normal cotton yarn, the dishcloth won't function as well as it should due to the fact it is less absorbent.
Instead of cleaning up spills, you might find that you're just pushing the liquid around if you fail to use the right type of yarn.
As a result, you should always opt for kitchen cotton or Handicrafter cotton. Handicrafter is a versatile worsted weight yarn, that's great for small projects like dishcloths.
Making sure that you're using the right type of yarn will also extend your crochet dishcloth's lifespan! After all, you want them to withstand frequent use and washing. 
Edging
When it comes to crocheting a dishcloth, you don't necessarily have to edge it. However, adding a row or two of edging will help your dishcloth stand up to wear and give it more of a finished look.
In addition to this, a nice edge works well to make a dishcloth look somewhat fancier, and is aesthetically pleasing for your kitchen.