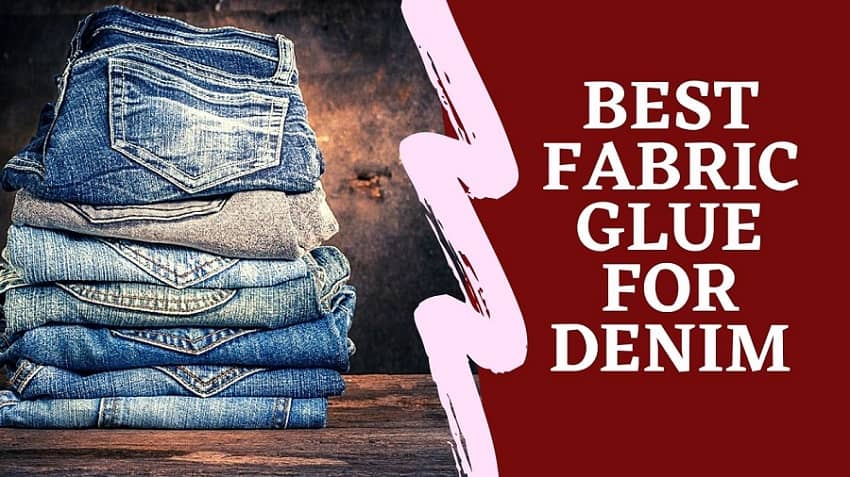 Denim never gets old and this classic fabric is worn in so many ways – jackets, pants, skirts, shorts, shirts, overalls, and more! Everyone has a favorite pair of denim jeans and when a part of it rips or gets a hole, so does our heart!
And there are times when we want to wear a certain dress to a particular occasion only to find a tear down it and not enough time on our hands to sew it together.
Many of us are not experts in sewing and even if we are, it's a slightly longer process. Instead, we can just put some fabric glue to mend a hole by putting a patch on it or get the fibers of a rip glued back together.
Mending rips and holes requires the best fabric glue for denim to ensure it won't be washed away or become scratchy and uncomfortable after it dries on the cloth.
This article is a guide for you to choose the right fabric glue depending on your project and the strength of bonding it needs. Read on to discover all about this simple but effective adhesive!
IMAGE
PRODUCT
FEATURES
 

Editor's Choice

Editor's Choice

✔

2 ounce bottle

✔

Durable bond within 3 minutes

✔

Suitable for the maximum materials

Check Price

Best Value

Best Value

✔

4 ounce bottle

✔

Non-toxic and odor-free

✔

Easy to use and washable

Check Price

 

 

✔

4 ounce bottle

✔

Strong bonds within minutes

✔

Acid-free and washable

Check Price

 

 

✔

4 Fluid Ounce

✔

Machine washable

✔

No-mess and ideal for patches

Check Price

 

 

✔

Two Applicator bottles(4oz for all fabrics and 2oz for synthetic fabrics)

✔

Quick drying

✔

Permanent glue for all fabrics

Check Price
What Is Fabric Glue?
Fabric glue is an adhesive element that is used to glue together pieces of fabric or patches on fabric and can be used on upholstery, felt, and other fabrics.
This eliminates the need for sewing as fabric glues are strong enough to hold the material fibers together.
You can use fabric glue for DIY projects like making headbands, home decor items, etc.
Can You Use Fabric Glue For Denim?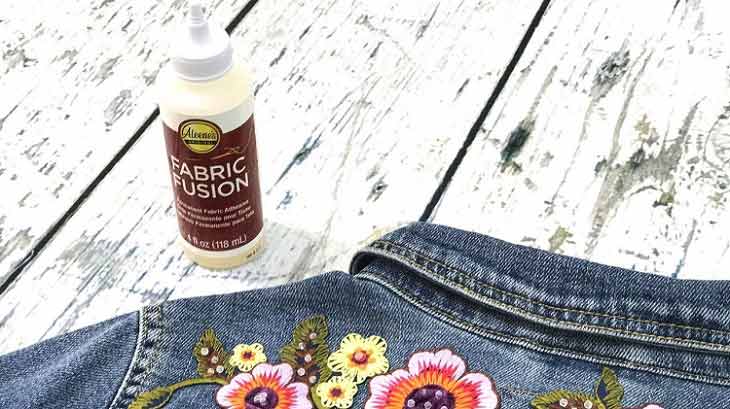 Yes, fabric glue works fine for denim repairs. A good quality liquid fabric glue applied in thin layers would be the ideal way of putting fabric glue on denim. As thickly applied glue would make the denim a bit stiff, thin layers of glue are strongly recommended.
The best glue for patches on denim is the one that is permanent and waterproof. A temporary one will not hold the fabric together. Allow enough time for the glue to dry and wait a bit before using the denim.
If you want to glue denim or other fabrics, it's better to choose epoxy, spray glue, or PVA (polyvinyl alcohol) glue.
Best Fabric Glue For Denim And Patches: Top Picks
1. Tear Mender Instant Fabric And Leather Adhesive
No more tears! No, we're not talking about kids shampoo! It's a revolutionary and one of the strongest fabric glue products that can mend tears in your fabric and denim in the twinkling of an eye!
The minuscule gaps in your torn fabric can be glued together in only 3 minutes to give you back your denim clothes forever and ever. This product dries quickly but forms are silent bonds that many cycles in the washing machine will not affect.
After the glue is dried, you will notice the garment retaining its flexibility and you won't feel scratchy and stiff on the glued parts. So, not only can you wear or use the fabric within 3 minutes but you can also wash it within 15 minutes. The waterproof glue will ensure the seams have bonded well.
As the glue is resistant to the yellowing effects of the UV rays, it will remain clear after drying and will not give a discolored look. Besides fabrics, you can use it on leather, auto upholstery, furniture, sporting equipment, crafts, marine upholstery, and industrial garments.
The natural and long-lasting latex formula allows fabrics to be machine-washed. The product comes in a soft, plastic bottle with a needle-nose for easy application and control over the amount you pour. Moreover, there's zero hassle as you don't need any heat, solvent, or ironing to apply.
The acid-free, water-based fabric glue contains all-natural ingredients and is hence, safe to use and friendly to the environment as well. It's also easy to clean up and as it contains no toxins, you can use your fingers to form it into a ball and then throw it off hard surfaces.
Highlighted Features:
Permanent glue that forms strong bonds in 3 minutes.
Acid-free, water-based formula for safety and eco-friendliness.
Convenient tip for pouring easily.
Washable after 15 minutes without weakening bond strength.
Suitable on a wide range of materials including fabric, leather, etc.
2. Aleene's Fabric Fusion Permanent Fabric Adhesive
Add some patches to your denim jacket or jeans to turn them from a much-worn garment to a fashion statement.
A few colorful emblems or fabric pieces is all it takes to give a fresh look to your old denim garments. This fabric glue can help you express your creative side effectively as it is permanent and unlikely to wash away.
Besides patches, you can use this product to permanently bond embellishments like beads, pom poms, sequins, and bows to your canvas shoes, bags, etc. This is not only the best glue for patching jeans but also suitable for use on leather, flannel, cotton, and jersey materials.
Even after washing, the glue remains flexible so that the fabric you wear is comfortable for you to move around without feeling uncomfortable. Other glues stiffen after they dry and cause the glued parts to chafe against the skin and cause discomfort.
What's more, the glue dries clear and doesn't leave any marks on the fabric.
This 4-ounce bottle of low-odor glue comes with a convenient tip that you can cut across as per thick, medium, or thin layers of glue that you want to apply. Without any stringing, the glue will flow smoothly.
Apply in thin layers as an excess of the product will cause warping and will lengthen the drying time. When you wash the fabric, it's recommended to wash it in cold water and allow it to air-dry naturally.
The non-toxic and water-based urethane glue is not only easy to apply but is also safe as it contains no harmful chemicals. Besides being machine-washable, the product can also be dry cleaned.
Highlighted Features:
4-ounce water-based, low-odor, non-toxic fabric glue for safe use.
Permanent bonding that is machine-washable and can be dry cleaned.
Suitable for attaching patches and embellishments.
A convenient bottle marked with thick, medium, and thin layering options.
A strong bond that remains flexible after drying and washing.
3. Beacon Fabri-Tac Permanent Adhesive
With just one touch of this adhesive, you can make quick repairs on your fabrics if you're in a rush!
The product dries fast and enables you to tackle situations where you need to mend ripped fabrics without losing time and face. It dries without stiffening the fabric, hence making sure you are comfortable in your wear.
The 4-ounce glue bottle has a needle-nose to make pouring the content easy and also to control the amount you want to pour. The application is easy and requires no heat for enforcing the bond. It will not soak into the fabric and leave spots.
As it creates the bonds fast, it dries clear, without leaving any stains on the fabric, leaving them flawless. There's no chance of the glue becoming yellow and discolored over time.
This permanent fabric glue for patches is great for tacking on embellishments made from wood, glass, and other materials to make your crafts more attractive. It can be washed without breaking the strong bonds of the fabrics. Even after washing, it remains flexible.
If you don't want to go through the chore of sewing holes and rips with a needle and some thread, then this product is your savior. It's also safe to use as it's acid-free. Hence, you don't need to use a respirator while applying it. This property makes it eco-friendly too.
Instead of stitching on pockets, just use this glue around the pocket line and put it on the fabric. Before applying, always test it out on a small part of the fabric to check if you get the desired results.
Highlighted Features:
4-ounce convenient packaging for application.
Permanent bonds on fabrics and suitable for gluing beads, trims, etc.
Strong bonds in minutes without leaving marks.
Flexible after drying and washing.
Acid-free and safe to use.
4. Dritz Liquid Stitch Fabric Glue
Not savvy with the needle and thread? Don't worry, we have you covered! This is a no-sew alternative that you can use to join fabrics, patches, and hems.
You can also use this permanent glue for crafts like fabric jewelry, headbands, and other projects where you want to add beads, trims, glass, and other embellishments. The strong bonds are as good, if not better, than stitched up parts.
The glue is waterproof, enabling you to wash and dry the fabric in the washing machine without the glued parts coming apart. After drying and even after washing, the glue remains flexible, allowing you to move around comfortably without feeling any scratches.
The product comes in a 4-ounce easy-pour bottle with a tapered tip to help you apply the glue in thin layers and also to control the amount you need. It's recommended to test it out on scrap fabric before you apply it to the final one.
Always shake the bottle before application and apply the glue on the reverse side of the fabric. Start by applying thin layers, especially if you are working with thin fabrics. Allow 30 minutes for it to dry. It's a convenient way of gluing fabrics as there's no need to apply heat or iron the fabric after application.
If you accidentally spill some glue, no need to tear your hair as it's easy to remove it with water before it sets in. It's not advised to have the fabric dry cleaned. Either dry in the machine or allow to air-dry.
Highlighted Features:
Permanent glue to eliminate the hassle of sewing.
Convenient 4-ounce bottle with a tapered tip.
Waterproof, machine washable, and dryable.
Dry cleaning not recommended.
Drying time 30 minutes.
5. Secure Stitch Liquid Sewing Solution Kit
A fast solution to mending, patching, hemming, altering, and embellishing, this kit contains all that you need in a jiffy to glue ripped fabric fibers together!
The package includes one 4-ounce bottle of fabric glue to join cotton, leather, denim, and other materials; one 2-ounce bottle of glue for nylon, acrylic, and polyester; one silicone applicator; 2 applicator bottles; and measuring clips for holding hems together.
It's the best glue to use on fabric as it's easy to apply with the applicator bottle and the silicone applicator and it also doesn't string, making it hassle-free. The funnel top of the bottles makes it super easy to apply the product. You can use just the amount you need without any excess application.
It takes about 15 minutes for the solution to set in and it's recommended to wait for 24 hours before using, washing, and ironing.
Moreover, it won't stick to your skin as you can rinse it with soap and water, which is a relief!
The glue is compatible with denim, fleece, felt, cotton, velvet, rayon, suede, leather, and other materials. Hence, you can apply this product to garments as well as upholstery and décor items.
The permanent glue is colorless and dries clear so that there is no ugly stain marring the look of your fabric. You can wash and dry the fabric in the washer and still have the flexibility without any discomfort.
With the enclosed hem clips, holding together hems of skirts, curtains, etc. is convenient and comfortable, allowing you to put the glue on the right parts without the fabrics moving out of place.
Highlighted Features:
Permanent glue 7-piece kit including applicator bottles and applicator.
Guarantees precise application without wastage.
15 minutes drying time and 24 hours before using and washing.
Clear-drying that leaves no marks on the fabric.
Washer and dryer friendly.
6. Elmer's Craft Bond Fabric Glue
This glue is not only meant for putting fabric pieces together but also extends its purpose to creating paper arts and crafts.
Since it's a multipurpose glue, you get more value for money as you can use it on a wide range of materials besides fabric. Decorations, gifts, ornaments, and other handmade crafts can be easily assembled with this glue.
As the product is permanent, it creates a strong adhesion that will not be rinsed off. Another advantage is that it dries colorless so that you won't even know that glue has been used on fabric. On top, it doesn't result in scratchy patches but remains flexible and gives you comfortable wear.
With the 4-ounce bottle of glue, there are so many opportunities for creating your signature handicrafts! It's easy to pour as the tip of the bottle is funnel-shaped. Hence, you have perfect control and there is no wastage when you apply it.
In case you spill any of it on your workbench, you can clean it up easily with water and soap solution before it dries. It's also a safe product to use as it has an acid-free formula that is both safe for the user and the environment. Hence, it also saves you from the trouble of wearing a respirator.
Users have used this glue successfully to bind loose pages on old books and dictionaries. If you let this dry for 48 hours, the binding is sure to be strong and durable. Thus, there are many uses of this glue around your house or office.
Highlighted Features:
Permanent glue for fabrics and paper.
Dries clear to show no stains.
The acid-free formula is safe and causes no harm to the environment.
4-ounce package with funnel top for controlled pouring.
Easy to remove while wet with soap and water solution.
7. Aleene's Super Fabric Adhesive
That hole on the knee of your jeans will keep getting bigger unless you do something about it! Grab this strong fabric glue and stick on a patch on the hole to make your style statement!
You need not limit yourself to garments only. This glue can add embellishments to shoes, bags, and whatever you can think of that needs a little bling to brighten things up.
This 2-ounce bottle of permanent adhesive is the best fabric glue for clothes as it dries to form a strong waterproof bond, can be washed on a gentle cycle in cold water, and dried in the dryer at a low temperature. Hence, you can use it with ease on different garments and DIY projects without worrying about things coming off.
The tapered tip of the bottle makes it easy to apply the glue and control the amount you pour. Apply in thin layers, especially when dealing with lightweight fabrics. Too much glue will create blobs that will be hard to dry and may bunch up the material.
As the glue has a low odor, you won't feel anything when applying it. Moreover, its non-stringing formula makes it a no-mess adhesive. As it dries clear, there will be no ugly stains on your dress or other wearables.
After applying the glue, gently press the fabric pieces together to reinforce the bond strength. Wait for 72 hours before washing the fabric and do so only after turning the garment inside out.
You'll be surprised to see that the glue remains flexible after drying and washing and therefore, you won't even feel that any part of the garment has been glued on.
Highlighted Features:
2-ounce convenient pour bottle of permanent glue.
Dries clear to leave no traces of glue.
Non-stringing and low-odor properties for safety and no mess.
The glue stays flexible even after washing and drying.
8. Visbella Sew Glue Liquid
Save your energy, time, and money by taking this alternative to sewing patches and mending holes on your garments.
This product gets exuberant fabric glue reviews from the users for a host of reasons. Its good quality and strong bonding can withstand high temperatures and washing. Besides, it's compatible with a wide variety of fabrics including silk, linen, suede, flannel, polyester, denim, felt, and others as well as leather.
No need for you to take threads and a needle out as this is easy to apply and saves you all the sewing hassle. With the applicator included in the package, you can choose either the 60-milliliter or the 120-milliliter bottle of glue from the kit to apply.
The funnel top of the bottles makes it easy to pour and also control the amount you need so that you don't waste any or pour excess on the fabric. Remember that pouring an excess amount won't help it seep through the fabric and will thus leave stains on it.
Once you apply a thin layer, attach the fabric pieces by pressing them together tightly for half a minute. Allow 5 to 10 minutes for the fabric to be glued properly. You need a maximum of one day for the glue to dry completely although it will depend on the breathability of the fabric.
More breathable fabrics take less time to cure fully. Wait for 24 hours before washing the fabric. You can use hot water to wash the garment in as the glue can withstand temperatures of up to 100 degrees Celsius or 212 degrees Fahrenheit.
The glue dries clear and remains flexible, without hampering the comfort of the garment. This product is non-toxic and safe to use.
Highlighted Features:
High-strength glue that dries clear with no stains.
Non-toxic and safe to use.
Withstands high temperatures of up to 100 degrees Celsius.
5-10 minutes setting time and 24 hours curing time.
The kit includes instructions, applicator, and two bottles of glue.
9. SEWOR Fast Dry Sew Fabric Glue
This superfast fabric glue will take care of all your mending woes without needing to resort to a needle and thread!
There are two bottles in the kit, each containing 2 ounces of white glue for all your patching needs. It works on all types of materials like polyester, nylon, felt, suede, denim, linen, silk, felt, flannel, and synthetics. What's more, you can also use it on leather.
Besides hemming and mending, this is the best fabric glue for patches as it takes only one minute to settle down. However, it's not recommended to wash it before 24 hours have passed after setting in.
The good part is you can wash in the machine with hot water as the glue won't be affected by temperatures as high as 100 degrees Celsius. The strong bond between the fabric and the glue remains flexible afterward so that there is no scratchy and uncomfortable feeling when you wear the garment.
Besides the glue, the kit includes instructions on how to use, applicator, and protective gloves to make the application process safe and easy for you. The tip of the bottle has a tapered end so that you don't end up pouring more than you need and can, therefore, avoid wastage.
Another property that makes this brand popular in the fabric glue category is its non-toxic formula that is safe for the user and the environment. Plus, the product is colorless when it dries, preventing any stains on the fabric, making it look as good as new.
Highlighted Features:
Fast-drying in only one minute.
24 hours total drying time before it can be washed.
Unaffected by machine wash and hot water.
Convenient bottle for pouring the right amount.
Non-toxic for the user and environment safety.
10. SINGER Sew No More Fabric Glue
Even the renowned sewing machine company has a no-sew fabric glue in their portfolio and that speaks volumes of the convenience and effectiveness of this glue.
Coming in a small handy package of only 0.75 fluid ounces, this is a permanent glue that can give a quick fix to rips and holes in your garments. It's also great for making handicrafts and fixing beads, glasses, and other fancy items on fabric jewelry and home décor items.
Use this glue to hold in place hems on pants, skirts, or curtains instead of using cumbersome pins and adhesive tapes. The application is easy as the bottle tip has a tapered end through which the glue can be poured out without squeezing out any extra, thus preventing any wastage.
As the bottle is easy to carry around, you can take it along anywhere should you be in a sudden need of mending rips. It's safe to use as it's completely free from any toxic chemicals and also non-inflammable.
The product is clear when it's dried on the fabric and therefore, leaves no traces of having glue applied on your garment. It's especially great for mending rips near the seams of kids' jeans as they face a lot of rough use and instead of frequently replacing their jeans, you can just glue up the rip.
Users have used this product to put patches on leather garments as a normal sewing machine at home cannot do the job because of the needle that breaks.
It's such a strong product that you can also use it to fix your carpet in case your pet has got a portion of it off.
Highlighted Features:
Convenient application from a 0.75-ounce bottle.
Light bottle for easy portability.
Works on fabrics, leather, and carpets.
Leaves no stains as it dries clear.
Non-flammable and non-toxic for safe use.
11. Gutermann Creativ HT2 Fabric Glue
This 30-gram tube has the most potent solution for all your patching and mending needs.
It not only works magic to patch fabric pieces together, but it also works great on PVC, wool, felt, velvet, leather, and a host of different types of materials.
Depending on the material, the glue will take its time to seal in. On thin materials, it takes about 5 minutes to set in while for thicker materials, you should allow 15 minutes for the glue to dry. On average, it takes 7 minutes to dry.
You should press the materials together tightly after applying the glue and follow up by ironing the garment for 5 to 10 seconds for optimum results. Make sure the iron is suitably hot as per the material otherwise, it could burn or not be hot enough for the bond to get reinforced.
Always apply in thin layers as the excess glue will be hard to dry and will leave stains behind. Moreover, it could also warp the fabric and give an uneven look.
The tube has a long and thin mouth with which it is very easy to apply the glue on the substrate. In case you want to remove the glue from any surface where you may have spilled it accidentally, apply acetone and it will come off.
This high-quality and strong fabric glue can also attach plastic to plastic as well as metal to fabric. It has a slight smell so be careful when you are applying the product. Keep the tube closed tightly in between applications so the glue doesn't dry up.
Highlighted Features:
30-gram tube of strong glue for fabrics and other materials.
Convenient tip for pouring the right amount.
7 minutes drying time on average.
Require ironing for 5 to 10 seconds after application.
Also glues plastic to plastic and metal to fabric.
What To Look For Before Buying Fabric Glue For Denim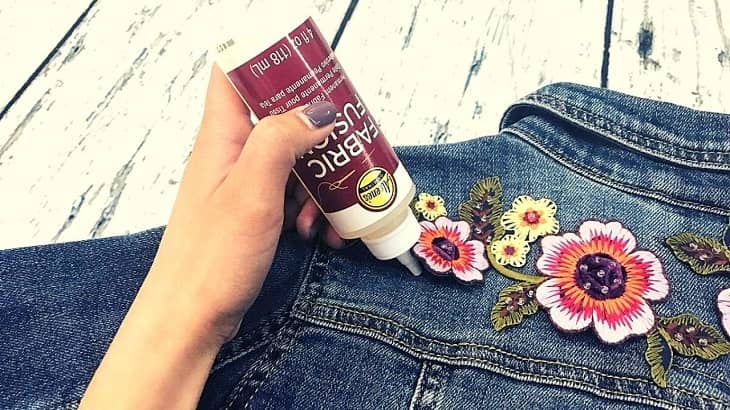 It's always wise to check out a few factors before you decide to buy glue for fabrics. Below are the main points to consider.
Waterproof
When water comes in contact with the glue, the adhesive property starts to weaken. Hence, you should look for a fabric glue that will remain strong even after your garment has gone through several washes.
Remember, the best fabric glue for denim would be the one with machine-washable label.
Permanent Or Temporary
If you want the glue only for basting purposes before you apply a final stitch, it's better to go for a temporary glue as it will wash off.
However, if you want fabric pieces together without going through the hassle of stitching, then what you want is permanent glue that will withstand washing with water.
Melting Point
The melting point of the fabric should be relatively higher than that of the glue. In this way, applying glue with a high melting point will not spoil the fabric.
No-Stain Property
Glue is not only meant to reattach torn fibers but also to make it look like it's new and has never been damaged. Some glues leave marks or stains on the fabric, defeating the purpose. That's why you should choose a fabric glue that will remain transparent.
Drying Time
Check the drying time of the glue. One that takes time to set in but results in a strong bond is preferable over a quick-drying type that does not give a strong bond. If you are short on time, choose one that dries fast, strong, and doesn't leave any marks.
Bonding Strength
All fabric glues don't have the same level of bonding or adhesion. Those labeled super glues have superior bonding strength. Depending on what level of adhesive strength your project demands, you should choose one carefully.
For example, fabrics that are regularly used and washed should use super glue while home decoration items that are not touched regularly can use fabric glue with lesser strength.
Flexibility
Check the glue for flexibility before buying. Some of the glues dry hard on the patches, making the fabric uncomfortable to wear as the glued parts become rigid. Hence, you would want a glue that dries supple and remains so after washing.
Environment-Friendly And Safe
Many types of glue contain toxic chemicals that are harmful to people and the environment as they release toxins to the environment. So, choose one that is acid-free, toxin-free, and safe for you and the environment.
Packaging
Glues come in tubes and bottles. The most important thing to look for is the applicator. You should choose one with an applicator that makes it easy to apply the glue. Otherwise, choose one which comes in a bottle or tube with a funnel-shaped tip for convenient application.
Quantity
Determine how much glue you will need before buying it because if you get a bottle or tube that's too big, chances are it will be dried up and wasted if you don't use up all of it. It's always better to use fresh glue.
Drying Quality
Many types of fabric glue dry clear while others dry cloudy and leave a white mark on the fabric. You should choose a clear-drying fabric glue as it won't show the glued parts.
Another aspect of drying quality is that even though some glues dry clear, they become yellow and discolored over time.
Don't fret though. If you are asking yourself what is the best fabric glue for patches, just choose a high-end product that dries clear and doesn't become discolored.
Types Of Glue For Fabric
There are a few types of glue for fabric. Below are mentioned the various types.
Temporary fabric glue is used for basting purposes only, when you want to put certain fabric pieces together but want to sew them later on. They are held in place temporarily by this type of glue and since they are not waterproof, they can be easily rinsed off.
Permanent fabric glue is used when you want to put pieces of fabric together in a strong bond without using a needle and thread to sew up the pieces.
Permanent glue is an alternative to sewing and has much stronger bonds than temporary glue. It's also waterproof and will not be washed off when the fabric is washed.
This type of fabric glue requires ironing with a heat printing machine after you have applied the glue.It's better avoided if you are using it at home for minor repairs and DIYs.
Cool-set glue cures by itself after you have applied it to the fabrics. It doesn't need ironing or any external heat. This is a convenient type of fabric glue that can be used anywhere. Total drying time varies between a few minutes to a few hours.
These fabric glues come in a plastic bottle that's easy to handle. There is usually a spout at the top of the bottle for pouring the glue steadily and conveniently. By squeezing the bottle, the glue will come out.
This type of fabric glue is contained in an aerosol can. While spraying glue from the can is easy, you should always use it in a well-ventilated area and wear a respirator in case there are toxic fumes.
How To Use Fabric Glue On Jeans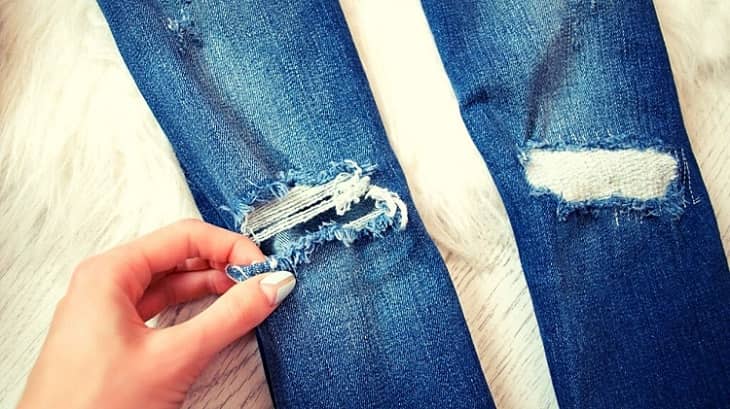 1. Cleaning
First of all, clean the garment where you are going to apply the glue. Wash it and dry it well as glue will be ineffective on wet material.
2. Prepping
To use fabric glue on jeans, you need fabric glue, a backing material like cardboard, a brush, and the patching material. Choose a permanent glue that is also waterproof. Buy a tube or bottle of glue with a needle nose for easy application. If there is no applicator, use a fan brush.
3. Placement
After you put the jeans inside out, place a stiff backing material like cardboard behind the rip or hole. You can use masking tape to hold the cardboard in place.
4. Marking
To mark the places where you want to apply the glue, use some tailor's chalk so that you know exactly where to apply. Tailor's chalk is temporary and will leave no marks.
5. Application
Using a fan brush or the bottle or tube applicator, apply the glue to the places where you want the patching material to be placed.
Apply the patching material on the torn parts treated with glue and press on it. Wait for the time it takes to set it completely as mentioned on the glue label.
Using a cardboard piece or a burnishing tool, smoothen out the glue lines as extra glue might have warped the material.
Frequently Asked Questions (FAQs)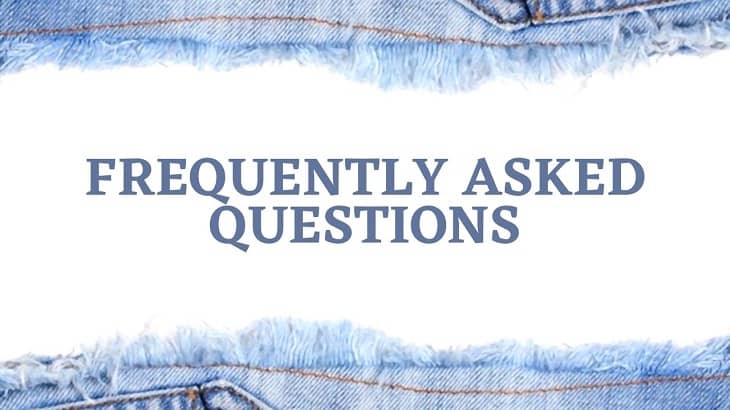 1. What Are The Benefits Of Using Fabric Glue?
Answer: There are quite a few benefits of using fabric glue. The most important being that it can mend holes or rips in a fabric without being sewn. Moreover, you have the added benefits of washability if the fabric glue is of the permanent type.
Added to that, the durability of the fabric glue is another benefit. Plus, if you're running short of time and need to fix your dress quickly, fabric glue is the go-to solution.
It's a more convenient and faster way of making repairs on your clothes. Moreover, before you sew on pockets, instead of using pins to hold the fabric in place, you can use temporary fabric glue.
For sticking on fabric embellishments, you might come across tiny pieces that cannot be sewed to the fabric, and hence, fabric glue will come to your rescue.
2. Are There Any Safety Precautions Before Using Fabric Glue?
Answer: Read the instructions and label of the glue before using it. If there are toxic chemicals included in it, wear a respirator and work in a well-ventilated area. Even if there are no toxins mentioned, wear protective gloves.
3. How Long Should I Wait Till I Can Wash The Fabric After Gluing?
Answer: Although it may take a few minutes to a few hours for the fabric glue to dry completely, you should wait for at least 72 hours before washing the fabric as this will ensure the bond of the glue is strong enough to withstand rinsing.
4. How Can I Get Fabric Glue Out Of My Denim?
Answer: There may be an accident where you have fabric glue spills on your denim. To get rid of such glue, use a nail polish remover only if the fabric is white. Appling steam by heating on the affected area is a time-consuming but effective method.
Mix one part of coconut oil with two parts of baking soda and spread on the glue with a toothbrush. Wait and wash with liquid laundry detergent. If this doesn't work, try a stain remover. The last resort is to use a knife or a hard plastic card to scrape off the glue from the denim with your hand.
5. Can I Use Hot Glue On Denim?
Answer: Yes, hot glue for denim is a strong substance and creates a good adhesion. As the denim has thick fibers, hot glue can bind them better. You should apply the hot glue generously but in thin layers for optimum results.
An advantage of using hot glue is that you can remove it even if you accidentally pour it on some parts of the denim you did not mean to repair.
Final Word
With the advance of knowledge and technical know-how, even simple activities like sewing have developed alternatives that are easier to execute and also save a lot of time. Hence, with the introduction of fabric glue, mending rips and holes in the favorite jeans is only a matter of minutes.
However, if you want the glued-on patches to last for a long time without getting washed off, you should opt for only the best fabric glue for denim. Also, do check out some other factors like bonding strength, ease of application, non-toxic formula, etc. before you buy one.
This article has covered all there is to know about fabric glue to help you make a well-thought-out decision before you rush to order some.
Here's wishing you hours of gluing on fabric embellishments for jewelry or just minutes of patching a hole on the denim jacket before that all-important meetup!
Related Resources:
Highest rated button maker as of right now!