Everyone loves a pompom! These little balls of fluff can be used for so many projects. Need bunting for a birthday party? Pompoms! Need a new bobble on your bobble hat? Pompoms!
They are also very easy to make, no matter the reason they are for.
Just about any craft project can benefit from these versatile little decorative tufts of material. Just by adding a fun pop of color and texture, different crafts and accessories can come alive! 
There are so many ways of making a pompom. Whether you use them for different crafts, pom pom hats, pom pom cushions, or pom pom wreaths, you can experiment with different styles of these balls. 
With so many purposes and ways to make pompoms, we are going to focus on the lowest cost, DIY method in today's article. In just 5 minutes or so, our step-by-step guide will show you how to create your very own pom poms.
You don't need any special tools or supplies. Just yourself and some leftover yardage.
Wherever and whatever you use your pompoms for, these fluffy accessories are bound to add fun. So, let's not wait any longer and find out how to create pompoms to show off to your friends and family today!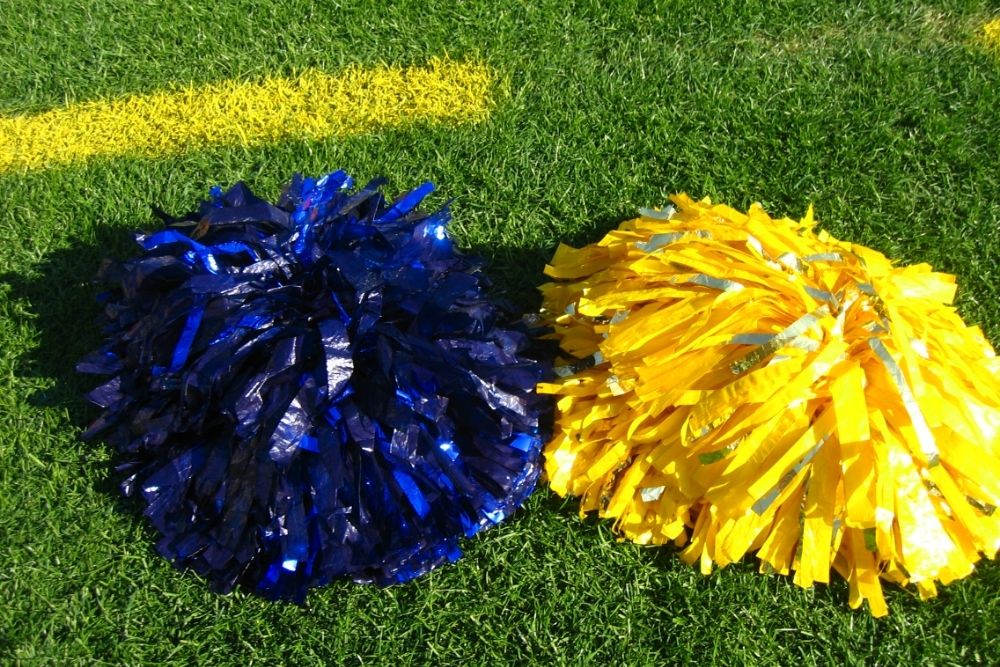 Making pompoms
What you will need
Before you start making your pompoms, there are some materials and tools needed.
Tools: 
A pen

Scissors

Cardboard

Circular items for tracing (lids, coins, small glass, etc)
Material:
Guide
Making pompoms are a great, fun activity that you can do with the kids. Seeing pieces of wool come to life will generate a spark of creativity in both you and your children.
Step 1
Using a coin, small lid, or something circular, trace out a circle on a piece of cardboard. This circle's size will be the size of your pom pom. 
Step 2 
Once the circle outline is drawn, cut this circle out from the cardboard.
Step 3
Draw another smaller circle within the larger circle once it has been cut out.
Step 4
Cut out this smaller circle.
Step 5
Cut a small "v" shape where you cut the little circle. This is to make it easier to pull the yarn through. 
Repeat steps 1 to 5 to simply make another circle.
Step 6
Hold your two circles together. Now, wrap the yarn through the V notch and around the sides of the circle evenly.
Step 7
Continue to wrap the yarn until the middle is completely filled in.
Step 8
Grab a pair of scissors and cut the yarn between the two circles. Do this all the way around.
Step 9
Now, cut a length of yarn. Tie a secure, tight knot around the middle of your pom pom. Bring the yarn round to the other side before tying another. Try to tie these knots as tight as possible for the best results.
Step 10
Once the yarn is tightly knotted, trim the pompom around its outside to make it even and round. 
When the pompom starts to look almost done, roll it gently in your hands to fluff it out. This will reveal any areas that may need more trimming. 
And that is the easiest and cheapest DIY method to make a pompom. It's never been so simple! This is our favorite method because the use of cardboard means you can make pom poms whatever size you desire.
The bigger the circles, the bigger the pompoms.
If you want to make even bigger pompoms, you can try using a medium-sized dinner plate to set the circle size. Just ensure the central hole is large enough to fit all of your yarn through as, the bigger the pompom, the more yarn you will need. Double up the yarn to make it easier to wind. Before long, you will have a gigantic pompom that is perfect for parties and celebrations.
Making a pompom with a pompom maker
If the cardboard DIY route isn't quite right for you, you can make pompoms with a pompom maker. These simple devices are easy to use and make the job a whole lot easier. Here's how to create homemade pompoms with these ingenious tools.
Step 1
Place the two halves of the pompom maker together. The arms should be unfolded and aligned with each other.
Step 2
Wrap your yarn around each curved arm evenly. Try not to wrap the yarn too tightly and ensure you do not overfill the device's curves.
Step 3
Now, fold the two arms inward. The gadget should now be in a round form. Get those scissors out again and cut the yarn in the gap between both halves.
Step 4
Grab ahold of some matching yarn and cut a 30cm length. Tie this around the center of the pompom, between the two halves of the pompom maker. Tightly knot this together. Ensure you knot it as tightly as possible.
Step 5
Unfold the curved arms very carefully. Now, remove the two halves of the maker so that it releases the pompom.
Step 6
Using scissors, trim the pompom into a spherical shape. Then, wash it quickly so the yarn is encouraged to fluff up and untwist. Submerge the yarn in warm water and gently squeeze water into it.
Move the pompom around a little and then, leave it to dry.
Your pompom will now be ready to trim. If you do not want to trim it into a sphere, you can skip this step as well as washing the material and begin to make your shape right away.
In Summary
As you can see, making your very own pompoms is easier than you thought. With just a piece of cardboard, scissors, something round, and some yarn, you can go on a creative spree. And don't be afraid to get the kids involved. They will love seeing yarn spring into life!
If you want pom poms for a party, try using different yarn colors. This will brighten up any space and get everyone in the party mood!