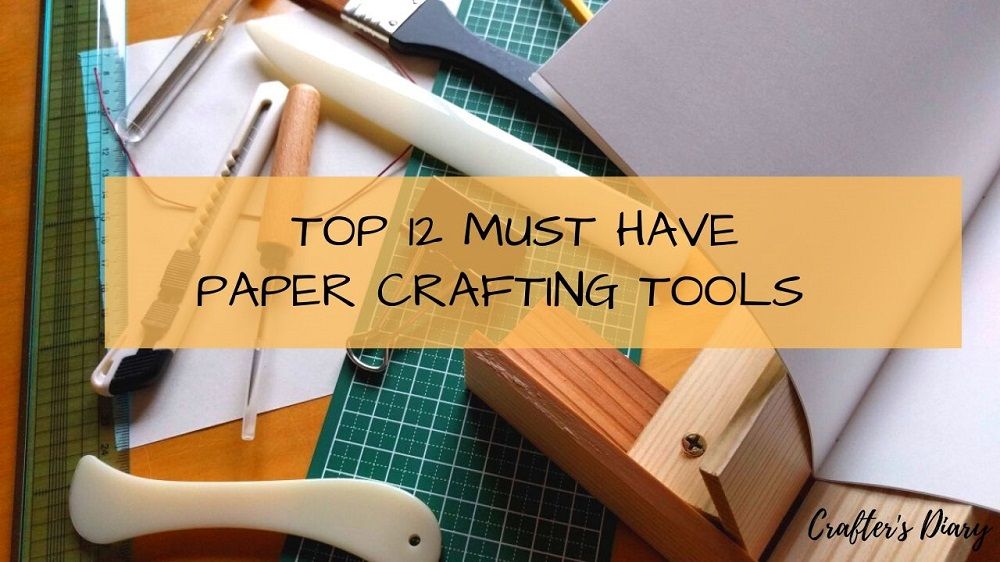 Paper crafting may look very appealing and enjoyable at the start, but it can soon turn frustrating if you do not have all the right tools in your hands.
Whether you are a beginner who wants to know what things you might need to get started or a professional who is just wondering if you are missing any essential from your collection, you are at the right place.
It is easy to get overwhelmed with the amount and variety of paper crafting tools available out there.
That's why in this article, we are going to talk in-depth about only the 12 most essential tools that you need to make your paper crafting journey go smoothly.
1. Self-Healing Mat: The Perfect Surface for All the Cutting Jobs
How many times in our lives have we tried cutting a piece of paper with an anti cutter only to end up cutting something else underneath it? Self- healing mats will end all your woes about ruining your tabletop or your floorboards, depending on where you like to work.
A self-healing mat will provide you with the perfect surface for you to cut and shape paper without worrying about ruining whatever is underneath it.
These mats come in various sizes and thicknesses. They usually have grid lines on one or both sides to help with measuring and cropping. Most self-healing mats also have angular measurements of 30, 45, and 60degrees besides metrics and inch guides.
Good quality self-healing mats can last a very long time. They can appear as good as new once you are done working. The self- healing surface of the mat also keeps your blades from getting dull.
Some features that you want to consider before buying a self-healing mat are its thickness, structure, functionality, and size. The thicker the mat, the higher are its chances of lasting long.
Although the thickness alone does not ensure the quality of a mat, the material of the mat is also of great importance when it comes to the quality and longevity of the mat.
Mats that are double-sided can last you twice as long, and you can use the other side once one of the sides gets depleted by use. 
The size of the mat should be according to your personal preference. You should also keep your workspace and traveling preferences in mind when choosing a suitable mat.
Rotary Self-Healing Mats
Rotary self-healing mats are great for smoothly rotating your paper or card while cutting without having to stop. With a rotary mat, you can keep your paper or card in place and cut away without any hitch. The only thing to remember is, you can only use rotary blades with this mat.
Self-Healing Folding Mat
Self-healing folding mats can be folded into two for the purpose of traveling. If you are someone who likes to carry around their craft supplies, this mat is for you. This mat is specially made for folding, so you do not have to worry about bending or ruining it in the process.
Condensed Vinyl Mat
There are self-healing mats that are made from condensed vinyl that can endure a lot of intense and heavy-duty cuttings, making them perfect for big projects.
2. Scoring Board: Your Solution to Perfect Measurements
Nothing can be more frustrating than finishing cutting a piece of paper, only to find you got the measurements wrong. Scoring boards will make your life easier, guaranteed.
Using a scoring board, you can easily measure your papers for folding, cutting, designing, painting, gluing, and everything else you might want to measure your paper for.
Scoring boards have measurement markings on the top and the sides. There are indentations on the board corresponding to the inch and/or centimeter marks. Using a thin bone folder, you can go down the indentation to create a line on the paper.
Whenever you need to make a fold in your paper, you can use the scoreboard to score the paper before folding. Scoring before folding helps in two ways: it works as a guide, and it stretches and prepares the paper to be folded properly. A scored paper always makes for better folding.
Many scoring boards come with a compartment to keep bone folders, pencils, or embossing tools in it. Dimension guidelines for cards, boxes, and envelopes may be provided. The most popular size of scoring boards among crafters is 14" x 13".
3. Bone Folder: Handy Little Tools for Easy Folding
If you still do not have these little guys in your paper crafting toolbox, you need to get them ASAP. These harmless-looking tools sure do pack a punch when it comes to creasing and folding those otherwise hard-to-fold paper types.
Honestly speaking, they are helpful for not only thick papers but regular paper as well. Using a bone folder to score and crease the folding points and then creating a line using a ruler makes for easy folding of all types of paper, even more so if the paper has any type of coating.
Bone folders create effortlessly crisp and beautiful folds every time with all types of paper. They are generally dull-edged and have two ends. One of the ends is rounded, and the other is narrowed to a soft point. These ends ease the process of scoring heavyweight paper.
In the past, bone folders were actually made from animal bones. Today, many are made of plastic. Traditional bone folders do have a few drawbacks:
May leave shiny spots or marks on the paper
Can develop dents from folding heavy card stocks
May tear glued paper while burnishing if you do not use any buffer sheet
Can absorb ink or dye from the paper
Can get glue built-up on them, making work unnecessarily difficult
Bone folders that are made of Teflon, otherwise known as Teflon folders, offer a bit more flexibility:
They do not leave shiny spots or lines
You do not need to use any buffer to burnish glue soaked paper with them
Glue does not stick to them; you can just peel or rub it off
All in all, many crafters now prefer a Teflon folder in place of a traditional bone folder for the above-mentioned reasons. Traditional bone folders are competitively inexpensive, so there is no harm to try both.
4. Rulers: To Set You Straight
Rulers, we have all been using them since our childhood crafting days. They still remain a staple in almost all types of paper crafting. Unfortunately, their usefulness is often overlooked in paper crafting, considering how useful they actually are when it comes to drawing a straight line or getting those measurements right.
All those grids on the scoreboards and the self-healing mats will help a lot when figuring out the measurements.
But you still cannot forego the ruler when it comes to drawing or cutting a straight line, or making sure your letters or patterns stay in a straight line.
Rulers usually have an inch and centimeter marks on either side of them. There is no ruler that does everything alone. That's why you might prefer having more than one ruler in your arsenal.
They are useful because they let you see the paper through them, making it much easier to work with. Acrylic rulers are preferable to plastic rulers because of their durability and sturdiness.
Some transparent rulers are flexible and can be rolled without bending or breaking them. These types of rulers are easy to carry and work with without worrying about breaking them.
Rulers with a cutting edge are also a popular choice among crafters because they serve more than one purpose. You can cut paper easily with the cutting edge on these rulers. While they cannot replace a paper cutter in this regard, you may still find it useful for quick cuttings.
While they cannot replace a paper cutter in this regard, you may still find it useful for quick cuttings.
Rulers that have a non-slip grip on the bottom are quite convenient because they stay in place and do not move around on the paper.
Besides having full-size rulers, you may want to have a short ruler by your hand, as well. They are sometimes more convenient to work with for small details and small scale craft projects.
5. Paper Trimmer: To Get an Accurate Cut Every Time
Imagine this, you have measured out the desired length, the width, and marked them, but as you progress along with your cutting scissors, instead of cutting straight, it suddenly veers off the path.
How frustrating is that? It has happened to the best of us. But these are now all things of the past because paper cutters have now entered the scene. No longer do you need to waste your precious time, energy, or in fact, paper pieces trying to get the cutting right.
When it comes to buying tools for your paper crafting journey, a paper trimmer is the one thing where you want to spend the most amount of money. Whether you want to make a simple card or a complex 3D model, you always want your cuts to be smooth and accurate.
Some paper trimmers even have self-sharpening blades that you do not have to replace every now and then, thus, actually saving you from spending more in the future.
Of course, it also depends on the kind of paper you use the most, but in any case, a good quality paper trimmer would be your best bet to save you a lot of headaches.
There is a huge variety of paper cutters available in the market. You should choose your paper cutter according to your needs, as well as keeping some preferable features in mind.
Rotary Trimmers
Rotary trimmers have a round cutting blade that slides back and forth along the rail. Generally, the base of the cutter bears grids with measurements. The blades are able to cut in both directions.
These cutters are very popular among paper crafters and photographers alike for the accuracy of these trimmers. Some rotary trimmers come with self-sharpening blades, as mentioned before.
Others will have to have their blades replaced after a while. Another thing to note is, frayed edges are pretty common with this type of trimmers.
Guillotine Cutters
Guillotine cutters are generally used for cutting stacks of paper or card in one go. You can cut stacks containing up to 15-20 sheets using a guillotine cutter, depending on the model.
They typically have a cutting blade and a long blade arm that you have to pull down for cutting paper or card stacks.
Guillotine cutters are generally superior in cutting capacity than most rotary trimmers. Be sure to check out the safety features when buying a guillotine cutter.
Features you need to consider before buying a paper cutter :
If you are not sure about the size you want to get, you should go for a 12" x 12" paper cutter. This is the most popular size among paper crafters, as that is the size of most scrapbook sheets.
Most project measurements and tutorials work mostly around that size range. Of course, you can always go for a smaller or larger one if that is more suitable for your work.
Paper cutters that are foldable or have an extendable arm are known to have inaccurate or missing measurements around the junction area, making work unreasonably harder.
This is important because this junction is often situated around the 6" mark, which is a significant mark for album makers and card makers. So it is almost unanimously agreed that a solid paper cutter is the better choice than foldable ones.
Paper cutter bases can be made of plastic, wood, or metal. All of these come in good and bad quality. It would be your best bet to stay away from cheap plastic paper cutters.
There are very good quality plastic trimmers available but with a reasonably higher price tags. Many people prefer the sturdiness wooden or metal bases provide. Whatever model you go for, make sure it has lots of good reviews before progressing.
When looking for a paper trimmer or cutter, you will find different models with a variety of details. Some of these include having both inch and centimeter measurements, grids all over the body, or measurement marks in the middle of the board.
In general, the more details there are, the better. Also, be sure to check if they can measure in fractions of an inch and/or fractions of a centimeter. Even if they may not mean much to you right now, these will be quite helpful in the long run.
Having a good quality paper cutter will not only make paper cutting quick, easy, and efficient, it will also make you actually enjoy the process of cutting paper.
6. Corner Punches: Easy Way to Make Your Crafts Pop
While there is nothing wrong with the usual right-angle corners, having different looking corners on your paper or card pieces can make it look so much more attractive. Corner punches are a quick and effortless way to beautify your card or scrapbook sheet in just a few seconds.
There are lots of corner punches to choose from. A corner rounder can be very useful to bring that effortlessly-finished and professional look without too much trouble.
The round corner looks elegant without being flashy. There are, of course, many other types of corner punches available with a variety of designs.
With time you can build a collection of corner punches that you can use according to your work project.
Just remember not to go overboard and use only a certain type of corner punch for each of your projects.
7. Scissors: To Cut Things in a Variety of Ways
No matter how many types of cutters or knives or blades you have, you have to have a couple of pair of scissors if you love paper crafting. For paper crafting purposes, you want your scissors to have sharp blades with a non-stick coating, which are rustproof and non-corrosive.
Make sure the handle fits comfortably on your dominant hand to save you from fatigue and pain. In general, bigger handle sizes are preferred by most crafters as they are known to cause less fatigue.
There are also various other types of scissors that crafters like to use for different purposes.
They are best for cutting through glue and sticky tape without the blades getting sticky or dull.
These scissors have a unique joint that helps them adjust and easily cut through heavy materials such as foams, corks, and even certain types of wood.
Detail scissors have specially made blades that let you cut out complex shapes with fine details.
These scissors have multiple blades that cut simultaneously to create fringes on paper.
These scissors have blades with a fine tip, as the name suggests. This provides you with precision and control that a regular pair of scissors cannot.
Also known as the serrated shears, they can cut paper in a zigzag pattern. They are often used in scrapbooking for decorative purposes.
These types of scissors have different types of edges that can create decorative borders on paper. Knowing what types of scissors to have in your collection can make your job a lot easier in the long run. If you are still a beginner, starting with a couple of basic ones would be a good idea.
8. Craft Knives: To Cut out Shapes and Designs
If you like cutting out different shapes and designs for your craft projects, you surely need to get some craft knives. A craft knife is composed of two parts: a handle and a replaceable blade.
The handle can be made of metal, wood, or plastic, depending on the quality. Depending on your need and the type of paper you use, you can choose among light, medium, or heavy-duty craft knives.
Fingertip craft knives are designed so that you can place your index finger inside the handle; this offers you greater precision and control when cutting.
There are disposable craft knives available, too, if that suits your needs. Some of the blade types that are used by crafters with their craft knives include:
As the name suggests, these are mostly used for general purposes.
These blades are useful for making precise and detailed cuts.
These blades are used to cut and scratch lines on the paper.
These blades are very precise and extremely sharp, useful for complex designs.
These blades can rotate a full 360 degrees and are the best for cutting circles and curves. When choosing a craft knife, make sure the handle is sturdy and comfortable for you to hold.
A good grip is also important as that means there will be no, or at least, less slipping.
Of course, safety should be your top priority when handling knives, so knives that come with a protective cap or additional safety features should always get a plus point when choosing.
9. Non-Stick Craft Mats: To Keep Your Work Surface Neat and Clean
A dirty or messy work surface can make it difficult to continue your craft project smoothly. Be it leftover glue splotches or wet paint from another project, any unwanted substance on the surface can be enough to ruin your papercraft. Here is where non-stick craft mats come in handy.
True to their name, they do not let any ink, wax, glue, or paint stick to their surface. You can either wipe or peel everything off these things, even if you are dealing with high-temperature glues.
Here are some features of a non-stick craft mat pointed out to get you pumped to grab one for your workspace:
Non-stick
Heat resistant
Repels liquid
Reusable
In general, they are 15" x 18" in size and pretty flexible in the sense that you can fold them, roll them, cut them up according to your requirements, and use them on both sides. Pretty great, right?
These mats are great for projects that include: gluing, mixing inks, stamping, embossing, ironing, painting, misting, and many other things.
To clean up, you just wipe the sheet with a paper towel while working, and when finished, just wash with water and dry.
10. Paint and Brushes: To Add Colors to Your Work
Having a selection of paint and craft brushes can help you make your work even more attractive. You really do not need much to start and can easily build up your collection as you gain more experience.
Whether you want to work with watercolors, acrylics, or oils, it is enough to get just one tube of each of these four colors: red, blue, yellow, and brown. Having black and white helps, too.
You can mix these colors to get different colors or shades. Depending upon your preferred medium, your selection of brushes may vary:
For watercolor painting, you are good to go with these three brushes:
A flat brush (sized three-quarters of an inch) for washes
A round brush (size 8, 10 or 14) for general painting
A size 6 liner brush for details
If your preferred medium is acrylic, you can get these three brushes:
A flat wash brush (1 inch) for background painting
A size 6 filbert brush for general painting
A small liner brush for drawing details
In addition to these paints and brushes, you may also want to add a mixing palette for your stash if you are going to work with many different colors.
11. Brayers: To Create Beautiful Backgrounds
When it comes to creating beautiful backgrounds on your craft paper, brayers can be of great help.
Brayers are roller tools that you use to create color patterns on the paper. They have a handle and a barrel part. The ones with a detachable barrel are generally more preferable. Brayers can be of two types: rubber brayers and foam brayers.
Rubber brayers are suitable for most projects, including scrapbooking. You can use them with different types of colors and mediums. Since they are made of rubber, they are pretty much as good as new every time you clean them after use.
Foam brayers or sponge brayers have a barrel made of foam, as the name implies. They can be reused after washing, but only if you use ink that is soluble in water.
Many consider them as disposable, but if you are going to use the same color and same medium every time, you can certainly use them over and over again.
When choosing a brayer for your projects, features that you want to consider would be its durability, comfort of handling, and whether or not it has a detachable roller.
12. Glues and Tapes: To Combine It All Together
So you have prepared and gathered all the different parts of your papercraft, now it is time to glue them together. There are a lot of options available now in terms of tapes and glues. Take a look at all the different types to figure out which ones might fit your needs best:
This is the most common type of glue used by most crafters. It can be used with all types of materials, and it dries clear and remain flexible.
Glue dots are perfect for when you don't have time for the glue to dry. They are convenient to work with as they do not create any mess. Glue dots come in all different sizes. They can be either removable or permanent.
Double-sided tape is a tape that is sticky on both sides. It is suitable for use in scrapbooking, card making, and other craft projects.
Foam tapes are perfect for scrapbooking and card paper projects. They're basically double-sided tape made of foam.
Glue pens are pens that have glue instead of ink. With a glue pen, you can apply a fine line of glue with precision.
If there is one tool that every crafter owns, it would be a Hot glue gun. It is perfect for when you need quick and fast adhesion. Be sure to follow the safety procedures when using a hot glue gun. You can also check our top glue guns review.
We have all used glue sticks for our childhood papercraft projects. Even though they are quite easy to apply, their quality is not among the best. However tempted you might be to use glue sticks for your project, you are better off using something else of better quality.
E6000® craft adhesive is popular among crafters because of its various features. It is flexible, waterproof, dries white and can be painted over after it dries.
It also provides a five-minute window within which you can reposition your materials until the bond becomes permanent.
Mod Podge is a product that is equally popular as a glue, sealer, and finish. It comes in 23 different formulations.
There are also other types of glues, such as glue runner, adhesive spray, and repositionable adhesive spray. You should choose the tapes or glues that are most suitable for your craft project.
Get Your Paper Crafting Essentials Now!                    
While it is easy to get overwhelmed with the variety of paper crafting tools available out there, these essentials mentioned in this article are must-haves if you are really serious about paper crafting.
Of course, do not forget to have a soft lead pencil and an eraser close by, to mark points, draw lines, outline designs, etc.
Having these combined with the essentials mentioned in this article in your arsenal will not only be helpful in your paper crafting hours, but it also can save you a lot of time and energy and can boost your productivity by a lot.
So go ahead and start building your collection of all these essentials needed for a smooth start to your paper crafting journey.