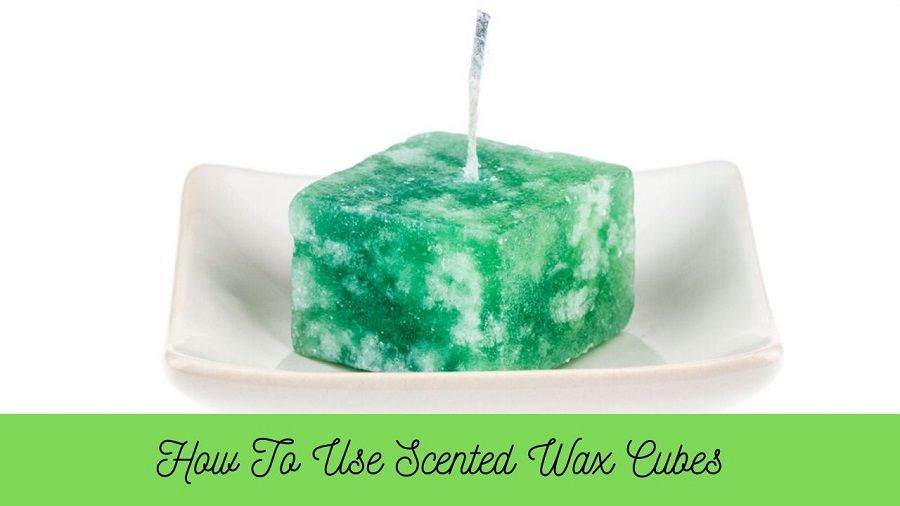 The human body is full of incredible surprises and amazing adaptability skills.
For instance, our nose has as many as 400 types of scent receptors that can distinguish over 1 trillion different odors!
That's quite powerful, isn't it?
The power of fragrance does indeed play an important role in our day to day life. It even helps boost productivity by calming your nerves a couple of notches down and reducing your stress at the same time.
Feeling a bit more emotional lately?
Try a cozy, cinnamon-perfumed wax cube to feel warm inside and get more energized!
Trouble going to sleep at night?
The lavender-scented wax cube will help calm your mind and alleviate insomnia by creating a soothing atmosphere that will lull you to sleep instantly!
See the power of fragrances?
It's insane!
If you are interested in learning how to use scented wax cubes with and without warmer to get that same magical effect inside your home, then keep reading till the end of this article.
What Are Scented Wax Cubes For?
As much as we love our little furry buddies, you have to admit, they make our house stink!
Not to mention, the poor ventilation system in the kitchen, molds in the bathroom, condensation on the windows and damp carpets just keep piling up on the list as sources of bad smells!
And that's where scented cubes come into the play!
One little piece of this magic placed into a corner and your room will start to smell warm, inviting and most importantly, free from all those crazy stinks!
Depending on your mood and preference, you can pick your favorite scents from the varied ranges of options that are available including food-based scents like vanilla and mulberry spice or unique ones like Caribbean Breeze, Apple Cinnamon and Rustic Sandalwood etc.
How Does It Work?
The wax starts to release its sweet fragrance when it gets melted.
So, the trick here is to get the cubes hot and then hold the temperature at a constant level as long as you want the perfume to last.
Usually, scented pieces are placed in a decorative warmer to get them all heated up. Of course, there are alternatives to using a warmer for this purpose as well! We will discuss that later in this article.
Let's get introduced to the different types of warmers first.
Types Of Warmers
Typically, there are two types of warmers available on the market:
1. Flame-Powered
Flame-powered tarts usually contain a tealight candle inside it. The device consists of a burner base and a bowl-shaped dish on top.
To generate the necessary heat, you need to light up a candle and place it in the warmer in the area beneath the bowl. Depending on how big or small the size of the dish is, you may add one or two pieces of cubes on the bowl.
2. Electric-Powered
Electric-powered warmer comes with the same structure except it doesn't require any candle to melt the cubes. Instead, it's powered by electricity to melt the elements inside its chamber.
All you need to do is plug-in the device to the nearest power outlet and let the warmer do the rest!
How To Use Scented Wax Cubes With Warmer?
Once you have purchased a good-quality warmer and gathered some of your favorite scents, it's time to fill your room with a nice, gentle perfume!
Let's take a look at how it's done.
1. Find The Perfect Location
Did you know you could fill up the entire house with the sweet aroma of the scented cubes?
However, you need to pick up your location carefully for that purpose!
To get the maximum benefit, we suggest placing the fragrant cubes strategically throughout the houses. Especially, the rooms that have to endure heavy traffic during the day tend to catch bad odors quicker than any other place.
Make sure to place some cubes in those areas as well to make your home feel warmer and more inviting.
2. Read Instruction
Before proceeding any further, it's best if you look carefully into the instruction manual and read them beforehand.
For instance, an electric warmer might come with a wrapper that needs to be removed before plugging the device in.
Or, the bowl-sized dish that's placed on the burner may need to get an additional cover on top of it before you insert any scented cube on it.
To make sure you get everything done in the right way, it's best to follow the instruction manual to the letter.
3. Resize The Cubes If Necessary
Just because the perfumed pieces come in a pre-determined shape and size, doesn't necessarily mean you have to keep them that way!
Depending on how big or small the size of your room is and how much you want to spread the fragrance, you can cut a cube into a few small pieces.
Or you can put several pieces on the dish if necessary. Whatever you do, just make sure it doesn't over-crowd the dish too much.
4. Switch On The Warmer/Light Up The Tealight
Done placing the wax cube on top of the burner?
It's time to turn on the warmer!
Or if you are using a flame-powered device, then it's time to light up the tealight!
On some electric devices, there are options for you to set a timer so that the burner doesn't get overflowed with melted wax once it's finished doing its job.
If you don't have a timer to control your device, then you must keep an eye on the warmer to know when to turn it off.
Also, if you are using a flame-powered burner, then it's recommended to stay in close proximity to avoid any fire hazard that might occur otherwise.
5. Store It For Your Next Use
After you are done using the burner, disconnect the power cord from the electric outlet.
Then, wait for some time to get the device all cooled down. In the meantime, the leftover wax will harden and solidify into its previous form.
Scrape out the bits and pieces from the dish and discard them as quickly as possible.
Clean the dish and store the device in a cool, dry place until your next use.
How To Use Scented Wax Cubes Without a Warmer?
What if you don't have a warmer?
Well, there are still different ways you could make your house smell exactly like the way you want!
Let's take a look at some of the methods that you can follow for that purpose:
1. Use Boiled Water To Generate Heat
This process is quite simple and requires two different sizes of pots for this purpose.
Step One: Take a medium-sized pan and pour some water into it. Put it onto the stove and bring the water to boil.
Step Two: Take the small pot and wrap the inside with tin foil. Or you can also use a liner for this purpose.
The goal is to make sure the cube doesn't stick to the surface once it's finished melting and can come off pretty easily.
Step Three: Put the wax cube on top of the small pot and place the pot inside the pan with boiled water. The heat from the boiled water will slowly melt the cube and fill your house with a wonderful aroma.
2. Mason Jar And Candle
You will need a candle, mason jar and a small dish for this purpose.
Step One: Cut the candle into half as we need a small piece that can easily fit into the mason jar.
Step Two: Light up the candle and put it inside the mason jar.
Step Three: Cover the small dish with a tin foil and then put your scented cube on top of it.
Place the small dish on top of the mason jar and watch how the heat from the candle slowly travels upwards and starts melting the piece to release the desired aroma into the air!
What To Do With Old Wax Melts?
You are going to thank me later for this awesome hack!
So, we all know how important it is to get rid of the old cubes before storing the burner for your next use, right?
Well, what if I tell you, there's a way you could use those leftover wax for some other purposes as well?
I know, I know! It's hard to believe!
But seems like you can make use of anything that's thrown out if you just know the right way to do it!
Let's take a look:
1. Smooth Out The Surface
Having trouble with opening and closing the drawers of your kitchen cabinet?
Use those bits and pieces of scented cubes to rub over the drawer's edge to smooth out the surface a little bit. You can also use them on the rails to help them glide in and out of their sockets quite easily.
2. Make Decorative Pieces
Instead of throwing out the burnt-out pieces to the trash, collect them in a container.
When there's enough of it, melt them all together and mold them into your desired shape. You can get creative and make lots of decorative showpieces of your choice in this way.
3. Recover Old Zippers
Old zippers are the worst as they keep getting stuck in random places and become useless eventually.
However, you can use some melted wax on those zippers and get them back into their previous form pretty easily!
4. Fix Dents
Dents on the wooden floor or walls are quite noticeable and they might get even bigger if you don't take care of them right away.
The easiest way of getting them fixed is to run some wax over the cracks. The surface will smooth out for the most part and the hole will be patched up without spending a dime on it!
5. Use As Seal Stamp
I know, I know!
You guys don't do any letters anymore!
However, for the old-school lovebirds who still think letters are romantic, you can use hot wax to seal the envelope tightly so that no one else gets to read it except your special one!
How Long Do Scented Wax Cubes Last?
It depends on a lot of factors.
The size of the cube matters a lot in this case. Typically, a standard cube can last around 6 to 10 hours depending on how you plan to use them.
keep in mind that, the wax cubes don't evaporate once they are finished! They just stop spreading that wonderful aroma around your room.
So, the trick is to get to know how to make the scent last longer in this case.
Tips For Making The Scented Wax Cubes Last Longer
Setting a lower temperature will allow the wax to retain its aroma for a long time. We suggest heating it to the point where it's just enough to fill the room with a mild scent.
If you plan on using the scented cubes for a short time, for instance, just in the afternoon, then it's best to break them into pieces and use a smaller cube for that purpose.
While storing the cubes, make sure to keep them away from direct sunlight.
Each cube has a certain shelf life. So, use the older stash before moving on to the new ones.
You can keep the leftover wax in a sealable container and add small increments of a new cube with it on your next use to prolong its lifespan.
Wrapping It Up
Scented wax cubes are the easiest and simplest way to transform your home into a wonderful, magical place to be in.
The powerful combination of wax and fragrance oils reduces stress, relieves anxiety, gets rid of depression and even helps you get romantic with your significant other by turning an ordinary night into a romantic, candlelit one!
Hopefully, our guideline on how to use scented wax cubes with and without warmer has inspired you to pick your favorite scent and enjoy the fresh, pleasing aroma that it leaves behind all day long!
You may also find them useful: