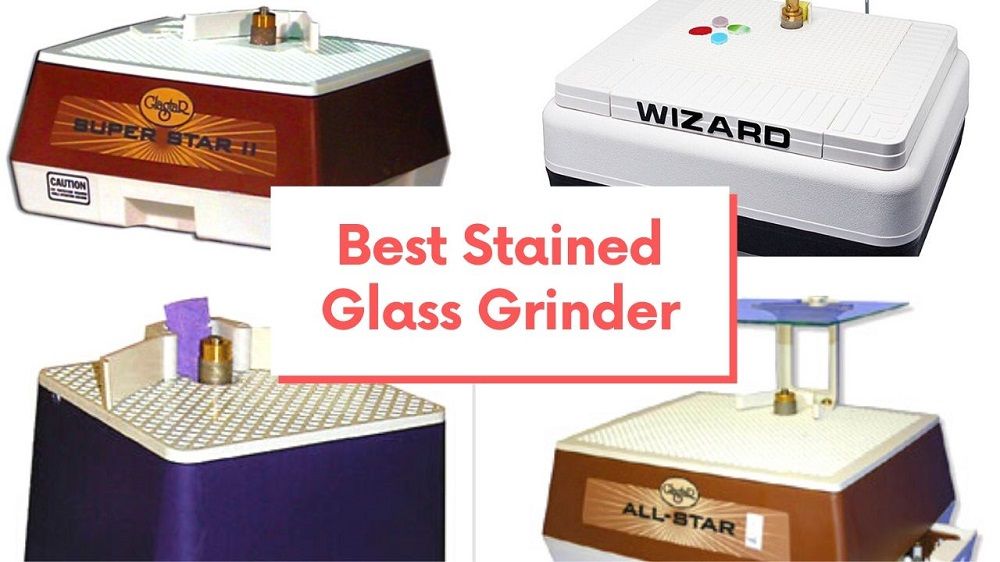 Whether you are a budding stained glass-work prospect or a professional artisan, one of the most important instruments in your toolkit will always be a stained glass grinder.
The history of stained glass works dates back to a thousand years, almost exclusively used in the construction of churches and religious buildings of yore.
However, the demand and popularity of stained glass decorations have exponentially increased over the past 2 decades.
Its use has greatly diversified since then. It has become an integral aspect of modern art and artists. These grinders are given the utmost value by the artists due to their ability to work with very intricate glass pieces and their finer edges.
Therefore, it is prudent for every artist to be equipped with the best stained glass grinder that complements their work.
Below you will find a list of products that we have chosen which will surely provide clarity for you to make a fitting purchase.
IMAGE
PRODUCT
FEATURES

Best Overall

Best Overall

✔

High power DC motor

✔

Long-lasting

✔

Omnidirectional high cutting speeds

✔

Ideal for glass artists

Check Price

Best Value

Best Value

✔

30 ounce/inch torque motor

✔

Top notch quality

✔

Easy to clean

✔

Suitable for all

Check Price

Premium Choice

Premium Choice

✔

Large working area

✔

Speeds up to 3560 rpm

✔

Comes with storage drawer

✔

Worth buying

Check Price

✔

3000rpm high-speeds

✔

Strong built-in quality

✔

No fatigue problem

✔

Board area to grind

Check Price

✔

Long-lasting quiet motor

✔

3450 rpm speed

✔

Easy to use

✔

Ideal for beginners

Check Price
Best Stained Glass Grinder Reviews in 2021
1. Gryphon Gryphette Glass Grinder
A machine designed to provide a baseline glass grinding experience, the Gryphon Gryphette glass grinder is perfect for beginners.
It's extremely easy to use and simple to grasp which is helpful for artists who are just starting with stained glass work.
It's a small and compact device that takes up minimal space and fits in most shelves and desks.
Having such a small exterior, it is surprising to see the power this device packs. With a whopping RPM of 3000 and a 0.67 Amp motor, it flawlessly offers a powerful grinding experience.
The most notable feature of the Gryphon Gryphette glass grinder is its humble price tag. It mimics the performance of more expensive grinders and offers it at a much more affordable price.
It comes with a ¾" bit and has a standard 5/16" shaft which is compatible with all standard bits. So you can purchase additional bits and make it work with this grinder.
However, due to its size, it has a smaller work surface compared to larger grinders.
Pros:
Very affordable compared to its performance and quality.
A powerful grinder with 3000 rpm
Capable of working with most surfaces.
It comes with a standard shaft which is compatible with most bits.
Compact in size – doesn't take up a lot of space to store.
Easy to use and recommended for beginners.
Cons:
Not ideal for people requiring a larger surface area.
The instruction manual is vague and not very helpful.
2. Inland Wiz CG Stained Glass Grinder
This grinder houses a beast of a motor that is capable of outputting a tremendous amount of torque for deep and heavy grinding. With a 30 oz.-in torque motor and 1/11 horsepower, this device gets through most glass surfaces with ease.
The lift-off water reservoir of this machine comes out completely making it extremely easy to clean and maintain. The 13 inches surface area that you get to work with is convenient.
But it doesn't stop there, the work surface area is completely reversible ensuring that you can work comfortably with any form of materials.
The Inland Wiz CG comes with two diamond grinding bit sets of ¾" and ¼". Since it contains a motor that can dish out so much power, this device is equipped with a specially designed base.
It ensures stability and balance on your bench during intense grinding sessions.
It is the best glass grinder if you're looking to expand your accessories arsenal. There are tons of external accessories available for this particular model that can be purchased.
For instance, you can turn this machine into a disc grinder or a beveling machine with the proper attachments.
Pros:
Shatters performance expectations drastically in contrast to its price point.
Powerful motor can provide a large amount of torque for heavy grinds.
A reversible large work surface suits different material layouts.
The liftoff water reservoir allows easy cleaning and maintenance.
This device is compatible with numerous accessories.
Cons:
Large size makes it hard to store for users with limited workspace.
Beginners might have difficulty using the machine to its full potential
3. Glastar Allstar G8 Glass Grinder
Glastar Allstar is a true star that lives up to its name. It comes equipped with a motor that can provide a torque of 42 ounces per inch and a grinding head with 3560 RPM. The motor features a permanent split capacitor design that produces low noise and runs smoothly.
The kit also contains 1″ and 1/4″ diamond heads, an eye shield, a splash guard, grinder coolant packs, a straight edge guide and plastic running pliers.  There is also an accessory drawer to help you organize them.
An 8×9 lens is present in the glass eye protection allowing a more detailed view. It is also scratch-resistant, hence visibility doesn't deteriorate over time like the surface of standard goggles.
It has almost all the features required for professional-grade projects. The ¼'' bit can be used for small glass pieces and drilling.
A built-in pump is used instead of a sponge for keeping the diamonds cool. The working surface measures 11×13 inches which is larger than most of its counterparts.
The machine has almost no discernible disadvantages. However, some users might find the purchase cost a bit high. But given the quality, it's worth every penny.
Pros:
It is equipped with all the required features for professional usage.
Powerful motor providing a torque of 42 ounces per inch.
Grinding speeds to up to 3560 rpm.
Lots of accessories and a storage drawer to store them.
The built-in pump provides better cooling, no need to replace sponges.
Cons:
Most expensive among its competitors.
New bits have a coarse grit.
4. Gryphon Convertible Professional Stained Glass Grinder
Gryphon Convertible is the professional device that takes the performance up a notch. It has an inclined surface which contributes to the comfort of usage.
It lets you maintain a better posture in sitting position while running the machine for long periods. Such a feature is not very common among its rival brands.
This product's package is inclusive of 1″ and a 1/4″ diamond heads. The shaft can be fitted with all non-included sizes of bits as well. There is a glass shield attached above the working surface for face protection.
A sponge isn't a must-use as this model has a built-in motor. The motor supplies water to the bit at both horizontal and inclined positions.
The main motor can run the head at 3000 rpm speed, providing 67 ounces per inch of torque. Although it's a powerful motor, the maximum speed limits the scope of the machine.
When it comes to the size of workpieces, this is the best glass grinder for stained glass you can get.
It has a large working surface of 13.5 x 10.5 inches. A removable second-story platform for smaller workpieces provides even more flexibility
Pros:
Inclined surface lets its users sit comfortably during grinding operations.
A large working surface of 13.5 x 10.5 inches.
A built-in motor for keeping the diamonds cool.
There is an additional mini working surface for smaller glass pieces.
All standard bit sizes can fit on the shaft.
67 ounces per inch of torque is powerful enough for most projects.
Cons:
The rotation speed of 3000 rpm might not be sufficient for some glasses.
5. Power Max II Deluxe Grinder
Power Max is a compact-sized machine that is convenient for light to medium-duty usage. It comes with a 9.5×9.5 inch square working table which is a good fit for a range of glass pieces except for enormous ones.
The kit includes 3 chrome-hardened silver bullet bits of different sizes, anti-seize lubricant, a foot pedal and a face shield slightly smaller than the work surface.
The drill bit is cooled by a super sponge, something you won't get in traditional grinders. There is a reservoir nonetheless, the water goes through the sponge to the wheel.
This is a decent grinder for the cheap price. However, there are some drawbacks that'll off-put serious professionals. It has a relatively slow rpm and a small work surface inadequate for handling large glass pieces.
These detriments make it unfit for use with large materials. Therefore, if you are looking for a more powerful high-end product then you may want to have a look at other options in this guide.
This one is more befitting for hobbyists and students. It offers a performance good enough for medium-level tasks and comes with many additional features found in pricey ones.
It may not be the finest one but the Power Max II Deluxe is a cost-effective package for beginners and amateurs.
Pros:
A table dimension fit for small and medium-sized glass workpieces.
This optimal grinder offers medium performance at a low cost.
It has significantly low noise production.
Takes up less desk space due to its small size.
A suitable starter bundle for beginners to experiment with.
Cons:
Max speed of 2300 rpm, considerably slow.
It might not be spacious enough to accommodate large glass pieces.
6. GLASTAR Superstar II Glass Grinder
Another model that is well suited for hobbyists. Its 8x9inches working surface is suited for handling small to medium glass sizes. GLASTAR Superstar II comes with a mini table, bonded ¾'' bit and a ¼'' bit for very small workpieces.
The manufacturers also provide multiple sponges and coolant fluid bottles. The motor produces a torque of 19 pounds per inch and consequently limits the project sizes that can be worked on this machine.
However, this shouldn't be much of a concern unless you periodically require a large torque. For heavier tasks, it can reach a maximum rotation speed of 3450 rpm.
This product provides some accessories that are absent in other machines designed for beginners. The accessory drawer is useful for storing the diamond heads, sponges, etc.
Water spreading can be minimized by the rubber splash guard while running wet cutting operations.
Other accessories include an adjustable straight edge guide(roller-type) and a cooling drain.
There are retainers to hold the sponge in place when the mini-table is in use, this feature was absent in the preceding model.
Although it is a product that has been designed to fit the requirements of beginners, numerous features make it suitable for more experienced customers.
This implies that learning artists can continue to use this machine for a longer period.
Pros:
Quiet motor with high durability.
Considering the features offered, it's great for its price.
3450 rpm speed can facilitate heavier jobs.
Easy to set up, operate and maintain, perfect for novices.
Cons:
Low motor power limits glass types that the bit can handle.
Factors To Consider Before Buying Glass Grinder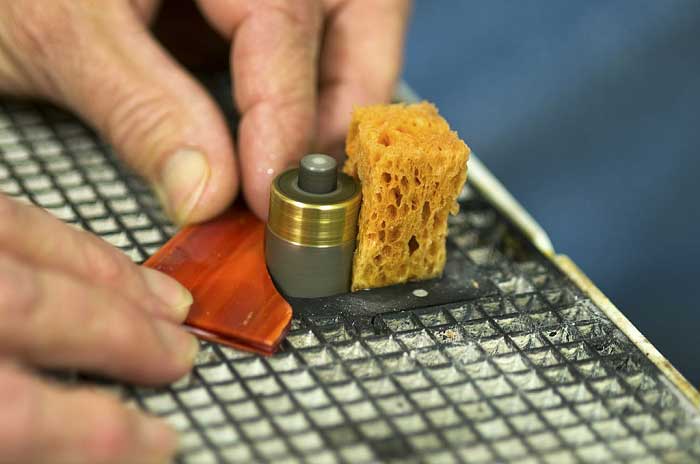 Rotations Per Minute (RPM)
RPM indicates the speed of rotation of the motor. Higher speeds allow you to deburr edges more smoothly and decrease the chances of chipping.
Most stained glass grinders on the market have an RPM value ranging from 2800 to 3600 RPM. The faster the motor, the quicker you get the grinding jobs done.
Thus, a device with a higher number of RPM is generally desired. Although, users who are not used to operating devices with a high RPM might face discomfort at first and it takes a while to get used to it.
Torque (Ounces Per Inch)
It is the measurement of how powerful a motor is. Bits running on a motor with a large torque is considerably more resistant to the glass it is working on.
Buying a machine that offers more torque is recommended especially if you want to work with a variety of glass types more efficiently.
A grinder consisting of a motor with torque value above 40 can be used for almost all different types of glass.
A torque value below 30 is good enough for glass compositions with lesser density which are often used in smaller-scale projects.
Accessories
Most grinders these days support a plethora of additional accessories that are either bundled together with the product or are available to purchase separately.
These allow users to modify their devices to perform more efficiently and can make the said grinder less susceptible to replacement in the long run.
A few accessories that could be provided with some grinders are multiple bits, foot pedals, sponge/s, and anti-seize lubricant and more.
However, some products lack the necessary ones such as eye protection. Therefore, it is advised that you see what's included beforehand.
Surface Area
The allocated work surface area that a stained glass grinder offers you depends primarily on its size. The larger the device, the more surface area you get to work with.
Evidently, artists who frequently grind larger materials might want to purchase a machine that boasts a significant surface area. 
Bigger grinders tend to be pricier and are a hassle to store and move around. If you don't intend on working on bigger projects then a smaller stained glass grinder will be good enough.
Some grinders come with more than one working surface, either provided with the product or purchasable. This offers the users flexibility on the range of materials that they can work with. 
How To Use A Stained Glass Grinder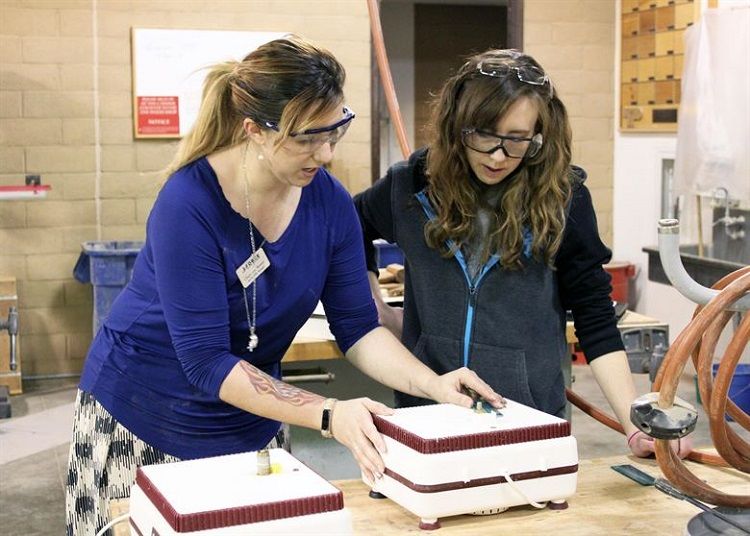 1. Know The Limits Of Your Machine
Make appropriate cuts before you grind the glass. The machines are meant for grinding curves which are otherwise difficult to cut and smoothing the edges. 
Applying the right amount of pressure is necessary. Pressing too hard can result in chipping. The grinder rotation speed decreases when excess force is applied, use this as a warning signal.
2. Protection And Safe Handling
Tiny fragments fly around when grinding so it's important to wear eye protection. Many grinders come with a face shield, some equipped with a magnifying glass.
If face protection isn't included with the package then you can wear goggles. However, they can be uncomfortable and restrict clear vision.
Placing a rough mat below the working table prevents glass spreading throughout the room to some extent. A splash guard can be used to reduce the water spreading all over the place.
Remember to switch it off when you're not using it. Don't leave it running when no one is around.
3. Adjusting And Replacing Your Diamond Bits
Adjusting the height of bits to the most suitable position initially lets you use glass with different thicknesses without requiring further tinkering. Later, when there is wear on the bit, you can adjust it to a lower height.
You don't have to replace the bit as soon as you start to feel the need to press harder. Make slight vertical adjustments to use a different part of the bit's surface.
When moving up or down doesn't make a difference, it's time to get a replacement. Special bits make it easier to apply different effects to the edges. Some even let you drill holes.
Glass Grinder Maintenance Tips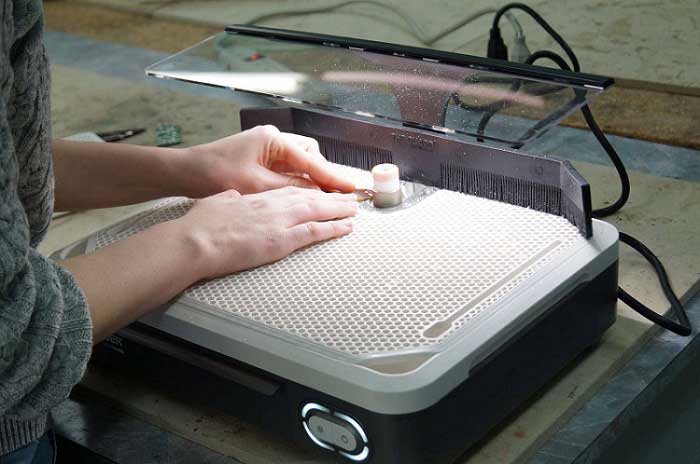 1. Lubrication And Cooling
Apply anti-seize lubricant to the shaft before first use and every time you replace a bit. The lubricant, as the name suggests, prevents the bit from seizing to the shaft.
It's recommended that you change the water daily and clear the reservoir of glass shards after every 4 hours of working time.
If your machine uses a sponge, ensure that it is wet before you start working. Frequently check if the reservoir is full when operating.
Regular use of grinding coolant with water prolongs the lifetime of the grinding head. It's advised to often inspect the bit for wear and other defects, especially after heavy use.
2. Taking Care of Your Bits
Using the right bit greatly affects the quality of the workpiece. Fragile glass can be easily chipped by a bit that has a coarse grit. Fine or ultrafine bits are more suited for the materials you work on.
3. Schedule Your Maintenance
Create a maintenance schedule based on the manufacturer's guidelines and how frequently you use the machine. This makes it much easier to carry out the procedures and lets you keep track of any missed maintenance tasks.
Glass Grinder FAQs
1. Is It Necessary To Utilize A Diamond Coolant?
Answer: The coolant is very effective at extending the bit's life so it's recommended to mix it with the water in the reservoir.
2. Can I Use The Same Bit For All Glass Types?
Answer: You can if you know your way around bits and their performance. If you are not an expert then you should use the recommended bit for each glass type.
3. How Do I Know Which Bit Suits My Requirements?
Answer: It depends on what kind of work you are dealing with, also how experienced you are. So it is recommended to research before you commit to a bit. Also, you might have to test a few to find a suitable one.
4. How Can I Tell When To Replace The Head?
Answer: If you need to apply so much force that it slows the rotation speed, then you can try adjusting the height to use a different surface.
When you have already made all possible height adjustment and still observe the same effect, then it's time for replacement.
5. Why Are Sponges Missing In Some Grinders?
Answer: Some models don't come with sponges, but that's not due to any limitation. Those models use a built-in motor to suck water up to the head, in such cases sponges are often redundant.
6. Is It Necessary To Keep The Diamonds Wet?
Answer: Yes. The purpose is to cool the diamonds and prevent thermal shocking.
7.  The Glass Often Gets Chipped. What Should I Do?
Answer: Look for signs of wear or tear on the tool. If it's all good then the next likely cause is that the bit is too coarse for the material you are using. Try using a bit with a finer grit.
8. What To Do When The Rotation Speed Is Slower Than Expected?
Answer: First, check if the head is tightened well with the screw on the flat surface of the shaft. If that isn't the case the issue could be with the motor, in that case you should contact the customer care service about the matter.
9. What Are The Safety Hazards Associated With These Machines?
Answer: Safety goggles are a must as glass fragments accidentally getting into eyes may require medical attention.
Wearing gloves is advisable to protect from sharp edges of the glass. However, if you aren't comfortable with gloves you can wrap band-aids or anything else that is suitable around your fingers.
10. I Replaced The Head And It Still Causes Chipping, What To Do?
Answer: New heads can be the reason for chipping. To counter this problem you can use some scrap glass first. This will fine-tune the head. You could also use a brick or a dressing stone.
If you want to cut a glass bottle, then check our glass bottle cutting guide in multiple methods!
Final Verdict
There are many grinders available in the market. Each one functions a little different than others. However, with so many options to choose from, it can get difficult for a buyer to come to a decision.
With that in mind, we have assembled a list of great products that we think apply to a plethora of situations.
Alongside the reviews and recommendations, we also highlighted the features one should look for in the best stained glass grinder according to their needs.
Hopefully, you'll find the one that'll last and serve you for years to come.
Related articles you may also like: