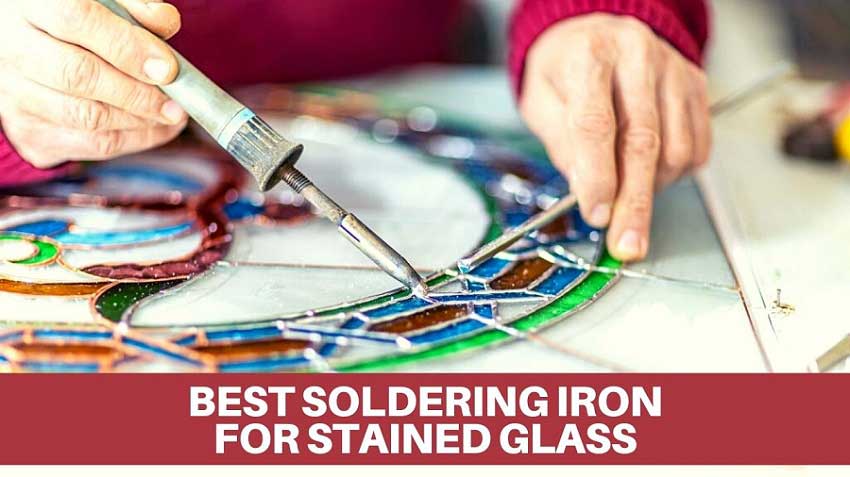 Stained glass panels can decorate homes, office spaces, and other institutions in a way that no other fixture can. Because of the various colors, it adds a different dimension and look to the exterior and interior as well.
The light that comes through is often vibrant and can help transform any room, whether you install the glass or use it as a decorative piece.
Holding all these different-colored panels together is no easy feat. It's a tough job that needs meticulous soldering along the joints that hold the panels together.
To make soldering precise, a soldering iron is used to apply the molten solder to hold all the joints in place.
With so many brands and different types of soldering irons available, how do you find the best soldering iron for stained glass work? Besides knowing the alloy that you are going to use, you also need to know the right temperature, and various other factors to make the right choice.
To help you do so, we've assembled this thorough guide on stained glass soldering kits with all the important information and product reviews.
So, let's get started shall we? Read on to discover the ins and outs!
IMAGE
PRODUCT
FEATURES

Editor's Choice

Editor's Choice

✔

80 watt soldering iron

✔

Temperature max. 900⁰F

✔

Ergonomic and portable

✔

Long-lasting

Check Price

Premium Choice

Premium Choice

✔

67 watt soldering iron

✔

Temperature range 464°F-1004°F

✔

Heats up quickly

✔

Value for money

Check Price

Best Value

Best Value

✔

100 watt heavy duty iron

✔

3 soldering tips for 600°F, 700°F, 800°F temperature

✔

Easily movable

✔

Ideal for stained glass projects

Check Price

✔

60 watt soldering iron kit

✔

Adjustable temperature (392°F to 842°F)

✔

Two types of tips available for multitasking

✔

Suitable for beginners

Check Price

✔

100 watt iron with chisel tip

✔

Max. temperature up to 1000°F

✔

Sturdy and lightweight

✔

Ideal for glass art artist

Check Price
What Is A Soldering Iron?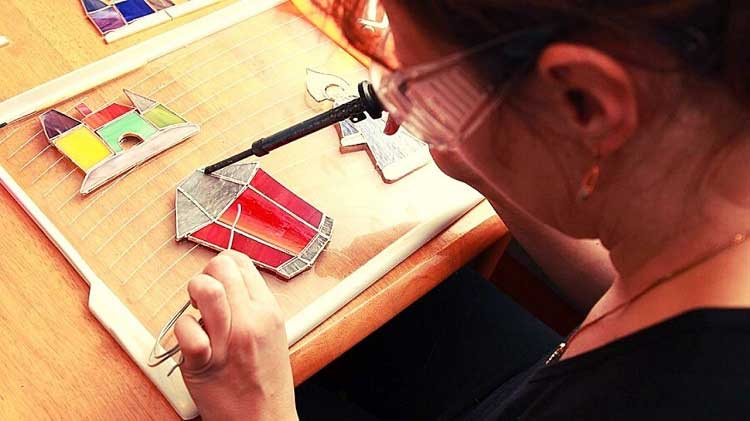 A soldering iron is a handheld tool used to join two components by applying melting solder.
A hot iron is used to melt solder, which is usually an alloy made from lead and tin. The hot iron is heated to high temperatures and applied to the components and as it cools, it joins the components together in a strong bond.
Soldering irons have a metal tip that's pointed and an insulated handle. It is through the tip that the high heat travels and melts the solder to form the bond.
Types of Soldering Irons
There are three basic types of soldering irons as follows:
Pencil Soldering Iron
This is the type with an insulated handle and comes with a cord. It connects directly to a wall socket to get the electric power and this doesn't have the option of adjustable temperatures.
Those pencil soldering irons where you can adjust the temperatures are referred to as adjustable pencil soldering irons.
Cordless Soldering Iron
This type of soldering iron does not have a cord and is convenient when you have limited space on your work station. It's also portable and therefore, can be carried around without any hassle.
Soldering Station
This type of soldering iron consists of the iron itself and a station. It's at the top end of the soldering iron types as the base offers a holder for the iron and also comes with a dial for adjusting temperatures. Soldering stations features cleaning sponge that directly impacts the quality of the bond.
Our Top 12 Best Soldering Iron For Stained Glass Reviews
1. Weller WLC200 Soldering Station
If you indulge in soldering a wide range of alloys, then this soldering iron station gives you the ultimate flexibility.
You can control the power from anywhere between 5 and 80 watts, thus you have the right hold of temperature according to your project. Raise the temperature to 900 degrees Fahrenheit maximum and maintain it as you solder on.
The lightweight unit is portable, hence you can carry it and work from anywhere. Moreover, you can work on various medium-sized projects with the 3/8th-inch chisel tip it features. It's also compatible with a 1/4th-inch chisel tip and 0.375-inch cone tip to provide more options.
The iron holder is another convenient feature as you can keep the tool here while you're working and you don't want the tip to oxidize. And with the cleaning sponge sitting in the base, you get a complete unit as you can clean the tip in a regular interval and expand its lifespan.
This is the best soldering station for hobbyists as it will serve you for a long time without major hiccups. You can upgrade this easily by removing the iron and replacing the heating core. Therefore, you can also customize the unit as per your personal preference.
The heating core warms up the iron very quickly and won't let you down in the middle of a project as it doesn't take any time to get reheated. Thus, you don't need to waste any time waiting for the tool to warm up again.
The tip of the iron is made from chromium, iron, and nickel plating and has a copper core. Hence, it's free from lead and therefore, eco-friendly. On top, it won't rust. You can also use it as a jewelry soldering kit.
Highlighted Features:
Lightweight and portable for convenient carrying.
Offers a maximum of 900 degrees Fahrenheit.
Power range of 5 to 80 watts.
3/8th-inch chisel tip compatible with a 1/4th-inch chisel tip and 0.375-inch cone tip.
Complete unit including cleaning sponge, base, and iron holder.
Lead-free and eco-friendly.
Removable and replaceable heating core and iron.
2. Hakko FX601-02 Soldering Iron
Hakko is renowned as a professional soldering iron manufacturer on the market. Hakko fx601 soldering iron gives you target temperature and movement control literally at your fingertips.
Suitable for projects that require movement and far reach, this device is the right one to choose if you are working on solar panels, transformers, chassis, and other projects that need a high heat application. Also, this iron is most popular for its heat retention feature.
You can dial the temperature you need and change it using the knob placed in the grip for easy adjustments. Just turn the knob to change the heat. You can also lock the temperature by taking out the control knob after you remove the screw in the center.
Hakko fx601 is a 67-watt device that can give you a maximum temperature of 540 degrees Celsius. The soldering tip has been specially designed for better thermal capacity so that the heat transfer is consistent and you can get back the desired temperature without using more electricity.
Thanks to the temperature controls sensor built inside the device, you will get a steady temperature flow. With the ceramic core, the iron heats up fast and holds the target temperature, allowing you to work without feeling any sense of rush.
You can choose a temperature between 240 and 540 degrees Celsius, giving you much flexibility to work on different alloy types.
The unit is made from durable materials for a long-lasting service. The slim and ergonomically designed handle will prevent your hands from getting tired and allows you to maintain a good balance between the rod and the tip.
As the soldering kit is lightweight, it makes for easy portability. This lead-free iron for soldering is also environment-friendly.
Highlighted Features:
Suitable for large projects like solar panels, transformers, etc.
Temperature range between 240 and 540 degrees Celsius for flexibility.
Adjustable temperature with the control knob in the grip.
Lead-free and environment-friendly.
Ergonomic and slim handle for comfort.
Lightweight for ease of carrying.
3. Weller W100PG Soldering Iron
When a product comes with a decent price, satisfied user base and lots of positive soldering iron reviews, you ought to take it seriously! And this is Weller 100 watt stained glass soldering iron.
Designed for a professional-grade finish, the Weller W100PG stained glass soldering iron allows you to seamlessly move from workbench to workbench without losing the temperature.
Get a wide range of different temperatures using the 3 different tips that can heat up to 600, 700, and 800 degrees Fahrenheit in a matter of 110 seconds for the highest temperature. Such quick heating makes sure you can do any soldering job efficiently and quickly as the temperature is held consistently.
The nichrome heating core expedites the process of heating and you can complete more jobs in a shorter time, hence allowing you to achieve more productivity.
To prevent your workstation from getting overheated, this Weller W100PG soldering iron uses a closed-loop technology of controlling the maximum temperature at the tip. This also protects your hands.
You don't need a base station as the device uses a portable line voltage iron, giving you more freedom of mobility. The 6-feet cord is another feature that allows you more flexibility and room to move comfortably.
The heater is a plug-in format and made from stainless steel to make it rust-resistant and durable. As it does not come with a stand, you may want to buy one separately to protect the iron and expand its lifespan.
Another way to ensure the soldering iron continues to give you service is by cleaning it each time before and after use, as well as in between the project you are working on.
Highlighted Features:
100-watt soldering iron for professionals and hobbyists.
3 tips for three different temperatures – 600, 700, and 800 degrees Fahrenheit.
Nichrome heating core for faster heating and more efficiency.
Closed-loop technology to control maximum tip temperature for safety.
Portable line voltage iron needs no base station and gives more freedom.
4. TasiHome 60W Soldering Iron Kit
Whether it's electronic repairs or stained glass soldering you need, you can rely on this as your jewelry soldering kit as well.
The multipurpose soldering iron allows you to perform soldering on a wide variety of projects. As electronic repairs need more caution, the tool features an anti-static connection with a clip for connecting to the electronic device and thereby prevent static damage. Just wrap around when not using it.
The 60-watt tool allows easy temperature control and consistent tip temperature. The heating core temperature is measured and when it drops, the red indicator light goes off. When the red indicator is back on, you will know that it's time to apply the iron again. This ensures safety and consistency.
Just dial your desired temperature and the closed-loop technology will track the temperature and ensure the tip maintains a consistent one. The temperature control knob is conveniently located in the grip to make instant adjustments.
With the two tips included, you can do endless soldering jobs. These soldering tips are also removable and replaceable to give you more flexibility. Make sure the alloy you will work on has a melting point below 842 degrees Fahrenheit, as this is the maximum temperature the iron will heat to.
Due to the blue-tinted transparent body of the iron, you can see what's going on inside. The unit is small and lightweight, making it ultra-portable.
If you clean the soldering tip properly on a wet sponge and tin it by applying solder on it after use, it will prove to be durable and effective.
Highlighted Features:
60-watt iron with a maximum temperature of 842 degrees Fahrenheit.
Temperature flexibility option with a handy knob on the grip.
Red indicator light to show the correct temperature to apply solder.
Anti-static connection for safely making electronic repairs.
Two tips included to perform a multitude of soldering jobs.
5. Choice 100 W Stained Glass Soldering Iron
If you are a beginner in the field of stained glass soldering, this could be the right learning tool for you.
Operating at 100 watts, this device is capable of giving a maximum temperature of 1,000 degrees Fahrenheit. Fitted with a 1/4th-inch chisel tip, you can work comfortably on any soldering project. Also, you can do copper foil work smoothly on stained glass with this iron.
You can easily increase the power up to 400 watts. To control the temperature regulation in the iron, the package includes a rheostat so that a constant heat can be maintained as that's very important in applying the solder properly.
As the rheostat is attachable to your work station, it is a convenient feature too. The rubber handle is comfortable to work with and won't slip. As it's shaped like a pen, you can work with this for long hours without hand fatigue.
There is a good balance between the soldering tip and the iron and therefore, you can apply the solder meticulously without fumbling.
Besides beginners, professional artists will also find this device a good one for soldering. Many users find digital soldering irons a bit tricky so this is a good option for those who are more comfortable with controlling a rheostat. There is no temperature dial or an indicator switch.
With dimensions of the 10.5-inch length and 1-inch diameter, the device is lightweight and allows it to be carried around with no hassle. Plus, the extended power cable also makes mobility a breeze.
It's also safe to use as there are safety insulators included. The aluminum body of the soldering iron is strong and durable. You can rely on the tool to heat up fast and maintain a steady temperature.
Highlighted Features:
Power range between 100 and 400 Watts with 1,000 degrees maximum heat.
Strong and durable aluminum body.
Pen-like shape for working long hours without hand fatigue.
Lightweight with dimensions of the 10.5-inch length and 1-inch diameter.
Rheostat included for temperature monitoring and control.
6. Hakko FX888D-23BY Digital Soldering Station
Packed with a host of convenient features, this glass soldering kit is a delight for both professionals and seasoned hobbyists.
A specially designed tip delivers superior thermal recovery function and conducts heat seamlessly, ensuring you have the right soldering temperature at all times.
With outstanding heat transferability, you can work at a lower temperature with less heat impact on the surface and this also lengthens the lifespan of the tip as oxidation has a lower chance of forming on the tip.
The 70-watt device produces a heat capacity between 200 to 480 degrees Celsius or 392 to 896 degrees Fahrenheit. With the tool heating up fast and holding the temperature constant, you can increase your efficiency as you can complete more projects in less time.
This is the best professional soldering iron as it takes only a very small space of 100 millimeters width by 120 millimeters depth storage space. Moreover, the stability of the tool is ensured by the four points under the base that are placed strategically to prevent the machine from toppling over.
There are only two buttons – Up and Enter – that make the operation of this device very simple. The iron holder is another convenient feature where you can park the tool. With the protective cover, there is no chance of any noise or shock when you are keeping the iron there.
The base station features a cleaning wire, rubber cleaner, and a cleaning sponge so that cleaning the tip becomes easy.
The temperature is easy to set and monitor on the digital display. You can preset up to 5 different temperatures for easy adjusting while you work. This saves you from a lot of hassle and time wastage. With the password function, only you will be able to change the temperature settings.
Highlighted Features:
Superior heat transferability and thermal recovery.
70-wattage iron with a temperature range of 392 to 896 degrees Fahrenheit.
Supporters under the base to provide stability.
Easy storage within a small space.
Ease of operation ensured with only two buttons.
Up to 5 pre-set temperatures for convenience and easy adjustments.
Protect settings with a password function.
7. EXSO Soldering Iron For Professional
We all know that Korean products have a high quality and the same can be said for this welding iron.
This product operates on three different power levels –200, 300, and 500 watts. With an adjustable temperature feature, you can work with this on many types of alloys and projects, giving you the maximum usage flexibility.
No need to use extra temperature controller with this iron. The three steps of temperature control buttons – high, low, and off – are easy to operate and maintain a consistent tip temperature. The heating core uses a brand new cartridge so that users have no complaints about durability.
The tip has been specially engineered to work on industrial projects like earth wire, the ground connection, or smaller projects like repairing electronic plates. This is also the best stained glass soldering iron as it can hold constant temperature while you apply solder.
A maximum temperature of 700 degrees Celsius from this product means you can perform a lot of heavy-duty soldering jobs. This is quite an achievement given the length of the stick-type iron at only 380 millimeters.
Due to a weight of only 860 grams, this iron is easily portable and you can carry it around with ease. With the tip made from iron, you are guaranteed to get a long lifespan. It's also eco-friendly as no lead has been used to manufacture this. Hence, it's safer to use for yourself.
The handle of the iron is designed so that you can have a firm grip easily and retain a steady hand over the soldering job.
Highlighted Features:
Korean product featuring easy operation with high, low, and off options.
500 watts power to yield 700 degrees Celsius at max.
Weighs only 860 grams for easy portability.
Lead-free tip made from iron for durability.
Suitable for both industrial and smaller projects.
8. Anbes Soldering Iron Kit
If you're the type to have all accessories and tools handy when soldering, then this kit is heaven-sent for you!
It's a whopping 15-in-1 package that includes one soldering iron, 2 tips, iron stand, 8-in-1 precision screwdriver small enough to fit in your pocket, tin wire tubes, solder-cleaning pump, wire stripper and cutter, a digital multimeter, tweezers, 2 multimeter pens, and a carry pouch to put it all in conveniently.
It takes only 30 seconds for the iron to heat up and the LED indicator makes for safe usage and energy saver. This machine provides max. 200-450 degrees Celsius temperature. Moreover, ceramic heating elements ensures fast heating and transfers throughout the steel-pipe iron for uniform heat.
The on/off switch is handy and hence, you can turn off the machine when not in use. The temperature can be adjusted easily as the knob is placed in the grip. A silica gel cover protects the iron from getting overheated or damaged.
The thread connecting the iron to the tip is resistant to heat and therefore, the head will not melt and fall off.
You can use the desoldering pump to remove solder from circuit boards as this is equipped with a vacuum and a frame made from aluminum bronze. The digital multimeter is useful for measuring voltage, current, etc. and will be appreciated by electronics students who make models or projects.
Apart from electronics repairs and science projects uses, it is one of the best soldering irons for jewelry making as well. The enclosed tweezers can be used to repair or make delicate jewelry. As it contains no lead or harmful compounds, it's 100% safe to use.
Highlighted Features:
15-in-1 kit including 8-in1 pocket screwdriver for a host of projects.
The ceramic heating technology takes only 30 seconds to heat up.
Uniform heat transfer through the steel-pipe iron.
Adjustable heat capacity between 200 and 450 degrees Celsius.
Contains no harmful compounds for the user or the environment.
9. GLE2016 Electric Soldering Iron Kit
For quick touchup work or for elaborate stained glass soldering, this is a handy tool for all your welding purposes.
60-watt powered device gives you a wide range of temperatures–200 to 450 degrees Celsius – to allow you to work on various alloys and projects. With a control knob located in an easy to reach position, you can adjust the temperature according to your soldering needs easily.
The stainless steel body of the soldering iron will last long as it does a great job of resisting rust and corrosion. The copper-based iron-plated tip is another durable feature of the product and promises an accurate application of the solder.
Enclosed are 5 tips that are replaceable and give you the widest options of carrying out any scale of soldering tasks with just one tool. Changing these tips is a simple process that requires rotating the current tip in an anti-clockwise direction to take it off and simple insertion of the desired tip.
With a ceramic heating core, warming up the device takes only about two minutes, hence saving your time.
To ensure safety, the handle is covered with rubber to ensure a comfortable and anti-slip grip. Moreover, you can work with the product for extended hours without your hands feeling tired.
The plug and play feature of the iron for soldering is another way that prevents wastage of time. As you don't need any base station, you can carry it around anywhere and just plug it in the power socket to get the project going. 
Engineers, students of electronics, hobbyists, jewelry artists, and DIYers have found this a straightforward tool for all their soldering needs.
Highlighted Features:
60-watt powered tool offering 200 – 450 degrees Celsius temperature.
Ceramic heating core for heating up within 2 minutes.
Copper-based iron-plated tip for the right solder temperature.
Includes 5 replacement tips for a wide range of projects.
Plug and play feature with no hassle of setting up.
10. Studio Pro 100 Watt Soldering Iron
When you need a lightweight soldering tool for your arts and craft or jewelry class, this portable iron for soldering stained glass and other materials is a convenient one.
It includes a 1/4th-inch chisel tip to get all types of small and midsize soldering projects done, especially the stained glass and jewelry type. This 100 watt soldering iron gives you an impressive maximum temperature of 1,000 degrees Fahrenheit. The heat transfer is uniform along the iron body.
The tip of the iron holds the temperature constant as you work your way through your soldering project. You can also connect it to a rheostat if you want the temperature to be controlled at various points of your project.
The handle grip has an insulated cover that helps to keep the grip cool and save your hand from scorching. It's also comfortable and gives you perfect control when you apply the solder.
This is the best soldering iron kit for use in classrooms, studios, and production of stained glass hangings for your home or office décor. To maintain it well, always clean the tip on a wet sponge after you have soldered a few joints. Always use the stand for holding the iron when you work.
After you are done using the tool, don't forget to wipe it clean and apply the solder on the tip to tin it and extend its lifespan.
Beware of the screws as many users have claimed that the screws come loose and it would be dangerous to have part of the soldering iron fall off while it's still hot.
Highlighted Features:
100-watt tool that can produce a temperature of 1,000 degrees Fahrenheit.
Includes 1/4th-inch chisel tip for most project types.
Insulated handle grip for safety and comfort.
Can be connected to temperature controlling devices.
Good for studio and classroom use.
11. American Beauty Soldering Iron
The design and the construction materials used in this American beauty soldering iron make it a long-lasting and dependable tool for jobs in the production line and other heavy-duty work.
Crafted by compressing nichrome heating alloy over a spool of steel, this tool guarantees superior and uniform heat transfer and durability.
A single unit of steel bar is treated to multiple high temperatures to strengthen it. This ensures the iron tip retains its optimum temperature during soldering.
The paragon iron-clad tip of the device is free from lead and is hence, eco-friendly. Its plug-style diamond design delivers extraordinary heat transferability and makes it easy to clean as well.
The handle is made from hardwood and is smooth and comfortable to hold. It provides insulating and thermal properties for comfort and safety. The standard size fits an adult hand properly to give control when pouring the solder.
With the special design of the iron, it's not complicated to change or replace the tips so that the product continues to serve you for a long time. Soldering tips that are compatible with this tool include chisel and screwdriver style.
To keep the iron conveniently and safely, a stand is included in the package.
You can use the American beauty iron for stained glass soldering work, melting plastic pins, sheet metal assembling, large power pin soldering, cheese cutter soldering, checking heat detectors, natural rubber sheet cutting, construction soldering, electronics repairing, and a host of other cutting and soldering projects.
The 14-inch long tool is easily portable. It runs on a power of 200 watts and delivers a temperature of up to 1,000 degrees Fahrenheit.
Highlighted Features:
Made from steel spool over which nichrome alloy has been applied.
Superior heat transferability, strength, and durability properties.
Smooth and comfortable hardwood insulated handle for safety.
Easy to clean and apply solder with plug-style diamond tip design.
Includes a stand for keeping the iron.
12. Hexacon Soldering Iron
This is probably the toughest soldering iron on the block as they have been designed and crafted from materials suitable for large-volume, heavy-duty work.
Designed to work continuously for extended periods, this tool is the right one if you are looking for something that can recover the temperature quickly without wasting your time.
The outer part of the iron is made from a solid unit of alloy steel plated with nickel to resist corrosion and to provide outstanding strength and durability, so much so that it seems like it's almost indestructible!
The shape of the body is hexagonal so that it can be held tightly in a wrench or vise without any damage. A nut at the front works both as a shock absorber when you put the iron in its holder and to hold the tip securely in place without any chance of it falling off.
With a handle that has been designed and shaped meticulously, you are promised a comfortable and firm grip. Heat deflector discs have been added to the painted hardwood grip to ensure handle cooling.
The balance between the body and the tip is at its optimum, giving you full control over hand movements. With its 250-watt power and a versatile 5/8th-inch tip, it is the best soldering iron for stained glass work and many other projects.
The power cord is burn-resistant and made to cause no damage due to any accidental contact with the iron when you are working with it. To facilitate mobility, the power cable is also made from a very flexible material.
Highlighted Features:
Works for extended hours with superior heat recovery properties.
Made from alloy steel coated with nickel for maximum durability and strength.
Hexagonal shape for a proper hold by a wrench or vise.
250-watt power with 5/8th-inch tip size.
Anti-burn and flexible power cord for mobility and safety.
What to Look for in a Stained Glass Soldering Iron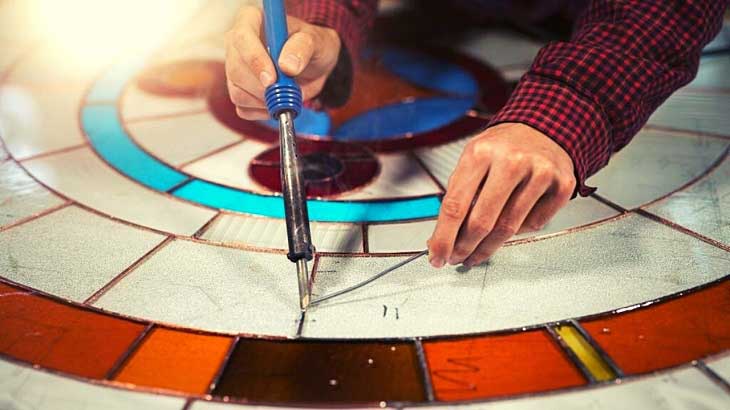 Purpose
You should know for what purpose you are going to use a soldering iron before shopping. These tools differ from another in their features depending on whether you are going to use one for automotive, stained glass, circuit boards, etc.
How often you are going to use the soldering iron and whether in an educational or a professional setting are also determinants toward choosing the right soldering tool for you.
However, you could choose a generic soldering pen that can perform various types of soldering functions.
Alloys
What alloy you are going to work on will determine the right soldering iron for you. You should select one that will give a temperature higher than the melting point of the alloy you are going to work with.
Wattage
Don't choose a soldering iron that has lower than 30 Watts as that would mean a much longer time in getting the tool heated up and also to maintain a consistent temperature. Choose one that has a range between 80 and 200 Watts.
However, if the heating tool has a ceramic core, it needs less wattage as ceramic core is more efficient and heats up quickly.
Adjustable Temperatures
If you work on multiple soldering projects, you will need a device capable of providing varying temperatures, depending on the material you are working on.
Thus, the best soldering iron for stained glass projects and other purposes would come with adjustable temperatures to avail you that opportunity. Also, you need to take care about consistent temperature to avoid cold spots problem.
Stand
A soldering tool that comes with a base gives you a place to stand your tool while you are working. As the device is hot and hazardous, there should be a designated and safe place where you can keep it during your work. Hence, choose a soldering iron that comes with a stand.
Weight
As you are probably going to work with a soldering iron for a long time, make sure to check out the weight of it so that it doesn't turn out to be a cumbersome burden for you. The weight will also determine how easily portable it is.
Also, check if there is the right balance between the handle and the tip to give you maximum control and comfort. Moreover, the handle should be anti-slip.
Tip Flexibility
The soldering iron kit should be adaptable with different types of tips and therefore, the tip should be replaceable. Some tips are only replaceable only if they are the same brand as the iron itself.
As different projects need different tip sizes, you should determine which soldering iron could be the right one for you depending on your projects.
Accessories
Try to buy a soldering iron that comes with accessories like replacement tips, stands for keeping the iron, and a sponge for wiping. If tips are included in the package, check whether they are easy to remove and replace.
How To Solder Stained Glass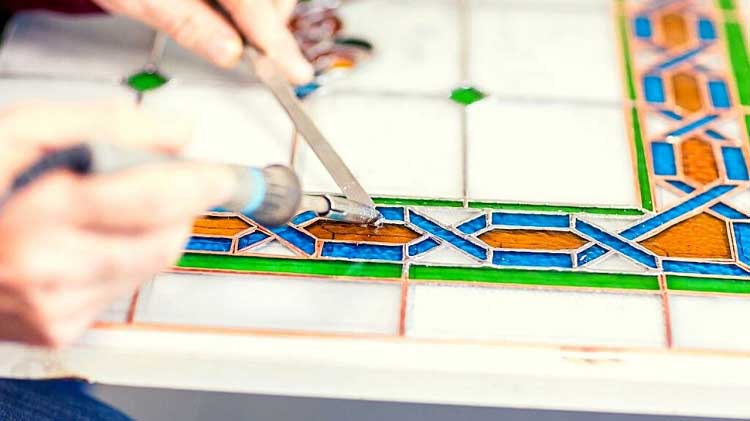 There are several steps to be followed carefully for soldering stained glass. The details are given below.
Panel Preparation
Turn on the stained glass solder as it may take a while for it to heat up. With the help of a wire brush, clean all the lead joints of any dirt or rust. A well-cleaned substrate is essential for the solder to stick on properly. As soon as you clean the joints, you should apply the solder.
Solder Application
Get a good quality flux and brush it all over the joints. If your dominant hand is the right one, then use your left hand to place the end of the solderstick over the joints without bringing it too near the end as it might burn your hand.
With the right hand, get the soldering iron and hold its tip over the solder. Hold it still and it will melt and drop on the joint. Take care not to put too much solder on the joints.
Don't take too long to cover the entire joints. Make sure the tip of the soldering iron does not touch the lead as it would melt it.
Turning Over The Stained Glass Pieces
After all the joints where you applied the solder have cooled down, very carefully turn over the panel by sliding it slightly over the edge of the workbench and holding it in an upright position. Make sure to support the backside of the panel as you turn it over.
You need to repeat the process of cleaning with a wire brush and applying the solder on the joints on the flip side as well. When all the solders cool down completely, give it another round of cleaning with a wire brush and your stained glass panel is ready to decorate your home.
If you need more detailed information, then check this article about soldering tips and tricks.
How To Clean Soldering Iron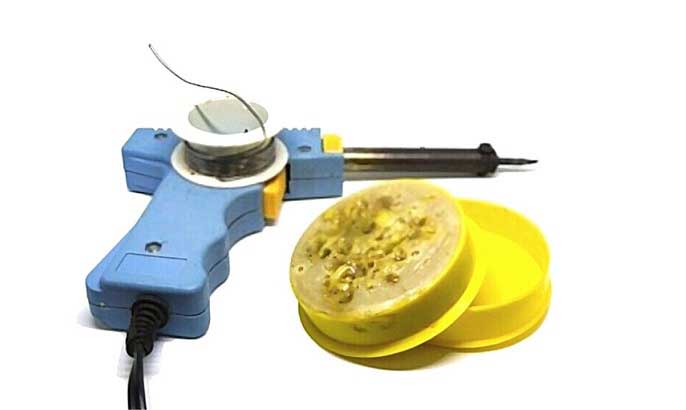 Soldering iron must be cleaned often. That's because when the tip is oxidized, it forms flux on it, which makes heat transfer difficult and therefore, renders the tool less effective. This is especially so in soldering guns that do not contain lead as they need higher temperatures to make them work.
To clean the device, keep a wet sponge handy and clean the tip with it so that the old solder is removed. To keep the tip from getting oxidized, you need to have it tinned, that is, apply a mixture of solder and flux.
Repeat the process of scraping against the wet sponge and tinning to ensure the tip of the soldering iron is clean.
Also, before you put it away after use, do the wiping and tinning processes.
Soldering Iron Maintenance Tips
Taking care of the soldering iron regularly will keep it well-maintained and durable for a long time. The following are the key maintenance tips you should follow-
Always use a good quality solder as otherwise, contaminants will build upon the tip and prevent the iron from transferring heat properly.
Wipe with a wet sponge to keep the tip clean. Make sure the sponge is pure cellulose and free from sulfur.
Minimize the exposure of the tip to flux as it can become corrosive and fail to work.
Try not to use abrasive materials like sandpaper to clean the soldering iron. Use stainless steel or brass coil to clean the tip.
After each use, clean the tip with a wet sponge and apply a generous amount of a good quality solder on it.
Use the tip cleaner finally and unplug the soldering iron as this will help it to tin properly and protect from rust.
At the time of tip replacement, make sure that it sits securely in the barrel.
Use the machine at its lowest temperature at 800 degrees Fahrenheit or lower. Operating at a very high temperature will lead to oxidation and the tool will not solder properly.
On the working end of the solder iron tip, apply rosin core solder of the right measurement –0.8 millimeter or 0.032 inches or larger.
Frequently Asked Questions (FAQs)
1. How Can You Differentiate Between Low And High-Quality Solder?
Answer: You can test the quality of the solder by trying to melt it. If it melts at the temperature mentioned, then the product is of good quality. Otherwise, it won't melt easily and completely.
Another proof of the quality of the solder is the way it looks. If you are using lead solder, then the appearance of it would be shiny. It if has a matte look, it's not a good quality lead solder. Also, non-lead solders come with a matte finish.
2.What Is Flux?
Answer: When metals are exposed to air, they react chemically and oxidize. This oxidation is a barrier against wetting the joints with solder. Hence, to remove this oxidation film, flux is used.
When reaches boiling point, the flux dissolves the oxidation film and makes it evaporate, keeping the tip of the soldering pen clean. You can find flux inside the soldering wire core or it may come in a paste format.
3. What Is The Correct Process Of Tinning The Soldering Iron Tips?
Answer: First, clean the soldering iron tip on a wet sponge. Then apply fresh solder to cover the tip so that it looks shiny. Start solder application immediately after tinning the tip.
Besides tinning the tip of the soldering iron before and after every use, you should also tin the tip after you have done soldering a few joints. Hence, the correct way is cleaning the tip after every few joints.
4. How Hot Does A Soldering Iron Get?
Answer: Different soldering irons yield different maximum temperatures. The solder melts approximately at a temperature of 365 degrees Fahrenheit or 185 degrees Celsius.
Hence, a soldering iron is designed as such to give a temperature range between 392 to 896 degrees Fahrenheit or 200 to 480 degrees Celsius. However, some brands yield a maximum temperature of 1,000 degrees Fahrenheit.
5.What Is The Best Way Of Storing The Tip Of A Soldering Iron?
Answer: If you are planning to put away the soldering iron for a long time, then you should clean and tin the tip. This will prevent oxidation from forming on the tip. Wait till the iron is completely cool and then store them in a sealable box or bag so that the moisture and other elements cannot touch them.
For short-term storage, it's recommended to put it in the iron holder so that it can be accessed whenever needed.
6. What Are Some Safety Tips When Using A Soldering Iron?
Answer: The first tip is to remember that the solder and the tip of the iron are very hot. So, be very careful with your hands and fingers.
Use safety goggles, protective gloves, and a well-ventilated area for working. Don't wear loose clothes and tie your hair.
As there might be lead in the solder, wash your hands thoroughly after you are done.
Final Word
It needs a steady hand and a good quality soldering iron to join stained glass panels together into one large piece. Whether it's a hobby or a profession for you, invest in the best soldering iron for stained glass applications to make your crafts last a lifetime.
A good stained glass solder will allow you to adjust the temperatures, put it on a stand when not in use, and won't be too heavy for your comfort.
Apart from soldering stained glass the right way, you ought to take care of the soldering iron tip by tinning. This way, it remains free from oxidation and gives you the optimum performance any time you want to work on stained glass.
Finally, make sure to follow the cleaning and maintenance tips shared in this article. Hope this guide helps you to reach soaring heights in stained glass works!
Related Buyer's Guide:
Reviewed: Top 6 Stained Glass Grinder on the market – have a look!