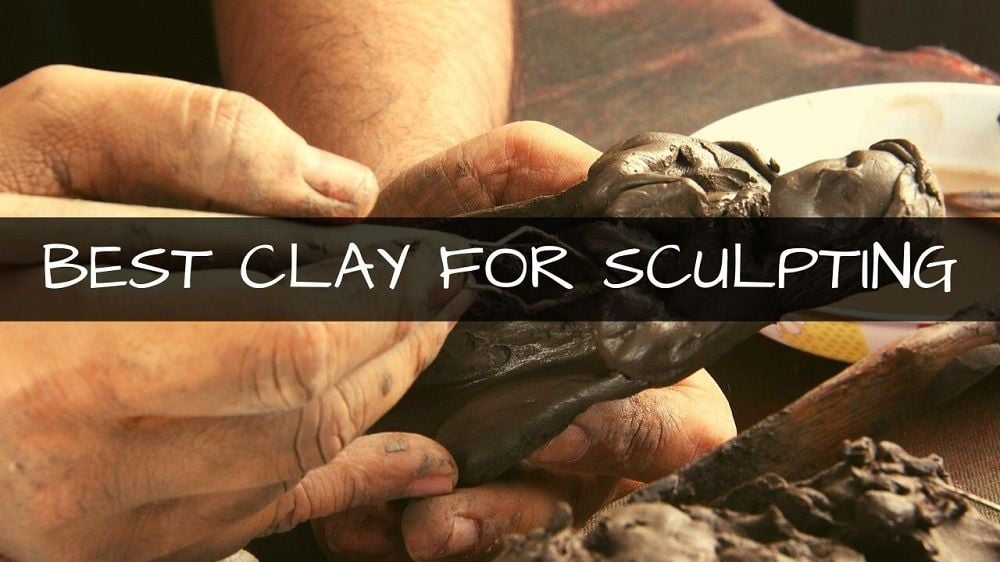 The smell of clay or flour dough is almost too familiar, isn't it? You can almost picture yourself picking off residuals from the tips of your fingers and rolling the elastic shavings into one tiny ball.
The feeling of molding something has its own sense of satisfaction. A great pass time for your kids and you, or those who are more passionately driven, clay sculpting can be very therapeutic.
If you've always been fascinated by the works of master sculptors and wondered if you could try your hand at sculpting… you can!
To start, you should know about the very versatile medium of sculpting – clay.
If the clay you are working is too sticky or too dry, you immediately tire out your fingers. Stimulation of sensory therapy is further progressed if you have the best clay for sculpting to work with.
To help you choose the right type and product, we have compiled information and reviews on the subject. Read on to discover!
IMAGE
PRODUCT
FEATURES

Best Overall

Our Top Pick

✔

Top notch quality

✔

24 various colors

✔

Non-toxic

✔

Ideal for kids

Check Price

Best value

Best value

✔

1.75lb weight

✔

Terra Cotta Clay

✔

Easy to mold

✔

Suitable for all ages

Check Price

Premium Choice

Premium Choice

✔

Oil-based clay

✔

Premium feels

✔

Easy to sculpt

✔

Re-usable

Check Price

✔

36 color packs

✔

Non-toxic

✔

Lightweight smooth clay

✔

No baking

Check Price

✔

50 different colors

✔

Oven bake clay

✔

Odor-free

✔

Perfect for all ages

Check Price
Best Clay For Sculpting Reviews in 2021
1. Sago Brothers Air Dry Clay
An effective way to keep your kids away from electronic gadgets and spend time sparking their creative imagination is to gift them this clay. Sago Brothers Air Dry Clay comes in 24 bright colors that kids can use to create their dream world with.
This product not only develops their creativity and sensory but also their logical thinking. It's very light and soft, so that kids can work with these easily to form any shapes and characters they can dream of.
What's more, it doesn't leave any residue or sticks to your hands. And that means less work for you as there's no need to clean up after you've had a great time with kids.
The smooth and soft texture of the clay allows easy extension. You can create longer shapes without the fear of splitting.
Each piece of clay is carefully wrapped in a one-time use pack so that it stays soft. This also removes the hassles of cleaning up.
There are 24 extra sealed bags so that you can store the leftover clay and use them again without it going hard.
To go the extra mile on doing a better job, additional tools are included in the package for shaping things better.
Pros
100% safe, non-toxic, free from peanuts, wheat and tree nut.
Leaves no residue on the hands and floor, no need to clean up.
Soft and smooth texture for creating longer shapes.
Individually sealed bags for keeping unused clay soft.
Additional tools included for decorating and shaping.
Cons
May stick to a cardboard or windowsill when left for setting
Separate parts may not stick together well enough.
2. PolyformSculpey Original Polymer Clay
This product has been around for many years and for good reasons too! It tops on the versatility quotient.
Made in the USA, this clay is the oven-bake type. It's very soft and therefore, you can mold it in any way you want to.
You can let your creativity take over and enjoy making a wide variety of different products with this clay. Owing to its superior pliability, it can be fashioned into ornaments and figurines.
If you're in the habit of maintaining a journal or a scrapbook, make embellishments with this clay. It feels soft and smooth like ceramic clay in your hands.
But the good thing is it won't dry out if you're exposing it to air. That makes it more user-friendly.
Spark off the imagination of your young ones or yourself with this product. After you shape and bake the clay, keep it aside for cooling. Once it has cooled off, it can be sanded, carved, or drilled.
It's recommended to coat it with a few layers of glaze before you use water-based acrylic paints on it.
You can also use ink on your finished project to give it a unique look. This clay comes in a few colors, including white.
If you're tired of searching the best clay for sculpting figures, look no more! It's been a favorite with adults, kids, and teachers.
However, users are advised to keep it in the fridge for a while before working with it as it's quite sticky.
Pros
Soft and pliable like ceramic clay.
Can be sanded, carved, and drilled after baking.
Doesn't dry out when exposed to air.
Can be painted with water-based acrylic paints.
Safe and friendly for kids.
Cons
Not for children under 3 years as small parts included.
Need to work on it quickly as parts may become dry upon sitting.
It will stick to fingers unless you freeze it up a little.
3. Monster Clay Premium Grade Modeling Clay
If you have a big sculpting project in mind or several small ones, then you could try getting Monster clay that comes in an oven-safe, 5-pound container. It's a premium and professional-grade clay that's wax or oil-based.
The major benefits of this product are that it's very smooth and specially formulated to melt at lower temperatures.
Plus, you can re-use it by melting and re-melting it as many times as you want. It's non-toxic and free from sulfur, making it one of the most preferred clays for sculpting.
You'll see that when it's cool, it becomes stiff but still workable. Use the microwave oven to soften this clay.
When you heat and soften this clay, you'll be happy to see its elastic and pliable feature.
Hence, you can shape it to any form you feel like. You can even use it with platinum silicone molding compounds for a smooth detachment.
To make replicas of casts, you can do so with no hassle as this product can be poured easily.
If you are looking to add details to your sculpted product, then no need to worry as users have praised it for its ability to hold details.
With the lower density, this is the best modeling clay you can use for diverse projects.
Moreover, you get 25% more clay per pound when compared to other brands of oil-based clay in the market.
Pros
Oil-based professional grade with lower melting temperatures.
Very soft and pliable to make it super easy to work with.
Re-usable and can be melted many times.
Sulfur-free, safe, and non-toxic.
Lower density gives you 25% more clay per pound.
Cons
Not for amateurs or children.
Direct heat cannot be applied to this product.
The wax component might be challenging to work with at first.
It cools off quickly, leaving you a short window for work.
4. AMACO AMA46317P Air Dry Clay
As a child, you would have worked with anything you can get your hands at, even the mud from the lawn. Now, as a serious art major student, you need a trusted partner. AMACO AMA46317P Air Dry Clay is that friend you need to help out with countless nights of creative blocks.
The AMACO is designed to naturally solidify with no additional heat required to treat. However, that does not compromise on the time you require to actually make the model.
It allows you enough time to sculpt your work any way you want and then dry out to a nice solid structure, just in time for painting necessary details.
It is born from completely natural ingredients. Granted that it has been treated to eliminate debris from it, the final product is a gray, chemical-free product that is eco-friendly in every way.
Because it is gray, it allows you the freedom to paint it with as many colors as you like, as if it was like painting on a blank canvas.
The box does not look like it carries a hefty 25 lbs brick of clay but it is enough to give you service long enough. With this one, you'll be motivated to work with clay all day, every day.
Pros
It comes in varying sizes depending on your needs.
The composition is completely chemical-free.
The clay can be easily painted on.
Although not necessary, you can treat it in a kiln.
Cons
Air drying may lead to unprecedented cracks in the sculpted model.
The product might come in a poor packet.
5. iFergoo Air Dry Clay Modeling Clay
This set tantalizes the senses and excites the little kid in you to get your hands on them. With 24, 36, and 48 color clay kit packs, the possibilities are endless with the iFergoo set.
This could perhaps put you on a heroic pedestal among your kids. You can always get a set for yourself as well because they are vastly affordable.
The composition is a polymer-based colored clay that dries on its own. The 24 color clay set contains tubs of different colors of clay.
There is an activity booklet too from which users can mimic various structures using the designated colored clay. The 36 color clay kit comes with 3 modeling tools
The 48 color set comes in a pack with 12 unique colors and 36 colors that were already in the mix. This assortment includes 14 jewelry molds, 3 sculpting tools, and 1 rolling pin that is neatly dented in a convenient box to be carried everywhere.
IFergoo is the best air dry clay for sculpting, but you can even bake it in the oven.
Hence you can model it any way you want and do not have to wait for days. Keep this chemically friendly, non-stick in the oven for about 15 minutes, and voila! You're ready to run your exciting project.
Pros
The package comes in a plethora of colors.
It has different color pack options.
The clay can be baked in the oven to dry.
A carrying case is included for convenience of movement.
Sculpting tools and activity booklets are added.
Cons
The clay tends to dry out if not used frequently.
The product is a bit sticky to hands, freeze it for better results.
Great for kids, but not the best for fine detailing.
6. Aurora Pottery Premium Air Dry Sculpting Clay
The Aurora Pottery Premium Air Dry Sculpting Clay is a beginner's war tool. If you have seen multiple Pinterest DIY crafts that you have always wanted to try out, this is the perfect material to start with.
It comes in different sizes suited to the mammoth of the project you want to undertake. The Aurora Pottery Premium Clay comes in a bare gray color which enables you the creative flow you require when applying colors.
You can even paint the entire thing white for minimal aesthetics. Perhaps the greatest feature is the fact that it dries in the air without the need to be treated in heat.
However, you can still bake it in an oven or a kiln for faster drying.
It is completely toxin-free and safe. Thus, it is the best sculpting clay for children to play with as well.
The multifunctional clay is effective to sculpt masks and novelty objects like magic wands, miniature dolls, gnomes, etc.
The water-based clay has a rather velvety feel to it. The composition of this material is the one used in Walt Disney's cartoon models that later became the stars of his monumental animations.
Pros
There is an availability of various sizes.
Suitable for children to use and play with.
It is easy to work with.
The clay is free of toxins and harmful ingredients.
It gives a professional finish to the projects.
Cons
It is a bit brittle.
The clay dries quickly, thus you have to work in a hurry.
7. Sargent Art Plastilina Modeling Clay
This is a mineral based clay. The Sargent Art has scores along its body that helps you to allocate how much clay you want to use for a particular shape. It comes in a stark white color in which you can infuse other colors.
You can decide what you want to model and start with colors of the structure from the get-go.
The clay comes in a convenient package of 5 lbs which can be bought in packs of two or three. Hence, with the 2-pack and the 3-pack, you are getting two and 3 5 lbs packs respectively.
This allows you the opportunity to govern how much you want to use or save for future projects.
This is great if you want to tackle smaller projects. It has just enough to make a bunch of cute objects that you can arrange as collections or sets.
Being water-based, it does not harden as easily as is usually expected. Hence, you can worry less about it drying out when not put to use.
Since it is chemical-free, children can use it to design their imaginations. The composition contains earth properties that make it a very fool-proof blend.
As it is not designed to harden, this is a great material if you want to take your time and make molds.
Pros
It is free of gluten and sulfur.
New colors can be infused to get a desirable blend.
It does not dry or hardens.
The clay is ideal for making molds for sculpting.
It is chemical-free, making it safe for children to use.
Cons
It needs to be softened before use.
A bit stiff, better for smaller projects.
The product might crack when you bend it. 4. It tends to get a bit soft in warmer days.
8. Sculpey S8 Original Polymer Clay
The Sculpey S8 is deemed the pioneer of polymer-based clay. This has been around for so long that people find it difficult to opt for anything else if this comes in their sight.
The 8-pounder clay comes in two different colors – white and terracotta. You can either mark your white projects with marvelous strokes of colorful paint or opt for something rustic resembling the earth.
Either way, you can paint on both subjects after the drying process is complete.
Speaking of drying, the Sculpey is the first-ever clay that needed to be baked in the oven to dry.
Oven-baking this blend gave the final product an A-grade professional appearance, regardless of whether it was constructed by a child or an experienced sculptor.
The malleable product is the top quality sculpting clay to model chiseled figurines.
It is extremely easy to work with and you can mold it any way you want without needing to spend dedicated time prepping it.
You do not have to worry about it hardening into a solid product or drying out which is a common problem for most clays.
Pros
It comes in two different colors.
Ideal for polymer-based designs.
It can be oven-baked to give a polished final product.
Toxin and chemical-free, this clay is safe to use for kids.
It is insusceptible to shattering.
Cons
It does not dry naturally in air.
It comes a bit hard, use a clay softener with this.
It dries fast and can get crumbly.
9. Temoning Polymer And Modeling Clay
With a whopping 50 color variety, the Temoning stands tall in the top position of the most unique color variation position. Each color comes in a compact and individually wrapped block of clay that is easy to work with and store.
Just looking at the array of the cute little bars altogether is a treat for the soul. It is a great present for kids.
If you want to be the most loved aunt or uncle, give your niece or nephew a set of these and you will become the hero they did not know of.
An activity book is included in the pack so that children can learn to mimic the instructions and the colors to create the brightest structure possible.
Not only are they remarkable for kids, but they are also a handy tool for around the house.
If you have chipped ceramics that you did not have the heart to throw away, this is a quick-fix for those. It may not be able to mend a heartbreak, but broken ceramics are nothing to the Temoning.
Each color is a 20 gm pack is free of toxins. Of course, that does not entail that it is okay to put it in your mouth as a joke but it is still safe, especially for children.
The eco-friendly composition is easy to work with and requires no expertise.
Pros
It comes in an affordable set of a wide array of colors.
It can fix chipped ceramic pieces.
It comes in individual packets, all of which are toxin-free.
It is incredibly pliable, making it easy to work with.
The composition is environmentally friendly.
Cons
It does not hold structure well.
You'll need an oven to harden it.
10. Rocky Mountain Clay's CT3 Pottery Clay
If you are in desperate need to find a pottery clay but do not have the time to search and research, this is the only name you need to know. This is also well-known as low fire clay.
This is an affordable and easily workable composition that will get the job done, without any problem.
It comes in multiple sized packs, availing several options for you to choose from.
Ideal for making masks, little figurines, and DIY crafty jewelry, this clay is extremely pliable and moist. Work it any way you want, it will conform to the shape of your desire.
This contains materials that are usually found in clay used for cartoon models by Walt Disney.
The outcome is a very polished and professional-looking model that perhaps you would not even believe that it was made by you.
If you work in special effects, this should be your go-to tool. It is water-based clay, thus dries slowing and completely safe for the kids.
Drying it is easy, just keeping out exposed to air will do. Hence, if you do not own a kiln or an oven, no worries!
With these convenient features, this can give you time to brainstorm on your next project.
Pros
This is ideal for pottery for special effects.
The clay as admirable flexibility.
It comes in multiple size packs for your convenience.
It dries well when exposed to air.
The gray clay can be painted on with acrylics.
Cons
The final model tends to crack.
Molds grow if you leave it unattended.
What To Look For Before Buying Sculpting Clay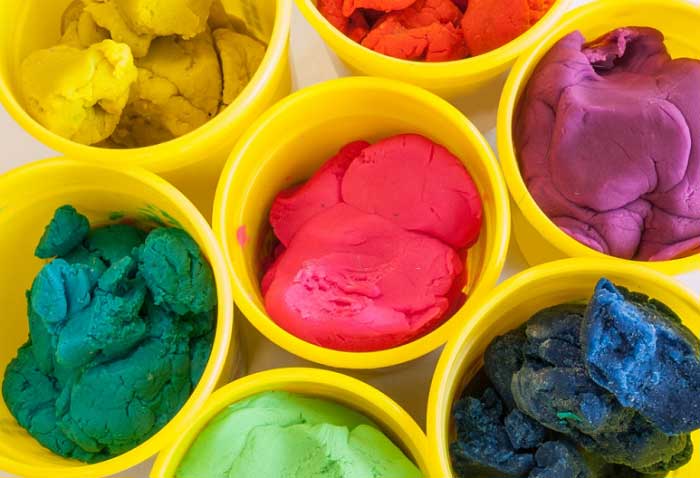 Now that you know which the top clays for sculpting are, you should spend some time going over the factors to consider before buying it. These are the following.
Ease Of Use
When the clay is easy to use, you can mold it to your liking. Pliable clay allows you to shape the sculpture without struggling with it.
In order to fold or bend the clay, choose one that has proven pliability. A good clay type should be stretchable without getting split.
Strength
It's important to know how strong the clay is once it has dried. Heavy clay bodies tend to crack or be fragile when dry.
Clay types that are air dry in nature and specify that they are for pottery typically use earthenware materials. While these are easy to work with, they tend to become heavy and fragile.
Slow Or Fast Dry
If you're working on small projects or you are teaching kids, then choose a clay that dries fast.
For example, choose a quick-dry clay type if you're making accessories and ornaments.
Otherwise, it's better to choose a slow-dry clay. The advantage is that no part of the sculpture will be dry until you have completed your project. That means, you have more room to adjust and for improvements.
Workable With Both Hands And Tools
The clay you choose should be able to be workable with both hands and tools. Some sculptors prefer using different sculpting tools, while others prefer using bare hands.
Either way, the clay should be able to hold the shape and texture applied.
Stickiness
Sculpting is all about getting together various shapes and holding them together to make a complete structure. Therefore, it's essential that the clay sticks together.
In addition, their stickiness will also decide how easy it is for the clay to stick to the armatures or supports.
Other Factors
Depending on the clay type, you can apply as many details as you like on your sculpture.
If the clay is soft and smooth, that means you can have finished work with plenty of details on it.
If you want to apply coats of paint on your sculpture, you need to know beforehand if paints are applicable to the clay type you will select.
You can also check this for your kids:
FAQs: About Sculpting Clay
1. Is Air Dry Clay Good for Sculpting?
Answer: Yes, it is. This gives you the freedom to work semi-dried models and make any adjustments that you may notice later. If you want to carve on it, make sure you have sharp tools.
2. What is Plastilina?
Answer: It is an oil and wax-based clay that is apt for modeling. It cannot be bonded to a permanent definitive structure. You cannot apply heat to them in any way. So it is advised to let it cure into dryness on its own.
3. How To Soften Plastilina?
Answer: Since most Plastilina contains sulfur, it cannot be microwaved. Microwaves have different power levels and thus there is always a risk of overcooking it.
Perhaps, the most appropriate DIY way is to wrap it in foil paper and let it sit in a jug of warm water. After some time, take it out and knead it to the texture of your desire.
4. What Type of Clay Should a Beginner Use?
Answer: Usually, both oven-baked and air-dry clays are suitable for learning to work with clay.
This is because these particular types of clay can be kneaded and used again to form other structures. This allows you to practice your figurines without having to waste too much.
5. How To Fix Cracks in Sculptures?
Answer: It is suggested that you use the high-end clay if you want no hassle. However, you can brush a bit of water over the cracks and basically fill in the gaps with additional clay. Polish with fingers until you get a nice and even surface.
6. Is Clay Toxic And Harmful?
Answer: Not all clay is toxic. It is advised you check the packs for the ingredients. Check if it has sulfur in it. However, the ones with sulfur content cannot be fired in any way.
Nowadays, almost all manufacturers strive to make a toxin-free substance but it does not hurt to be extra safe.
7. What Sort Glue Should Be Used With Clay?
Answer: Glue is usually not required when working with clay. However, if need be, use glues that can be heated in an oven.
Otherwise, superglue works just fine. There is no need to look for any specialized industrial-grade glue.
8. What To Do If Clay Dries Out?
Answer: Well, that should not be the case for an ideal clay compound. In case that does happen, the remedy is to throw it out.
However, you can prevent this with a few drops of household oil and kneading it until it finally regains its structure.
Final Words
If you are not well equipped with knowledge of clay compounds, it is advised to first work with clay that you have lying around in the house.
You are unlikely to face any issues if you are just trying out your skills.
If you want to move on to advanced challenges, try out things that your friends have tried before.
Experience is always a handy tool and this way you can discern if what they use works for you or not.
Conduct your own research and experiment with different models to find out for sculpting. Best sculpting clay will help you with that.
Lastly, make sure to have a load of fun because that's what clay modeling is supposed to be!
Other posts you may want to read: