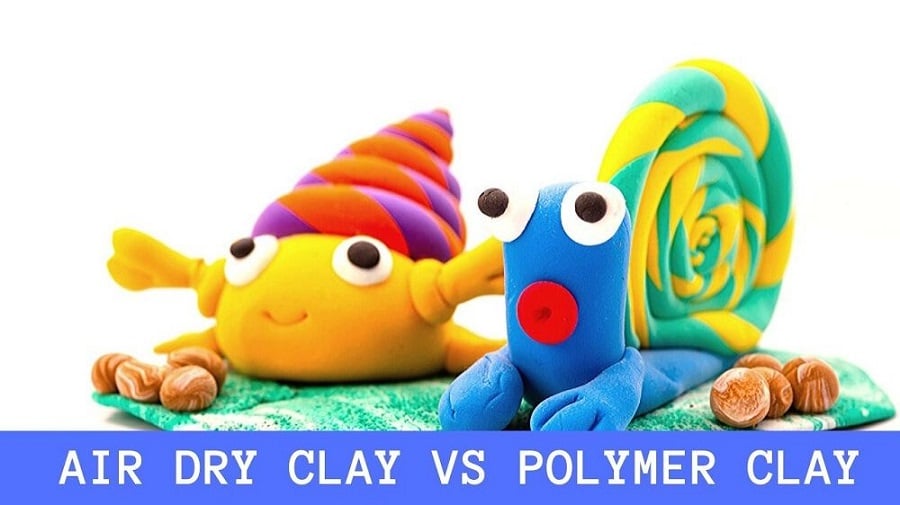 Have you ever thought of becoming Michelangelo yourself while reading history books as a kid? Well, now there are opportunities to make that dream come true!
Just invest in some readymade clay to get started!
Such clay comes in almost every common color, as well as crafting tools and accessories. All you have to decide on is which clay to go for. And here we are to help you make an informed decision like a good friend!
Air dry clay and polymer clay are two of the most popular options for handy craft projects nowadays.
Let's find out which one of them is the best choice for you. Lift the curtains on the air dry clay vs polymer clay competition!
What is Air Dry Clay?
The air dry clay is exactly what it sounds like – clay that dries with air! It is natural earth that has been processed to be the perfect tool of creativity.
Both you and the kids can make ample use of it to bring unique exciting ideas into life!
This kind of clay is very easy to manipulate. Therefore, you can transform it into any shape or structure you like!
Since it is natural and simple, you can even make your own air dry clay at home using regular ingredients. One way is to heat up the mixture of cornstarch and baking soda.
This can take a while since you have to constantly stir it, cool down, knead and then mold it into your desired form.
The faster (or lazier) way to achieve a similar product would be mixing cornstarch with school glue in a 2:1 ratio.
The trick here is to add the glue in small amounts until you reach your ideal consistency.
Advantages of Air Dry Clay
Handbuilding
Handbuilding refers to the age-old method of pottery where the sculptors did not rely on the wheel apparatus.
They used only their hands in various ways to achieve the shape or structure they desired.
Air dry clay is an ideal choice for modern-day handbuilding because of its flexibility. It is especially appropriate for the children at school who are too young to be trained in pottery wheels.
This clay will provide them with an open-ended opportunity where they can just play with the amorphous dough and materialize any shape they can think of.
Safety
Another reason behind the popularity of this clay in school art classes is the absence of fire.
Air dry clay does not require a kiln or oven to finalize its form. As a result, you don't need to let the children literally "play with fire" for the art project to be a success! Allow them to be even more creative by painting their finished work!
Color Options
Most creative people love playing with colors. You can add this extra layer of creativity into air dry pottery by introducing vibrant shades!
Firstly, the clay itself is available in a wide range of colors.
On top of that, you can also paint the finished projects in any color you want. So the possibilities in this area are unlimited.
Affordable
Air dry is on the cheaper end of commercial clay products or kits. You will find an equal variety and amount of air dry clay at a lower price than its contemporaries.
It comes in a wide array of colors provided in individual packets. Sometimes these packages also contain necessary accessories and manuals for guiding you better.
Disadvantages of Air Dry Clay
Fragile
While this clay is easier to mold into any shape you want, it does seem to be more fragile than others. Sculpting a figure entirely by this clay makes it more likely for the thinner parts to break off.
As a result, the beauty of your work may suffer. One way to deal with this is by incorporating other solid objects into the sculpture.
Not Food-safe
Even though this clay is popular among kids, make sure it is not accessible to toddlers who don't know the difference between food and other objects.
Air dry clay is not food safe but looks similar to some creamy desserts. This can confuse the infants and motivate them to ingest it. So make sure to store it in a safe place where they can't get access.
For the same reason, you cannot use this clay to prepare plates, spoons, mugs and similar utensils. It can only be utilized for decorative projects.
Takes Time To Dry
Once you are done with the sculpture, you will need to leave it out in the open for at least 24 hours.
Any less than that will render the product vulnerable to breaking down or stain other objects in close proximity.
Therefore, you cannot rely on this clay for quick projects where you will only have minutes for drying.
Not Waterproof
Your precious work of air dry clay can be completely ruined if it comes in contact with water. Moisture gets inside it and makes the whole structure dissolve into a distorted shape.
The only way your sculpture can withstand water is if you seal every part of it after drying.
What is Polymer Clay?
Polymer clay is not even clay! It is PVC or polymer polyvinyl chloride packaged in various colors for handy sculpting purposes.
You can use it to create any shape or structure by making the clay softer and then baking the finished work in an oven. Since it basically functions like a clay, people designate this material as clay.
Its consistency is similar to that of plastic materials. Because it needs to be put in the oven or the kiln for drying purposes, this kind of clay is also called oven-baked.
Advantages of Polymer Clay
Flawless Details
Almost similar to air dry clay, polymer clay can also be molded easily into an endless array of shapes. You can even replicate the same structure a hundred times without compromising the intricate details.
This works best if you use a mold to achieve the desired design or frame.
However, you can also carve your own unique designs into them. It becomes easier with polymer clay since this material does not dry out too quickly.
You can continue engraving the distinct patterns with perfection even after the figure has been left out for a while.
Efficient Drying
When you are satisfied with the finished model, just put it in the kiln or oven for drying. This typically takes ten minutes to half an hour.
The time can increase according to the thickness of your sculpted figure. You can roughly estimate the total time required for it by considering 15 minutes for every 0.25-inch thickness.
Strength
If you have baked the polymer clay sculpture properly, it should be strong enough to stand the test of time. Even the thinnest layers of this clay will stay rigid against manual forces.
However, to reach such levels of durability, you need to make sure that the model has been baked well with appropriate temperatures and tools.
Versatility
Polymer clay will give you plenty of options to play with. It already comes with an impressive range of colors – be it vibrant, pastel or any other shade. You can then accentuate it by dyeing with another color of acrylic paint.
There are some special effects available as well for making it even more attractive. Some of them include fluorescent, translucent, pearl and metallic patterns.
Storage
You don't have to worry about throwing out the remaining polymer clay once your project is done.
It can be stored safely in the original packaging of this clay or in any other container.
Storing it separately in color-coded plastic zip-lock bags is the best solution. Nevertheless, as long as it is away from heat and sunlight, the clay should stay fine.
Disadvantages of Polymer Clay
Size Limitations
Since you will need to place the finished sculpture made of polymer clay into an oven, it needs to be small enough for fitting in that space.
As a result, you will need to put boundaries on your imagination while working with polymer clay. It will only allow smaller projects to come to life.
Not Food-safe
Although polymer clay is certified as non-toxic, it is still not safe for using with utensils or food. So you will need to limit your creativity to only decorative items.
You can also make certain toys with it as long as the kids meant to play them are old enough. But make sure none of the toddlers or infants ingest it by any chance.
High Price
Since this clay can only be manufactured commercially and requires industrial ingredients in its composition, its price point is set a little higher than other alternatives.
Therefore, if your art project has a tight budget, you may not rely on the polymer clay to run it.
Comparing Air Dry Clay vs Polymer Clay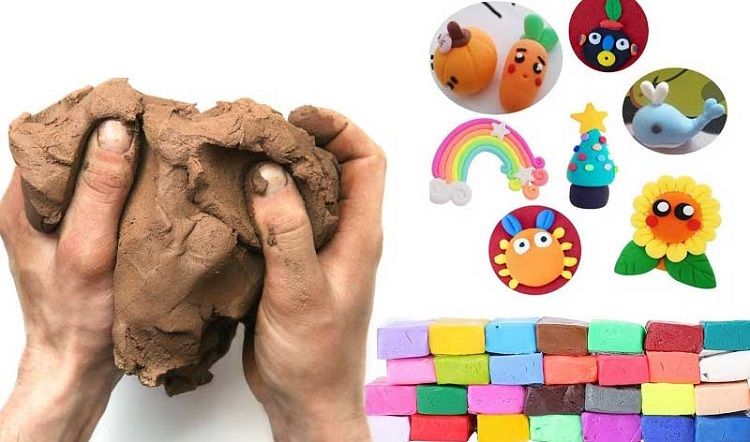 Uses and Applications
The air dry clay does not need much conditioning to be used. You can start working on it a lot faster than polymer clay.
Besides, it is also easier to manipulate and mold into exactly what you visualized.
You will not need to have a fire source in the classroom to finish up the project. This is why air dry is the go-to clay for crafting lessons in schools.
The sculpture can be as big as you want which means it can also be used professionally.
Polymer clay is ideal for creating jewelry, canes, arthritic hands and figurines.
Both air dry clay and polymer clay are potentially harmful to use with food. Therefore neither of them can be used to make utensils.
Dependency On Fire
A fire source like kiln or oven is mandatory for drying up a polymer clay sculpture.
On the other hand, you don't need to bake an air dry clay figure. Just leave it in the open for at least 24 hours if there is no rain.
However, you may need to consider baking it a little bit if you are not satisfied with the resulting hardness.
Drying Time
If you don't have much time in hand to conduct a crafting project, the better bet for you would be polymer clay. This material can dry up within as little as just 15 minutes!
Consider this the base time for every ¼-inch of thickness your end product has.
Air dry clay will require at least 24 hours to be ready for use. It can also take up to three days for the sculpture to dry up properly.
Waterproof
You will not need to worry about your baked polymer clay project to suffer from moisture.
If you have done the baking properly, it should be perfectly hard and immune from dissolving in water.
The same cannot be said about figures made out of air dry clay. They can melt when in contact with water.
Storage
We may not end up using all of the packaged clay at once. In such scenarios, you will have to store the air dry clay in airtight containers for later uses.
If no such container is available, you may just have to throw them away.
But if you are using polymer clay, you can just put it back in the original package and store it away for future projects.
Cost
To work with air dry clay, you don't always have to rely on readymade packages or kits. You can make them in the comfort of your own home using daily household ingredients.
Because of such simplistic formulas and manufacturing processes, air dry clay comes at a much lower price point.
Polymer clay requires delicate commercial production and uses PVC as its main ingredient. As a result, you will need to spend a little extra on it.
>>>Top 10 Good Quality Sculpting Clay Right Now<<<
Bottom Line – Which One is For You?
So who wins the battle of air dry clay vs polymer clay? It really all depends on the individual priorities of your project.
If you are short on time, polymer clay can save you by drying up the figure within 15 minutes!
But if budget is the more crucial aspect, switch to affordable air dry clay brands instead.
For arts and crafts classes, air dry is the safer one since it requires no oven.
Other than these few aspects, both the clay materials offer similar advantages and disadvantages.