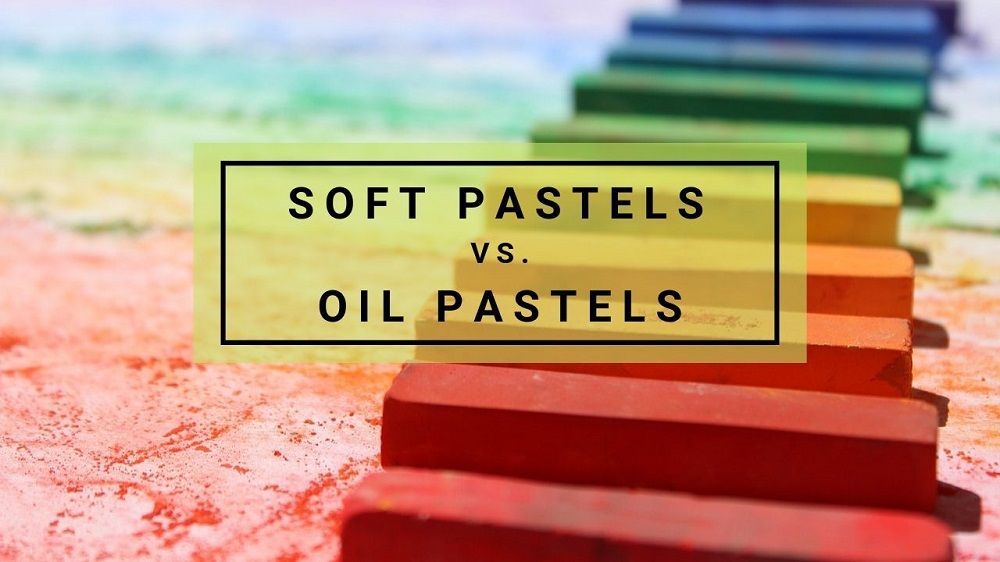 Art allows us to bring out the creative nature in us. Pastels are commonly used in drawing and creating art. There are different types of pastels, with the main ones being:
Hard pastels
Soft pastels
Pan Pastels
Pastel pencils
Oil pastels
Each of the pastels has unique characteristics, and in this article, we will look at the soft and oil pastels. Deciding to do pastel drawing is not difficult.
However, the choice of the supplies you choose can prove to be a daunting task. You may head to the supply store only to realize that there are different kinds.
Differences Between Oil Pastels and Soft Pastels
There has been an ongoing debate on which pastels are the best, between the soft and oil pastels. It is important to note that all the pastels are made by mixing chalk and dry pigment, and then a binder is added to form the paste.
This paste is molded and allowed to dry and take shape. The main difference between soft pastels and oil pastels is how they are produced.
We will look at each in great detail. So that by the end of this article, you will have a clear understanding of each. These are both art supplies, but they come with individual and unique characteristics. Stay with me, and let's look at their characteristics.
Soft Pastels
Soft pastels are the common ones on the market. These are the original pastels, and they come with the highest pigment concentration.
On the other hand, the gum binder is the least in the soft pastels. As such, they have a beautiful color intensity, but will easily crumble.
Soft pastels are made of white chalk, gum Arabic, and pigment, which explains the dry matte finish they have. These pastels do not stick to surfaces, so they can be brushed off easily.
They have a powdery texture and a fragile consistency, which are unique characteristics.
This makes them ideal for painterly effects, layering, and blending colors. There are instances where they are also used for creating fine lines for edges.
Soft pastels are known to have the widest color range among all other pastels. They often come in cylindrical sticks and various sizes. If you are starting out in pastel drawing, you may want to consider the soft pastels as your starter set.
Oil Pastels
Oil pastels are also popular, and these are in the form of cylindrical sticks as well. They are made with pigment and bound with oil and wax and not binder gum. This is the key difference between oil and soft pastels, giving oil pastels a unique consistency.
If you love the versatility and texture of oil paints, but cannot stand the smell, then the oil pastels will be your perfect choice. Oil pastels are similar to oil paints, with the only difference being that they do not harden or dry out.
However, you can thin and work on them in the same way as you would do with oil paints. The wax-like and creamy consistency is their distinctive characteristic. The oil pastels have an intense hue and will create amazing paintings.
When you intend to use the oil pastel, it is advisable to prime the surface with gesso to prevent absorption of the wax and oil binders. 
Similarities of Oil and Soft Pastels
Both the oil and soft pastels can be used on any surface. However, when you use a paper that has texture, you are bound to get better results as opposed to a smooth surface.
These pastels will create unique color effects, and it all comes down to your personal preference. If you prefer light painting like watercolors or ink, soft pastels will be ideal for you.
However, if you are into mixing colors and love oil painting, you should definitely pick the oil pastels. It is worth noting that there are also water-soluble pastels for the soft and oil pastels. This means that they will be thinned or blended with water.
Which One to Buy: Soft Pastels or Oil Pastels?
Unlike oil pastels, soft pastels are good at blending and will work with other pastels. You can easily use soft pastels to create detailed art, which would be a tall order when working with the oil pastels.
The soft pastels also come in so many colors, with some manufacturers offering as many as 500 different colors. The oil pastels are available in students' quality as well as artists' quality.
If you choose to work with the oil pastels, it would be advisable to start with a set you can afford. These are sold individually or as color sets, and as a beginner, I recommend starting with a color palette.
As you become better at pastel drawing, you can narrow down to individual pastels that serve your needs.
Oil pastels are also versatile and quite stable, and you can use them on their own or combine them with oil paints. When using the oil pastels, you will not need to use a fixative to hold your work on the surface.
The bottom line is that it is all about personal preference. Whichever pastels you choose to use, your purpose should be to enjoy and have fun.
Conclusion
As we come to a close, you have seen that both the soft and oil pastels have their unique characteristics. The oil pastels seem to be more stable and easier to use, but the soft pastels offer more versatility.
We have gone through the key differences and similarities between both pastels, and I believe that this should help you make an informed decision.
Always remember that any pastel can be fun and have some level of challenge as well.
All you need to do is keep practicing, and you will become better with any pastel. Do not hold back; just go out there and start making pastel art using the pastel that works for you!