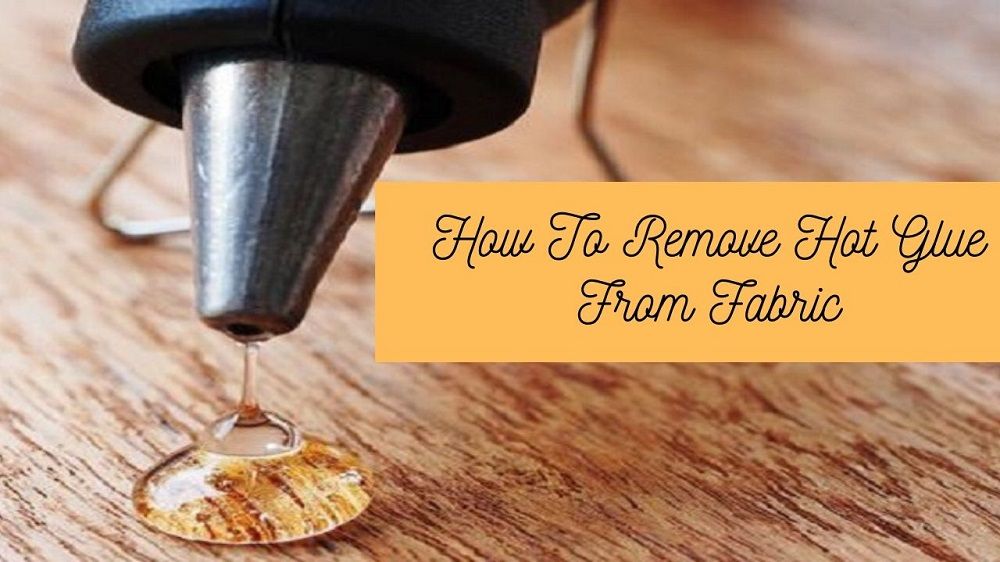 I remember the time when my favorite action figure broke into two pieces when I was just 5 years old.
Boy! I was heartbroken, to say the least.
That's when my mom decided to introduce me to a magical element named "Hot Glue" and you should have seen how happy I was seeing my "Superman" get all patched up within minutes!
Needless to say, I have been using hot glue guns for all of my crafting projects ever since. And from that experience, I can tell you one thing for sure: somewhere along the way, hot glue ends up in places it most certainly should not be at all!
Whether you spill it on a table cloth or stain the tank top that you bought just yesterday, it's not easy to get it removed without using the right product and method that's required for it.
Don't worry! We aren't going to leave you in this sticky mess for long! In this article, we will discuss how to remove hot glue from fabric in detail and give you some useful tips to help get your favorite cloth back in shape!
What Happens When Hot Glue Spills On Your Clothes?
Hot glue is basically a form of thermoplastic adhesive that is used to bond two non-porous materials together.
When it's applied to a surface, the glue remains in a liquid state. You might think there's water or some kind of solvent in it, right?
Nope!
Hot glue operates on the principle of heat-loss theory. Typically, a glue gun is used as a heating element that constantly melts the adhesive to keep it in that liquid state. Once the gum sets on the surface, it instantly solidifies upon countering a cooler environment.
So, when this quick-drying element falls into your cloth by accident, it wraps itself around the fabric in a way that it seems impossible to get it out without going to the extensive procedure.
Lucky for you, we have found an easy solution that requires nothing more than some common household items!
7 Easy Ways To Remove Glue Stain From Your Fabric
Depending on how old the stain is and how much of the adhesive have spilled on your cloth, you may need to try out a few methods before getting your desired result.
1. Put Your Cloth Into The Freezer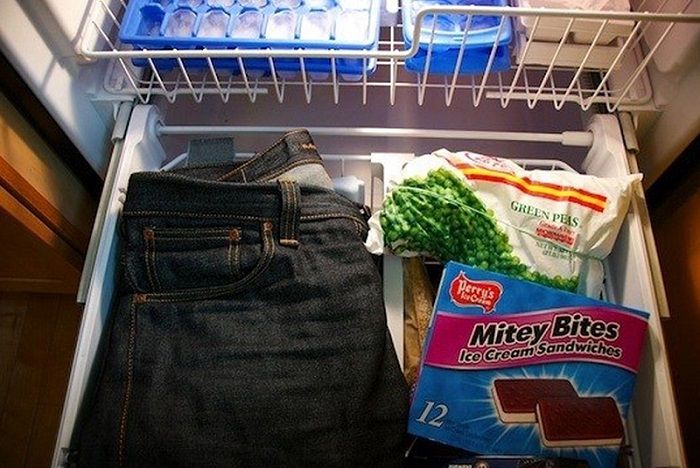 Did you know hot glue becomes all nice and crispy when it gets extremely cold?
Yep! And we are going to use that to our advantage here.
Things That You Will Need For This Project:
1. Knife/Spoon.
2. Freezer.
Steps:
Place the cloth in the freezer overnight.
In the morning, you will notice the paste has become so brittle that you can peel it off with your hands.
Use a blunt knife or a spoon to scrape the rest of the gum away.
Wash the fabric with a commercial cleaner or regular detergent to remove any leftover residue.
Caution: While peeling the adhesive off from your fabric, you need to be careful as too much pressure might damage it, especially if it's made of thin or delicate material.
2. Washing Clothes With Rubbing Alcohol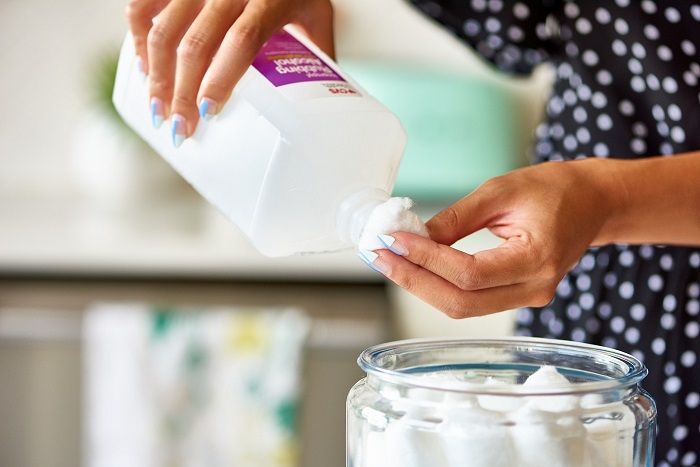 Isopropyl rubbing alcohol reacts quickly with adhesive materials and makes it lose its bonding properties at the same time.
Things That You Will Need For This Project:
1. Isopropyl rubbing alcohol.
2. Cotton swab.
3. Butter knife.
Steps:
Pour a small amount of alcohol into a container.
Soak a cotton swab into the solution.
Dab it around the affected surface.
Peel off the adhesive using your hand.
If it's too hard or seems reluctant to come off easily, then use a butter knife to loosen up the glue.
Rinse your cloth with cold water afterward.
Caution: Make sure the alcohol that you are going to use contains at least 70% pure isopropyl alcohol in it. Otherwise, the solution won't work on your fabric as expected.
3. Iron Your Fabric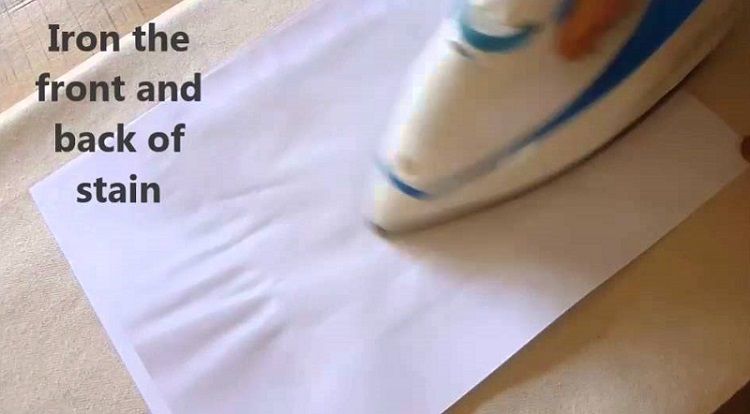 Ironing is an excellent way of transferring elements from one source to another. So, let's see how it's done in this case!
Things That You Will Need For This Project:
1. Iron.
2. Paper Bag/ Cotton Rag.
Steps:
Set the temperature at a medium to high range and preheat the iron until it gets warm enough to work properly.
Place your cloth on a hard, flat surface.
Cover the affected area with a paper bag or cotton cloth.
Hold the iron over the cloth for about 20 seconds before lifting it off.
Check to see if the gum has transferred to the cotton cloth yet.
Keep repeating the same steps as long as necessary to get your work done.
Caution: You need to check the condition of your fabric from time to time. Too much heat might cause the adhesive to melt into your cloth and create a bigger mess than before.
4. Soak The Cloth In A Mild Detergent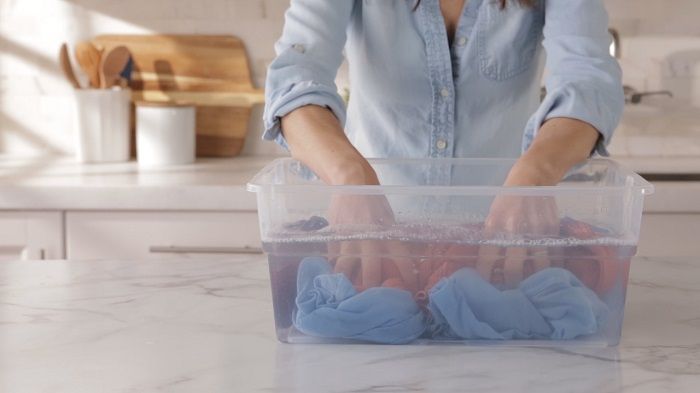 This method is good for not-so-old, mild stains.
Things That You Will Need For This Project:
1. Stain remover solution.
2. Detergent.
Steps:
Try scrape off as much adhesive as possible by hand.
Fill up a pot with water and bring it to boil.
Pour some pre-wash stain remover solution into the water and soak your cloth into that mixture.
Wash your cloth as usual with a mild detergent and let it dry naturally.
Caution: If you plan to use a washing machine for this purpose, set the temperature to the highest setting that your cloth can bear to get your desired output.
5. Hot And Cold Treatment
This method works for almost all kinds of stains out there!
Things That You Will Need For This Project:
1. Knife.
2. Cleaning solvent.
Steps:
Examine your cloth to see if some of the gum is already sticking out and scrape off the excess paste with a knife.
Take a container, fill it up with tap water and soak your garment in it.
Hold up your cloth to see if it has made any difference.
Pour some hot water into the container and let the fabric soak again for some time.
Take it out and see if the gum has loosened up a bit. If not, continue with the next steps.
Take a bucket of ice-cold water and soak your garment into that for at least 30 minutes.
Use a cleaning solvent/mild detergent/dry cleaning fluid into the water and rinse your cloth in it.
Repeat the above steps if necessary and when's the stain is completely gone, let the fabric dry naturally.
Caution: While scraping off the excess glue, make sure to use a flat-bladed knife or a blunt-edge tool for that purpose.
6. Use Acetone To Remove Stain
Acetone is a powerful organic solvent, which helps remove thin layers of adhesive by breaking down its components and leave a residue-free surface in the end.
Things That You Will Need For This Project:
1. Nail polish remover.
2. Cotton swabs.
Steps:
Pour the nail polish remover into a small container and keep the rest of the solution in a sealed place to keep it from getting vaporized.
Take some cotton swabs and soak them into the solution.
Dab the sab onto the affected surface slowly and notice if the gum is coming off a little bit.
Use a clean cloth to blot the dirt away and then keep applying the solution on your cloth.
Repeat the same steps until the cloth doesn't contain any more dirt in it and you get your desired outcome.
Caution: Acetone might cause discoloration of fabric sometimes. To make sure, the original color stays intact, apply the nail polish remover onto a small surface first to see if it works alright.
7. Treat Silk Dress With Vinegar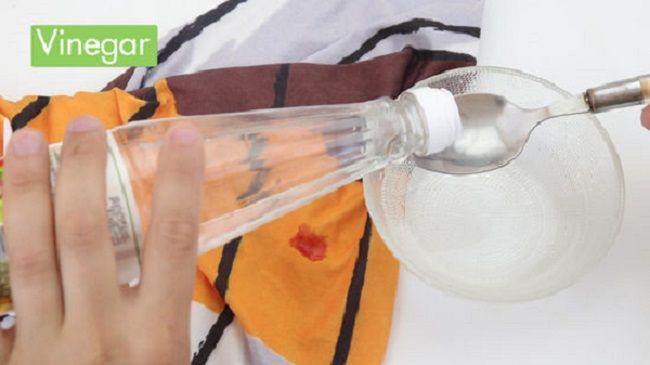 Silk is an extremely delicate piece of fabric and therefore, requires some special care and attention to get it cleaned.
Things That You Will Need For This Project:
1. Vinegar.
2. Clean towel.
3. Q-tip.
4. Knife.
5. Mild detergent.
Steps:
Lay a clean towel beneath your silk dress and place both of them on a flat surface.
Pour a small amount of vinegar into a container and soak the Q-tip in it.
Dab the Q-tip onto the affected area and see if the adhesive is starting to come off a little bit.
Use the blunt side of a knife to scrape off the remaining residue.
Once all the big chunks have come off, pre-soak the cloth in cold water for at least 30 minutes using a mild-detergent into the mixture.
Rinse as usual and let the fabric dry naturally.
Caution: Before proceeding any one of these steps, we suggest checking the dress label to make sure it's designed for hand washing. Some dresses are labeled as dry-wash only and in that case, you need to take them to a professional dry-cleaner and ask for expert advice on this matter.
Hot Glue Induced Stain Removing Tips And Tricks
Do NOT try to remove glue from your fabric instantly as that might result in a messy situation. Let the adhesive dry completely on the surface before removing it.
Use protective gloves on your hands while working with hot glue to avoid any mishaps.
Don't let the stain get old. Try treating the affected spots as soon as possible.
As we've discussed several methods here, you might need to try a couple of them before finding the one that works for you. In that case, make sure to rinse out the previous solution from your fabric before trying out a new method in the list.
It's safer to read the instruction on your dress label before proceeding with any treatment.
Do NOT use acetone on nylon or other synthetic fabrics as that might ruin the cloth.
Wrapping It Up
Crafting is a type of art that has been around for centuries!
And hot glue is one of the essentials that crafters must pack in their toolbox as it's needed in almost every project!
To make your journey more enjoyable and smoother, we have gathered a few ideas so that you know how to remove hot glue from fabric in case you spill some on your cloth while working.
You know what that means, right?
No more worrying about ruining your favorite cloth!
Give your full concentration to the project at your hand and let our ideas help rescue your cloth form any sticky situation you might face along the way!