Cricut mats are a wonderful invention that most crafters or artists won't be without. They provide a safe space for us to cut out shapes and designs from our Cricut machine without marking surfaces and offer a strong grip when we need it most!
Depending on the color of the mat, we get a range of strong grips and materials that allow us to craft with ease.
But after time, these mats get dirty, and we are met with a new challenge, how do we clean them? The last thing you want is a dirty or unhygienic mat compromising your projects, but knowing how to clean them is difficult.
We don't want to ruin our mats, but we don't want dirty projects either. The stress of this leaves many of us with a crippling headache and high-stress levels. 
Well, no more! Today we are here to walk you through how to clean your Cricut mat and make it sticky again! Let's restore your mats to their former glory and get you crafting again with ease.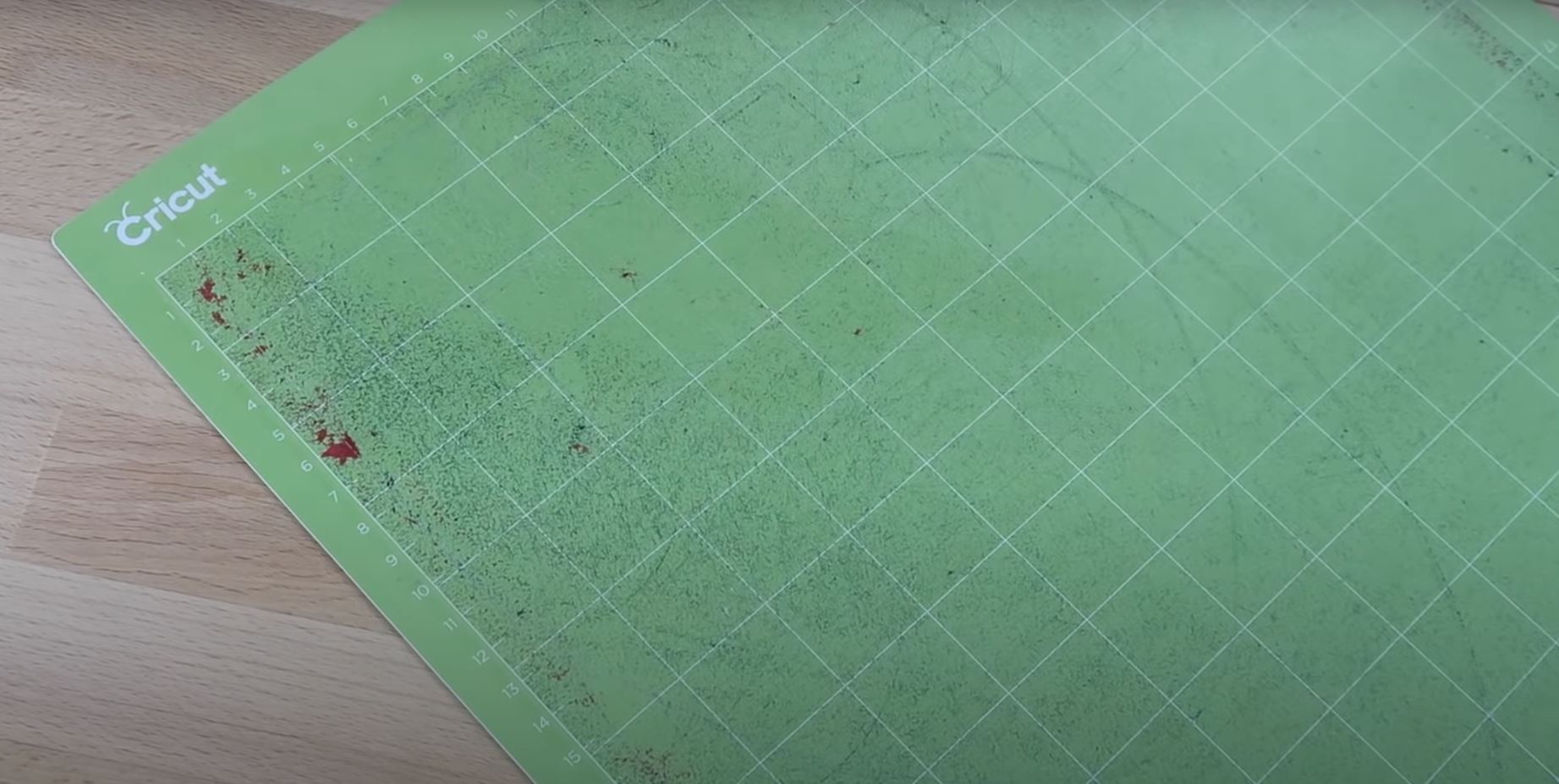 How to clean Cricut mat
You can adopt a few different methods to clean your Criut mat, depending on the type of clean that it needs. Let's look at all of these now to help you decide which method is best for you and get your mat clean again!
Light duty clean
For Cricut mats that just need a light-duty clean, follow the steps below. Providing that you clean your mat regularly, you should only ever need to perform a light-duty clean.
In an ideal world, clean your mat after every 2-4 uses. 
Scrape off the debris
Using a plastic Cricut scraper tool, remove large pieces of debris or leftover material from the mat. To do this, gently pull the edge of the scraper tool over the surface of the cutting mat.
The tool will dislodge any excess material, fuzz, or hair. 
Lint roller the mat
To ensure the mat is completely free of debris, take a lint roller and roll it over the surface of the mat. It will pick up small pieces of paper, fuzz, or glitter that are remaining. 
Use a baby wipe
Now, use a baby wipe to clean your Cricut mat. You can alternatively use a soft cloth with some warm water and dish soap if you are looking for a more environmentally friendly way to clean your mat.
Both options require the same method. 
Take your wipe or cloth and wipe the mat in circular motions until the entire surface is clean. Use gentle pressure when doing this to ensure the adhesive is not scratched completely.
If your mat is particularly dirty, it might take a couple of wipes. Change the wipe when it is very dirty and rinse the cloth regularly. 
Let it dry
Allow the mat to air dry completely before use. Avoid using heat as it can damage the mats or towels as these will transfer lint onto the mat you worked so hard to clean! Place it on a drying rack or hang it vertically.
Medium Duty Cleaning 
Dish soap, as we mentioned earlier, can be used to clean the mats. We would use mild dish soap, such as blue Dawn, to get your mat clean.
Avoid using any hand soap that contains lotions or oils, as this can damage the adhesiveness of the mat! If this method didn't work, then you will need to up your game! If your mat requires a deeper clean, it's the better option.
To clean your mat with dish soap, follow the steps below. 
Use the scraper tool to remove any excess material from the mat. Use the tips from our light-duty cleaning steps if you aren't sure how.

Next, lay the mat on a flat and waterproof surface, such as a kitchen counter. 

Take a clean dishcloth or soft brush and wet it with soap and warm water. 

Gently scrub the mat in circular motions with the wet cloth until clean. 

Allow the mat to air dry completely before using. Use our tips above to dry the mat correctly. 
Heavy-Duty Cleaning 
Is your Cricut mat still dirty or feeling greasy? Then it's time for our heavy-duty cleaning method! To perform a deep clean, you can follow our steps below.
We will be using LA's Totally Awesome Spray that will remove grease and other dirt. Take care, as some customers have noted that it removed the stickiness from their mats.
It's not a common complaint, but one you need to be aware of. 
Let's look at how to perform the deep clean now!
Spray the mat with the cleaning spray. You might need to mix it with water depending on if you have the concentrated version or not.

Leave the mat for 5-10 minutes.

Take a squeegee or scraper tool and gently scrape any residue off the mat's surface. Ensure you use light pressure only to avoid damaging the mat!

Rinse the mat with warm water. 

Leave it flat or hanging vertically until completely dry before use. 
How often should I clean my Cricut mat?
As we mentioned earlier, you should clean your Cricut mat roughly every 2-4 uses. Regular cleaning avoids a build-up of grease and debris and avoids the need for a deep cleaning!
It also allows your Cricut machine to run smoothly and helps keep your mat sticky. 
Regularly scraping off debris with a scraper tool will help keep the mat clean at all times. You should also replace the plastic protector sheet in between projects when needed.
You can use a baby wipe or Windex on a paper towel to clean these if needed. 
You can also reduce the need to clean your mat by using the right mat for the right material. Use the Light Grip mat for delicate papers, the Fabric Grip mat for fabric, and the Strong Grip mat for heavy-duty materials.
Following these tips will significantly reduce the need to clean your Cricut mats!
Final Word
And just like that, we have come to the end of our Cricut mat journey today! As you can see, cleaning a Cricut mat isn't too difficult and can be done in a few easy steps!
Be sure to use the step-by-step guide that suits you, and remember to check that any cleaning product you use is safe for use before you apply it to your Cricut mat!