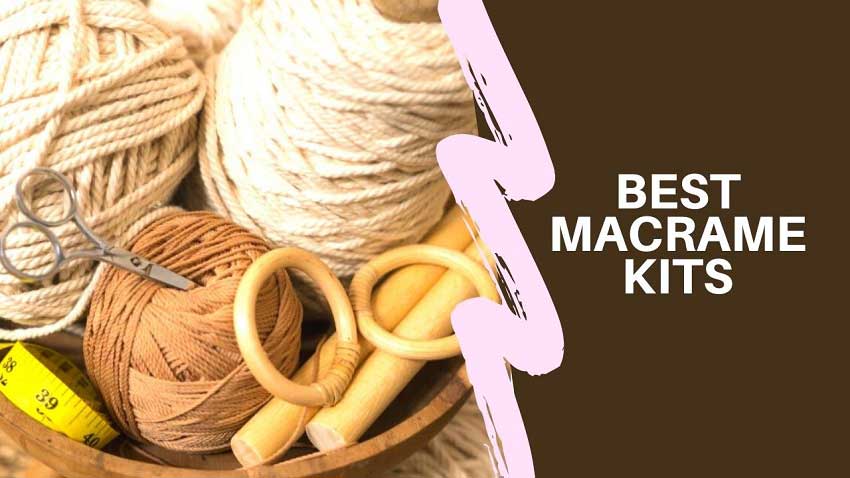 Once you decide that you need to get your hands on some good rope to get started with Macrame crafts, the only thing left for you is getting a kit. For beginners we have noticed how often they get roped into buying different cords, beads and all the different things.
But all you need is a good kit to save yourself all the hassle. Once you start and get a hang of the work, you can challenge yourself with the other intricacies. So, here's the best macrame kits for beginners that cover all the things you need to begin your crafting.
IMAGE
PRODUCT
FEATURES
 

Editor's Choice

Editor's Choice

✔

Full cotton and eco-friendly macrame rope

✔

Comes with various accessories for DIY craft

✔

Suitable for multi-purpose uses

Check Price

Best Value

Best Value

✔

109 yards and 3mm high-quality cotton

✔

Durable woven cotton consists of 4 strands

✔

Comes with beads, rings and sticks

Check Price

Best For Plant Hanger

Best For Plant Hanger

✔

Beginner-friendly complete plant hanger macrame kit

✔

Lightweight and no bleaching

✔

Easy to learn with their video instruction

Check Price

For Beginners

For Beginners

✔

Luxury cotton macrame rope with dowels

✔

No-odor and no chemicals

✔

Suitable for plant and wall hanger both

Check Price

Best For Wall Hanging

Best For Wall Hanging

✔

Great quality cotton macrame rope

✔

Comes with colorful rings and beads

✔

Easy to use; Non-toxic

Check Price
Why Do You Need Macrame Kits?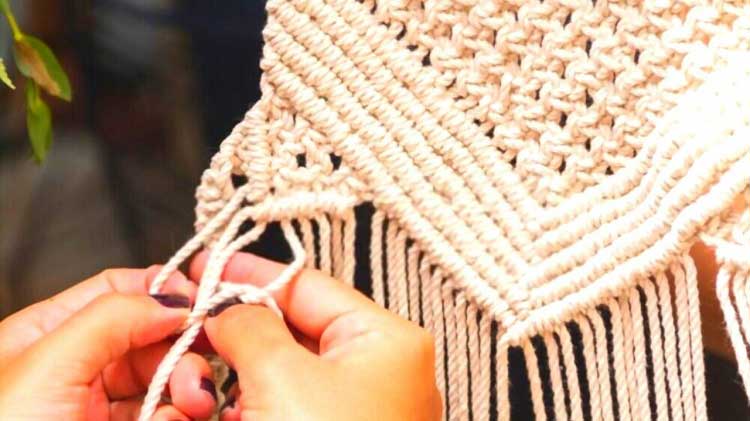 When you delve into the art of macrame, you might not know what and which items you need to cover all areas. That's where kits come in handy.
Has Adequate Amount of Everything for Completing a Project
Whether you're simply practicing knotting or making your first hanger, the kits have enough of everything to help you create a complete Macrame piece.
Comes with Pictures and Instructions
With kits, they not only have all the necessary items but also the directions and pictures to help you see exactly what they are meant for. Helping yourself to the guide, you can fully comprehend how much rope is needed for the job at hand.
You Don't Have to Buy Extra
Buying the ropes or beads separately means you might have to buy more than necessary. But if you purchase a kit, you get the specific number of items you need to get the job done.
Since there's no hassle of buying separate items, you can get done in quick time and save money too. You don't have to buy more than necessary so you will save the extra bucks.
Our Top 7 Best Macrame Kits Reviews
The kits we have included are perfect as macrame starter kits but are also liked by experts for their all-encompassing and versatile uses.
1. TUPARKA Natural Macrame Cord – Editor's Choice
Tuparka is your online go-to crafts store, where you can find a variety of DIY materials. But the reason they are here today is their very generous kit. Yes, 'generous' is the term we use to describe them because you get basically everything for a measly price.
The highlight of this macrame wall hanging kit is surely the rope. You can ask anyone, and they'll all tell you if you're getting into the craft of macrame, start with cotton. And this is 100% cotton. The kind that just immediately shapes in your hand and makes working very comfortable.
Being pure cotton, the roll is long enough for you to complete 3-4 hanger projects. What makes this even more worthwhile is that the cotton is very soft to touch and has no odor.
Rope isn't all this kit is about. It has plenty of handy accessories to create amazing DIY crafts. This includes sticks rings and beads too. And you'll get 50 beads.
As we said before everything in this is available in abundance. However, the only thing that would've made this even better is if the beads came in different sizes.
Whether you are a hobbyist or just starting out, this kit is ideal for creating different styled lace ropes, hangers, tapestries, mandalas, and more.
Highlighted Features:
Full cotton macrame rope
Includes accessories like beads, rings and sticks
Ideal for hangers, tapestries, etc.
Rope is 109-yards long and 3mm thickness
2. Quacoww Natural Macrame DIY Kit
Being a near-perfect macrame DIY kit as it has all the makings of one, Quacoww has really impressed all with this bundle. Not sure whether you want to create a wall hanger, table runner or a mandala? You don't have to worry because you can create anything with this kit.
With its cotton-composed cord long enough for multiple big projects, you won't have to look here and there for other materials. All that you need is included. You can make anything from a large hanger to crafty bohemian bags.
The cord is composed of 4 strands. It is by no means dainty but not fluffy big either. In our opinion, it sits on the sweet spot where you can pretty much accomplish anything.
Further, the material is super soft to touch and you can use this to make decorations on your sofa or bed as well. The product has the natural shade. So, it's fresh and not bleached.
This is a bang-for-your-buck deal because of all the materials that come along with the cord. Rods, rings, and beads are items that when bought separately, increases the workload, but you can get all of this in good numbers in this kit.
If you are looking for a unit that doesn't limit you to making hangers and tying ropes, then this is perhaps the most beginner-friendly kit you can find. Hence, for more exploring and crafting, this set is ideal.
Highlighted Features:
Includes sticks, rings and beads
High-quality cotton; soft and not bleached
Meant for versatile crafting
Cord composed of 4 strands for more durability
3. Stillness Crafts Macrame Kits – Best Macrame Plant Hanger Kit
As the name suggests, this package is made specifically to cater to all the beginners who are having a hard time deciding what materials and how much to buy. This is for making a macrame plant hanger kit and it has all the essentials and even more for making beautiful decorative pieces.
The main reason why this is beginner-friendly is that it comes with a complete instruction manual and even video tutorials.
Even if you're a complete novice you can enjoy the relaxing activity of knotting beautiful macrame designs and creating décor in the process. You have picture guides and easy-to-follow instructions to help you through the process.
On top of that, the kit includes long threads which leave you enough to design without feeling the tension of your cord running out. And you also get 12 beads to add more details to your hanger.
However, while the detailed guide is for the plant hanger, you don't have to restrict yourself to it. You can create many different hangers, tapestries, and more.
Also, the cord is 100% cotton and meant for beginners to weave. Hence, it's lightweight and doesn't tangle up unnecessarily. This includes cotton and wood- both are safe and toxic-free materials.
This is perfect for spending a quiet quality time with your kids and helping them learn and enjoy the process.
Highlighted Features:
Includes detailed Instructions for beginners to follow
Non-toxic and safe materials
Good for making plant hangers of different designs
Lightweight and soft cord
4. Home & Craft Macrame Starter Kit – For Beginners
As we have said this isn't only a list of beginner kits but also the list of best macrame kits that you can find, hence this package is the ultimate one that combines all of those. This isn't just for practice but once you get it done you will have amazing results and feel accomplished and satisfied.
One of the things we loved about this is the step-by-step guide. Now, whether you're a beginner who has never tied a knot before or someone more experienced trying their hand at macrame, all will find this helpful.
The guide doesn't only specify all the steps but also has a few knotting instructions too. Hence, this is highly rated among beginners.
Further, it has versatility. Meaning you don't have to buy this for creating the instruction given designs only. You can create any macrame design you like using the expandable items included in the set. You get two dowels which you can use for making wall hangers.
On top of that, another reason to like the cords in this is you can get them in different colors. If traditional macrame doesn't go with your taste but you still want to delve into this art, then the color variety of this brand will surely have something that matches your preference.
Finally, whether you're buying this for yourself or for a friend, this kit is an ideal set for anyone who's starting out.
Highlighted Features:
Step-by-step instruction available
Has dowels for wall hangers
Cord available in different colors
Includes four designs for beginners
5. MaKas Natural Macrame Cord – Best Macrame Wall Hanging Kit
Whether you're planning on testing out your crafting skills or going forth to become a full-fledged macrame DIYer, the best way to start this journey is with a DIY macrame wall hanging kit. For that, this is the ideal kit as it has plenty of materials to work with.
The highlight of this set is that it comes with 100 pieces of wooden beads and 32 rings. And if that's not enough, it has the 4 sticks too. The rings are available in a wide variety of sizes and types.
You can find colored and also different sized ones. Further, the beads have a vintage pattern, giving them an interesting and unique touch.
Now, although we mentioned wall hanger, with this you can just about craft any macrame item. Stuff like table runner, mats, trims adjoining other items, etc. is what this set is equipped for.
But don't settle for decors only, you can also make bohemian lace rope crafts, purses, phone carrying bags, etc. The creative potential of this kit is unlimited.
This product uses nature cotton which is one of the most comfortable materials. You will not only enjoy working with it but the process will also be a rewarding and relaxing experience.
Highlighted Features:
Rings come in different colors and sizes
Vintage looking wooden beads
Comfortable and soft cord
Kit equipped for multipurpose crafts and macrame
6. Solid Oak Small Macrame Kit
Macrame isn't only for the big projects like hangers and clothing items. They are equally used for making smaller accessories. So, if you are not committed enough for a big project, start small with this unit and create creative wall hanging kits.
You can get this done within hours and place it on the wall just as quickly. There's no better way of adorning your room with a classy and traditional look than this. And the design becomes more valuable when it's handmade.
Hence, this is a smart way of creating a decor in short time while learning something new. Macrame skills which include creating knots are a fun way of adding new skills to your crafts repertoire. For which, the instructions on this is more than adequate.
You don't have to search the internet for hours to get it done. The guides are all included in this kit. And these are not written instructions only, there are illustrations to help you too.
This kit includes a cotton cord and a wood dowel for hanging. It's specifically for creating the hanger on the design, so, you can't get too creative with it. But that does lower down the price a lot, making this is one of the least expensive kits on our list.
Highlighted Features:
Suitable for making a small wall hanger
Written and illustrated instructions included
Contains cord and a wood rod
Has an affordable price tag
7. ZXCDINO Macrame Rope Kit For Starter
Enthusiasts looking to learn a new skill that isn't complicated as sewing or crocheting often look at macrame because it is as satisfying as well as rewarding. Hence, we have chosen this set as it's one of the finest macrame kits for adults who want to create beautiful designs and decors.
This is one of our favorite products owing to the sheer number of items this includes. You don't have to know much about macrame beforehand if you have this kit, it covers all grounds.
The unit has the standard 3mm cotton cord. This size is ideal for beginners as it is lean enough for intricate knots but good for big projects too.
It has 3 kinds of beads which show the variety of projects that can be done. This includes wood beads of two different sizes and painted woods in large numbers. And if you're going for hangers, it even has hooks to cover up all the work.
Since this kit is meant for wide applications and different projects, the quality of the rope is high-end as well. It's soft and doesn't have any smell. Also, because of natural color, there is no chance of toxicity in the material either. Finally, it's long enough for you to cut from anywhere and still have plenty left.
Highlighted Features:
Has different kinds of beads
Long, soft, and safe cord
Ideal for a wide range of projects
Package includes beads, rings, hooks, stick and roll
How To Choose The Right Macrame Kits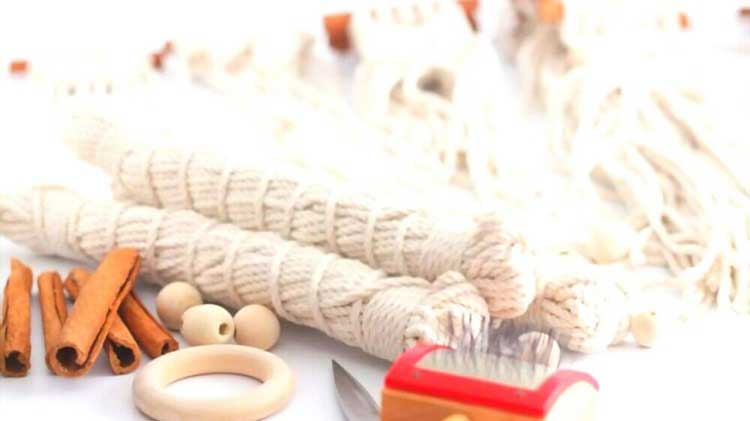 Before we delve into this, the important thing for you is to decide what kind of projects you wish to do with the kit. The product can be of different types.
Some for bigger projects like hanger or runner. Others for smaller jewelry and embellishment. So, depending on your use, the following features are what you should be aware of.
Type of Cord
There are many different kinds of cords that you can use to make different things. But for beginners, we recommend cotton as it's easy to work with. You can also find many starting with jute or nylon cord. But those are more coarse and harder to manipulate.
With cotton, learning to knot is easy and relaxing process. Also, it's soft and comfortable, so you can manipulate the knots to make intricate designs.
Thickness of Cord
Once you have chosen a cord, your next big hurdle will be to choose the right thickness for the job. Thinner ones are better for more detailed and intricate designs. Whereas thicker ones are good for bigger projects like wall hangers or other wall decors.
Macrame cords are usually around 1mm to 10mm in thickness. Wall hangers and plant hangers' cords start from 3mm and can go on to be much thicker, depending on what kind of design you're looking to make.
Cord Lengths
Cords in kits can either be pre-cut into small strands or be one big roll. Pre-cuts are good if you know what you're buying it for. But if you want to have more room for experimentation then buy rolled cords and cut your own lengths.
Rolled cords are also in most cases longer and you will have more to spare for your next project.
Instructions
If you're a beginner, then choosing a kit with step-by-step guidelines would be a wise choice. Buying a set and not knowing what to do with it will only confuse you further. Whereas, having very specific instructions can be good for beginners.
Some kits have illustrations to give you a better idea of how they are to be used. That's quite helpful as well.
Accessories
The common accessories with cords are beads, rings, and rods. But just having them in the package isn't enough. You'd be better off with something that has more variety. It will add more texture to your pieces.
Hence, kits have beads of different sizes and colors. And rings too come in a variety of colors and sizes. If you want variation, then you can find it in many deals.
For more information about macrame kits, check this video:
Frequently Asked Questions (FAQs)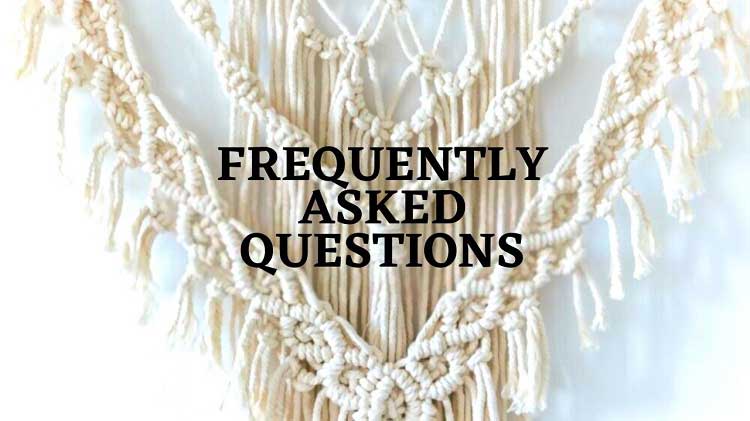 1.Can I make table runners or mats with a wall hanger kit?
Answer: Yes, in most cases, if you have enough rope you can create the design of your choice. Wall hanger kits are equipped for versatile use and with the proper instructions you can use it for making runners.
2. What sized cord should I use for making a hanger?
Answer: Hangers can be made from cords starting from 3mm in diameter. Use bigger threads when you're going for bigger projects and fewer details.
3. What materials are included in a kit?
Answer: A kit has different materials, like the cord roll, beads, sticks or dowels, rings, and in some cases hooks as well. it varies from product to product, but these are general materials.
4. Is it better to buy separately or in packages?
Answer: It depends on your usage. If your projects require more of a specific item, then buying a kit won't cover it. However, beginners' kits help more because they have done the math for you and presented the equipment in an adequate amount.
5. Are colored cords safe?
Answer: Colored cords that are naturally dyed are safe and eco-friendly. They're good for bringing more variety to your projects.
Final Words
Macrame is more than a hobby or pastime. It's a skill that you learn and add to your crafting repertoire. And the art of knotting cords and creating a shape is something artists are exploring more and more.
Hence, these kits are a great way of learning the basics and enjoying yourself in the process. As all the items are provided within, you don't have to fret over missing materials.
That's why, to help you familiarize yourself with this beautiful craft, we have presented the best macrame kits. The sets included will not only help you learn something new but also create a piece that you can place in your room.
Thanks for visiting at CraftersDiary!
More Articles: