Gel pens are great for writing notes or drawing diagrams. They come in a variety of colors and sizes, and they write well even on glass.
Gel pens are useful tools for students who want to take notes during lectures or presentations. They also make great gifts for teachers, parents, and friends.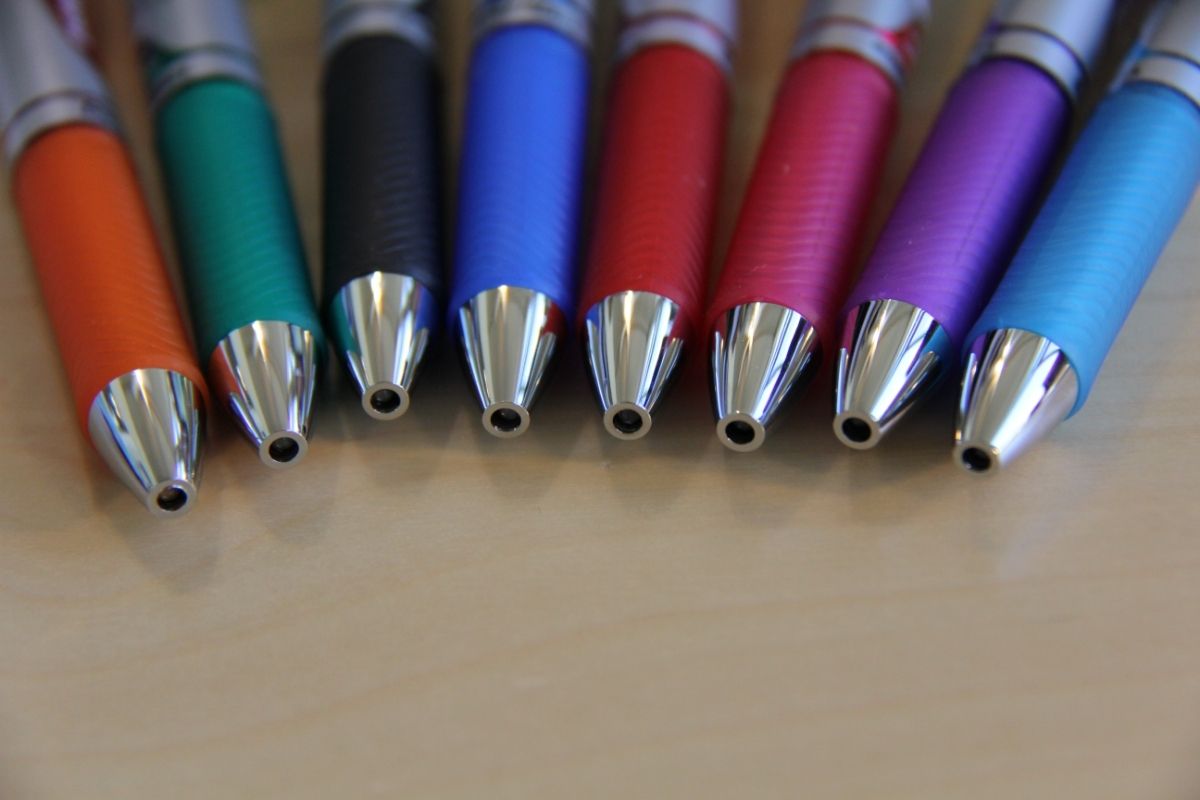 There are several types of gel pens available today. Some are designed for specific purposes such as calligraphy, sketching, or painting. Others are ideal for note-taking, diagramming, and other tasks where precision is important. 
In this article, we will discover what are the best gel pens that are on the market right now.
The Pentel EnerGel RTX Retractable Liquid Gel Pens features a latex-free grip which we found made holding these pens comfortable.
We noticed that the ink dries quickly, that even left-handed users won't have to worry about smudging the ink when using these pens. 
These retractable pens will give you a smooth and enjoyable experience whilst using them. They are available in a wide selection of colors and sets, with all the standard colors available such as red, black, blue, pink, green, etc.
The colors are very vibrant on the page and are able to be refilled using EnerGel refills. They are available with a 0.7 mm or a 1 mm stainless tip. 
Pros:
Fast Drying – The ink of these pens is fast drying so that even left-handed users don't need to worry about smudging the ink on their hands or the paper.
Comfortable – A latex-free grip makes these pens comfortable to hold and use for hours on end. 
Colors – Vibrant colors, with a large range available to choose from. 
Cons:
Thickness – The tip of these pens is either 0.7 mm or 1 mm, which is quite thick. Therefore, if you want to use these for thin lines, they may not be an ideal choice.
Also available to purchase from Pentel, Ubuy and Office Depot.
Sale
The Paper Mate Gel Pen is perfect if your hands get tired from writing for hours on end. This is due to each pen being wrapped with a comfortable grip, that keeps the pen comfortable in your hand.
Thus, we found this pen to feel very smooth in your hand as you write or draw. 
The ink that is used in these gel pens is quickly trying to reduce any chances of smearing and smudging on your page.
Alongside that, these pens are available in 14 bright and vibrant colors that are pleasing to look at such as purple, lime, teal, orange, red, and black. These Paper Mate gel pens are available in 0.5 mm and 0.7 mm stainless steel tips. 
Pros:
Comfortable – The entire body of the pen is wrapped in a comfortable grip, which makes these pens easy to hold and work with for hours at a time. 
Fast Drying – The ink in these gel pens is quick-drying so your chances of smearing or smudging the ink are decreased. 
Tips – A thin and thicker tip is available in these pens. Hence if you like thin lines or thicker lines, you have the option with these pens. 
Cons:
Ink Levels – Some customers have noted that they found that the pens ran out of ink much quicker than they
expected. However, this observation varies and may be a result of how much you use the pens. 
Also available to purchase from Paper Mate and Walmart.
Sale
Paper Mate Gel Pens InkJoy Pens, Medium Point, Assorted, 14 Count
Dries 3X faster* for reduced smearing
Smooth, colorful ink keeps the ideas flowing across the page and brightens your writing
Ergonomic comfort grip wraps the entire gel pen
0.7mm medium point spreads ink beautifully
Includes 14 gel pens in assorted vibrant colors
Arteza Gel Pen has been created and designed for artists in mind. These gel pens are perfect for anyone to doodle or draw with.
They are all about you expressing yourself in an artistic way. Arteza has a fabulous collection of gel pens with 60 unique colors. 
These indices: 3 classic colors; 9 pastel colors; 10 neon colors; 11 metallic colors; 17 glitter colors; and 4 glitter and neon combinations. There are also 6 rainbow options, where we found the color of your pen will change as you draw or write. 
These pens have a much more classic gel pen look, with a triangular-shaped barrel. This helps to make the gel pens feel comfortable in your hands.
Even though they have been designed with drawing in mind, you can use these pens for taking notes as well. You have a choice of a 0.8 mm and 1 mm tip, which is ideal for coloring with.
Pros:
Color Options – There are a lot more options with these pens when it comes to colors. There are some more unusual color options that we haven't seen with other brands.
Thick Tip – The Arteza gel pens have been created for people who love to draw, so the tips of these pens are quite thick. This then makes coloring much easier to do with these pens. 
Triangular Shaped Barrel – These gel pens have a triangular-shaped barrel, which fits nicely into your hands.
Cons:
Cap Color – Some customers have noted that the color of the cap isn't a true representation of what the color of the ink will be. This isn't a huge flaw but something to be aware of.
Drying Time – We noticed that some of the pens require a bit more time to dry down than others, so beware, otherwise you could smudge or smear the ink if you rush.
Also available to purchase from Arteza.
Sale
ARTEZA Gel Pens, Set of 60-Individual-Colors, 0.8-1.0 mm Tips, Acid-Free & Non-Toxic, Art Supplies for Journaling, Doodling, Drawing
Beautiful assortment of 60 unique colors includes: 3 Classic, 9 Pastel, 6 Rainbow (changes color as you draw), 10 Neon, 11 Metallic, 17 Glitter, and 4 Glitter-Neon
Comfortable triangular shaped barrel for accurate writing and drawing
0.8 - 1.0mm ballpoint ideal for coloring books
Designed and Created by Artists: Here at Arteza, we are passionate about creating products that inspire. For us, art is an expression of the human experience. That's why we work to make our art supplies accessible to all people.
Art Supplies for Everyone: Arteza was built on providing quality painting, drawing & art supplies for all ages and levels. Find tons of arts and crafts accessories, paint sets, drawing supplies, and more for all your general needs as an artist.
The Tanmit Gel Pens are great for both writing and drawing. There are around 36 colors in this collection, all made with high-quality materials.
We found that these pens work smoothly on your paper and are vibrant enough to add a splash of color to your notes or doodles. Each pen comes with a soft rubber grip, that makes using these pens a more enjoyable writing experience. 
The type of colors that you can choose from includes glitters; metallic;  neon; pastels; and all the classic colors.
These pens have fine tips but a large ink capacity, so they should last you a while before you need to think about replacing them. 
Pros:
Variety – There are 36 colors to pick from, including neon, pastel, and glitter colors as well. Thus, plenty of options for everyone. 
Smooth – The Tanmit Gel Pens glide smoothly on the page, to give you a smooth writing experience.
Large Ink Capacity – These gel pens have a large ink capacity, which means you don't need to think about replacing these pens for a while after purchasing.  
Cons:
Dark Paper Issue – Customers have mentioned how these pens are really vibrant, yet when they are used on dark paper, the pens' ink color loses their vibrancy. 
Also available to purchase from Tanmit.
Sale
TANMIT Gel Pens, 36 Colors Gel Pens Set for Adult Coloring Books, Colored Gel Pen Fine Point Marker, Great for Kids Adult Doodling Scrapbooking Drawing Writing Sketching
★Premium Quality with Colored Grips: Wonderful, bright and true Colors in a Variety of Styles. Our 36 colored Gel Pens are all unique colors and all come with colored rubber.It will take your art to a high level and become the guarantee of your perfect works.
★Smoothly Drawing & Coloring: 36 Colored Gel Pens are perfect for writing, drawing, sketching and coloring books.Whether you are using this set to add a splash of color to your doodles, embellish your scrapbook, or fill the pages of your adult coloring book... it will surely make you feel like a professional artist.
★Ideal Colors Type: Including 12 GLITTER, 8 METALLIC, 6 NEON, 6 PASTEL and 4 classic colors. This gel pen set comes with fine tips and large capacity ink which are designed just for you.
★Easy Open and Carry-On: Our 36 Coloring Pens set have a nice package and well organized. You can easily choose colors and bring it everywhere you like.So just get it to arise your creativity.
★Non-Toxic & Acid Free: Perfect for Adults and Kids (Please keep caps tightly after using). If any are inoperable, damaged, Please feel free to contact us. You will get reply within 12 hours
The PILOT FriXion Gel Pens help solve a problem that a lot of us face when using any kind of pen. There is nothing worse than making a mistake, as you can't rub it out.
However, with these pens, you now have the option to erase any mistakes that you may make. 
The ink glides onto the page smoothly and with little effort. These retractable pens use thermo-sensitive ink, which is what makes it erasable.
Overall, you can purchase these pens in a variety of colors such as black, blue, purple, green, blue, turquoise, and red. They also arrive in a reusable pen pouch to keep all your pens together and safe.  
Pros:
Erasable – The tip of this pen is an eraser and can erase any mistakes that you make with these pens. 
Smooth – The ink glides smoothly onto the page, which makes these pens easy to use.
Comfortable – A rubber grip can be seen on all of these pens. The rubber makes these pens comfortable to hold and work with.
Cons:
Thermo-sensitive Ink – As the ink is sensitive to heat, you need to be careful where you keep your notes. If the ink is near heat then it will disappear. Some customers have noted that they have spotted random lines that have disappeared because their work was left somewhere warm.
PILOT FriXion Clicker Erasable, Refillable & Retractable Gel Ink Pens, Fine Point, Assorted Color Inks, 7 Count (Pack of 1) (31472)
Pilot FriXion Clicker: A bright way for bright minds to get into STEM, FriXion is the first erasable fine point marker pen; Its unique thermo-sensitive ink formula lets you erase and rewrite repeatedly with ease without ruining the page
ERASABLE, RETRACTABLE, REFILLABLE: The FriXion gel ink pen writes smooth & erases clean. This set of 7 pens features black, blue, red, turquoise, purple, & green ink. Comes in a reusable pen pouch
The Power Of STEM: The science behind FriXion erasable pens embodies the principles of STEM and enables exciting hands-on demonstrations; Frixion is the 1st and only pen authenticated by the nation's leading STEM accreditation and education organization
TRUSTED QUALITY: We've been making pens for over 100 years. Whether you're taking notes, stocking up on school or office supplies, or writing in a bullet journal, Pilot has the perfect pen for you
POWER TO THE PEN: Pilot makes exceptional writing instruments to suit all your needs. We have fountain, ballpoint, retractable, erasable & gel ink pens, whiteboard markers & more for every writing style.
Buyers Guide
When choosing a gel pen, there are many things to consider. You want to find one that has a good balance between quality and price. It's important to note that not all gel pens are created equal. 
Some pens may feel cheap and flimsy, whereas others may feel like they cost too much. In addition, some pens may have a very small amount of ink, whereas others may have a larger amount of ink. 
As a result, we have created a short guide on some factors to take into consideration when shopping for gel pens.
Price
Price is always a factor when buying anything. However, sometimes you can spend lots of money on a set of gel pens, and they don't last very long, while other times cheaper pens last longer than more expensive ones. 
However, sometimes the more expensive pens work longer than cheaper pens. As a result, it is difficult to say how much is the right amount to spend on gel pens. 
Other factors will determine whether the gel pens are good or not. However, you should have a budget in mind for how much you are willing to spend. 
Quality
When it comes to gel pens, you want to ensure that the pen feels sturdy and durable. Look for a pen that feels solid and doesn't fall apart easily. Also, look for a pen that has a nice weight to it. 
You don't want to spend money on gel pens that can break really easily in your hands. Especially, if you are paying more money for them, you want them to feel good in your hands.
As a result, you want a pen that is durable to withstand lots of work and to survive being put in your bag while on the move. 
Ink Capacity
Most people don't realize that the ink capacity of a pen matters. Although not every pen needs to have a huge amount of ink, you should still try to buy a pen that has enough ink to last you a long time.
As a result, you don't want to buy a pen that only lasts for a few days. 
Erasability
This is another factor that you should think about when purchasing gel pens. Most people prefer pens that can be erased, however, this isn't always possible.
For example, some pens cannot be erased at all, while others can be erased but require a lot of pressure. 
This means that you might end up wasting a lot of paper because you can't erase the pen properly. As a result, if you are looking for a pen that can be erased, you should choose a pen that can be done without a great deal of effort. 
Erasability is a new feature, so a lot of gel pens may not have this feature. Also, you can't be sure if this feature works all the time and successfully.
It isn't a bad thing if your gel pens don't have an eraser, but if it is something you want, you may find that your options for gel pens are much more limited.
Size
You should also consider the size of the pen. Many people like pens that are smaller than average. This allows you to write with ease and makes it easier to carry around.
On the other hand, some people prefer large pens. These pens allow you to write bigger amounts of text and make it easier to hold onto. The key thing to remember here is that you should get a pen that suits your writing style. 
You want the pen to fit comfortably in your hand. Alongside this, you need to think about the tip size of the gel pens that you are buying.
It may be the last thing on your mind when purchasing gel pens, but there are different tip sizes. It all depends on the thickness of the lines you want to create. 
Some gel pens have naturally bigger pen tips because they are more suited for drawing and coloring. While others have smaller tips as they are much better for writing.
You can write and draw with any size tip, but some people prefer a thinner or thicker tip. This is a personal preference, but it is something to be aware of when purchasing your gel pens. 
Color
Make sure that the color of the pen matches your style. For example, if you prefer bright colors, then look for a pen that's neon or fluorescent colored.
On the other hand, if you prefer darker colors, then look for more classic colors. 
It can depend on the company on what colors are available, however, there will always be a broad range of colors to choose from.
Again, it may come down to personal choice and how these pens will be used that will decide what colors you want or need. Some companies have pastel, neon, and glitter options, however what colors you want is a personal choice. 
Comfort
You want these gel pens to be comfortable to handle and use. Therefore, you will notice a lot of pens we have mentioned have a ribber grip or something to make the pen more comfortable to hold. This is to reduce hand fatigue and make the experience of using the gel pens better.
Refillable
Something you may not think about is if the pen is refillable. If it is then you only need to buy ink cartridges. However, if the pen is non-refillable, then you will either need to buy refills or replace the entire pen.
This is why it is important to check first before purchasing, especially if you are planning to use your gel pens a lot. It is a handy feature if they are refillable and makes the pens more eco-friendly as less plastic is being thrown away. 
Frequently Asked Questions
How Do You Make A New Gel Pen Work?
When you purchase a new gel pen, sometimes you need to give the pen a really good shake. Then scratch the pen against your paper, to get the ink working. Sometimes, ink may have clogged up the pen or air bubbles have gotten in the way. 
The best way to solve this is to press the tip of the pen on a hard surface, to remove the issue. Alongside that, sometimes warming your pen up by placing the pen in warm water for a couple of minutes, helps to loosen the ink up. 
What Makes Gel Pens Different From Other Pens?
Gel pens use water-based gel ink, along with dye, pigments, or powder to give them their vibrant color. Compared to other inks, they have a much thicker consistency and are available in many more colors. 
They are perfect for writing and drawing and glide smoothly onto the paper easier than other inks. However, they can take longer to dry compared to other inks.