Embroidery machines are great tools for creating beautiful designs on fabric. They can also save you time and effort when compared to hand embroidery.
An embroidery machine is a device that uses needles to stitch patterns into cloth. The machine has two parts: the needle bar, which holds the needles, and the frame, where the cloth is placed.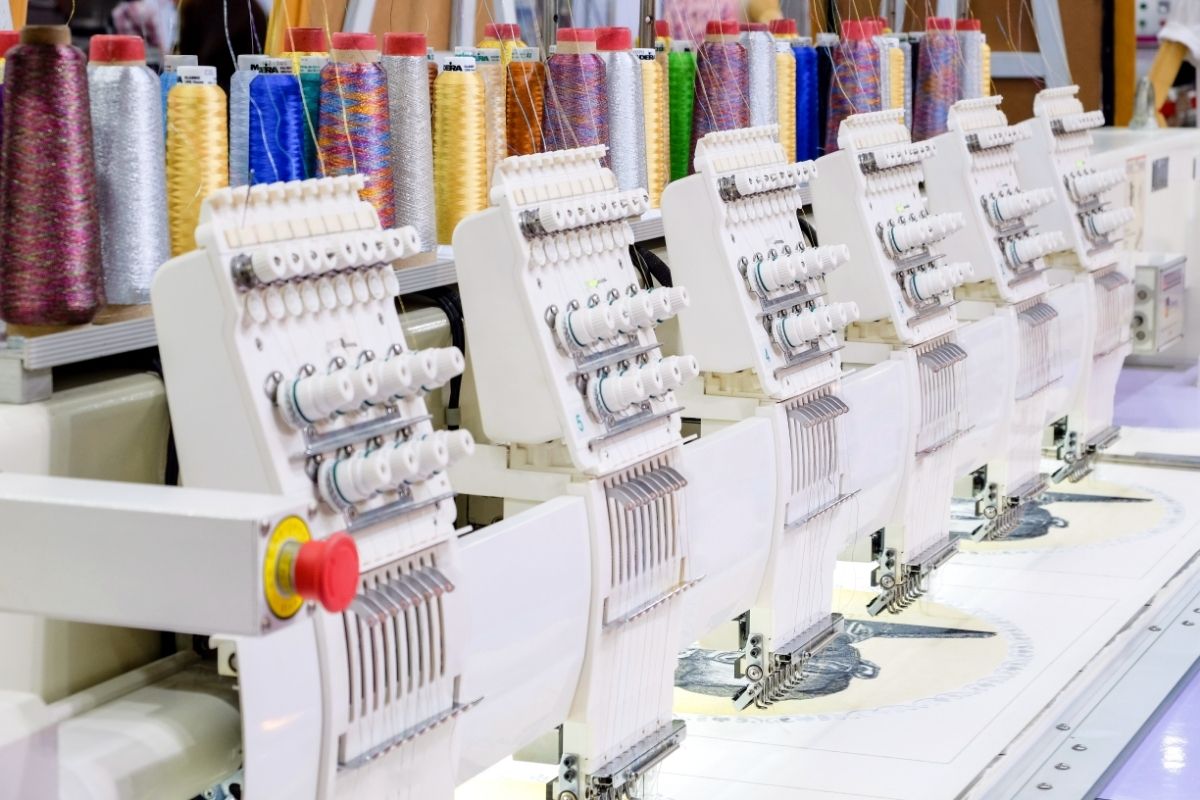 There are several types of embroidery machines, each with its advantages and disadvantages. Embroidery machines come in various sizes, from small portable models to large industrial ones.
They can help you create unique pieces of clothing or decorate your home by adding decorative elements such as flowers, birds, animals, etc.
Embroidery machines have become extremely popular over the last few years, especially among women who want to add some flair to their clothes without having to sew them themselves.
This is why we have written this guide to tell you about some of the best ones on the market, and how they can step up your sewing game.
We've also written a handy buyer's guide and included a frequently asked questions section so you know just what to keep an eye out for when searching for your next embroidery helping hand.
The Uten computerized embroidery sewing machine is one of the most affordable options available today.
You can use the computerized embroidery software provided by the manufacturer to design your custom artwork and then print it off using the printer connected to the machine.
This model features a 6″ x 9″ work area, which should be sufficient for most projects. It includes a standard presser foot, which means you won't need to purchase any additional attachments.
You will find several different stitches available, including straight stitching, satin stitching, French stitching, backstitching, zigzag stitching, and many others.
When we tried it, we loved this flexibility, and the LCD screen with navigation buttons helped us to choose stitches easily.
This is a relatively simple machine, but it does require some basic knowledge of sewing techniques. If you're looking for something more than a hobby project, however, the Uten may be worth considering.
Pros:
Designs- Plenty of different patterns and stitches available
Multifunctional- Series of buttons such as start/stop button, a reverse button, and a memorized needle up/down buttons 
LCD Screen- Select stitches on the screen
Contact Service- Can contact the manufacturer with any faults and they will help
Cons:
Corded Electric- No USB cable included
Simple Machine- Not suitable for heavy-duty work
Portable Sewing Machine Computerized Embroidery Sewing Machine with 200 Unique Built-in Stitch and 8 Buttonholes
【200 Unique Built-in Stitches】: UTEN 2685A SEWING MACHINE have 200 different built-in stitches which contains decorative,embroidered stitching,100 letters,and 8 one-step auto-size buttonhole styles.
【Multifunctional Features】: The embroidery sewing machine have a series of buttons like start/stop button,reverse button and memorized needle up/down buttons.It also includes automatic tension and stitch length and width.Its portable and flexibility make sewing easy and help sewing enthusiast improve their creative capability.
【LCD Screen Displays】: The portable sewing machine is equipped with a large LCD screen.You can simply select stitches with the push of a button and view it on the LCD display.
【Electric And Handheld】: This mini sewing machine set up as electric mode.Or connect the foot pedal if you are beginner and want slower speed by handheld mode.
【Sincere After-sales Service】: This patchwork quilting machine comes packed with 5-quick-change presser feet, including a zigzag foot,a zipper foot,a button foot,a blind stitch foot and a buttonhole foot. If you have any problem with this portable sewing machine, please kindly contact us. We will offer technical support and glad to help you solve the problem.
The Brother SE600 is a very versatile machine that comes with a lot of features. It is designed to make it easy to learn how to operate the machine, even if you don't have much experience. It has a wide range of accessories, making it possible to do almost anything you might want to do.
It features a 4″ x 4″ working area – which is great for larger projects – with a 3.2″ LCD touchscreen. The maximum size of fabric you can use with this machine is 1.5 meters or 4.9 feet.
It has a variety of different stitches, including straight stitching, zigzag stitching, and satin stitching. You can also select between regular and monogrammed lettering. There are over 100 built-in sewing stitches and the maximum sewing speed is 710 stitches per minute.
When we tried it, we liked the large color touchscreen, which enabled us to preview designs before stitching.
Pros:
4″ x 4″ Working Area- Plenty of room for projects
High Maximum Sewing Speed- 710 stitches per minute
Large Color Touchscreen- Enabled us to preview designs before stitching.
Easy To Learn- Perfect for beginner sewers and embroiders 
Cons:
Not Portable- Need to carry around the power cord
Limited Storage Capacity- Only holds 150 pieces of fabric
Sale
Brother SE600 Sewing and Embroidery Machine, 80 Designs, 103 Built-In Stitches, Computerized, 4" x 4" Hoop Area, 3.2" LCD Touchscreen Display, 7 Included Feet
80 Built-in designs: The SE600 comes with 80 built-in designs and 6 embroidery lettering fonts for personalizing your projects.Maximum Embroidery Speed (spm) : 400. UL/CSA Listed Voltage : 110v.
Automatic needle threader and drop-in top bobbin: This sewing and embroidery combo machine includes an automatic needle threader that perfectly pushes the thread through the needle and a convenient, jam resistant drop-in top bobbin
103 Built-in sewing stitches: This machine features 103 sewing stitches including 10 styles of auto-size buttonholes. Maximum Sewing Speed (Stitches per minute)- 710
Large color touchscreen: The Brother SE600 computerized sewing and embroidery machine features a large 3.2" LCD color touchscreen allowing you to preview your designs before stitching
4" X 4" Embroidery field: This computerized combo machine is built with a 4" x 4" Embroidery field with an included hoop, embroidery arm and 7 sewing feet
Also Available: Brother SE600 | Sewing & Embroidery Machine (brother-usa.com)
The SINGER Legacy SE300 is an economical choice when it comes to buying a home embroidery machine. This machine is ideal for beginners who want to get started in embroidery without spending too much money.
It's not as powerful or flexible as other machines, so it's best suited for smaller projects.
It features a working area, which should be enough space for small projects. It has an LCD touchscreen display, which makes the software easier to navigate.
It has a variety of embroidery stitches, including straight stitching and satin stitching. There are over 60 built-in sewing stitches, too. The maximum sewing speed reaches 800 stitches per minute and 700 embroidery stitches per minute.
We liked the fact that the machine came with many free design templates, which made it easy to get started.
It also has an automatic needle threader and this meant after following the threading path, it helped us to thread the eye of the needle without too much eye strain or frustration
Pros:
Free Design Templates- Made it easy to get started
Small Size- Suitable for small projects
Automatic Needle Threader- Helped us to thread the eye without too much effort
Easy To Use- Perfect for beginner sewers.
Low Price- Budget-friendly
Built-In Stitches- No need to buy additional embroidery kits
Cons:
Lack of Customer Service- Hard to get hold of the manufacturer.
SINGER | Legacy SE300 Embroidery Machine with 200 Built-In Embroideries, LCD Touch Screen, & 250 Built-In Stitches - Sewing Made Easy
SINGER SEWING MACHINE: The SINGER Legacy SE300 Portable Sewing Machine has 250 built-in stitches including basic, stretch, decorative, and buttonhole stitches allow you to sew a variety of projects, such as fashions, home décor, quilts, crafts, and more
AUTOMATIC NEEDLE THREADER SEWING MACHINE: After following the threading path printed right on the machine, this built-in feature helps you to effortlessly thread the eye of the needle without eye strain or frustration
BEST SEWING MACHINE: The SINGER Legacy SE300 has extra-large embroidery area, snap-on embroidery hoops, usb stick embroidery design transfer, bobbin winding while embroidering, upper thread sensor, 10 snap-on presser feet, 200 embroidery designs + 6 alphabet options which expands your creative and monogramming possibilities
HIGH SEWING AND EMBROIDERY SPEED: The SINGER Legacy SE300 Sewing Machine has a maximum sewing speed of 800 stitches-per-minute and 700 embroidery stitches per minute, and so projects can be sewn quickly
SEWING AND EMBROIDERY MACHINE ACCESSORIES: A variety of accessories are included with large and small embroidery hoop, all-purpose foot, satin stitch foot, overcasting foot, blind hem foot, zipper foot, buttonhole foot with underplate, straight stitch foot, button sewing foot, open toe foot
Also available: Legacy™ SE300 Sewing and Embroidery Machine | Singer.com
Another one from Brother, this Brother PE535 is a compact machine perfect for people who like to work on their own. It is suitable for both beginners and experienced users alike. It has a large 4″ X 4″ embroidery field and is built with a hoop.
There are over 80 built-in sewing stitches such as holiday, floral, kids' designs, and more. It also has 9 built-in fonts which include 6 English and 3 Japanese lettering fonts, allowing you to completely customize and personalize your creations.
The 3.2″ inch LCD color touchscreen allows you to see all your designs before stitching and the USB port gives you the chance to upload and store your designs to the system's built-in memory. This was our favorite feature when we tried it out and made it easy for us to transport our unique designs!
Pros:
Customizable- Built-in stitches and fonts available
Large Color Touchscreen- 3.2″ inch LCD color touchscreen
USB Port-  Gives you the chance to upload and store your designs to the system's built-in memory
Included Hoop- Embroidery field comes with a loop included, meaning you don't have to buy one separately
Cons:
Only an Embroidery Machine- Cannot be used as a sewing machine too.
Intended For Sale Only in the US- And only at 120 volts. Any other use voids the warranty.
Brother Embroidery Machine, PE535, 80 Built-in Embroidery Designs, 9 Font Styles, 4" x 4" Embroidery Area, Large 3.2" LCD Touchscreen, USB Port
80 Built-in designs: The PE535 features 80 built-in embroidery designs including kids' designs, holiday, floral and many more
9 Built-in fonts: 6 English and 3 Japanese lettering fonts allow you to personalize your creations
USB Port: The USB port allows you to upload and store your own embroidery designs to your PE535's built-in memory
Large color touchscreen: An expansive 3.2" inch LCD color touchscreen allows you to preview your designs before stitching
4" X 4" Embroidery field: This Brother embroidery machine is built with a 4" x 4" Embroidery field and includes a hoop
This is another entry-level machine by EverSewn. It is designed to help you create beautiful fabric art. It can do basic sewing and embroidery.
The machine comes with two hoops, both large and small, and over 100 embroidery designs are included. You can also download the app, which allows you to customize and create designs right from the comfort of your cell phone or tablet.
This advanced auto threader has over 120 different stitch patterns. The embroidery functions are controlled via a smart device. This means Wi-Fi is not required and technology is integrated so that the device works with apple or android.
We loved the compatibility the machine had with our cell phone, as it allowed us to create designs and send them across much easier than on other machines.
Pros:
Easy To Use- Requires some practice to learn how to use the machine but a perfect machine to navigate as a beginner
Great Functions- Can sew and embroidery
Adjustable- Tension adjustment and presser foot pressure adjustment
Flexible- Comes with over 100 embroidery features
Pairs With Phone- Create designs on your cell phone or tablet
Cons:
Suited for Beginners- Not great for heavy-duty work or advanced embroidery
Sale
EverSewn Sparrow X2 Sewing & Embroidery Machine, White
the eversewn sparrow x2 is a next generation sewing and embroidery machine. the embroidery functions are controlled with a smart device. wifi is not required. technology is integrated and works with apple or android.
this state-of-the-art sewing and embroidery machine is perfect for every sewist that loves to create. sewing machine features: -thread cutter, one-step button hole, speed control, needle up and down, electronic tension adjustment, straight-stitch plate included. -presser foot pressure adjustment. -over 120 different stitch patterns. -advanced auto threader
embroidery features: -two hoops come with the machine (large and small) -over 100 embroidery designs included -reads most common embroidery files (exp, pes, dst .)
now you can use your mobile device (cell phone or tablet) to create your designs with more freedom. our app allows you to customize your design in a few easy steps.
this machine will get every crafter, beginning sewist or quilter excited for embroidery and they will find embroidery easy, fun and exciting.
Buyer's Guide
With so much to consider when buying a new embroidery machine, it can be hard to figure out just what you should keep an eye out for.
From experience, embroidery design, intended use, materials, and functions, there's so much need to research and this is why we have created this handy buyer's guide.
Design Features
If you want to make sure that your machine will give you the best results possible, then you'll want to look into features like:
Stitch Types – There are many types of stitches available on embroidery machines. Some of these include straight line, zigzag, satin, French knots, buttonhole, blanket, stem stitch, whipstitch, and more.
Each type of stitch offers its own set of benefits and drawbacks. If you're looking to get started with embroidery, then you'll want a machine that includes a variety of stitches.
Threading Options – You may want to choose a machine that includes automatic threading. This way, you won't have to worry about manually threading your needle each time you start stitching. Automatic threaders allow you to easily change colors without having to remove your thread from the spool.
Thread Cutter – Many machines come with a built-in thread cutter. This makes it easy to cut off the excess thread after finishing a project.
Embroidery Designs – When choosing a machine, you'll want to take a look at the number of designs included on the machine. Most machines offer anywhere between 50 and 200 designs. There are even some machines that offer thousands of designs!
Software Compatibility
Some embroidery machines come preloaded with software designed specifically for their brand. These programs usually enable you to edit existing designs and add your own graphics. They also often include templates for common projects such as clothing, bags, and home decor.
This feature is very helpful if you plan on making a lot of custom items. You can also save your designs to reuse them later.
Other embroidery machines require you to purchase additional software. This still allows you to customize designs and create your unique designs.
It's important to note that not all software is compatible with every model of embroidery machine. Make sure to check compatibility before purchasing.
Intended Use
The intended use of your embroidery machine will determine what machine you might buy. For example, if you're planning on using it primarily for household decor, then you'll probably only need a basic machine.
However, if you plan on using it for commercial purposes, then you'll likely need something a bit more robust.
Materials
The material you use will depend on the intended use of your machine. For instance, if you plan on sewing clothing, then you'll want something that has a sturdy frame. If you plan on sewing other fabrics, then you'll want one that's made of plastic or metal. 
When choosing a frame, regardless of how you intend to use your machine, keep in mind that some frames are better than others. Look for a strong frame that won't break easily. Also, try to avoid cheap plastic frames because they tend to wear down quickly.
Cost
Depending on what you intend to do with your machine, you may be able to find an affordable option. However, most people end up spending around $200-$300 on their first machine, but this is often pre-owned. Keep this in mind when shopping for a new machine.
Brand
If you're interested in buying a specific brand, then make sure to read reviews online. This can help you decide whether or not the brand is worth investing in.
Try to look at a wide selection of brands to make sure your machine has a variety of features and functions to appeal to all embroidery needs and different skill levels
Reviews
Another great resource for finding out which models are best suited for your needs is reading reviews online. This can give you insight into which models work well together and which ones don't.
The reviews should also provide information regarding any issues you might encounter while using the machine.
Easy Setup
If you haven't used an embroidery machine before, a simple setup can help you on your way in no time and save you a lot of pressure and stress.
It will also make it simpler and much more hassle-free to load and reload bobbins, threads, and other personal accessories.
Power
Embroidery machines have varying power requirements depending on the size of the machine. Most machines run off 110 volts AC (60 Hz) and take anywhere from 2.5 to 6 amps of current.
In addition to the voltage and amperage required by the machine, there are also additional requirements based on the type of fabric being sewn.
The power will determine how many stitches per minute your machine can complete, and this usually ranges from 400 to more than 800.
Whilst faster stitching will speed up your projects, it could cause problems when working with delicate and intricate designs, or if you are a beginner, so don't be afraid to consider a machine with 'turtle mode' as well as its offering high speeds.
Frequently Asked Questions
What Is An Embroidery Machine?
Embroidery machines are designed to help you create stunning pieces of art. They're also great for creating unique gifts, decorating clothing, and adding a personal touch to everyday items such as bedding, towels, and pillows.
An embroidery machine is essentially a computerized sewing machine. These machines are capable of completing complex patterns and designs, and can even stitch multiple colors onto a single piece of fabric.
What Is The Difference Between Embroidery Machines?
An embroidery machine allows you to create beautiful designs on fabric. There are two main types of embroidery machines: manual and automatic.
Manual machines require you to manually sew each stitch, whereas automatic machines allow you to program the machine to automatically sew each stitch. Some people prefer to use a combination of both methods, but either way, these devices offer a range of benefits.
How Much Does An Embroidery Machine Cost?
Many factors go into determining the price of an embroidery machine. The quality of the machine itself, the number of stitches per minute, the amount of memory available, and the number of colors that can be programmed, among others, all play a role in the overall cost of the machine.
If you want to learn more about the costs associated with purchasing an embroidery machine, research several different models and brands and compare.
Is An Embroidery Machine Easy To Set Up?
Setting up an embroidery machine isn't always straightforward, but it's certainly possible. You'll need to install the software and ensure that everything else is correctly connected.
Once you've done this, you'll just need to follow the instructions provided by the manufacturer to connect the machine to your computer.
Can I Get Started Right Away?
Yes! An embroidery machine doesn't need to be complex or difficult to operate, and most manufacturers provide detailed manuals that walk you through the process step by step.
Simply refer to the manual for any questions you may have, or ask a friend for a helping hand.
Final Thoughts
Before making a purchase, you should consider what features you'd like in your new machine. Do you plan to work with multiple fabrics at once? Would you like to change thread color frequently? What kind of design capabilities would you like to incorporate? These are some of the important considerations to keep in mind while choosing an embroidery machine for yourself.
Remember these questions, and you'll find the perfect embroidery machine for you in no time!