Picture this: You're lacking creative inspiration, but you're desperate to make something aesthetically pleasing without the stress of paint or excessive glue.
Perhaps you have kids who are driving you nuts because they no longer want to do "boring coloring". 
If only there was a way to create a piece of art with minimal effort with a guide to show you how to complete the piece of art without risk of mistakes.
Surely there's a way you can gain the benefits of compliments and pride in completing a piece of art without actually coming up with the art, right?  
Luckily for you, we've got you covered. Diamond painting kits are the best friend to a paint by numbers kit – except with shiny and pretty faux diamonds.
When stuck to the canvas in their respective position, these faux diamonds can create gorgeous and satisfying pieces of art. They're great for kids and adults alike, regardless of skill level!
If you're interested in learning more, here are the best diamond painting kits, complete with a handy buyer's guide and FAQ section.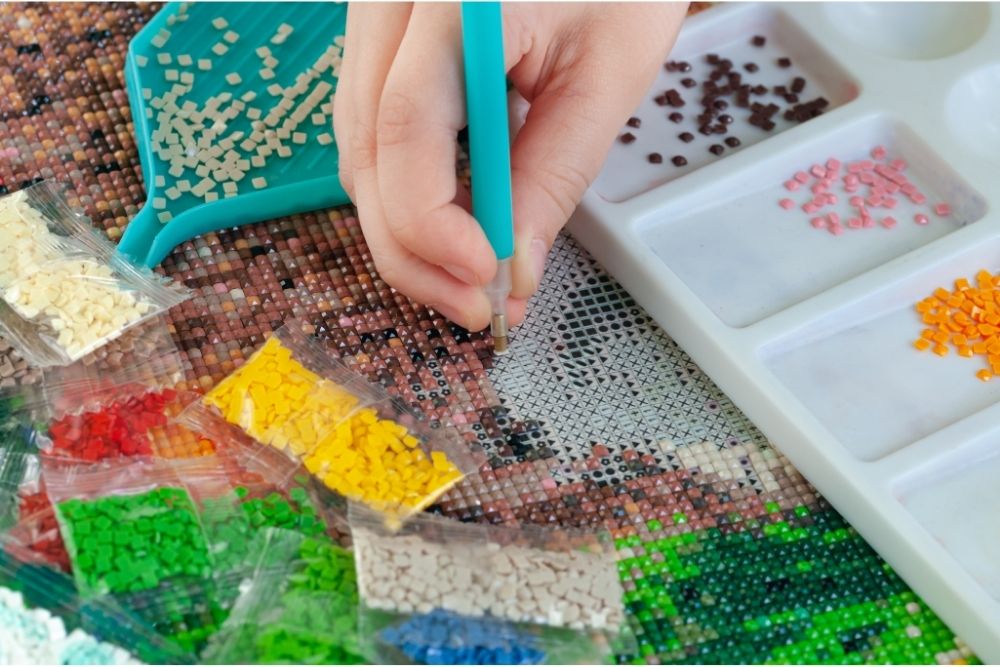 Best Diamond Painting Kits
This product stands out for all the right reasons – the image is beautiful, the canvas is of a good quality, the glue is sturdy, and it is beyond easy to use. 
The first thing that stands out is the nighttime image of a galaxy with a lake and forest in the foreground. Not only is this a simple design to follow when sticking down the diamonds, but it will also work well in any interior.
Once finished, it could easily be given away as a birthday gift to be hung on a bedroom wall!
The canvas of this product features high definition printing, meaning the image is not likely to fade (which makes placing the diamonds very easy).
The glue is made of an environmentally-friendly, odorless, and hardy material that is designed to hold the diamonds to the canvas long-term. 
As for the diamonds, they are shaped in a 5D design that helps to create more depth and dimension to the image.
This product comes with enough Magic Diamonds to cover the image, a drill pen, a drill disk, the canvas, and a clay block. It also comes in a variety of designs, including a couple of Star Wars images. 
Pros:
Easy to follow

– High definition printing makes it easy to place the diamond to the respective colors

Eco-friendly

– Canvas and glue are eco-friendly and long-lasting

Good warranty

– 3-month warranty includes free replacements
Cons:
Wrinkly canvas

– If the package isn't sent safely, the canvas might be wrinkled. In this case, place it against a cardboard surface to straighten it out
No products found.
If you're already an established diamond painting kit enthusiast, you're probably looking for several designs within one order to save some dollars.
Luckily for you, this product comes with an impressive 12 designs to choose from! This is ideal for families or for those who like to bulk buy diamond painting kits to use whenever you like. 
If you choose to hang your pieces of art on the wall, you can choose two or three designs to make into a trio set. Very stylish!
The designs of this product are all centered around a moon design, using different colors and diamond placements for original designs every time.
Not only does it come with 12 canvases, but this set is equipped with 12 sticky diamond pens, 12 adhesive clays, 12 diamond trays, and a pair of tweezers. 
As for the diamonds, there are enough diamond pieces per design to fit the entire canvas. They are shaped in a 5D fashion to add more depth to the art when it touches the light.
Each canvas is individually packaged with their respective tools and rhinestones, so there's no chance of mixing them up. 
Pros:
Large set

– 12 painting designs for multiple pieces of art

Affordable

– Great price point considering how many canvases there are

Great for kids – Ideal for an arts and crafts party
Cons:
Non-sticky canvases

– Some reviews have mentioned that some pieces need more time to adhere than others
No products found.
There's something beautiful about creating artwork that involves an animal, but not everyone is blessed with the creativity to draw or paint an animal by hand.
This diamond painting kit, however, provides a useful and simple guideline to create your own (fabulously shiny) white tiger. 
What's lovely about this design is that the tiger looks as if it is coming out of the painting, which is only enhanced by the 5D diamonds that creates more depth when they capture the light from different angles. 
This diamond painting kit features an eco-friendly canvas with a pigmented, high definition painting that makes placing the diamonds in the right place straightforward.
The canvas is equipped with a sticky layer that adheres to the diamonds well, preventing any diamonds from falling off. 
This diamond painting kit comes with a point drill pen, a clay block, and a diamond tray as well as the canvas and diamonds.
As an extra bonus, this kit comes with 30% more diamonds than it requires to ensure the entire canvas can be covered. Plus, the customer service team will willingly send any missing diamonds. 
Pros:
Lovely animal design

– Unique tiger image will stand out in any room

Enough diamonds

– Comes with 30% more diamonds to ensure no spot is left empty on the canvas

Sticky canvas

– Canvas is designed to adhere to the diamonds for a long time
Cons:
Small numbers and symbols

– This is a very precise design that will require patience and good eyesight (or a magnifying glass)
5D Diamond Painting Kits for Adults&Kids Full Drill Tiger Diamond Art Paint with Round Diamonds DIY Gem Painting Kit for Home Wall Decor(13.8x17.8inch/35x45cm)
Easy to Read:-P2-Easy to distinguish symbols. Everyone can easily get started. Use more DMC to restore more colors in larger 12*16in image size.
HD-Canvas:Eco-friendly canvas size13.8*17.7In,high-definition printing, the original picture is rich and colorful as the manuscript. The strong glue is fully covered, and the diamond is not easy to fall off!
Diamond painting Kits:-P7- We provide 30% more diamonds enough for you.Our Painting Kits are 100% FULL DRILL,Include everything you need to get started with your newest masterpiece!
Fashion Decor and Gift:Perfect to decorate your living room, bedroom, office, restaurant, bar or anywhere you want to match different decoration style.And it is a perfect gift for birthday and festivals.
Peace of Mind After-sales: As long as the product s in the [YOMEI] store have any quality problems, contact us and we will solve them for you!
Hey – diamond painting kits aren't just for kids, you know! It's no secret that adulthood is tough, with many adults experiencing periods of stress, anxiety, and depression throughout their lifetimes.
One of the best ways to wind down and de-stress is to get creative, but sometimes that can be an arduous task when you have no inspiration.
That's where diamond painting kits come in, because all you have to do is follow the guide. 
This particular design is ideal for adults, because while it is simple to follow the image's guide, the design itself is quite complicated.
It's a beautiful design that would work brilliantly as a gift or hung in a bedroom or living room, but it's not exactly something you'd want a child to do. It is a skull design, after all. 
This product includes a waterproof eco-friendly canvas that is equipped with a layer of strong adhesive glue to allow the diamonds to stick to the surface.
The resin diamonds are 5D and shaped with different angles, meaning it will shine in unique places when the light hits the painting. This product also comes with glue for the included drill pen, and a diamond tray. 
Pros:
Stress-reducer

– Improves productivity and creativity while acting as a distraction

Complex design

– Although complex and detailed, this is an easy design to follow

Non-crease canvas

– Canvas is sealed and rolled to avoid creases
Cons:
Maybe not for kids

– Design might not be complex for adults, but could be too precise for kids
If you're a fan of classical paintings, this product comes in a range of designs that mimics famous paintings – including The Great Wave off Kanagawa and Starry Night.
For copyright issues, these aren't exact replications. What a fun way to get your kids learning about famous paintings!
This product comes with an eco-friendly canvas that is equipped with a layer of adhesive glue to allow the resin diamonds to easily stick to the surface.
Speaking of the diamonds, this kit comes with 30% more diamonds than needed in the event of losing some of the resin rhinestones.
Plus, each diamond has 20 refracting surfaces to create a sparkling layer when the canvas hits the light. 
This diamond painting kit also comes with a plastic tray for the diamonds, glue, and two diamond drills. Plus, the symbols are nice and clear for everyone to easily distinguish the diamonds. 
Pros:
Classic painting designs

– Teach your kids about famous paintings in an interesting and creative way

30% more diamonds

– No chance of running out of diamonds

Two drills

– Most kits usually come with one diamond drill
Cons:
Price

– Only slightly more expensive than the other single-diamond painting kits on our list
5D Luminious Diamond Painting Kits for Adults Waves of The Sea Craft Home Wall Decor Rhinestone Diamond Starry Sky Accessories Handpaint Gift
💎DIY Handmade: This diamond art kits for adults & kids is made of false shiny crystal in canvas painting semi-finished products.No wrinkles on the canvas, ensuring all diamond painting beads can be closely attached to the canvas without falling off. The clear symbols printed on the canvas are easily recognized.Suitable for playing with children, friends or family.
💎Package & Size: (12x16inch / 30cmx40cm) diamond painting beach,and exquisite gifts. Canvas*1、Round Diamonds Bag*1、Diamond Sticky Pens*1 High-quality and environmentally canvas,30% more free diamonds to ensure your painting have enough diamonds.Custom tool will better to work on your painting.
💎Unique Innovative Gifts: Diamonds with 20 refracting surfaces sparkle under the light.Different styles of paintings sent to different friends,perfect to decorate your living room, bedroom, office, restaurant, bar or anywhere you want to match different decoration style.And it is a perfect gift for birthday and festivals.
💎DIY Production steps: Firstly place the same diamonds in tray, then take the diamond painting pen insert to the square adhesive lightly, leave some adhesive on the diamond painting pen, finally pick up the diamond and place it on the corresponding number on the canvas. Add More Fun to Life : The handmade 5d diamond painting can enhance kid's hands-on ability, help to divert the elderly from boredom, enrich adult's space time and be good bonding experience for family
💎After-Sales Service: We provide additional 30% drill diamonds.If you have any questions please contact us and we will help you at any time. Your satisfaction is always what we value the most.
Buyer's Guide
What to look for in a diamond painting kit
What people might not realize is that there are a few factors worth considering when looking for a diamond painting kit. Sure, if you like the look of the design, buy the product!
If you're wanting to make the most of your money, however, here are the key things to consider:
Picture accuracy
First and foremost, some sellers are known for providing inaccurate images of the finishing products.
Truth is, diamond painting kits aren't made for creating detailed pieces of work like a paint by numbers kit, so a customer's expectations are often heightened when they see an inaccurate image of the product. 
Make sure to look at all the seller's images as well as the ones posted by reviewers, as the customers will be able to give an honest opinion about the picture's accuracy. 
Canvas quality
The quality of the canvas will determine whether the diamonds will stay on forever. Diamond painting kits don't require glue for each diamond to stick to the canvas.
Instead, the canvas will come equipped with an adhesive layer for the diamonds to stick to. In some cases, this adhesive layer is excellent. In other cases, the adhesive layer is weak and the diamonds might fall off. 
If you happen to buy a product that has a weak adhesive layer, you might just need to hold a book firmly to the diamonds for longer to help them adhere to the surface.
To save time and ensure for permanent sticking, however, we recommend the higher-quality canvases. 
Tool kit
A good diamond painting kit will come with a complete set of tools. This should include:
At least 1 drill pen to carefully place the diamonds to the canvas

One clay block for the diamonds to stick to the drill pen

A diamond tray to hold a certain color at the same time

Enough diamonds to cover the canvas (plus more just in case)

The canvas
How diamond painting kits work
Diamond painting kits are incredibly simple to use. If you have ever completed a paint by numbers before, diamond painting kits use the same concept.
This time, there's no chance of you accidentally painting in the wrong spot or over the lines. There's very little room for mistakes in a diamond painting kit. 
Diamond painting kits will range in complexity, as some will have larger numbers and symbols for kids to use, and others will have smaller ones for adults with patient hands. 
To use a diamond painting kit, roll out the canvas to a flat surface. Peel back the protective plastic to expose the adhesive layer.
Then, decide where to start by checking the instructions to see which color diamond goes where. 
Using the diamond drill, dip the drill into the clay block. This will allow enough adhesion for the diamond to stick to the drill, which can then be placed on the canvas.
Make sure to follow the symbols or numbers so the indicated diamond goes to the correct place. 
Once you have completed the canvas (this can take a while!), make sure to press down the diamonds with a book or your hands. This is to ensure that all the diamonds have adhered to the sticky surface.
And then you're finished!
Who should buy a diamond painting kit
There is no specific demographic for diamond painting kits. Anyone from kids to adults can use one. The main aim of a diamond painting kit is to create a piece of shiny art during a relaxing process. 
For kids, a diamond painting kit is sparkly and fun to do. It takes the pressure off them from feeling as if they have to compete to make a great piece of art, and it boosts their confidence greatly.
Plus, it's a good activity for a group of children to pass the time. 
For adults, diamond painting kits are all about mindfulness. Adults who struggle with stress and anxiety have found that diamond painting kits are a useful distracting tool for escaping the stresses of their lives.
It's about the journey and the destination, because once you're done, you have something nice to hang on the wall! 
The main thing to remember is that a diamond painting kit won't produce a museum-style work of art. It's all in the fun of the sparkles!
Frequently Asked Questions
Is diamond painting hard to do?
No, diamond paintings are not meant to be hard to do. Of course, everyone will have their own experiences with these "paintings", but they are designed for a variety of skill levels.
Some diamond painting kits will be easier to complete than others – especially if they are designed for children. 
The only time a diamond painting would be considered "hard" to do is if the symbols and numbers that indicate the placement of respective diamonds are too small to see.
Those with vision problems (or patience problems!) might struggle to see the correct symbols and signs. 
Can you seal a diamond painting?
While it's not a necessary step, you can seal a diamond painting. This is to ensure the diamonds will stay in place forever.
The best ways to seal a diamond painting are to seal it with brush-on sealer or spray-on sealer. Not only will sealing your diamond painting help to adhere the diamonds permanently, but the sealing process is also very easy.
The only downside is that sealing a diamond painting can often dull the shine from the resin diamonds. 
What can I do with leftover diamond art beads?
With diamond painting kits, you're either going to have too many or too few diamonds once you have finished the piece.
If you're lucky enough to have leftover diamond art beads, but you don't want to throw them away, then it's your time to get creative! 
If you have kids, try to encourage them to come up with their own ideas. Here are some of ours:
Decorate accessories and furniture such as headbands or mirrors

Make some DIY cards 

Make some Christmas decorations (or enhance the ones you already have)

Give your beads to friends or a nearby school who might have a better use for them
Of course, some of these ideas can only be done if there is an excessive amount of leftover diamond art beads. There are an abundance of things to do with leftover diamonds, and as there is no rule book, go wild!